Fresh white fish is delicious and hearty, but did you know it is also versatile? Cooked white fish is amazing in a number of dishes, but a fish cake is the best of all. That is how White Fish Cakes with Salsa Verde Salad and Citrus was born. This recipe uses freshly flaked white cod fish, along with mayonnaise to bind the mix. This cod recipe is also flavored with Dijon, fresh herbs, and Panko before frying to golden perfection.
Since this recipe is fried, it is best served with a light and flavorful salad. Salsa Verde Salad is a marvelous mix of tomatillos, red onion, jalapeno, arugula, and a light homemade vinaigrette. The vinaigrette is slightly sweet from the addition of honey, which cuts through all of the richness from the fish cakes. This dressing can act as a tartar sauce substitute for dipping the cakes in. This pair is a match made in heaven. Make our White Fish Cakes with Salsa Verde and Citrus today!
What is a Fish Cake?
A fish cake is typically made with cod or salmon. Recipes call for breaking up the fish into flakes, which is then mixed with different ingredients. The whole mix is formed into patties and then cooked, either by baking or frying in oil. You will always find a binder in your fish cakes, be it bread crumbs, mayo, potato, or eggs. The binder may also be a combination of all four ingredients. Fresh herbs, mustard, or soy sauce give depth and flavor to the recipe. After cooking, many fish cake recipes are served with tartar sauce or another type of dressing. The whole dish comes together in no time, as long as your fish is already cooked before making the patties.
What is in the Salsa Verde Salad with Citrus?
The salad chosen to accompany this recipe is made to mimic a traditional Salsa Verde. This type of salsa typically uses tomatillos, but if you can't find them do not fret. Green tomatoes can be used in place of tomatillos if those are easier to find. Tomatillos are mixed with red onion, herbs, jalapeno and other flavors to create standard Salsa Verde. Our recipe leaves the salad nice and chunky, so it eats more like a salad than a salsa. A sweet, tart lime dressing dresses the whole salad up, which pairs perfectly with our cod cake recipe.
How Do You Make Fish Cakes from Scratch?
To cook the cakes, you will need to have some freshly cooked white fish on-hand. I like to use cod fish because it is delicious and inexpensive. If your cod is fresh and raw, you will need to cook it before adding it to your fish cake batter. Simply season with salt and pepper and either lightly sauté the fish on both sides until cooked through; or bake in the oven at 350 until fully cooked, about 15-20 minutes total. You can also use leftover fish from the previous night's dinner. Just be sure that the fish is fresh and does not have a fishy odor.
Once you cook and cool the cod, flake your cod fish into large chunks and place into a bowl. Now is the time to add all of the flavorings for the fish cakes. Add your egg, Panko bread crumbs, and mayo to start. Then add Dijon mustard, salt, paprika, chives, dill, fresh lemon juice, and extra virgin olive oil. Stir gently to combine. Make sure you stir very lightly or fold with a spatula, as to not completely break up the flaked cod. Form into even-sized patties and set in the fridge to rest.
Now is the time to make the Salsa Verde Salad with Citrus. Toss together your green tomatoes or tomatillos in a large bowl with red onion, parsley, scallions, jalapeno, and arugula. This will be a very chunky salad alongside our fish cakes. In a separate bowl mix together lime juice, honey, extra virgin olive oil, crushed red pepper flakes, and salt. Add some black pepper to taste, if needed. Taste to make sure seasonings are perfect for your liking, and set aside.
These cod fish cakes can be either baked or fried. Both are delicious, but it should go without saying that fried fish cakes are tastier. Heat some oil in a skillet over medium-high heat. Allow the oil to shimmer before adding your fish cakes. Add only 4-6 cakes into the pan at a time as to not overcrowd the pan. Lightly shake the skillet to loosen the cakes and ensure they are not sticking to the bottom of the pan. Cook for about 5 minutes per side, then drain onto a paper towel-lined rack. Cook your remaining fish cakes the same way until all are golden brown and crispy.
Serve the hot fish cakes right away alongside your salad. Top with fresh parsley if you like. Make sure some of that salad dressing gets on the crispy cake. I also like to get a perfect bite with crunchy fish cake on the bottom, and tangy tomatillo on top. This makes for the perfect recipe!
How Do You Keep Fish Cakes from Falling Apart?
Any fish cake recipe will need a binding agent in order for the cakes to stay together when cooking. As we have seen, Jamie Oliver uses mashed, cooked potato in a lot of his fish cake recipes. This gives a hearty, filling texture to the cakes. Another way to keep fish cakes together is by using mayonnaise. Almost all fish cake recipes utilize an egg product, whether it is mayo or a whole egg. Our recipe has both egg and mayo for stability.
Bread crumbs are another way to keep your fish cakes intact. The crumbs hold together and bind with any moisture from the batter, ensuring your fish cakes do not break apart. Panko bread crumbs are light and airy in texture, and make for the most delicious fish cakes. Any bread crumbs you like will work for this dish.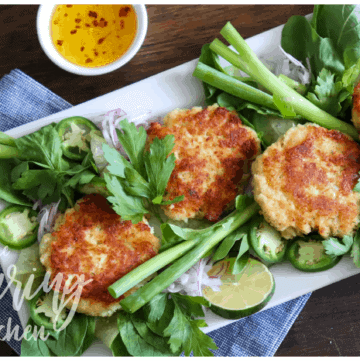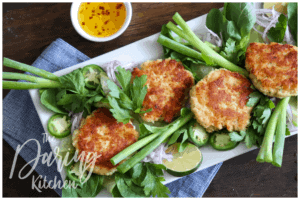 Ingredients
8

oz

cod fillets

cooked and flaked

1

egg

¾

cup

panko bread crumbs 

1

tbsp

mayonnaise 

1

tsp

dijon mustard 

½

tsp

salt

¼

tsp

paprika 

¼

tsp

chives 

¼

tsp

dill

1

tsp

lemon juice

2

tablespoons

extra virgin olive oil 
for the salad
¼

cup

green tomatoes or tomatillos

diced

¼

cup

red onion

peeled and thinly sliced

¼

cup

parsley

rough chopped

2

tbsp

scallions

chopped

1

tsp

jalapeño

minced or sliced (optional)

1

cup

baby arugula

¼

cup

lime juice

1

tbsp

honey

⅛

cup

extra virgin olive oil

⅛

tsp

crushed red pepper flakes

optional

salt

to taste
Instructions
In a large bowl combine flaked cod, bread crumbs, mayo, dijon, salt, paprika, chives, dill and lemon juice. Using your hands mix the ingredients until thoroughly blended. Form mix into even patties and refrigerate until ready to cook. 

Heat oil in a large frying pan over medium high heat. Place patties into the pan and cook for 10-12 minutes or until thoroughly cooked, flipping halfway through. Keep warm until ready to serve. 

In a large bowl toss together tomatoes, onion, parsley, scallions, jalapeño and arugula. In a separate bowl whisk together lime juice, honey, olive oil and pepper flakes until blended and smooth. Season vinaigrette to taste with salt. 

Drizzle vinaigrette over salad and serve alongside fish cakes.
Nutrition
Serving:
4
g
|
Calories:
318
kcal
|
Carbohydrates:
22
g
|
Protein:
15
g
|
Fat:
19
g
|
Saturated Fat:
3
g
|
Polyunsaturated Fat:
1
g
|
Monounsaturated Fat:
1
g
|
Cholesterol:
67
mg
|
Sodium:
546
mg
|
Potassium:
366
mg
|
Fiber:
1
g
|
Sugar:
7
g
|
Vitamin A:
713
IU
|
Vitamin C:
14
mg
|
Calcium:
67
mg
|
Iron:
2
mg