These cod cakes take a page from the Maryland-style crab cake recipe. Fresh cooked cod, flaked and tossed with mayo, dijon, seasonings, herbs and a little bit of citrus-perfection! Pan frying is preferred, but baking is just as lovely. 
The salsa verde salad is inspired by… well… the famous salsa. Ripe tomatillos, red onion, parsley, scallions and jalapeño are the main ingredients. Instead of being pulsed in a food processor, the ingredients are tossed together with arugula and a simple vinaigrette. 
serves 4 
Ingredients: 
for the fish cakes: 
8oz. cod fillets, cooked and flaked 
1 egg 
3/4 cup panko bread crumbs 
1 tablespoon mayonnaise 
1 teaspoon dijon mustard 
1/2 teaspoon salt 
1/4 teaspoon paprika 
1/4 teaspoon chives 
1/4 teaspoon dill 
1 teaspoon lemon juice 
2 tablespoons extra virgin olive oil 
for the salad: 
1/4 cup green tomatoes or tomatillos, diced 
1/4 cup red onion, peeled and thinly sliced 
1/4 cup parsley, rough chopped 
2 tablespoons scallions, chopped 
1 teaspoon jalapeño, minced or sliced (optional) 
1 cup baby arugula 
1/4 cup lime juice 
1 tablespoon honey 
1/8 cup extra virgin olive oil 
1/8 teaspoon crushed red pepper flakes (optional) 
salt to taste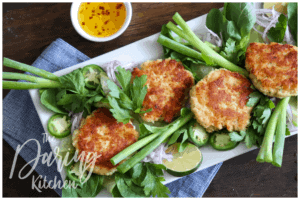 Instructions: 
In a large bowl combine flaked cod, bread crumbs, mayo, dijon, salt, paprika, chives, dill and lemon juice. Using your hands mix the ingredients until thoroughly blended. Form mix into even patties and refrigerate until ready to cook. 
Heat oil in a large frying pan over medium high heat. Place patties into the pan and cook for 10-12 minutes or until thoroughly cooked, flipping halfway through. Keep warm until ready to serve. 
In a large bowl toss together tomatoes, onion, parsley, scallions, jalapeño and arugula. In a separate bowl whisk together lime juice, honey, olive oil and pepper flakes until blended and smooth. Season vinaigrette to taste with salt. 
Drizzle vinaigrette over salad and serve alongside fish cakes.