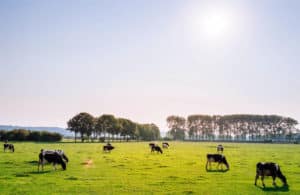 On the current series of Jamie and Jimmy's Friday Night Feast (Channel 4, Fridays at 8pm), the boys investigate free range milk, and take a closer look at the British dairy industry. They speak to dairy farmer Neil Darwent about his pioneering initiative, the Free Range Dairy Network. Neil explains why pasture-raised, free range milk is important.
Free Range Dairy Network is a Community Interest Company (CIC) established in 2014, to try and build real value in milk and dairy products from traditional, seasonally grazed dairy farms. We are really pleased to be offered the opportunity to be a part of Jamie's Food Revolution, because we know that there is huge potential to enrich peoples' lives with great tasting milk, from cows that enjoy the freedom to graze in fields.
Over the last 15 years, the number of British dairy farms has halved and producers continue to exit the industry on daily basis, as a worldwide glut of milk drives global dairy prices to new lows. Right now, farmers are offered little alternative to the relentless pursuit of producing more for less, in a race to the bottom, placing growing pressure on both them and their cows. The result is an increasingly industrialised rural landscape, as we shift towards fewer, larger herds and a more intensive production regime. Cows are disappearing from the fields as more and more are housed indoors all year round.
The ongoing consolidation of grocery retailing and milk processing over the last 20 years, in an attempt to streamline logistics and cut costs, has created a void between farmers and consumers. The provenance and taste of great British milk is lost as big dairies pool billions of litres of milk from different farms, hundreds of miles apart, to render it little more than commodity 'white stuff'. Despite all of this, images of cows contentedly grazing lush, green grass are still widely used on packaging and in the supermarket aisles, to uphold a widely held perception that all cows live in fields. That's why the Free Range Dairy Network is here to offer consumers a more informed milk choice and restore value in milk to the farmers and cows that produce it.
We are forging collaboration in the dairy supply chain, to win recognition for a clearly defined farming system that promotes freedom for cows to graze in fields and delivers tangible value for consumers. We work with small dairy companies around the country and the farmers that supply them, to bring Free Range Milk to the market, under the Pasture Promise TM label. This simple label means that people can actively choose to support traditional, family farms where cows are assured the freedom to graze in fields for at least 180 days a year. We license the Pasture Promise label to those who share our values and who commit to segregating milk from these farms. The dairy companies are also required to pay a price premium to the farmers, who make this commitment to keeping their cows in fields. For their part, the farmers are required to adhere to a set of producer standards, designed to ensure cows enjoy the freedom to graze in fields for at least half of their lives. Additional records have to be kept and farms are independently assessed by a recognised certification body.
If we are to safeguard a sustainable supply of healthy, nutritious British milk for future generations, we must help those who buy and consume milk to understand not only where it comes from, but how it was produced. To know what impact their purchasing decision has on the cows, the fabric of our countryside and those who produce our milk. Free Range Dairy Network CIC does not buy or sell milk. We are a campaign for change and we believe there is a real opportunity to deliver what is right for cows, consumers and farmers. Clearer labelling on milk that gives people simple information about the provenance of their food is vital if we are to achieve our aims. We want to give people the chance to vote for freedom for cows, great tasting milk and a fair reward to farmers when they are out shopping.
Thanks to some wonderful collaboration amongst some 'can do' people, our revolution is already beginning and free range milk, under the Pasture Promise label, is reaching the market. We now want to join forces with everyone else involved in Jamie's Food Revolution to transform the lives of both people and farm animals. Join the conversation about the future of dairy farming using the hashtag #foodrevolution.