Hello everyone! Another Ruth here, and to avoid any confusion with our fantastic curator whom I share the name with, I'll refer to myself as Makey-Cakey Ruth! Greetings to you all from sunny Scotland (well, the sun is indeed shining as I write this, however unfortunately it's still only 8°C/50°F…). I've been a member of the Daring Kitchen since September 2009, and try to participate as often as the general chaos of family life and work allows.
Since I'm Scottish, I thought it was only right that I challenge everyone to make the most quintessentially Scottish dish there is: haggis. (Insert collective groan of horror here). Really, honestly, don't be scared – this is the Daring Cooks' Challenge after all, so think of it as an opportunity to get as daring as you like.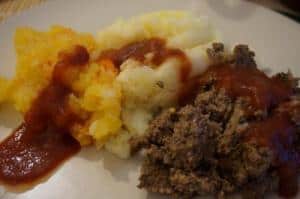 So what exactly is haggis? Well, good old Wiki describes it as "…a savoury pudding containing sheep's pluck (heart, liver & lungs); minced with onion, oatmeal, suet, spices, and salt, mixed with stock, and traditionally encased in the animal's stomach and simmered for approximately 3 hours"
What does it taste like? Larousse Gastronomique says "…Although its description is not immediately appealing, haggis has an excellent nutty texture and delicious savoury flavour".
So there's the big haggis myth busted – it certainly is not a small, furry, reclusive three legged animal that runs in circles around the sides hills in the Highlands of Scotland! And in case anyone out there is wondering, as a nation, we really do eat haggis as an everyday food. It's not something just for tourists and Burns' Night. It features on a regular rotation on school dinner menus, work canteens, high-end restaurants, not to mention as part of a cooked breakfast, or as a hot breakfast roll filling. It's enjoyed traditionally with mashed potatoes and turnip (swede), but is also fantastic on top of a baked potato, in a burrito, on nachos, baked into bread or scones, in lasagna, as a stuffing for chicken – it is endlessly versatile.
I'm providing two recipes here, starting with what I'm referring to as "home haggis" – i.e. something you can make at home, with ingredients you can get hold of fairly easily, since I think that in many places (including the US) getting hold of lungs and stomach casing is nigh on impossible. I've also provided a really great veggie haggis recipe – it is truly fantastic stuff, with all the essence of haggis but without the actual animal bits. If you're feeling really very daring indeed, and are friends with a good butcher or live somewhere that offal is easier to come by, then I've included a link below to a very comprehensive recipe and description from The Guardian newspaper. It'll see you right!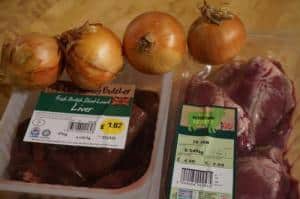 I'd really exhort you to try making the meat-based haggis, but if the thought of it is just a bit too much, then I've included a great alternative veggie-haggis recipe too, and between the different recipes, there is plenty of scope for allergen / lifestyle substitutions.
Recipe Source:
Meat "home haggis" – based on Simon Rimmer recipe for the Good Food Channel (although I've added a few of my own tweaks) http://uktv.co.uk/food/recipe/aid/513878
Veggie haggis – family recipe
"Really very daring" authentic haggis – instructions, including step by step photos, recipe and description are available from The Guardian website here
http://www.theguardian.com/lifeandstyle/wordofmouth/gallery/2009/jan/23/…
Blog-checking lines: The June Daring Cooks Challenge was hosted by Ruth from Makey-Cakey. She brought out the Daring-est of Daring Cooks and challenged us to make real Scottish Haggis.
Notes:
There are a few ingredients used in haggis that have the potential to cause confusion due to different terminology around the world. Since I'm certainly no linguistic/culinary genius, I've included a quick description and a few helpful pictures of a few of them…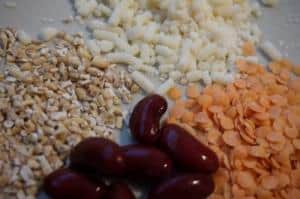 1) Pinhead Oatmeal – I believe that in lots of other places around the world, this is called Steel Cut Oats. You want coarse oats for both the meat and veggie recipes to give a good texture. If you need to stay gluten-free (GF), and can't find GF steel-cut oats, then substitute buckwheat groats instead, rather than rolled oats, if you're making the meat haggis. If you're trying the veggie recipe, rolled GF oats will give a softer texture, but still work. You could also substitute 50:50 rolled oats and ground almonds – just go with what appeals, and what ingredients you have.
2) Suet – (beef suet for the meat haggis, veggie suet for the veggie haggis). Suet is a hard fat (beef or vegetable) and is usually sold in boxes, pre-chopped into little pellets. Fresh beef suet may be available from a good butcher (it is specifically the fat around the heart and kidneys), and should be very finely chopped before using.
3) Red Split Lentils – for the veggie haggis recipe. These begin to break down during cooking, helping to bind everything together. If you can't find red split lentils, yellow lentils are the next best bet. Avoid using green, brown or puy lentils as they will retain their shape and not puree themselves during the cooking process
4) Red Kidney Beans – again for the veggie haggis recipe. I know the name for these varies globally, so I thought a picture might help! Other types of bean will work, but these provide additional colour.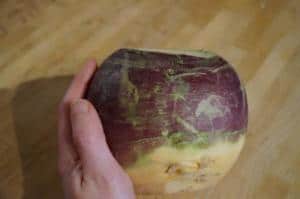 5) Turnip / Swede / Rutabaga – possibly the most confusing of ingredients! Haggis is traditionally served with mashed potato and mashed turnip, just that…. what we call a turnip in Scotland, is called a swede in England, and I believe a rutabaga in the US. Elsewhere, I have no idea! This is what it looks like – it is pale yellow fleshed with a purplish skin. When cooked (boiled, steamed or microwaved) it becomes darker orange in colour.
How to Eat Haggis – It is traditionally served alongside mashed potato and mashed turnip (see note above!). These are separately mashed. Sometimes it is served with a whisky or redcurrant sauce. Often there is no sauce at all. (When served in institutions and canteens, all 3 elements are often dished up with an ice-cream scoop – not the most appetizing presentation!).
It is fantastically versatile – there are recipe books dedicated to recipes involving haggis in one guise or another. It is terrific in toasties, lovely on baked potatoes, good on pizza, in lasagna, as a stuffing for chicken, baked into scones, bread, pies and pasties – there are so many possibilities, and I've included some links at the end of the post to some tried and tested dishes for inspiration
Burns Night – As Scotland's national dish, haggis is traditionally always eaten on Burns Night – celebrating Scotland's national poet, Robert Burns. In fact Burns even waxed lyrical for eight verses about the dish, in "To A Haggis". You can find lots more information about Burns night, the other vital components of a Burns Supper and much more here: http://www.macsween.co.uk/burns-night/ and if anyone has any questions about the traditions, or language or Burns Poetry, please ask – I'll do my best to explain! If you're feeling extremely daring, you could even host your own out-of-season Burns Supper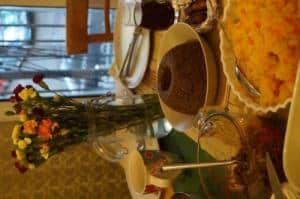 Mandatory Items:
To make one of the haggis varieties, with modifications permitted as necessary to suit availability of ingredients and dietary requirements.
To serve the haggis with accompaniments / in a meal of your choosing.
Variations allowed:
Any to satisfy dietary requirements or availability of ingredients.
Preparation time:
"Home Haggis" – 20 mins prep time, 3hrs cooking time
Veggie Haggis – 40 mins prep time, 1hr cooking time
Equipment required:
Both recipes:
Chopping board
Sharp knife
Weighing scales
Measuring spoons
Wooden spoon/spatula
"Home Haggis":
Large pan, which a pudding basin (or pyrex bowl) fits inside
Pudding basin (or pyrex bowl)
Trivet to rest basin/bowl on inside pan
Tinfoil
String
Food processor / blender
Veggie Haggis:
Small saucepan
Large frying pan
Large (2lb) loaf tin
Grater
Recipe 1: Home Haggis
Servings: 6
Ingredients
4 medium onions
3 lambs hearts
400 gm (14 oz) lambs liver
100 gm (3½ oz) pinhead oatmeal
75 gm (2-2/3 oz) shredded beef suet
1 tablespoon (15 ml) (5 gm) chopped sage
½ teaspoon ground mace
pinch mixed spice
1 teaspoon (5 ml) (4 gm) ground black pepper
1 teaspoon (5 ml) (6 gm) salt
A little butter, margarine or oil to grease
Directions:
Peel the onions, but leave whole. Put in a large pan along with the hearts and liver. Cover with cold water and bring quickly to the boil.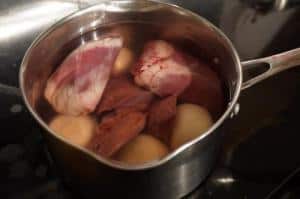 Skim off any froth, drain and re-cover with water, bring to the boil again, reduce the heat and simmer for around 40 minutes, keeping the hearts and liver covered.
Drain, reserving a little of the cooking liquid (100 ml (½ cup) will be plenty), and put the onions, hearts and liver into a food processor or blender. Pulse until finely chopped (or pass through a mincer).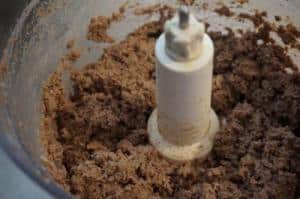 Stir in the oatmeal, suet, herbs and spices. If the mixture is very stiff, add a splash of the cooking liquid. It should be solid rather than liquid, but soft.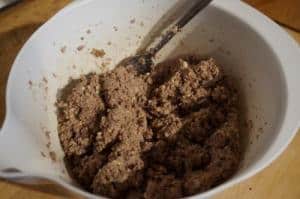 Grease an 1 litre (4 cup) pudding basin, fill with the haggis, cover with foil securely and tie the foil on with string.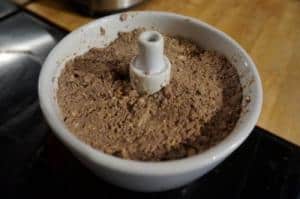 Put a trivet (a tray that keeps the pan off the base of the pan) on the bottom of the pan, and the tied pudding basin on top. Fill with water to ½ way up the sides of the basin.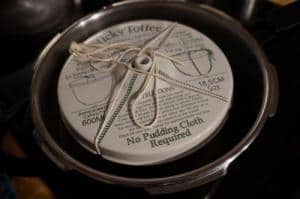 Bring the water to the boil over a medium heat, then reduce to maintain a gentle boil and simmer away for 2 hours, topping the pan up with water as needed.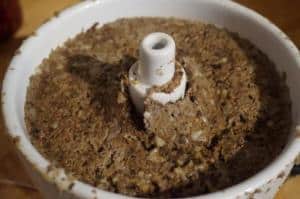 Remove from the heat and very carefully un-mold from the basin, and the haggis is ready to serve.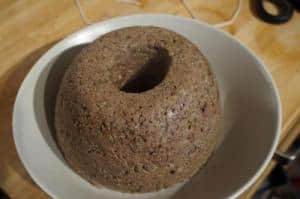 Recipe 2: Veggie Haggis
Servings: 6
Ingredients
½ cup (125 ml) (75 gm) (2-2/3 oz) red split lentils
1 vegetable stock cube
1 cup (250 ml) water
1 onion (~180 gm/6½ oz unpeeled)
1 stick celery (~50 gm/2 oz)
1 carrot (~150 gm/5 oz unpeeled)
1 cup (250 ml) (75 gm) (2-2/3 oz) white mushrooms
2 tablespoons (30 ml) oil
¼ cup (60 ml) (50 gm) (1¾ oz) drained tinned red kidney beans
½ cup (120 ml) (75 gm) (2¾ oz) mixed nuts (I used 20 gm (¾ oz) cashews, 30 gm (1 oz) brazil nuts, 25 gm (1 oz) peanuts)
pinch dried thyme
1 teaspoon (5 ml) soy sauce
1 teaspoon lemon juice
½ teaspoon ground mace
½ teaspoon ground white pepper
½ teaspoon ground black pepper
½ teaspoon salt
2/3 cup (160 ml) (100 gm) (3½ oz) pinhead oatmeal
50 gm (2 oz) vegetable suet
Directions:
Bring 1 cup (250 ml) water to the boil in a small saucepan, then add the stock cube and the lentils. Simmer for around 15 -20 minutes until the lentils are soft, and most of the liquid has been absorbed.
Meanwhile, finely chop the onion and celery and peel and grate the carrot.
Heat the oil in a large frying pan and add the chopped onion, celery and grated carrot. Sautee for around 5 minutes until softened.
Finely chop the white mushrooms and add to the vegetables in the pan, and cook for a few more minutes.
Mash the kidney beans with a fork, and add them to the frying pan, along with the thyme, soy sauce, lemon juice, mace, peppers, salt, oatmeal and suet.
Turn the heat down to very low and allow to cook gently whilst you chop the nuts – you can use a blender to blitz them if you have one. If the mixture is very thick, add a splash more water, then stir in the nuts.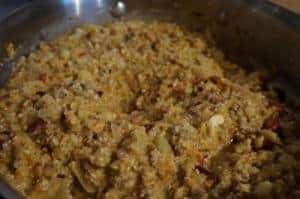 If you are preparing the haggis to eat straight away, then cook gently for around 10 minutes, turn off the heat and allow to cool for 20 minutes. Grease your loaf time and preheat the oven to moderate 350°F/180°C/gas mark 4. Spoon the haggis in to the prepared tin, cover with foil and bake for around 30 minutes (uncovering for the last 5 minutes). Allow to rest for 5 minutes before serving.
If you are preparing the haggis to eat the next day, don't cook for the additional 10 minutes, remove from the heat after adding the nuts, cover, allow to cool, then refrigerate overnight. When you are ready to finish the cooking, preheat the oven to moderate 350°F/180°C/gas mark 4, remove from the fridge and cover with foil. Bake for around 45 minutes, (uncovering for the last 5 minutes). Allow to rest for 5 minutes before serving.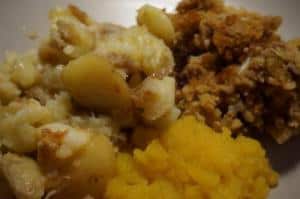 Storage & Freezing Instructions/Tips:
Prepared haggis will keep well in the fridge in an air-tight container for several days. Leftovers re-heat well too.
Haggis doesn't freeze very well, as the freezing affects the texture of the oatmeal and tends to make it a bit chewy once defrosted.
Additional Information:
Here are some links to other dishes incorporating haggis as a key ingredient
http://www.macsween.co.uk/recipes/chicken-balmoral-with-whisky-sauce/
http://uktv.co.uk/food/recipe/aid/517131
http://www.macsween.co.uk/recipes/macsween-haggis-nachos/