Some things can never be missing from a home cook's kitchen: their trusty cutting board, a handy chef knife, and a great set of measuring cups and spoons. With these kitchen tools, there would be no delicious meals to savor. That's why chefs have to keep them in tip-top shape all the time. Knowing how to clean cutting board slabs is a must if you want to be a star in your home kitchen.
Luckily for you, we've put together this quick but comprehensive cleaning guide. We're sure it will help you every single day!
Different Cutting Boards, Different Care Instructions
Before we get into the core of the matter, you have to understand that different cutting boards require different care routines. Thus, knowing how to clean a wood cutting board probably won't be useful to you if you own a plastic cutting board—and vice versa! For this reason, we've divided the guide into two parts.
But the learning doesn't stop there. These are the three main steps in cleaning a board after it's been used.
Washing
You'll always need to wash your plastic and wood cutting boards, even if you only used it for a simple task such as cutting up fruit. That's because juices from food can easily seep into cutting boards and lead to bacterial growth.
Sanitizing
Sanitizing is the best way to make sure your cutting board really will be clean. This is especially important if you cut meat on your board. Meat juices that are left to fester on cutting boards can cause food poisoning, for instance.
Overall Upkeep
Besides the daily clean, your plastic or wood cutting boards will need some upkeep here and there. That might include sanding once in a while, oiling with the best product occasionally, and stain removal sporadically.
Yes, caring for your cutting board can get boring after a while, but it will prolong the life of this invaluable kitchen tool. 
How to Clean a Wood Cutting Board in 5 Steps
Let's cut to the chase: how can you clean your wooden cutting board effectively? Wooden cutting boards are expensive and, for this reason, should be taken care of properly. They can prove tricky sometimes and tend to intimidate home cooks, but there's no mystery here. There's nothing more visually appealing and useful than a well-maintained wooden cutting board!
Step 1: Rinse Bits of Food
First things first, remove all food leftovers from the surface of your wood cutting board. Take your wooden cutting board to the sink and use either cold or hot water for this, whichever is at hand. This will make the actual cleaning method much easier.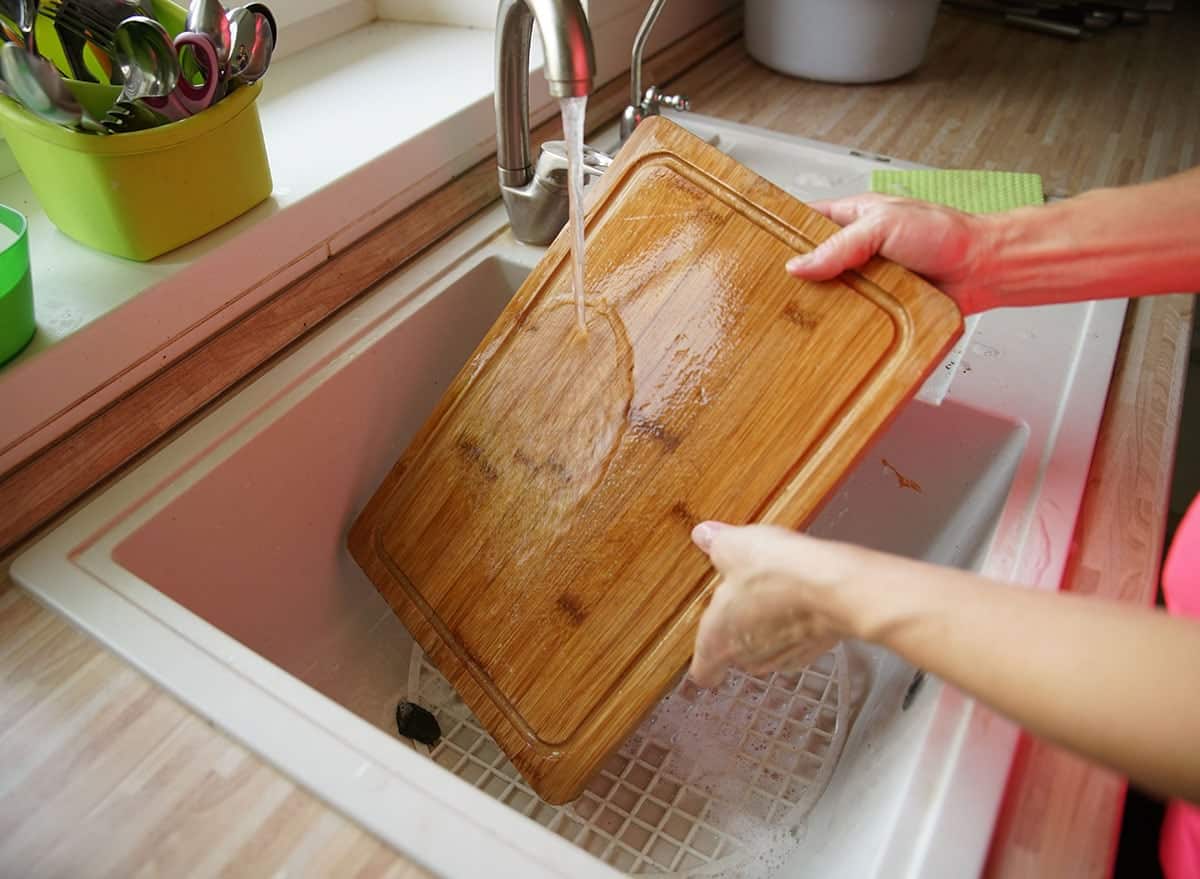 Step 2: Make a Cleaning Solution
Then, you should prepare a cleaning solution. We recommend adding some drops of your favorite gentle dish soap to a bowl with warm water. You'll then use a gentle sponge soaked in this mixture to wash the board surface.
Keep in mind that you should not submerge or soak your wood cutting board. Nor should you put it in the dishwasher. The heat and water will cause the board to crack, splinter, and warp, rendering it unusable.
Step 3: Remove Stains and Odors
Sometimes, wood cutting boards will develop strong smells. Onions and garlic are usually the culprits. It might also happen that wood cutting boards get stained, especially after you've chopped heavily pigmented foods (for instance, tomatoes, cooked meat, beats, and berries) on them.
Solving both these problems is easy. Start by sprinkling kosher salt, sea salt, or baking powder on your wood cutting board. Then, rub half a lemon on the affected areas. You could also pour some white vinegar instead of the lemon and scrub with a sponge.
Once you're done, rinse the board and move to the next step.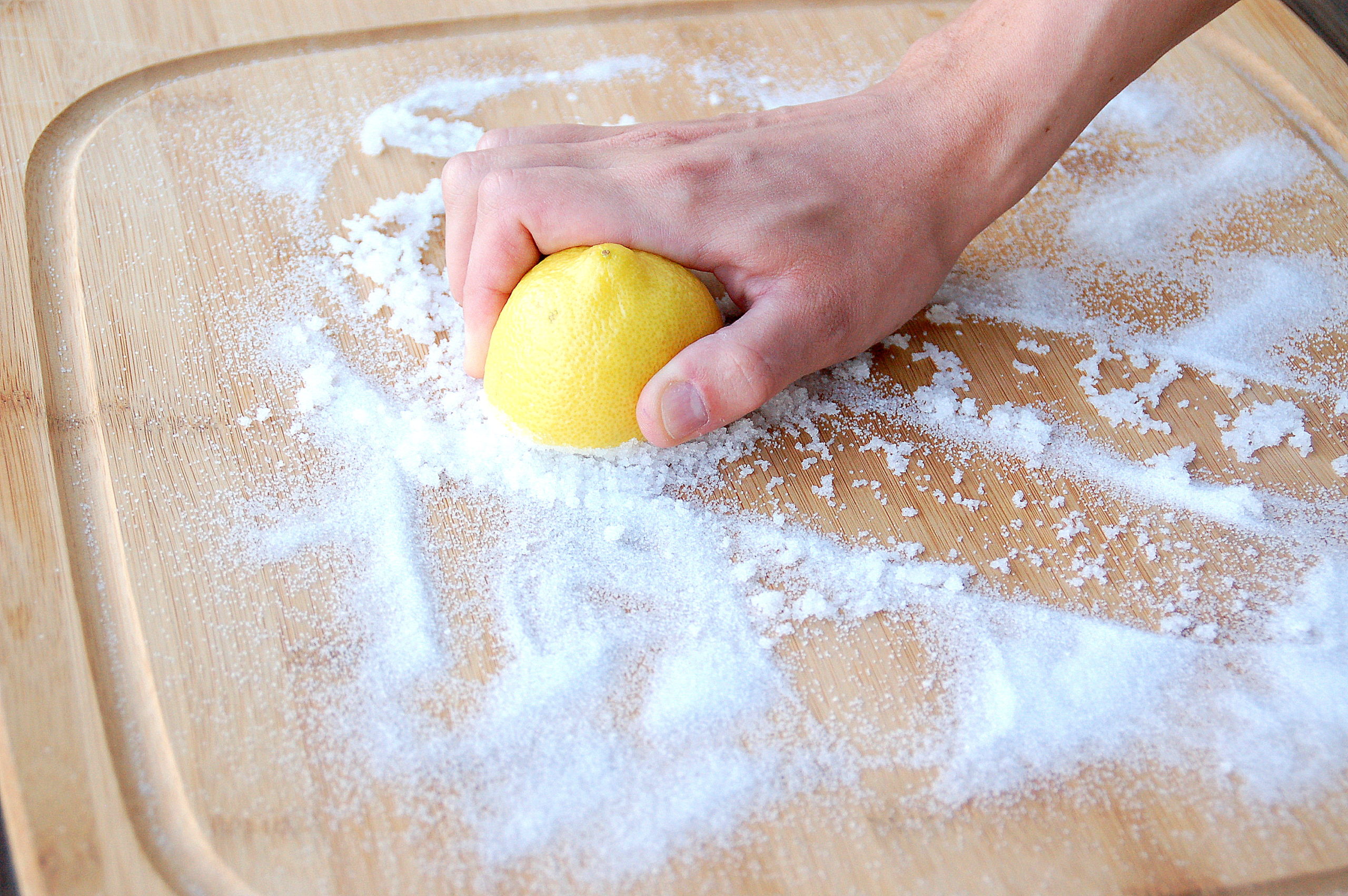 Step 4: Disinfect 
Occasionally, you should properly disinfect your board. It's a step up from merely cleaning it with water and soap because it kills any bacteria that may be hiding to the naked eye.
To do this, pour white vinegar in a spray bottle and spritz your board with it. Alternatively, you can dilute pure chlorine bleach (hydrogen peroxide) in water, on a 3-to-100 ratio.
Let stand for five minutes and rinse with water.
Step 5: Dry the Cutting Slab Upright
This step is no less important: you must always let your cutting board air dry. Place it upright on a dish rack and leave for several hours.
If your board is still wet or moist, do not set it down on the counter. Otherwise, on one of the sides, the wood fibers will collect moisture and begin to splinter.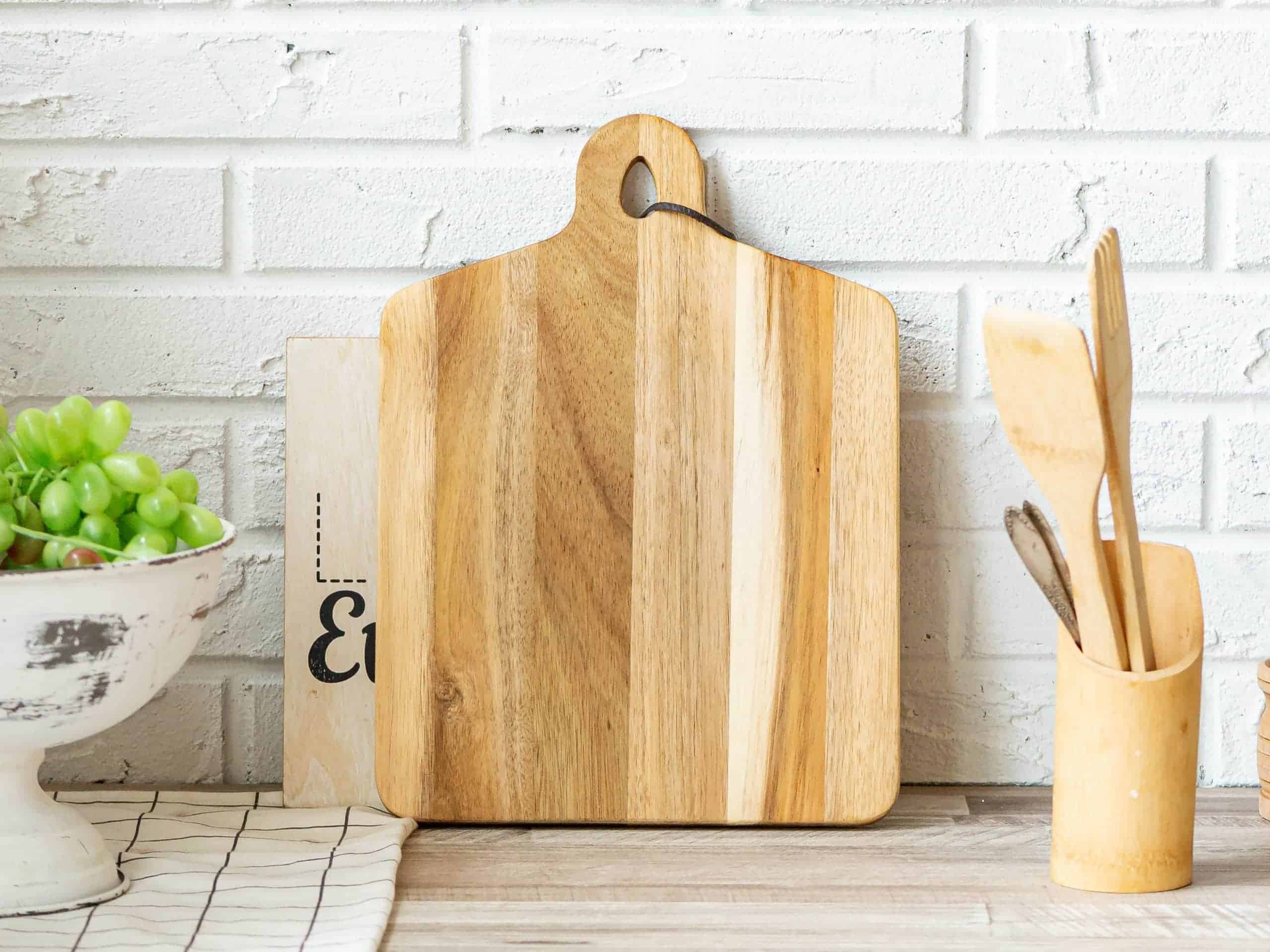 Bonus: Oil the Cutting Board Occasionally
You don't have to oil wood cutting boards after every use, but it's a good idea to do it once or twice a month. It will keep the entire wood cutting board healthy, water-repellant, and looking good for a long time. If you don't know how to do it, we've created an entire guide to help you.
Use highly refined, food-grade mineral oil and a cloth or paper town for this task. If you want a healthier, more natural alternative to mineral oil, you can use beeswax.
Do not apply olive oil, or any other cooking oil, as they will grow rancid and develop a pungent, unpleasant smell. Only mineral oil, plant-based oils for cutting boards, or beeswax.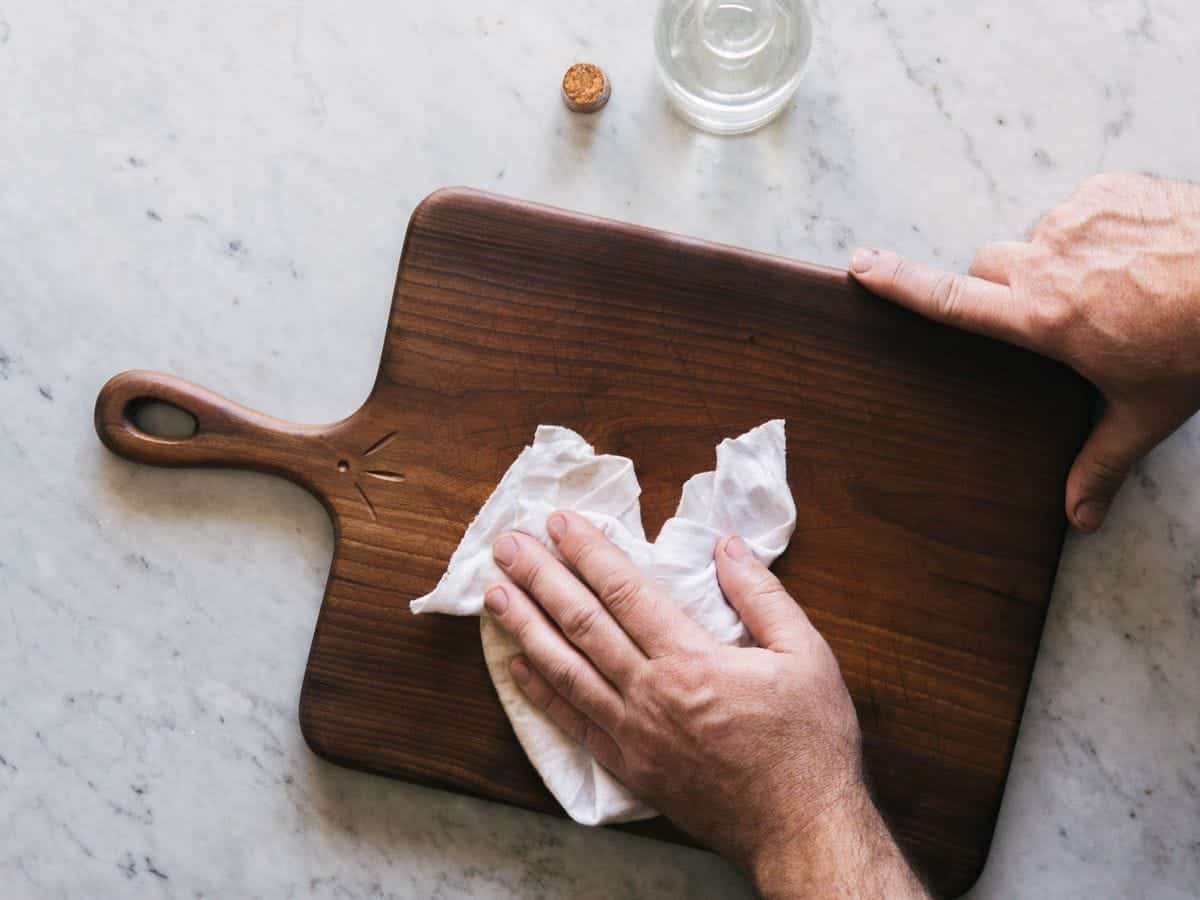 How to Clean a Plastic Cutting Board in 3 Steps
Plastic cutting boards are worlds easier to clean and take care of than wood cutting boards. You'll only have to go through three simple steps.
Step 1: Handwash or Use the Dishwasher
For starters, you can choose to handwash your cutting board with hot water and soap or simply put it in the dishwasher. Most models are dishwasher safe and won't warp with time. Just make sure you're stacking the board upright in the dishwasher, without bending it.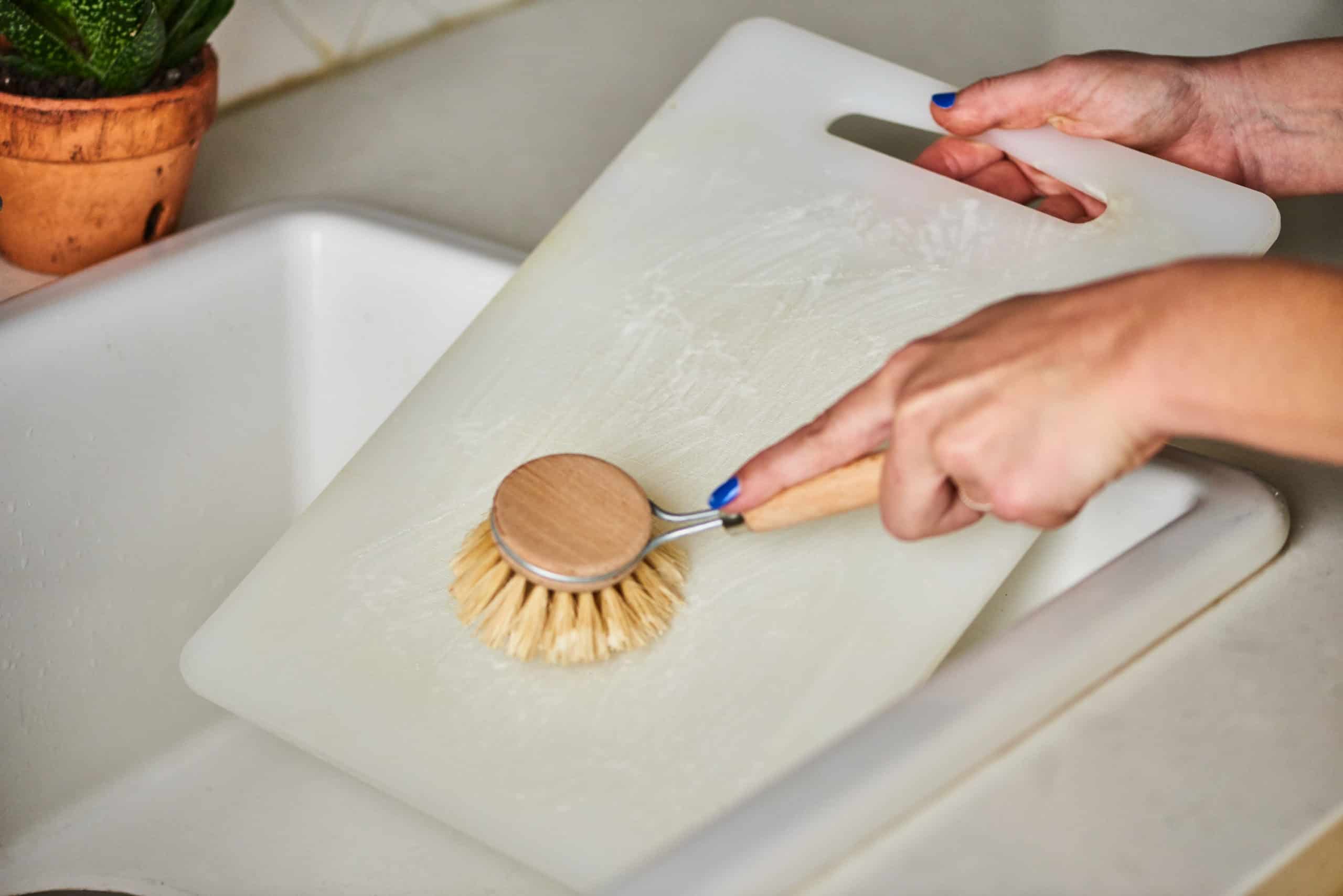 Step 2: Make a Cleaning Solution
If you're handwashing it, just use regular dish soap and hot water. There's no need to pick a gentler soap.
Step 3: Don't Forget to Sanitize
Just because plastic boards are easy to clean doesn't mean you won't have to sanitize it occasionally. Always do it after cutting raw meat, to prevent harmful bacterial growth.
Use a bleach and water solution (one teaspoon of chlorine bleach in one quart of water) or spray some white vinegar on the board. Let the mixture sit and work its magic for five minutes and then rinse with hot water.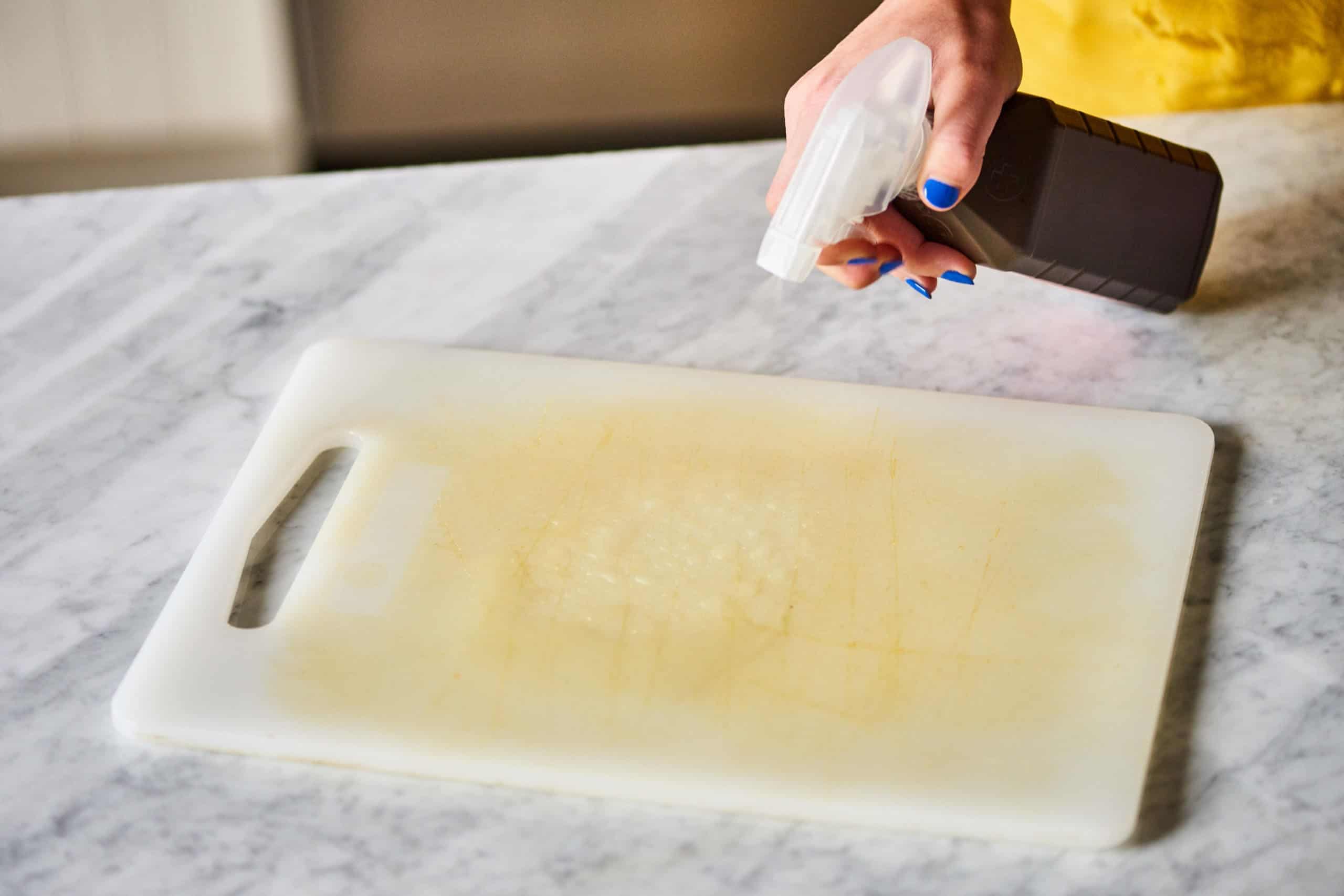 Bonus: Keep Your Plastic Cutting Board Smooth
It's a good idea to smooth your plastic cutting board once in a while. This will remove any knife scratches you may have done to the board. It's in these hard-to-reach crannies that bacteria are most likely to grow.