Bringing a haul of fresh strawberries home from the farmer's market or grocery store is always a joy, especially in the early summer when they are perfectly ripe and oh-so-sweet! Just like all fresh produce though, strawberries can pick up a lot of different contaminants on their long journey from strawberry plant to your kitchen.
So, what's the best method for getting your berries clean and ensuring they are as safe and tasty as possible? We've collected the top 4 easy, most effective methods for cleaning strawberries--no special products required!
Strawberry Basics
While generally regarded as an extremely popular berry, interestingly enough, the strawberry is not a true berry! Along with other fruits such as blackberries and raspberries, strawberries are categorized as aggregate fruits. This means that "berry" is not actually a fruit itself, rather it is several smaller, individual fruits which coalesce into a single unit. Those specks on the outside of a strawberry which we most often call "strawberry seeds"? Those are the actual fruits of the strawberry plant!
It's all well and good to understand the botanical basis of important food sources such as strawberries and other berries. With this knowledge, we can grasp the whys and hows of plant anatomy and how that affects the tastes, textures, and nutritional value of the foods we eat.
Importance of Cleaning Strawberries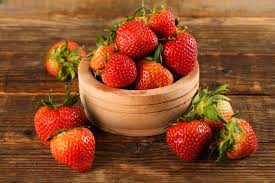 Now that we understand exactly what those little strawberries are and how they grow, let's get on to the more practical issue of how to clean strawberries. Washing strawberries is extremely important and we're here to tell you why.
It's no secret that berries are fragile little jewels. With their petite size and soft skins, it doesn't take much to damage a perfectly good berry beyond edibility. For this reason, most commercial growers opt to produce their strawberries with the use of pesticides, so as to help remove one of the major threats to their delicate berries: insect damage.
Therefore it's no surprise that strawberries in particular are often at the top of the charts when it comes to the infamous Dirty Dozen List. Published by the Environmental Working Group each year, this list highlights those fresh fruits and vegetables which return the highest levels of pesticide residue upon testing.
Despite this unfortunate infamy, strawberries are still very much worth eating. They are packed with fiber, vitamin C, and other important nutrients and perhaps most importantly, they taste amazing. As a healthy way to satisfy that sweet tooth, don't disavow strawberries just because of these issues. Just wash them!
Do You Need to Clean Organic Strawberries?
Certified organic fruits and vegetables must meet strict standards to ensure they are not exposed to these same harmful pesticides as conventionally grown berries. However, without the use of pesticides, you can bet that another contaminant may show up: the pests themselves.
Think of it this way, insects and animals find strawberries to be just as irresistible as we do! Therefore the insects that are normally wiped out by commercial pesticides may remain on or in your organic strawberries, and the berries themselves may be exposed to the waste products of any critters making their way through berry fields and happily chowing down. There are also plenty of germs present in the soil itself (it's chock full of living things!) and not to mention all of the human handling the berries go through as they make their way from being picked off of the strawberry plant all the way to the market in which they are sold.
When it comes to organic strawberries, even though you don't have to worry about the risk of exposure to chemical pesticides, you do still have to keep these other factors in mind and therefore, it is always a good idea to wash your strawberries.
When Should You Clean Your Strawberries?
We know it's tempting to get all of your washing and prepping done right when you bring your produce home from the grocery store but in the case of strawberries, we recommend putting the task off just a bit! The best time to wash strawberries is right before you are ready to use or freeze them, and it's best to only wash as many berries as you will be using at any given time, whether you plan to cook them into a strawberry recipe or if you will be eating them fresh.
Washing strawberries ahead of time will greatly reduce their shelf life, as the introduction of moisture can encourage mold growth and also affect the naturally wonderful texture of fresh strawberries as they will suck up added moisture like a sponge.
The 4 Best Methods for Washing Strawberries
Now that we understand the importance of washing your strawberries and have learned exactly when it is best to do so, let's get to it! Here are 4 quick and easy methods to clean fresh strawberries, each with its own benefits.
The Cold Water Method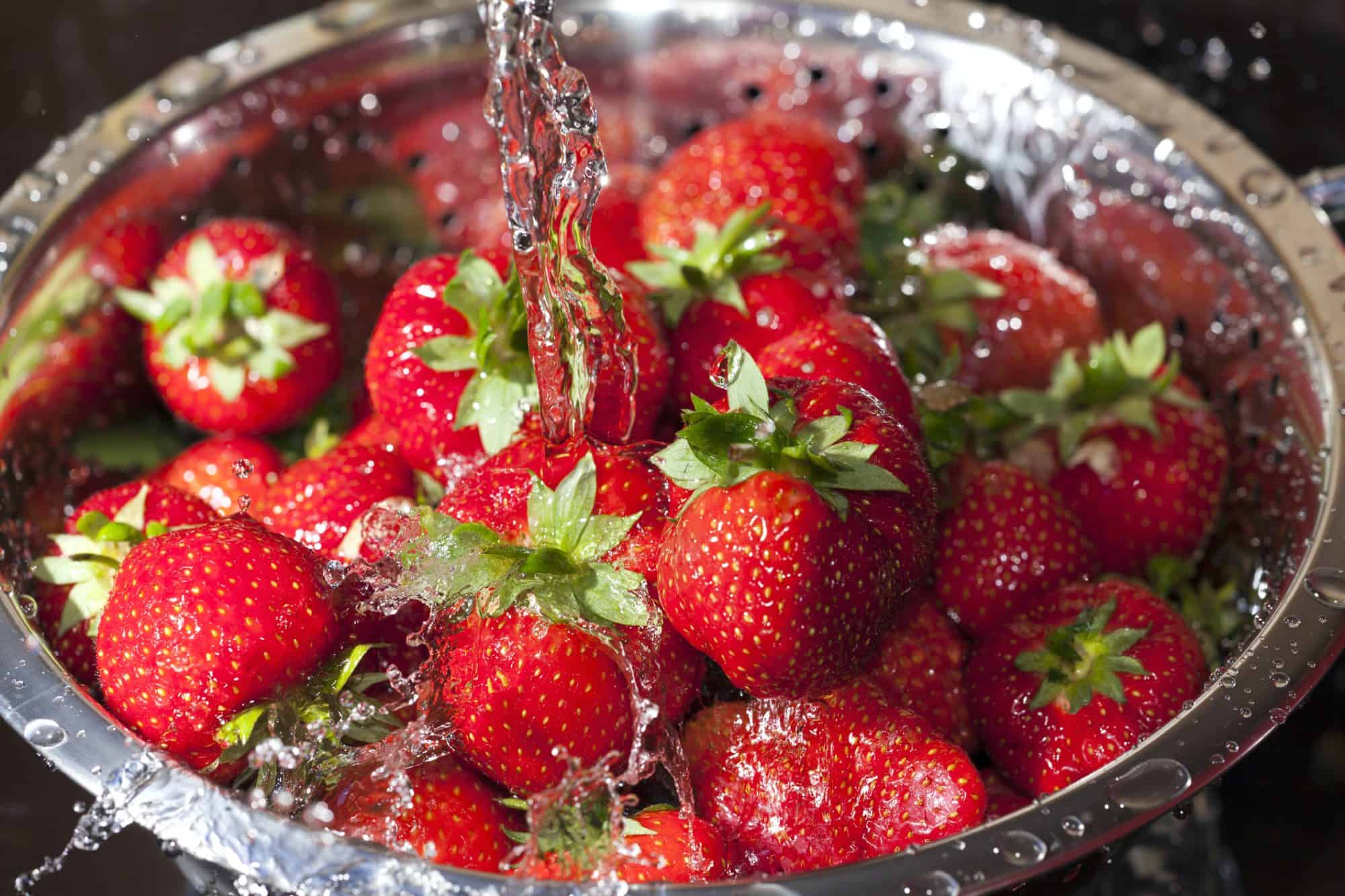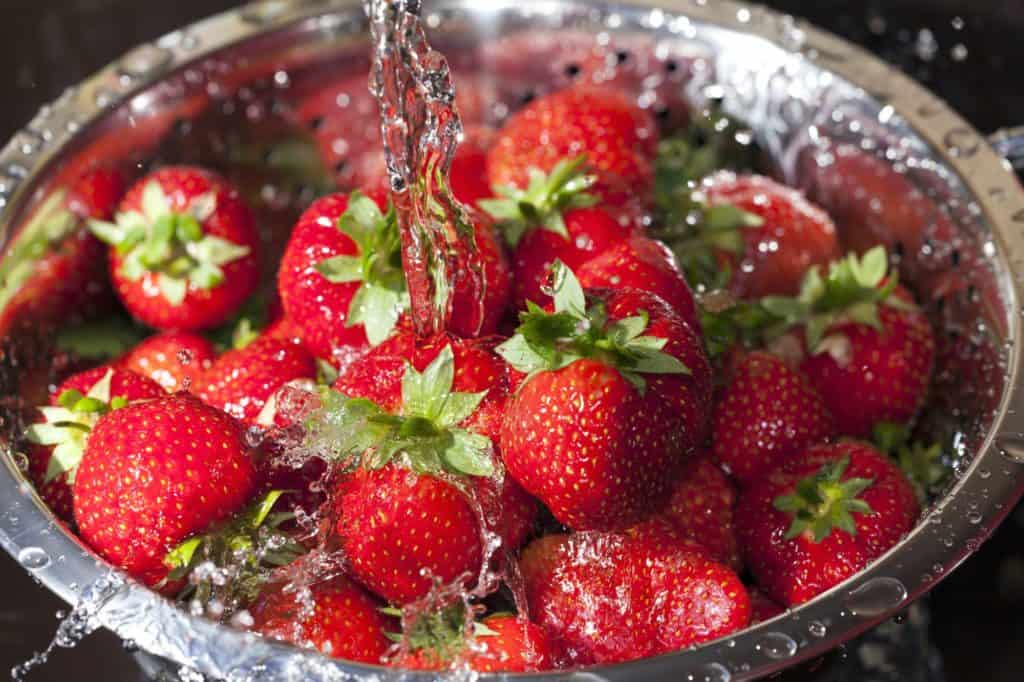 Our first method for cleaning strawberries is also the simplest--nothing more than cold water required! You may wonder "how does cold water do anything!". But surprisingly enough, cold running water is extremely effective at removing pesticide residue and surface bacteria, especially when used in conjunction with some gentle scrubbing.
Step 1: Prepare the Berries
Remove the stems from your strawberries (if desired) and place them in a colander or mesh strainer.
Step 2: Rinse the Berries
Under cold running water, rinse the berries thoroughly while gently rubbing the surface of each strawberry.
Step 3: Dry the Berries
Allow the berries to drain in the strainer or colander for several minutes, then gently pat them dry using paper towels or a clean kitchen towel.
Make a Vinegar Solution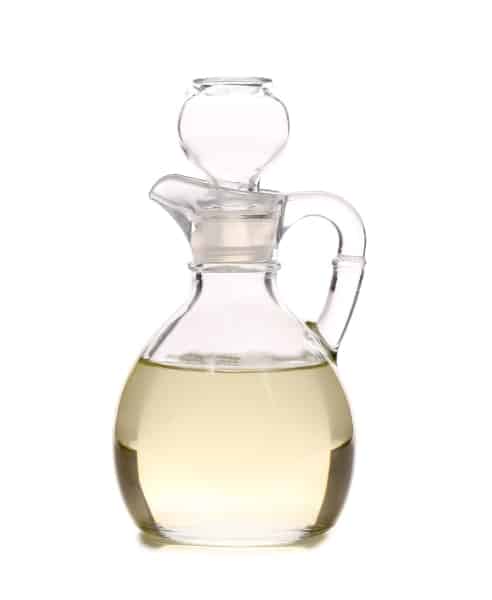 You can also clean your strawberries using a vinegar wash! This is an especially effective way to remove pesticide residue and bacteria with the added bonus of using a food-safe, common pantry item to do so. You might worry that your strawberries will end up with a vinegar-y aftertaste but fear not! A quick rinse will remove any acidic notes from the berries. In addition, the vinegar is extra effective at removing mold spores, therefore it may help the berries to last longer.
Step 1: Make the Vinegar Bath
In a mixing bowl or measuring cup, combine four parts cool water to one part white vinegar. Apple cider vinegar would also work well here, or white wine vinegar! Be sure to make enough vinegar solution that you can fully submerge all of the strawberries you intend to clean.
Step 2: Soak the Strawberries
Place the strawberries, with stems removed, in a large bowl and pour in the vinegar mixture. Allow them to soak for 15-20 minutes.
Step 3: Rinse and Dry the Strawberries
Remove the strawberries from the vinegar solution, then give them a quick rinse under cool running water, just to remove any trace of vinegar taste. Pat the strawberries dry with paper towels or a clean kitchen towel.
Use Baking Soda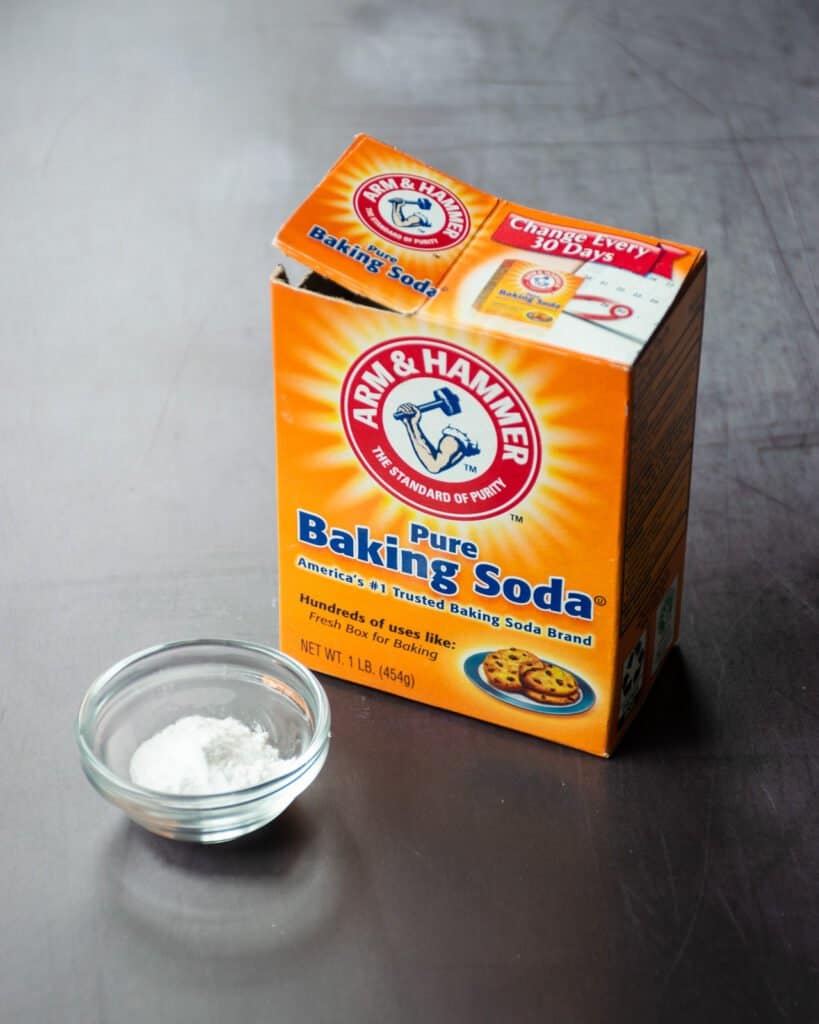 Baking soda is another pantry closet staple which can also be used to effectively clean strawberries! Just like having that box of open baking soda in the fridge can help to pull odors from the air, soaking strawberries in a baking soda solution can help to lift contaminants from the surface of the fruit as well as inhibit mold in its early stages.
Step 1: Make the Baking Soda Mixture
In a large bowl or open container, combine 1 teaspoon of baking soda and 4 cups of water. Stir or whisk gently, just until the baking soda appears dissolved into the water. Be sure to make enough baking soda solution to completely submerge all of the strawberries you intend to clean and multiply the recipe for the mixture as needed.
Step 2: Soak the Strawberries
Add the de-stemmed strawberries into the bowl with the baking soda solution and stir gently to ensure that all of the berries are under the surface of the liquid and have been evenly coated in the fluid. Set a timer for 5 minutes and allow the berries to soak!
Step 3: Rinse, Dry, and Finish!
Once the time has elapsed, use a slotted spoon to lift the berries out of the baking soda solution and place them in a colander or mesh strainer. Give the berries a quick rinse under cool running water, then pat them dry with a clean kitchen towel.
A Saltwater Rinse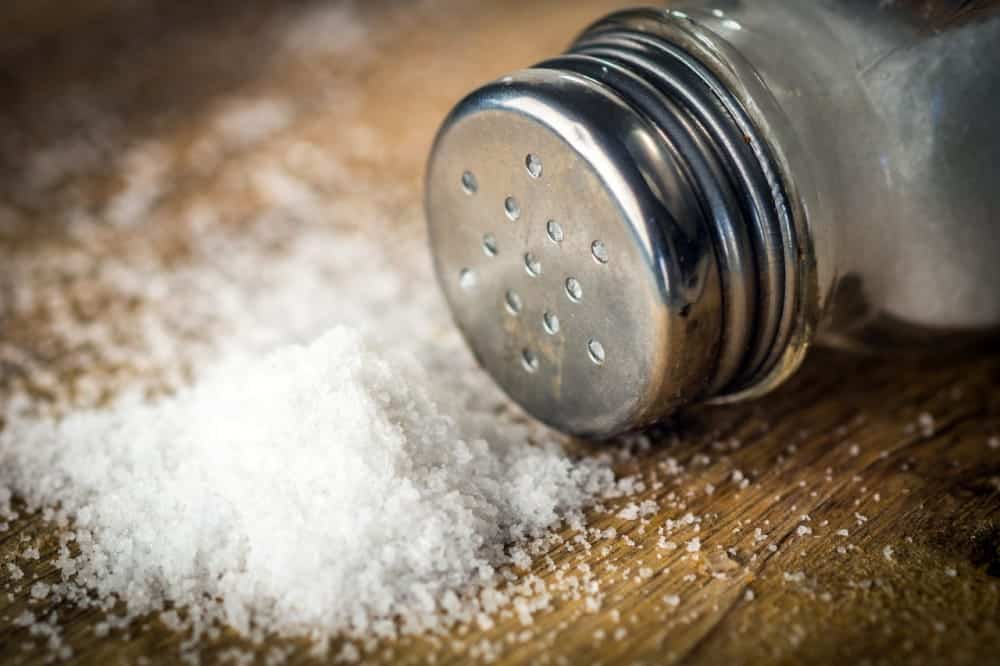 Using nothing more than any ordinary salt you have around your kitchen, you can effectively clean your berries! While not quite as good at removing pesticides and bacteria as some of the other methods, the saltwater rinse is an especially good method for organic berries, as it helps to encourage any pests which may be lingering in your batch of berries to abandon ship.
Don't worry if you see them though, you can actually take the presence of little critters in your package of berries as a good indicator that your fruit is free of dangerous chemicals. Everybody's gotta eat, and insects happen to think that organically grown strawberries are nutritious and delicious as well.
Step 1: Dissolve the Salt
In a large bowl or other container, mix 1 teaspoon of salt per cup of water you're using. We recommend using room temperature water, whisking vigorously to agitate the mixture (before adding the berries of course!), and then allowing it to rest for 15-30 minutes until the salt is completely dissolved. You may also use warm water to dissolve the salt, but after it has done so, you'll want to chill it in the refrigerator until it is cool before you can add the berries.
Step 2: Soak the Berries
Once the salt has dissolved completely and/or the mixture has cooled, go ahead and add the strawberries. Allow them to soak in the saltwater solution for 5 minutes.
Step 3: Rinse and Dry Cycle!
Remove the berries from their salt bath and quickly rinse them in cool water. Gently pat your strawberries dry with a paper towel or clean kitchen towel and enjoy them!
Do You Need a Special Fruit Wash?
By now you've probably noticed that none of our best methods for washing strawberries include the use of special fruit washes or produce sprays. The truth is, studies show that these items are actually not the most effective way to clean fresh produce. Rather, they seem to deliver the same or even less cleaning power when compared to washing with water alone.
In addition, the FDA actually advises against using these products, or any other soaps for that matter, on the surfaces of foods. This caution is due to the fact that such products may leave a residue on fruits and vegetables, and the ingestion of these residues have not been tested to determine their safety.
Evaluating the Best Ways to Wash Strawberries: The Bottom Line
When it comes to determining how to wash strawberries, the key takeaway is this: you most likely have everything you need to effectively clean your fresh berries right in your own kitchen!
Whether you opt for the simplest cold water method, or would like to go the extra mile and create a cleaning solution using one of a few common household ingredients, washing fresh produce definitely does not have to be a chore. Simply soak them in their bath, rinse clean, and pat dry to have perfectly clean, fresh-tasting berries!
Furthermore, there's no need to wash all of your fruits and vegetables the moment you bring them home from the store! Strawberries will actually stay fresher for longer if you save the cleaning for right before you are ready to eat them.