Knife skills are as important as they are intimidating. Most home cooks don't know how to hold a chef knife the right way. In fact, if you didn't go to culinary school (or haven't watched dozens of expert advice YouTube videos shot by professional chefs), you may not know that kitchen knives are all different and require different techniques.
If you feel lost, don't worry. Today, we're teaching you all the ins-and-outs of chef's knife grips. Stick around until the end to learn some extra safety techniques from us.
Technique #1: The Handle Grip
The handle grip is also often called the all-purpose grip. Start by looping all your fingers around the handle of the knife. Then hold the knife firmly in your palm. Your fingers should all sit comfortably under the bolster. Is this position comfortable? It should be. If it isn't, adjust your grip.
This knife grip is best for cutting and chopping motions. It won't give you a lot of precise control, so if you're trying to be neat in your cuts, it might be best to try another type of finger grip. This is a great way to hold a knife for long periods of time without your wrist feeling tired.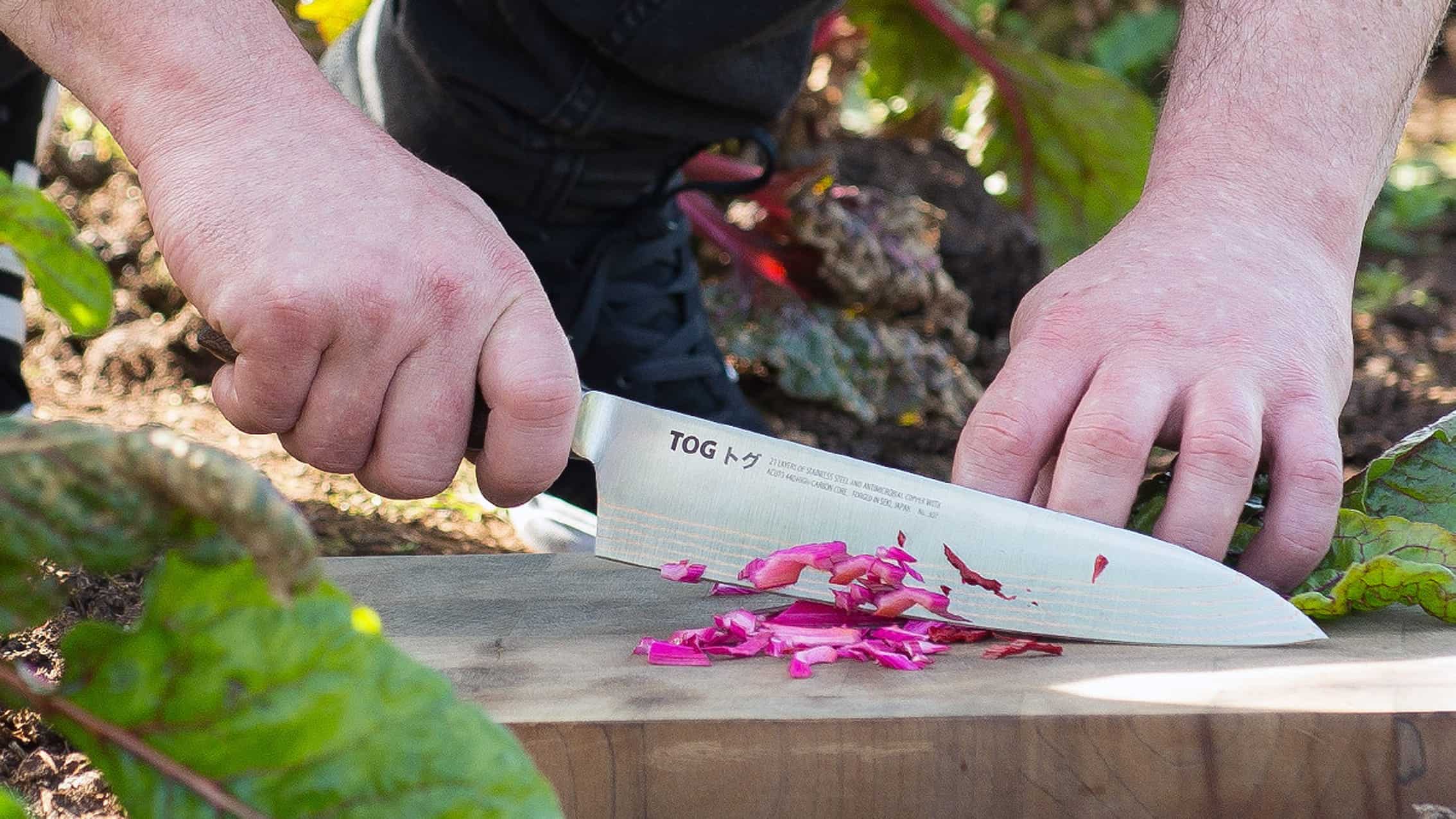 Technique #2: The Blade Grip
An alternative to the grip on the handle is the blade grip. It's also called the pinch grip because it looks like you're pinching the blade of your knife. Keep in mind that this one is slightly harder, so you should attempt it after you get some experience.
For this technique, three fingers grasp the handle of the knife while your index finger and thumb hold onto the blade directly. Your thumb and forefinger should sit on opposites of the blade from each other. You'll want to keep a firm pinch on the blade.
The best thing about this hand position is the fact that it gives you great control over your movements. Despite it looking a bit odd and unstable, even, it's actually a very safe way to hold a chef's knife like a pro.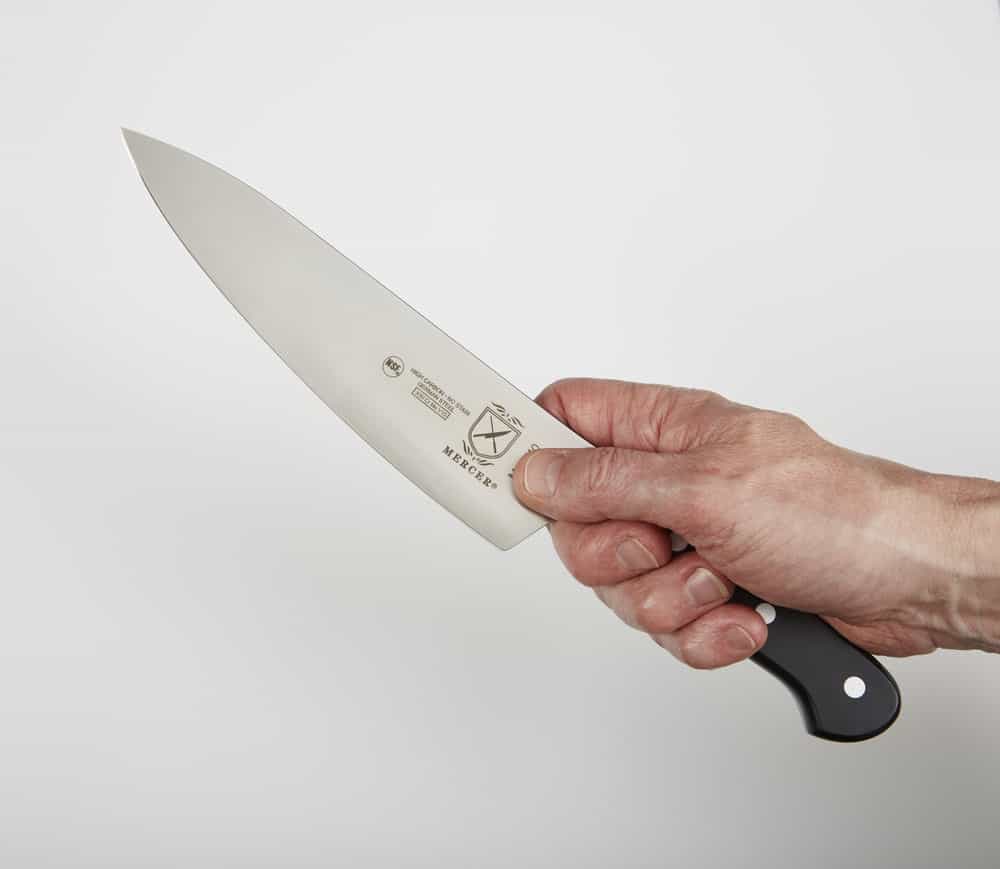 Guiding a Chef Knife's Properly
Now that you know what to do with your knife hand, let's look at how you should position your other hand. The two motions we'll look at are crucial to minimizing your risk of cutting yourself in the kitchen.
The Claw Motion
Lay your hand flat with your fingers slightly spread out on the cutting board. Then, keep your palm down while curling your fingers inward. Now keep that claw-like handshape in mind. It will keep your fingertips safe from the cutting edge of the knife.
When you dice or slice foods, you should hold the ingredients in place with your tucked-in fingertips. This will keep them stable so you can start cutting. Remember, the knife blade should only rest against your curled fingers.
Lastly, we recommend rocking the knife back and forth. Don't lift it too much so you don't lose the safe claw motion.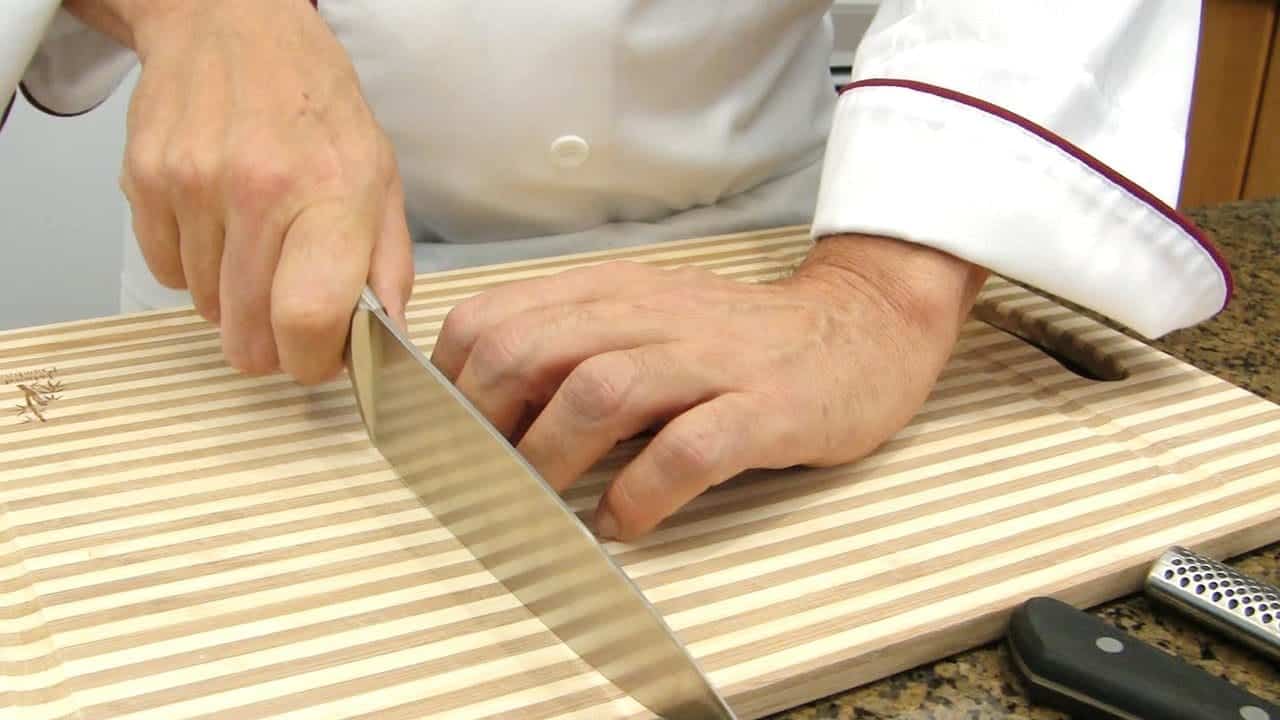 The Knife-Pressing Motion
If you're mincing herbs, garlic, or ginger, however, you might find it more helpful to use the knife-pressing method. Holding the knife according to the blade grip technique is a good idea. Then, take your non-dominant hand and rest the tips of your index, middle, and ring fingers on the top of the knife's blade tip.
You should then rock the blade back and forth. Remember to go over the first cuts you make several times to make sure you're mincing those bits as finely as possible.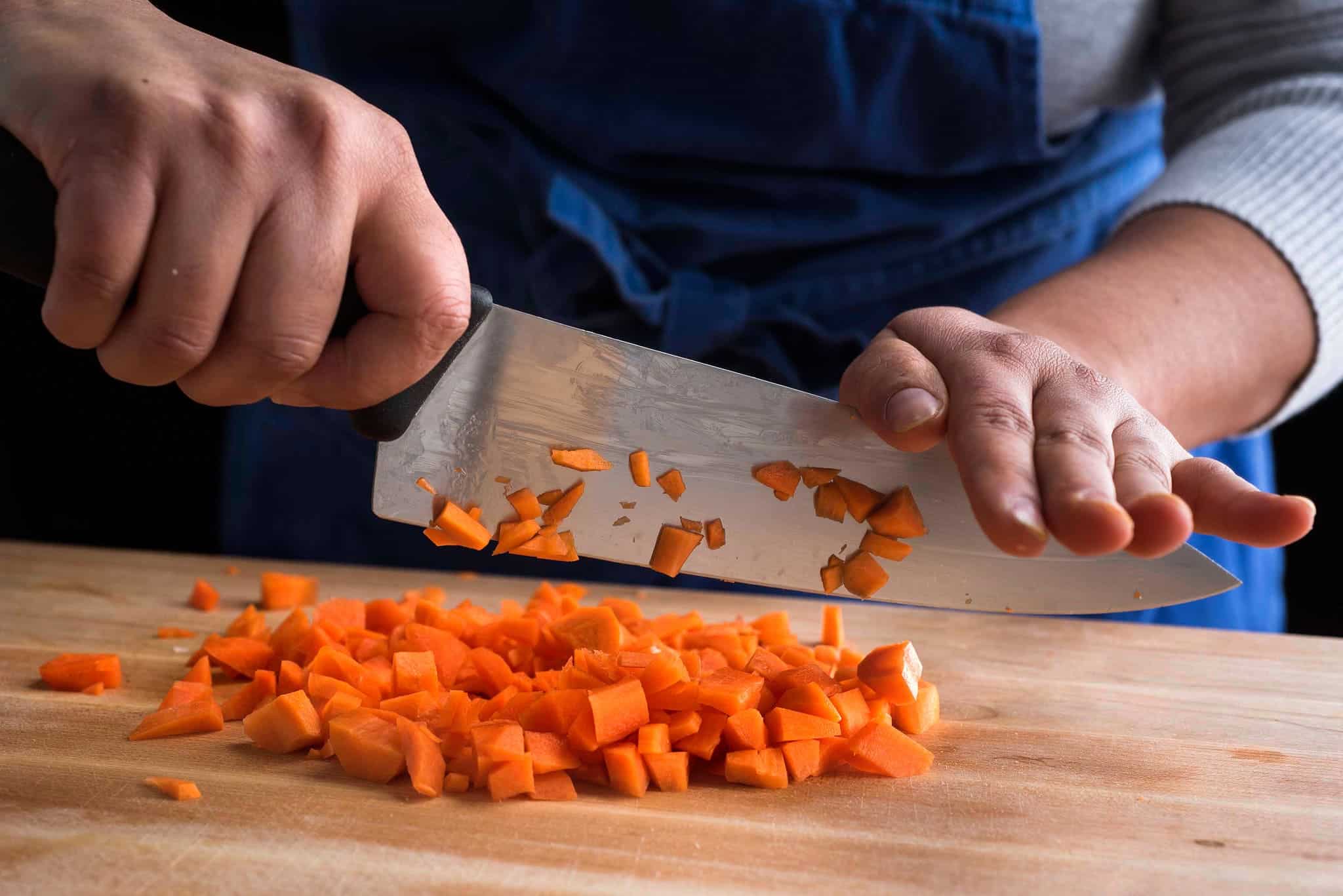 Extra Tips on Handling a Chef's Knife Safely
Knife safety is crucial, so we have a few more safety tips for you. Keep those fingers tucked in, the hold over the knife firm, and stay safe!
Keep Your Cutting Board Still
Good knife skills won't spare you from accidental cuts if your cutting board isn't still in place. A well-maintained wooden board should stay in place as long as it isn't warped. But if your plastic cutting board is slipping, place a dishcloth or a kitchen towel underneath.
Keep Your Chef's Knife Sharp
Did you know dull knives cause more injuries than sharp knives? It's true. Keeping your chef's knife sharpened promotes safety—not to mention better knife cuts. Use either a manual knife sharpener or an electric knife sharpener to keep your blade in tip-top shape.