Out of all of the items you could select from the produce department at your local grocer or farmer's market, fresh strawberries have got to be one of the most persnickety! Sensitive to air exposure, temperature fluctuations, and moisture level--a box of strawberries is definitely not the easiest thing to care for.
We've got your back though! Whether you have just brought the most perfect pint of strawberries home and need guidance on what to do next, or you are simply getting yourself geared up for the fast approaching strawberry season, we'll clue you in on all of the best strawberry storage tips and a guide to freezing your berries!
What Type of Container Should You Store Strawberries In?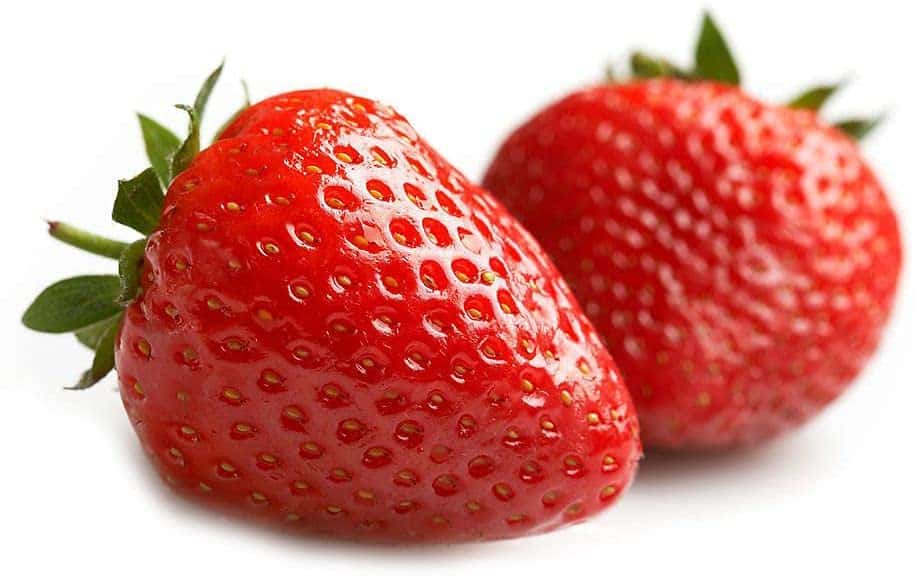 When it comes to strawberry storage, your choice of containment is crucial. We are big fans of the good ol' airtight container (whether it be a tupperware style container or a resealable plastic bag) for most food storage needs. However, in the case of strawberries, they actually need some airflow to stave off the growth of mold.
Therefore, any container with an airtight seal will not do the job. And, as we alluded to, fresh berries are extremely sensitive to air. If you leave your berries completely open and exposed, they are likely to become too dry and shrivel up before you get the chance to enjoy their succulence.
Original is Best!
So where does this leave us? Honestly, and against all logic, your best bet when it comes time to store fresh strawberries is likely to simply leave them in the original packaging! Whether it's one of those open weave wooden or paper containers from the farmers market or that plastic clamshell packaging from the grocery store, these berry containers offer just the right mix of protection and airflow. If your berry container has a lid (as with the plastic types), we recommend leaving it open and if for some reason there is a layer of plastic covering the berries (we've seen it a time or two!) be sure to remove that as well.
Other Options
If you don't have the original container your berries were sold in, or you would simply prefer using something else, there are a couple other ways to store strawberries using items you most likely have in your kitchen!
In a Strainer
You can place your berries in a mesh strainer loosely covered with a paper towel and then place the entire strainer over a bowl to keep the airflow consistent. Just be sure not to cram too many berries into the strainer, as you run the risk of the berries on top crushing the ones below.
In a Shallow Container
Another viable storage method is to place the strawberries in a shallow bowl or glass container which has been lined with paper towels. Once again, keep the number of berries that are on top of one another to a minimum
In a Mason Jar
Against our preaching against the use of airtight containers above, there does seem to be one exception to this rule when it comes to strawberries. Oddly enough, fresh strawberries store quite when placed in a mason jar with a tightly fitting lid! Just don't pack the berries too tightly, as you want to be sure they have plenty of room for airflow in between and amongst themselves.
What Temperature Should You Store Strawberries At?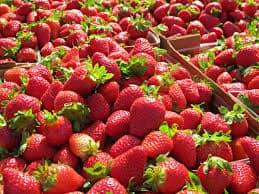 This issue tends to be one of the most confusing of all, and for good reason! When shopping for fresh strawberries, sometimes you'll see them on a room temperature produce display, front and center, while other times the boxes of berries are neatly stacked in the refrigerated section. What's the deal!
As you might expect, the answer is not so straightforward. If you've been lucky enough to ever visit a strawberry field (cue the Beatles lyrics!), you already know just how good they taste at ambient temperature, perhaps slightly warmed by the late spring sun. Once chilled, those berries are still good, but not quite as good, so do you really have to refrigerate them?
Storing Strawberries at Room Temperature
You don't have to refrigerate your berries. Strawberries are perfectly safe, and delicious, to eat at room temperature. However, the catch is that once picked, strawberries have quite a brief shelf life, and they will certainly spoil faster if they sit around at room temperature for too long. Even just a few hours at room temperature is enough for mold growth to begin--mold which will continue spreading even if the berries are then placed in refrigeration.
Bottom line, if you are planning to eat up all of your berries within a couple hours, by all means leave them sitting on the counter for easy snacking and maximum enjoyment! Otherwise, it's best to plan to store your strawberries in the refrigerator.
Storing Strawberries in the Fridge
Lucky for you, storing strawberries in the fridge will greatly extend their shelf life. Cold temperatures help to keep strawberries fresh longer by way of inhibiting mold growth and slowing the reproduction rate of bacteria.
Unfortunately, keeping your berries fresh for longer comes with a price. The chilly temps that slow down harmful microorganisms also do some damage to the texture and flavor of fresh strawberries.
Nevertheless! Chilly, slightly less succulent strawberries are far better than room temperature berries which have spoiled, so if you won't be popping them into your mouth anytime soon, go ahead and pop them into the refrigerator. Depending on how fresh the berries are when you get them, they'll likely last for about a week in the fridge, but freshly picked berries could last up to two weeks.
Can You Freeze Strawberries?
So, you've found yourself in the situation where those strawberries looked simply too good to pass up, and now you have far more strawberries than would ever be possible to consume in the foreseeable future? Freeze those precious gems! Storing strawberries in the freezer is a great way to preserve them for many months to come.
While their texture will not be quite the same after freezing and defrosting, their flavor and nutritional elements will be very much intact. Frozen strawberries are perfect for use in recipes, as a ready-to-use ice cream or yogurt topping, or for blending into fresh-tasting juices and smoothies.
How to Freeze Strawberries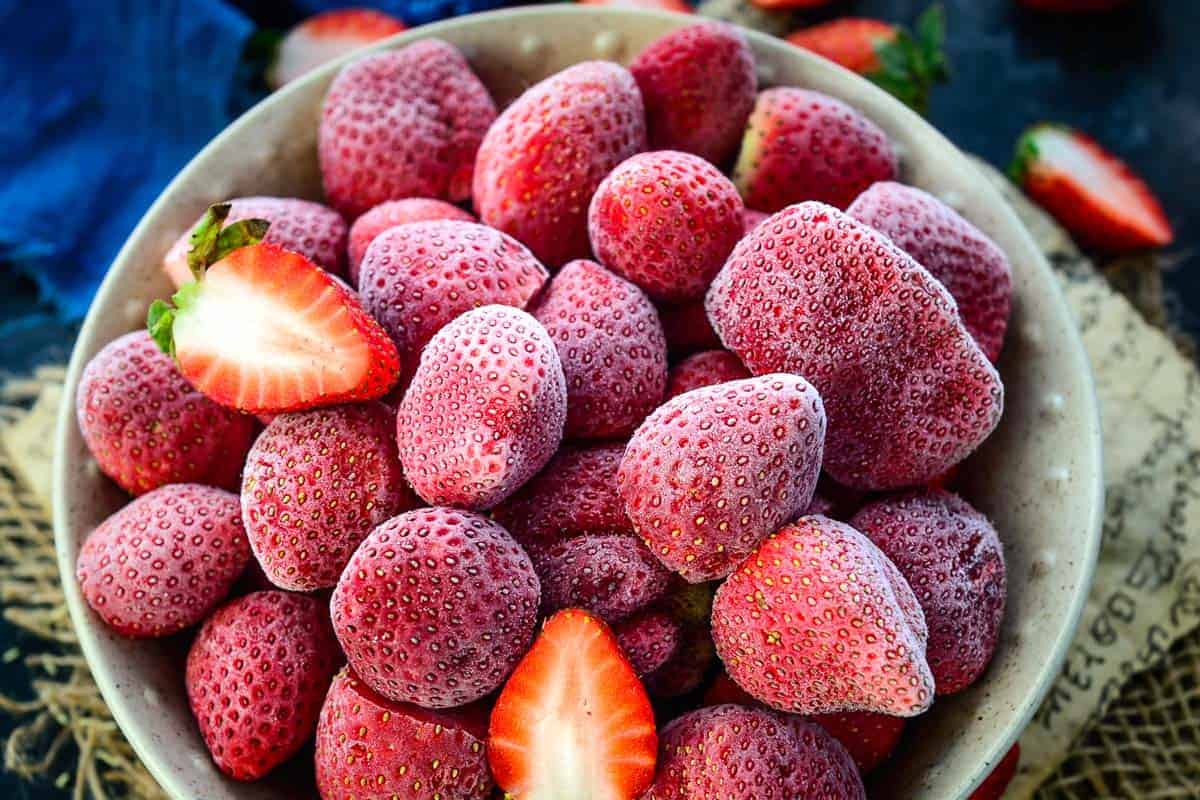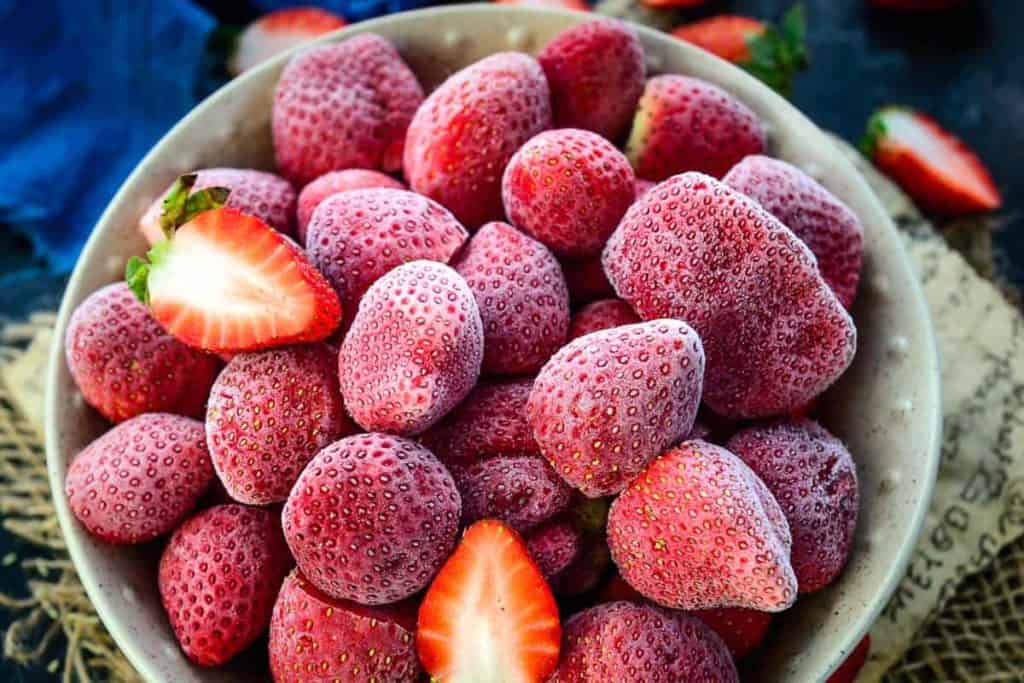 It's quite easy to freeze strawberries, just follow these simple steps:
Step 1: Clean the Strawberries
The best way to clean your fresh strawberries before freezing is to simply rinse them under cold water. Make sure to rinse around the leaves and stem--a common hiding spot for dirt and debris--and rub the berries gently under the running water. Spread the strawberries on a clean kitchen towel or paper towels to dry.
Step 2: Prepare the Strawberries
Remove the stems using a paring knife or strawberry huller, then decide whether you'd like to cut your berries or leave them whole. If you're leaving them whole, proceed to Step 3, but you can also opt to halve, quarter, or otherwise slice your berries as desired!
Step 3: Arrange the Strawberries
Place the whole strawberries or strawberry pieces cut side down on a parchment paper lined baking sheet. If your strawberry pieces have multiple cut sides, such as with sliced strawberries, just choose one cut side to face down and the other can face upwards. Make sure the berries are in a single layer and place the entire baking sheet in a flat area of your freezer.
Step 4: Repackage the Strawberries
Once the strawberries are frozen all the way through, which could take several hours depending on thickness, go ahead and remove them from the parchment paper lined baking sheet. Transfer the frozen berries to an airtight container such as a resealable plastic bag or a freezer-safe plastic container, as this will help to prevent freezer burn. Return your package to the freezer and enjoy a summery, sweet treat whenever the mood strikes you!
How to Defrost Frozen Strawberries
There are a few different approaches you can take when it comes time to defrost those frozen berries.
First and foremost, that handy defrost setting on your microwave! Place the frozen strawberries in a microwave safe bowl and let 'er rip, checking the berries every 30 seconds or so until they are defrosting. The downside to this method? You stand a chance of cooking or at the very least, heating up some areas of the strawberries, which may not be desirable depending on your intended use for them. Furthermore, you should only use this method if you are planning to eat the strawberries right away or will be cooking them into a recipe.
Your next option is to place the strawberries in a resealable plastic bag (if they aren't in one already from the freezer) and place the entire bag into a large bowl. Fill the bowl with cold water and submerge the bag of strawberries. You may need to place something heavy, such as a full water bottle, on the bag to prevent it from floating up to the surface of the water. Swish the bag of berries around from time to time and replace the water with fresh cold water, every 15-20 minutes until the berries are thawed.
Finally, your most time consuming but least amount of effort required option for defrosting your frozen strawberries, the refrigerator method! All you need to do is transfer the berries from the freezer to your refrigerator for about eight hours, or the night before you will need to use them. Ensure that your frozen strawberries are in a leak-proof container or bag, as they will release juices as they defrost!
How Can You Tell If Strawberries are Bad?
Despite all of your efforts taken to properly store your strawberries, the heartbreaking truth is that they're bound to go bad at some point! So, what are the telltale signs that your berries have bitten the dust?
Mold Growth
Strawberries most often grow a grayish blue mold known as Botrytis cinerea, however you definitely don't need to memorize the botanical name of it in order to know you shouldn't eat it!
Strawberries are moisture and sugar rich, just the type of environment of preference for many molds, therefore it tends to grow readily on soft fruits such as berries. Just one or two moldy berries in an otherwise perfect batch of them is no reason to toss out the whole thing, but once the number of moldy berries outweighs the clean berries, it's time to cut your losses.
Mushy Texture
Even if there is no mold present, your berries may begin suffering on a textural level due to exposure to humidity or rot. The berries may take on a darker coloring, collapsed appearance, and may be leaking liquid. Any mushy berries should be considered unfit to eat!
Off-Putting Smell or Taste
As always, if the food in question either smells or tastes gross, it's time to go! The berries could even look okay or have an intact texture, but if they're emitting an aroma that doesn't make you want to gobble them up in one bite, or worse, if you take a bite of one and think "hmm, that's odd", then to the compost bin they must go!
Summary of Tips for Storing Strawberries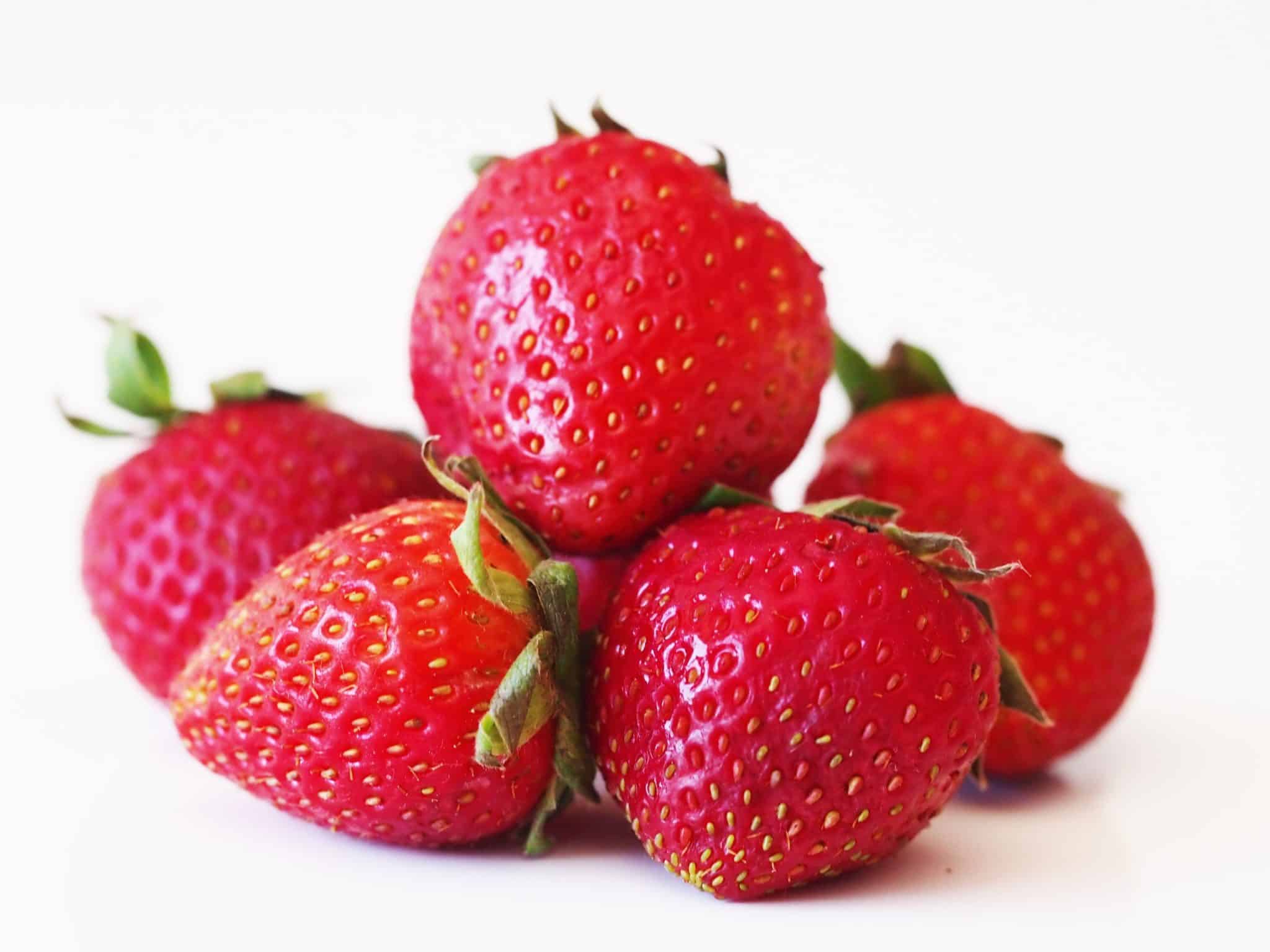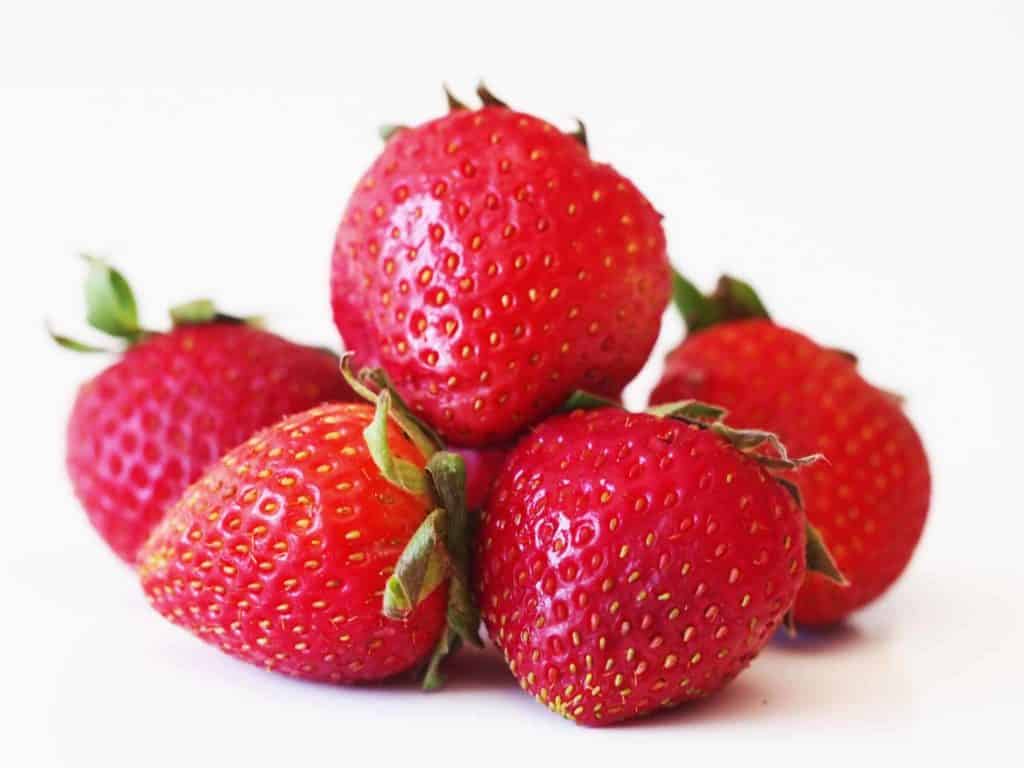 We all know that a strawberry will never be better than the moment right when you pick it, but since not many of us are lucky enough to have strawberry bushes at our disposal, effective storing techniques for these delightful berries is a must! We've covered a lot of ground in this article, so here are your key takeaways and tips for keeping strawberries fresh longer.
DO wash your hands and any necessary kitchen tools before handling your strawberries, as contaminants from these surfaces could easily transfer to your precious berries, causing them to spoil quickly.
DON'T wash the strawberries until you are ready to eat or cook them. When it comes to storage, unwashed strawberries always fare the best. In addition, exposure to excess moisture can cause the strawberries to take on a spongy texture.
DON'T remove the stems or otherwise cut your strawberries until you are ready to eat them! Whole berries stay fresh longer than sliced or chopped berries. If you have leftover cut strawberries after a meal or from making a recipe, you can store them in an airtight container in the fridge for a day or two, but plan to eat them quickly!
DO keep your strawberries in a single layer when possible during storage. This helps the berries underneath to avoid being crushed and allows all berries to get airflow.
DO check the bottom of your storage container or dish periodically to ensure that it is not collecting liquid or getting soggy. Storing fresh strawberries in a completely dry environment reigns supreme!
DO remove any strawberries that are going bad or starting to look suspicious. Rotting strawberries can easily cause the surrounding berries to spoil as well, so take the time to check on your strawberries and remove any moldy ones if they appear. How many strawberries go bad in a container is directly impacted by how quickly you get those bad berries out of there!
With that, you'll be keeping your strawberries fresh for far longer than it should ever take to eat them! Need some ideas on what to do with your fresh strawberries, aside from using them to test out our strawberry storing methods of course? Give our 4-Ingredient Strawberry Frozen Yogurt or Steak Salad with Sriracha Strawberry Dressing a shot!