We love using a crock pot to make delicious and effortless meals. Once you get the hang of using yours, you'll never want to not use it. The slow cooking process brings the best flavors out of every ingredient you're using—even if they're cheap cuts of meat you wouldn't otherwise cook with!
But how do you get to a point where you're comfortable using your brand new kitchen appliance? Today, we're demystifying the slow cooker and giving the best tips for how to use a crock pot properly. If you follow them, we guarantee you'll end up with a fool-proof tender and flavor-packed meal.
Getting Started
Crock pots get a lot of love for being pretty hands-off when it comes to cooking, and rightfully so! Yet that doesn't mean there is no preparation ahead of every meal you make. Getting started the right way is a step to ensuring your meal comes out perfect.
Choose a Recipe (or Don't!)
Before lining up all the ingredients you'll need on the counter, you should decide what you're making.
If you're intimidated by your slow cooker, it's a good idea to follow a tried-and-tested crock pot recipe. Why not give this honey and garlic chicken recipe with veggies a try? Or this slow cooker vegetarian chili, as a meat-free alternative? They're a great way of getting familiarized with how your appliance works.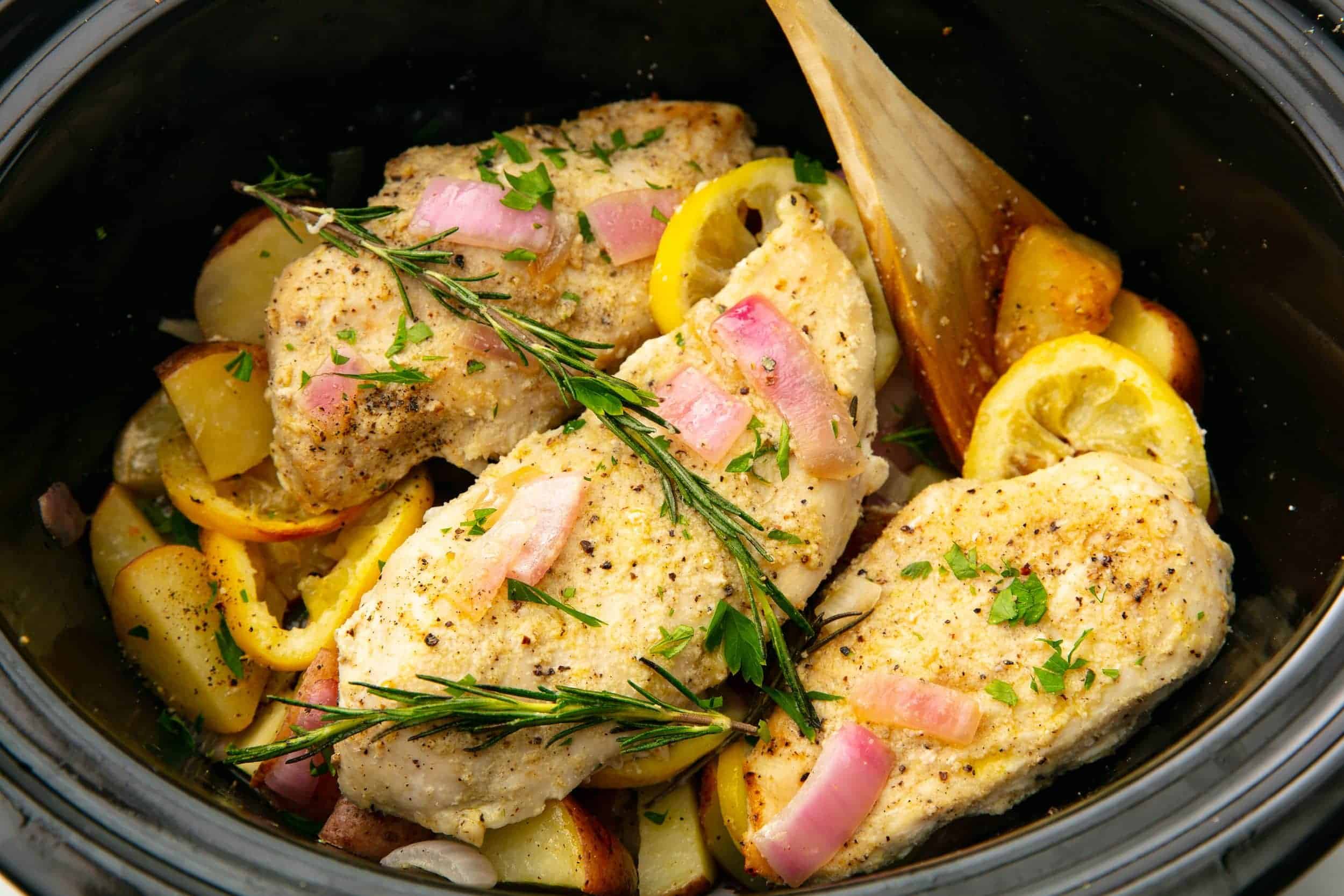 Set Up Your Crock Pot
Now comes the time to set up your slow cooker properly. You should always check that the inner cooking pot is clean and has no cracks in it. The lid should also look good and new, without any chips.
Secondly, make sure you're working with a clear counter. You shouldn't have any other appliances near your slow cooker, as it will heat up considerably during the cooking process.
Ensure the pot is also away from any electrical outlets. The last thing you want is for liquid to splatter and get into your sockets, possibly causing a short-circuit. Eight to twelve inches is the perfect safety distance.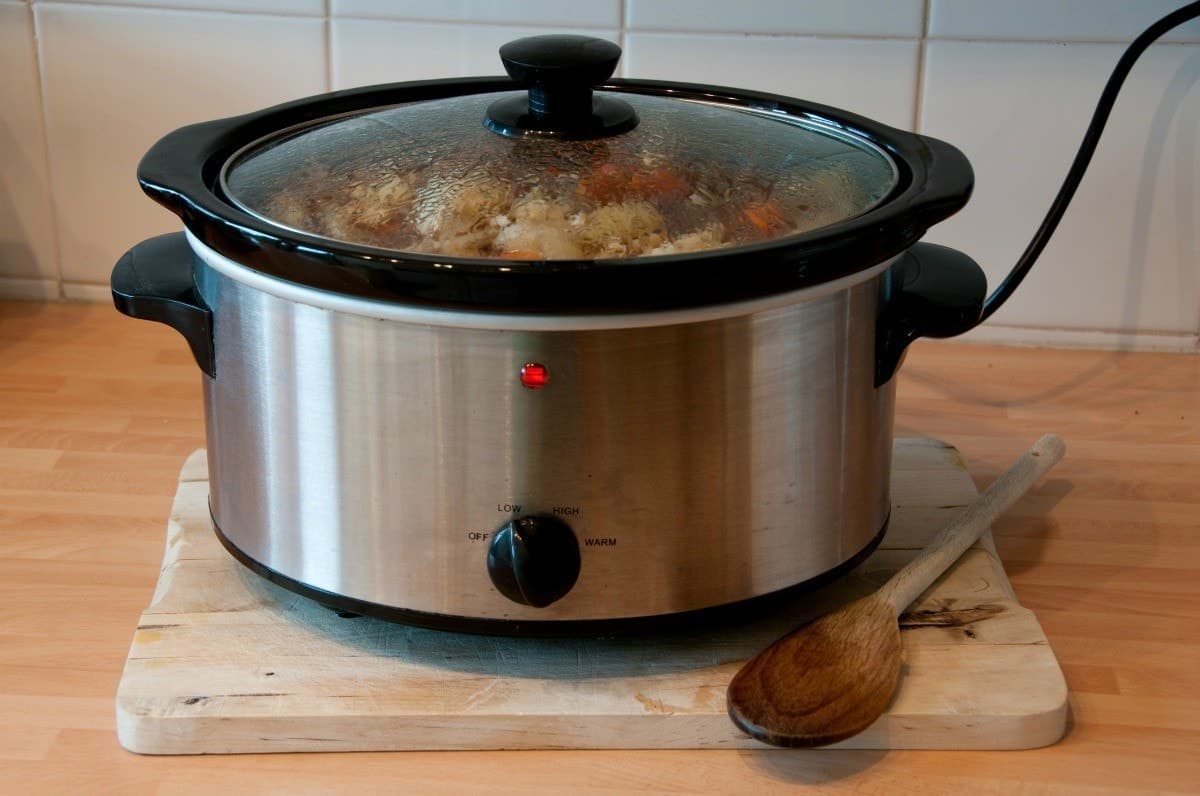 Add Oil or Butter
You'll want to add some oil or butter to the bottom of your cooking pot. Most recipes will tell you to do this but, if you're making it up as you go, recipe-free, don't skip this step. It will prevent your food from burning and sticking to the bottom of the pot. When it's time to clean things up, you'll thank us then.
Prepping Your Ingredients
The number one misconception people have about the slow cooker is that you can just throw in all your ingredients and expect a perfect meal after a few hours. While that would be ideal, it's not realistic.
Always Brown Raw Meat
It's best to brown meat before putting it into the slow cooker. For starters, it will give your meal a better look. Secondly, searing meat brings out flavors that your slow cooker wouldn't be able to bring out by itself. Thirdly, it also ensures that any harmful bacteria on the meat will be killed by high-heat cooking.
You can easily brown your meat using a hot cast iron skillet. Plus, it doesn't have to take long: sear the cut you're working with for three to five minutes on each side.
Prep All Vegetables
If you're adding vegetables to your recipe (please do!), you first need to cut them. You can do this by hand, using a quality chef knife, or using a food processor (here is how). Remember, the smaller you cut your veggies, the faster they'll cook.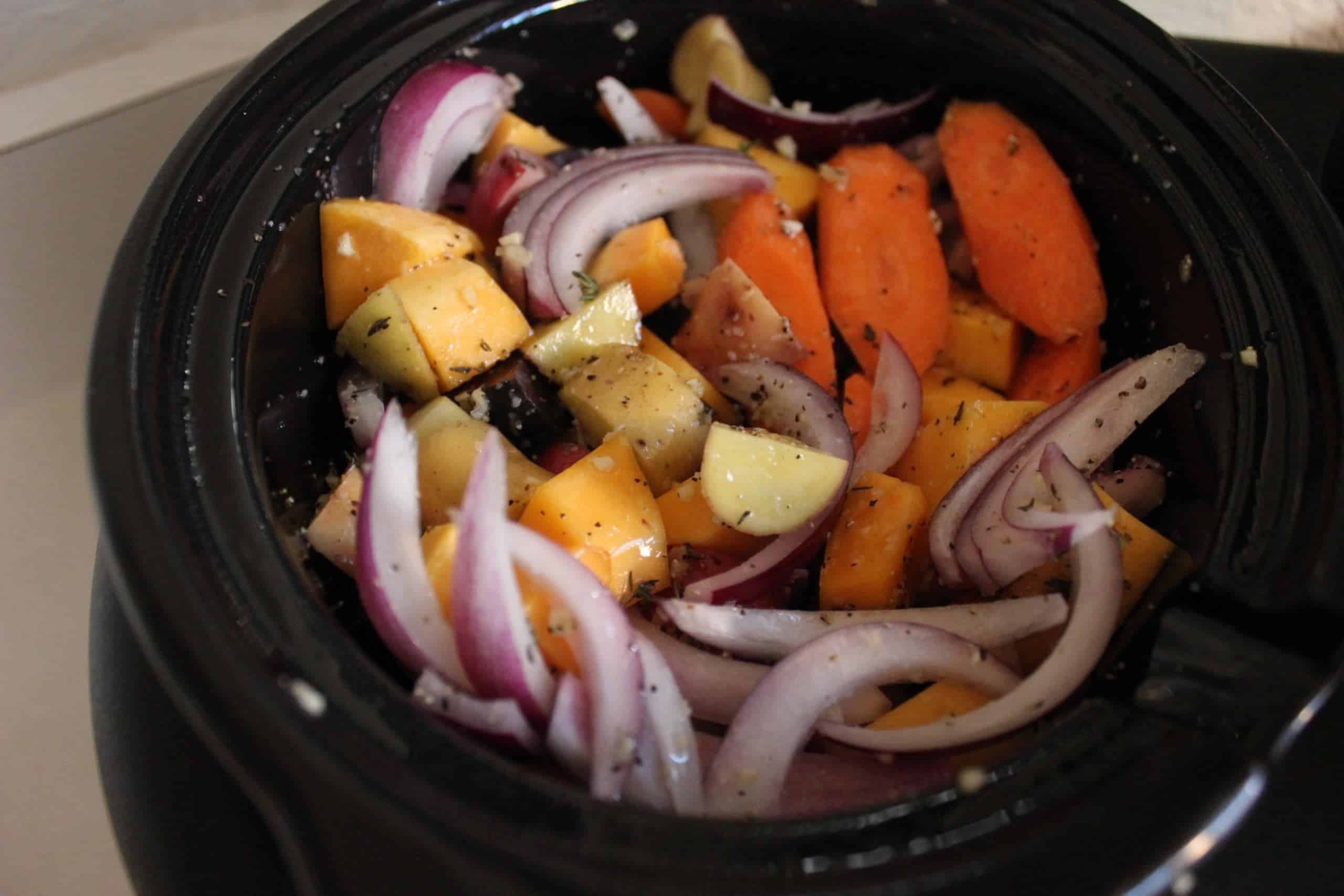 Load Up Your Crock Pot Properly
The best slow cooker recipes give you a straight order to add your ingredients in. Since the bottom of the pot heats the most, that's where you want to place tougher foods that will take longer to cook. For instance, it's a great idea to make a bed of root vegetables to lay your cuts of meat on.
Softer, gentler foods should always go in toward the end of the cooking process. Tomatoes, for example, are best added during the last hour of cooking.
The same goes for fresh herbs if you're using any. Add them too soon and you'll be left with a soggy mess. Instead, lay a bunch of your herbs at the top of the top during the last ten to fifteen minutes.
You should add some liquid to your pot, but not too much! Keep in mind that slow cookers don't let liquids evaporate, so it's best to add them sparingly. We'll get into that in a bit.
It's Time to Start Cooking!
So, you've made it this far and you're feeling impatient. Let's get on with our top tips for the cooking process.
Never Overfill the Crock Pot
We'll get into this in detail in a bit, but as a rule of thumb, never fill your pot over two-thirds of its capacity. It's the best way to avoid a messy meal.
Choose the Correct Temperature
If you're not following a recipe, you have to decide at what temperature to cook your food. Most crock pot models only let you choose between "high heat" and "low heat" cooking, which means the temperature could vary from model to model.
As a rule of thumb, low-heat cooking will require your food simmer for up to eight hours before it's ready. High-heat cooking is best for cooking between three and four hours.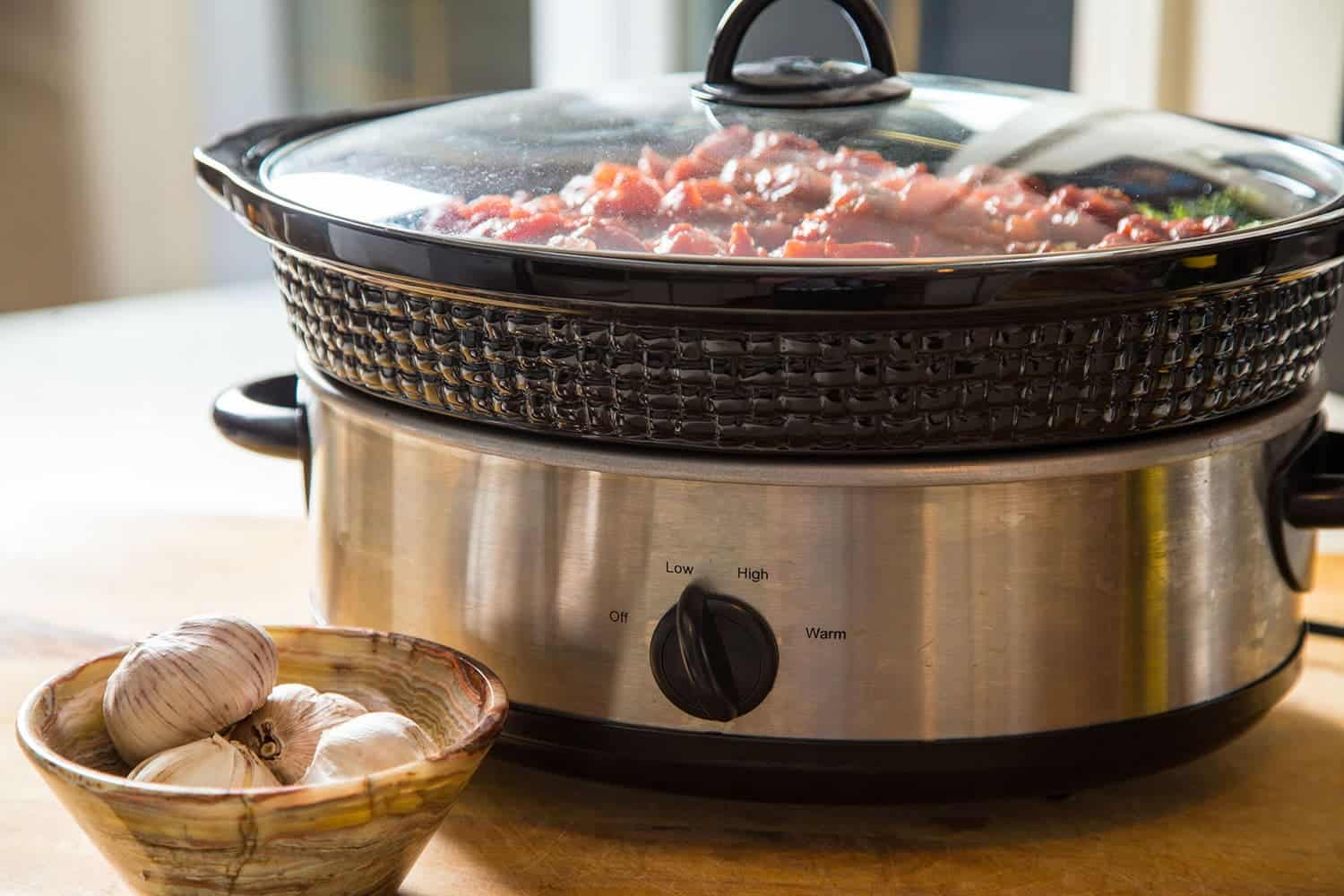 Pick the Right Cooking Time
Finally, you have to decide how long your food needs to cook for. Set a timer and (im)patiently wait. If you've never cooked with a slow cooker before, there will be some guessing work involved here. Since you shouldn't lift the lid while the food's cooking (more on that later), you have to choose a cooking time and stick to it. This is why it's best to follow a recipe until you feel comfortable enough to make it up as you go.
Last Step: Cleaning Up
You've made your food, enjoyed it, and now it's time to clean up the kitchen. Fortunately, slow cookers are very easy to clean, but don't skip out on this advice.
Store Away Your Cooked Meal
It's not good to leave your food to cool in your slow cooker. Even after you've turned off your crock pot, it will stay warm for a few more hours. During that time, bacteria could develop and make your food unsafe for human consumption. Instead, scoop any leftovers right after you turn off the cooker into a food-safe container and store it in the fridge or freezer.
Let It Cool Down
Before you pull up your sleeves and get to cleaning, you have to wait for the pot to cool down. You can do this by leaving it in the slow cooker or by removing it and placing it on a counter. If you do the latter, remember to wear heat-protecting gloves, as the cooking pot will be extremely hot.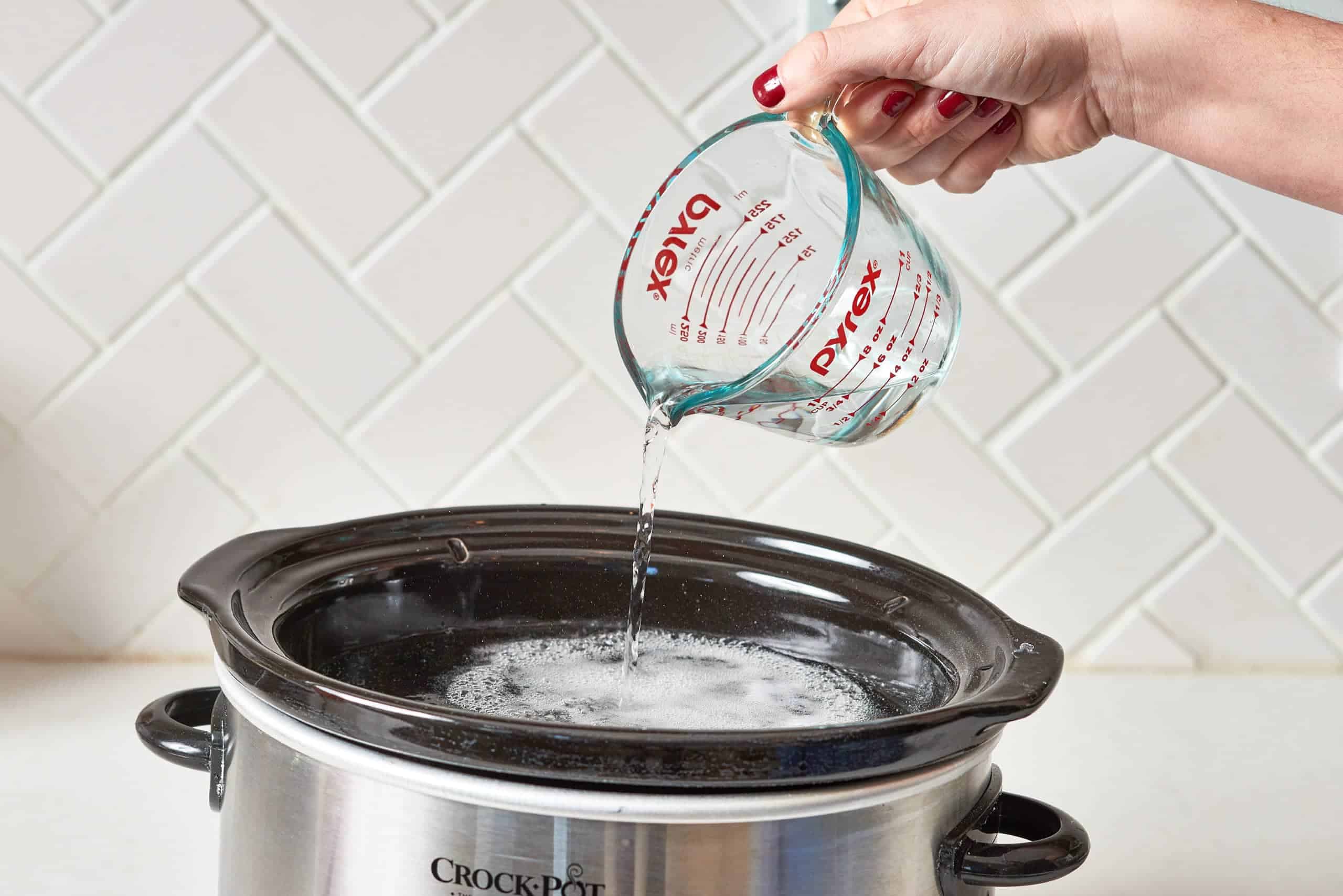 Soak It, Rinse It, Dry It
Once the pot has cooled down, leave it to soak in soapy warm water for a few hours. This will help most of the food particles release from the walls and bottom of the pot.
Then, you'll want to thoroughly wash the pot using a mild or gentle soap. Aggressive soaps can eat away at the sides of the pot, damaging it.
Lastly, leave it to dry (or pat it dry) before storing it. It's important to keep the pot in tip-top shape so that you can make the most of your investment.
Most Common Slow Cooking Mistakes
As you can see, slow cookers are pretty straightforward to use. However, home cooks unknowingly make some mistakes that can ruin their meal or their appliance altogether. Keep an eye out for these and learn how to avoid them.
1. Adding too much liquid
Overfilling a slow cooker is a sure way to make a mess. As the liquid comes to a boil it can easily spill through the top, even if the lid is in place. Furthermore, if you've overcrowded the pot, the food might not cook evenly. You could end up with semi-hard potatoes but mushy carrots, for instance.
To avoid having to deal with this, make sure you've only filled about two-thirds of the cooking pot.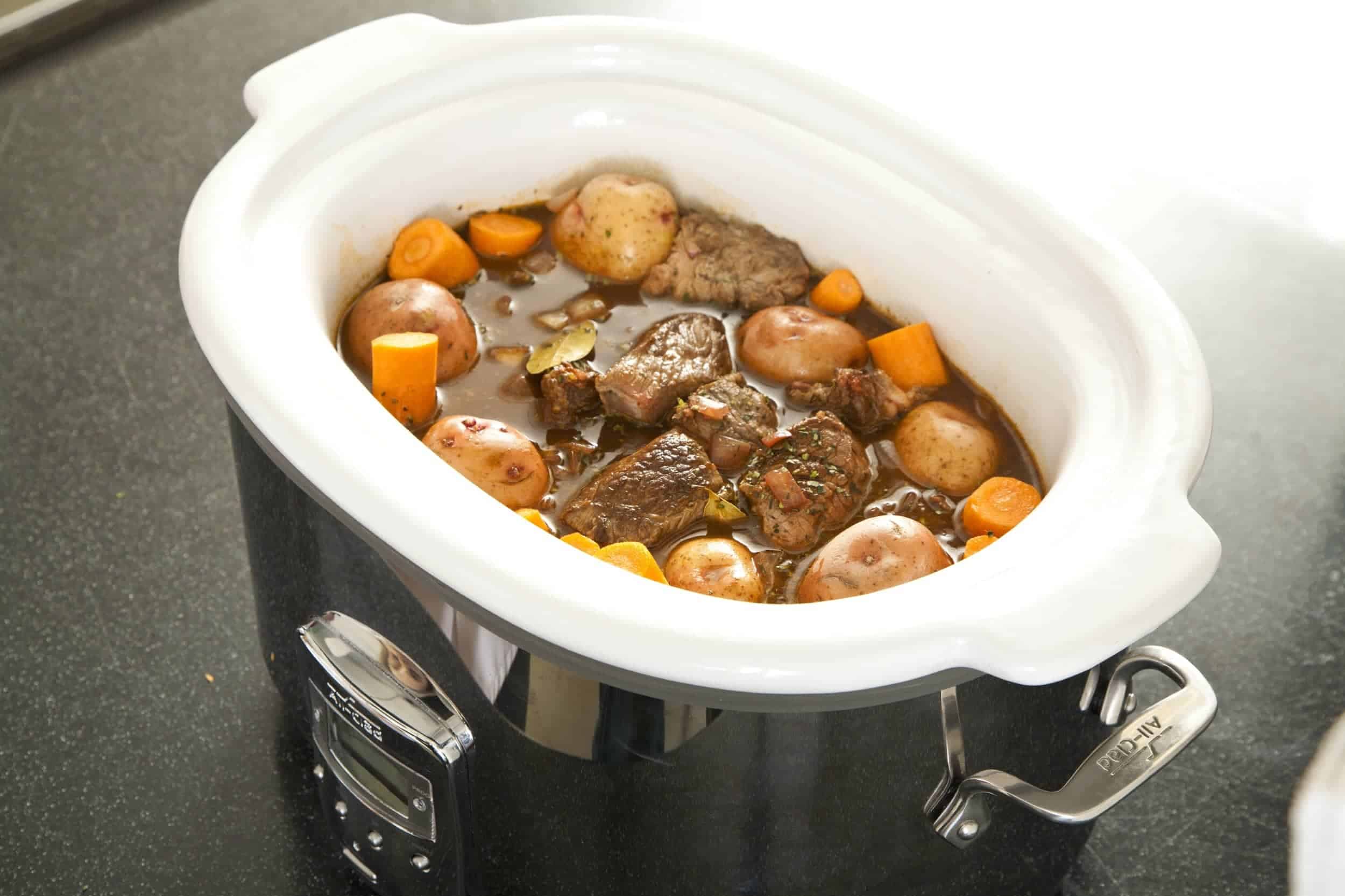 2. Leaving a crock pot unattended
Slow cookers are meant to be hands-off, but this doesn't mean you can set them up and completely forget about them. Since the crock pot will be very hot for several hours, it's good to check on it every now and then. Clean up any water that might have leaked through the top. This is especially true if you have uncovered sockets around. 
3. Lifting the lid often
Resist lifting the lid to taste your food. While that may work for you when cooking on the stovetop, it's a big no-no for slow cooking.
Every time you lift the lid, you're allowing the temperature inside your slow cooker to lower. This means it will take longer for the crock pot to fully cook your meal. Thus, you could be looking at twelve hours of cooking time which doesn't sound too appealing. For starters, it means having a later lunch or supper; secondly, it means your electricity bill will be higher at the end of the month.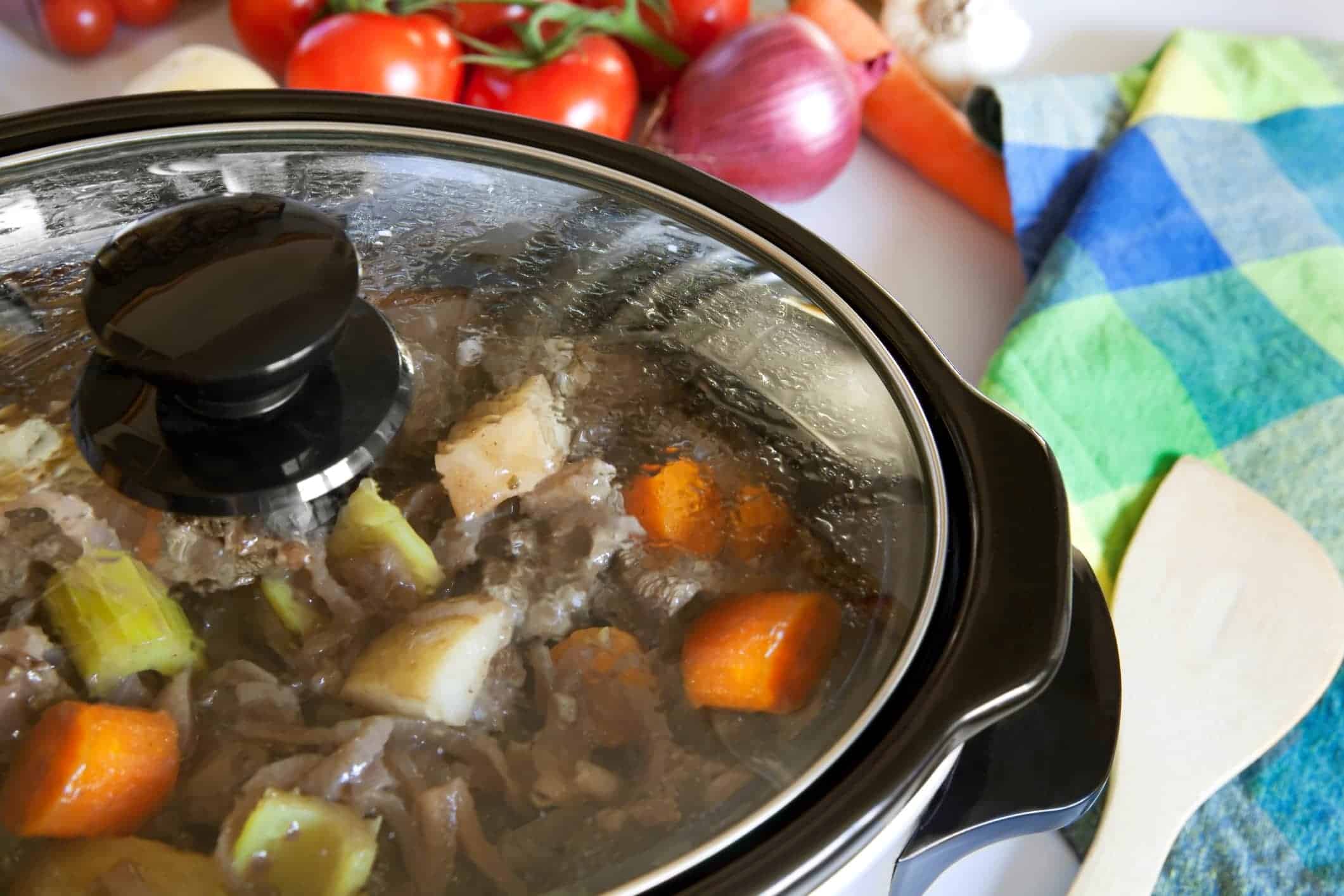 4. Adding dairy too soon
Dairy should never be cooked for very long. If you add it too soon, it could very well curdle and ruin your meal. Add it during the last thirty-or-so minutes of the cooking process.
5. Washing a hot pot with cold water
Never, under any circumstance, add cold water to your already hot pot. This will cause it to crack, rendering it completely useless. Wait for the pot to cool down before you wash it in the sink.
6. Not storing it properly
Ceramic pots are more fragile than stainless steel cookware, as you might know. That's why you have to be extra-careful when handling your slow cooker pot. Make sure you're storing it upright and safely, without any utensils or other cookware in it.