There's nothing quite as satisfying as making a big batch of pasta for dinner - that's something that very few people will argue with!
Unfortunately, pasta is loaded with calories and carbohydrates, making it far from a dieter's best friend. It's also not a great option for people who need to be gluten-free. So what's an alfredo and spaghetti lover to do?
It's simple - you need to invest in a spiralizer. 
Spiralizers can help you make gluten-free, low-carb, and low-calorie dishes that will serve as an alternative to pasta. You'll have oodles of noodles in no time when you invest in a vegetable spiralizer - and fortunately, these tools are not only inexpensive, but they're also easy to use. 
You can use just about any kind of vegetable, from summer squash to carrots, when you make your vegetable noodles.
You'll want to choose the spiralizer that best suits your space and style, but once you have one in hand, you'll find that there's not much of a learning curve when it comes to making your own noodles.
Here are some tips on how to make delicious, gluten free veggie noodles - and some spiralizer recipes that you can try yourself at home. 
What is a Spiralizer?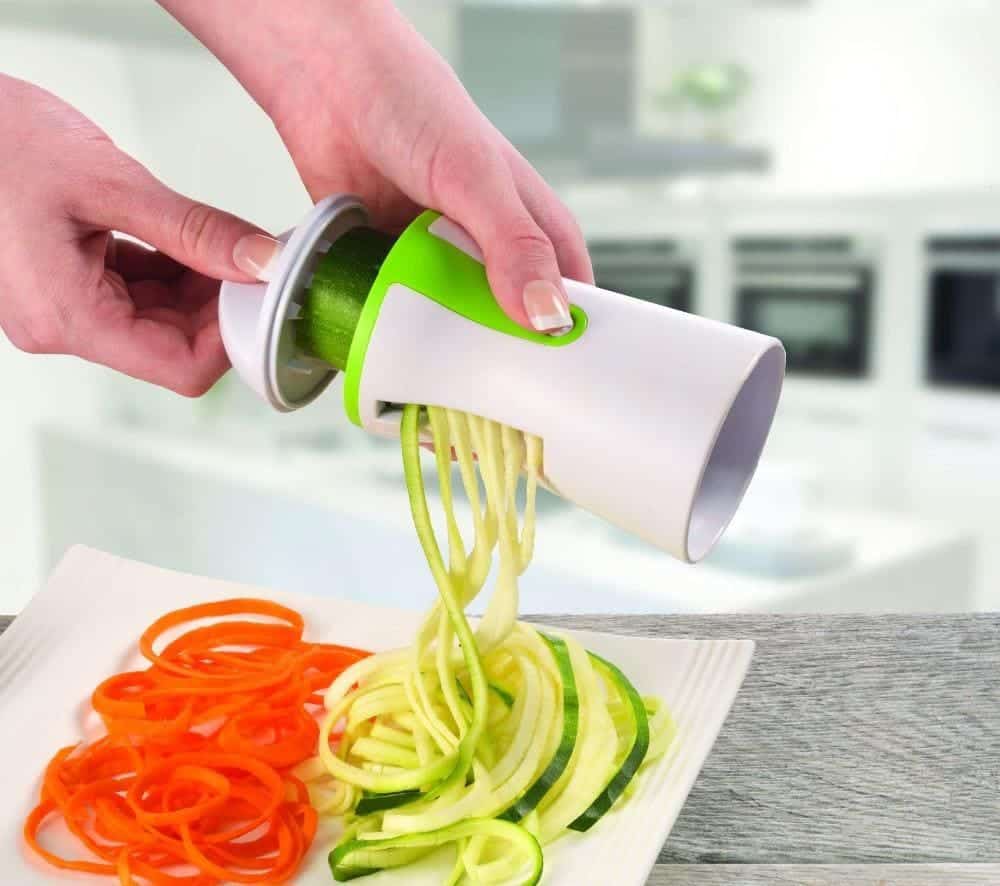 Adding more fruits and vegetables to your diet doesn't have to be a chore - not when you have a spiralizer, that is! Spiralizers are incredibly versatile and easy to use. There are plenty of different options on the market, too, so you shouldn't have any problem finding one that perfectly meets your needs.
There are three major types of spiralizers you can buy: handheld, hand crank, and electric. While the first two kinds of spiralizers are manual machines, the third is usually either battery-powered or plug-in.
A spiralizer for vegetables has delicate sharp blades that will slice fruits and vegetables, when raw, into an array of shapes that are meant to look like noodles. Some work like large pencil sharpeners, meaning you'll insert the vegetable and turn it by hand opposing the blades. There are other (often more expensive) models that will enable you to just turn a handle crank and make your noodles with increased leverage.
Most small, single-task serializers have one set of blades. This single set blade design is most common in handheld devices and those that are meant to handle just one kind of vegetable, like sweet potatoes or carrots. Of course, many people buy a spiralizer for zucchini alone!
There are other more advanced models (usually, these are more expensive countertop models) that can have up to four different adjustable blade attachments. With these, you can make anything from basic zucchini noodles to more advanced kinds of potato spiralizer recipes. There are even butternut squash recipes that you can make with these simple kitchen tools. Some even allow you to make things like linguine, spaghetti, and fettuccine! 
If you can afford it, spring for one of these kitchen tools with additional blades and adjustment options. That way, you'll be able to make all kinds of healthy, versatile spiralizer recipes. 
Benefits of Using a Spiralizer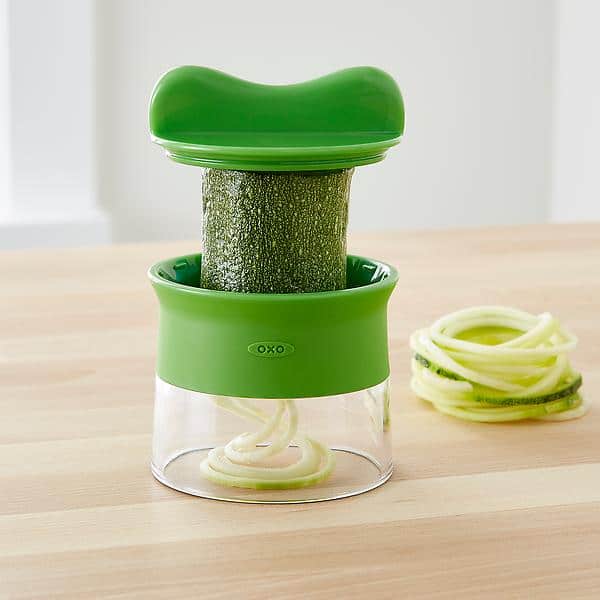 The benefits of using a spiralizer are endless, but can generally be summarized with a basic list. 
For starters, spiralizers make it much easier for you to incorporate fresh produce into your daily diet. Eating the right amount of fruits and vegetables can be challenging - sometimes, it can be hard to motivate yourself to eat yet another chunk of steamed zucchini. 
However, with a spiralizer, you'll add a whole new list of spiralizer recipes to your repertoire, making it easier than ever to eat a healthy diet. Using a spiralizer is especially beneficial if you're trying to keep an eye on your blood sugar, attempting to limit your carbohydrate intake, or can't tolerate gluten. You can make just about any kind of pasta dish and substitute in fresh vegetables for pasta!
If you're rushing, spiralizing vegetables is an easy, quick, and efficient way to whip up a huge batch of vegetables. You can make a large dish of zucchini, carrot, or any other kind of vegetable noodle and eat them throughout the week. These kinds of noodles cook rapidly so you'll find that the nutrients, flavors, and vitamins are better retained. 
Using a spiralizer can also help you to expand your palate. You might not have had any idea about what to do with that celeriac you bought, but after purchasing your first spiralizer, you'll quickly realize that there are very few dishes that are quite as easy as freshly roasted celeriac noodles! From traditional zucchini noodles to out-of-the-box daikon radish noodles, there are plenty of ways you can give spiralizing a try.
You can spiralize just about any kind of fruit or vegetable with a spiralizer, including those that are both hard and soft. Some of the best kinds of produce to process with a spiralizer include: 
Apple 

Melon 

Plantains 

Pear

Zucchini or summer squash

Broccoli

Beets

Daikon radish

Jicama

Sweet potato

Turnips

Bell pepper

Cabbage

Kohlrabi

Carrots

White potato 

Butternut squash 
General Guide: How To Use a Spiralizer Step by Step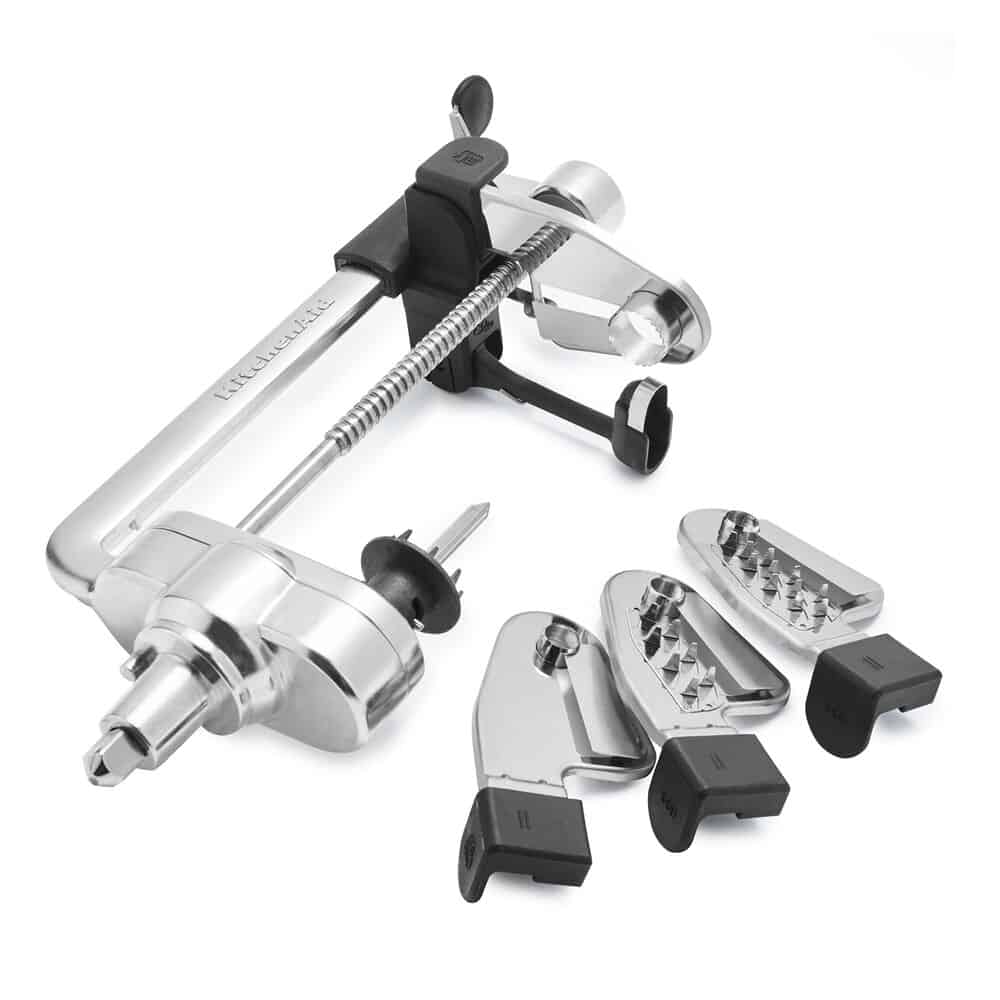 There are several different kinds of models you can try, and of course, the type of spiralizer you have will determine the steps you need to take to actually try your machine. 
When it comes to choosing a vegetable spiralizer, you'll want to consider your space and your personal preferences. Some of the most common include hand-crank countertop, handheld, and mechanical or electric spiralizers.
Hand-crank countertop spiralizer are great for folks who cook for large groups of people but don't want all the bells and whistles of a powerful mechanical device. If  you don't see huge dinner parties in your future, you might want to consider investing in a simple handheld vegetable spiralizer. This will enable you to make just enough pasta to get the job done for you and your family at dinner time. 
Follow the steps below depending on what kind of spiralizer you own.
Hand Crank 
Hand Crank devices are some of the easiest to install and work with. You'll want to start by making sure your veggie spiralizer is securely anchored to your countertop. Fortunately, most models are equipped with suction cups that will hook the unit to your desired workspace.
Next, pick the blade you want and insert it into the unit (if your device comes with multiple blades, that is). Be careful as you do this so that you don't accidentally cut yourself. 
Wash and dry your vegetables or fruit. Trim one end of it so that it is even and flat. Then, put your vegetable into the spiralizer, positioning the flat end up against the blade and using the larger disk to hold the opposite end in place.
Your next steps are beyond simple - just turn the crank and watch your veggie noodles pile up! Hint - you may want to put a plate or bowl beneath the spiralizer so that there's a spot for the "clippings" to fall. 
You can then incorporate your spiralized veggies in your favorite spiralizer recipes.
Handheld 
You can also try a handheld vegetable spiralizer to make your favorite kinds of dishes. 
While most of the steps are the same, a handheld device can be a bit more difficult to work with if you have tinier pieces of produce (less than 2 inches). You should choose a vegetable that is about an inch and a half in diameter.
Start by washing the vegetable and trimming one end to make it even and flat. If your vegetable happens to be longer than six inches, you might need to cut it in half to make it easier to manage. 2 inches is a good rule of thumb.The same goes for vegetables that are not naturally straight - these often need to be trimmed into straight pieces at least 1.5 to 2 inches in diameter so that they will fit snugly inside your spiralizer.
Next, select your blade. Secure it to the body of the machine. Put the trimmed, flat end of the vegetable against the blade.
Allow your hands to apply gentle pressure to the vegetable. Twist it clockwise so that you get long, thin spirals.
Once you reach the end of the vegetable, you can put the pronged holder into the veggie and allow it to twist vegetable noodles from the rest of the piece so that you don't waste anything. You can of course try to do this without the pronged holder, but the pronged holder will help keep your fingers away from the sharp blade - you'll be much safer. 
Now you can incorporate your vegetable noodles in your favorite spiralizer recipes!
Electric
Most electric models come with their own user manuals. Take the time to read these and acquaint yourself with the instructions. However, most operate in a similar fashion.
You'll first wash your spiralizer and set it up according to the user manual. Then, select a blade and put it in place - make sure it's secure and tight. Fit the lid on until it clicks into place and trim your vegetables so that they match the dimensions of the spiralizer.
With the pronged food pusher, press it into your vegetables and then place the pusher into the spiralizer. Power on your device and apply a bit of gentle pressure to slide the vegetable through the blade and make your delicious vegetable noodles.
Types of Meals You Can Make With a Spiralizer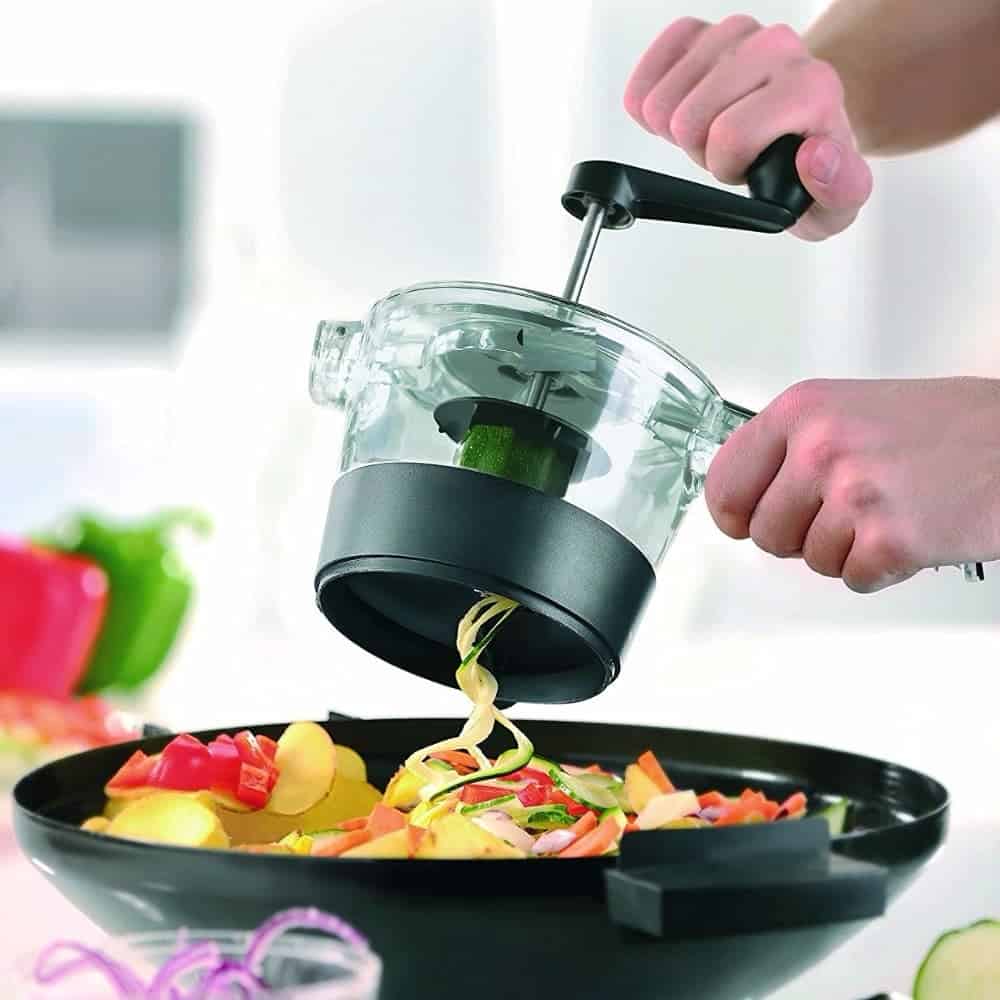 You can make just about any kind of recipe with a spiralizer. Some of the most common are vegetable noodles, which don't require you to boil water and drain them before you make them. Instad, you'll just cook the veggie noodles until they are al dente in the pan. It usually takes a fraction of the time it normally does to make regular pasta.
You can also use vegetable noodles in stir-fry spiralizer recipes. You can saute, steam, or oven bake your spiralized veggies. In fact, spiralized vegetables and vegetable noodles steam a lot faster than other kinds of vegetables and they also have area and volume to hold onto your favorite sauces - which means you'll use less as a result when you are cooking vegetable noodles.
When you bake with spiralized vegetables, you'll find that they can be tossed in to dozens of casseroles, cookies, and cakes - often, you can include them in baked goods without anybody ever knowing, since you can spiralize them down into such a fine consistency. Using a spiralizer is perfect for most plant-based spiralizer recipes. 
And let's not forget about salads - using spiralized vegetables in salads is a classic way to turn a bland salad into a dinnertime win. 
How to Use a Spiralizer to Make Vegetable Noodles: 10 Ways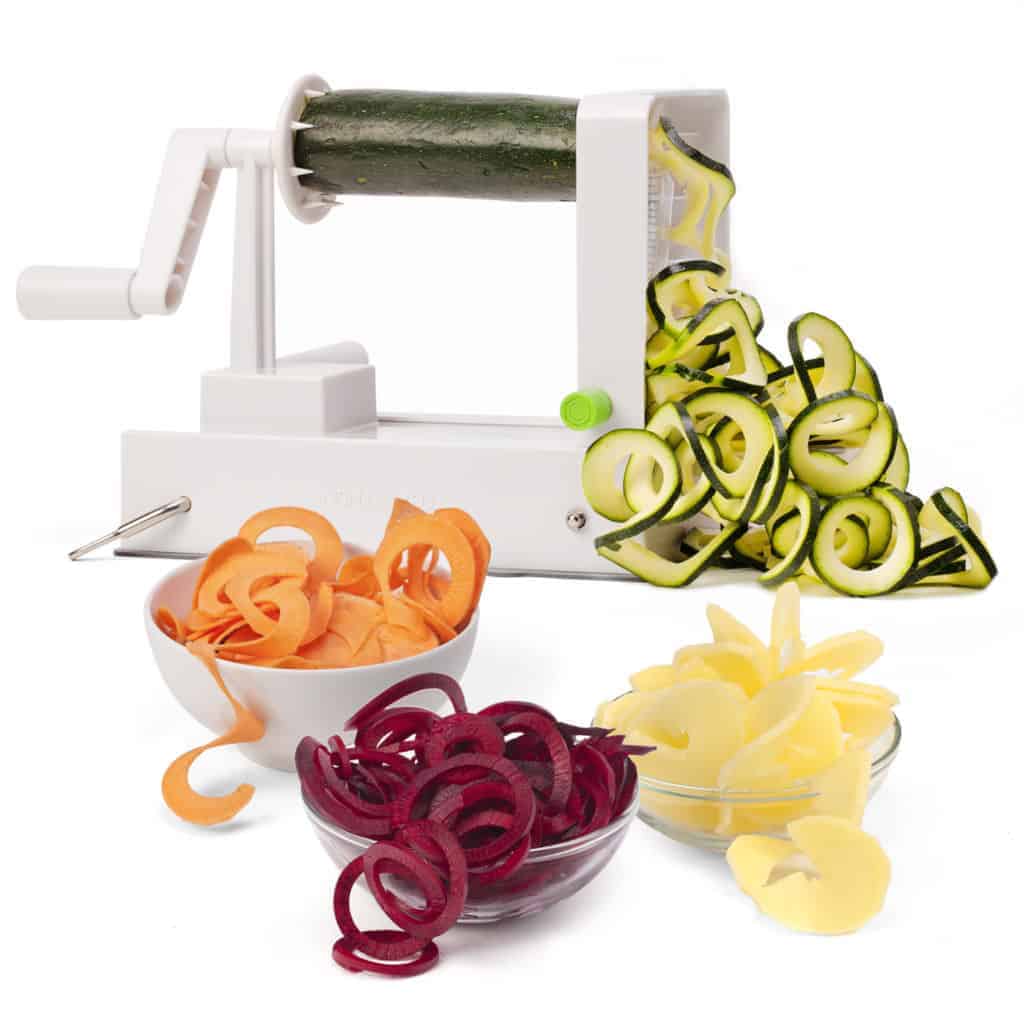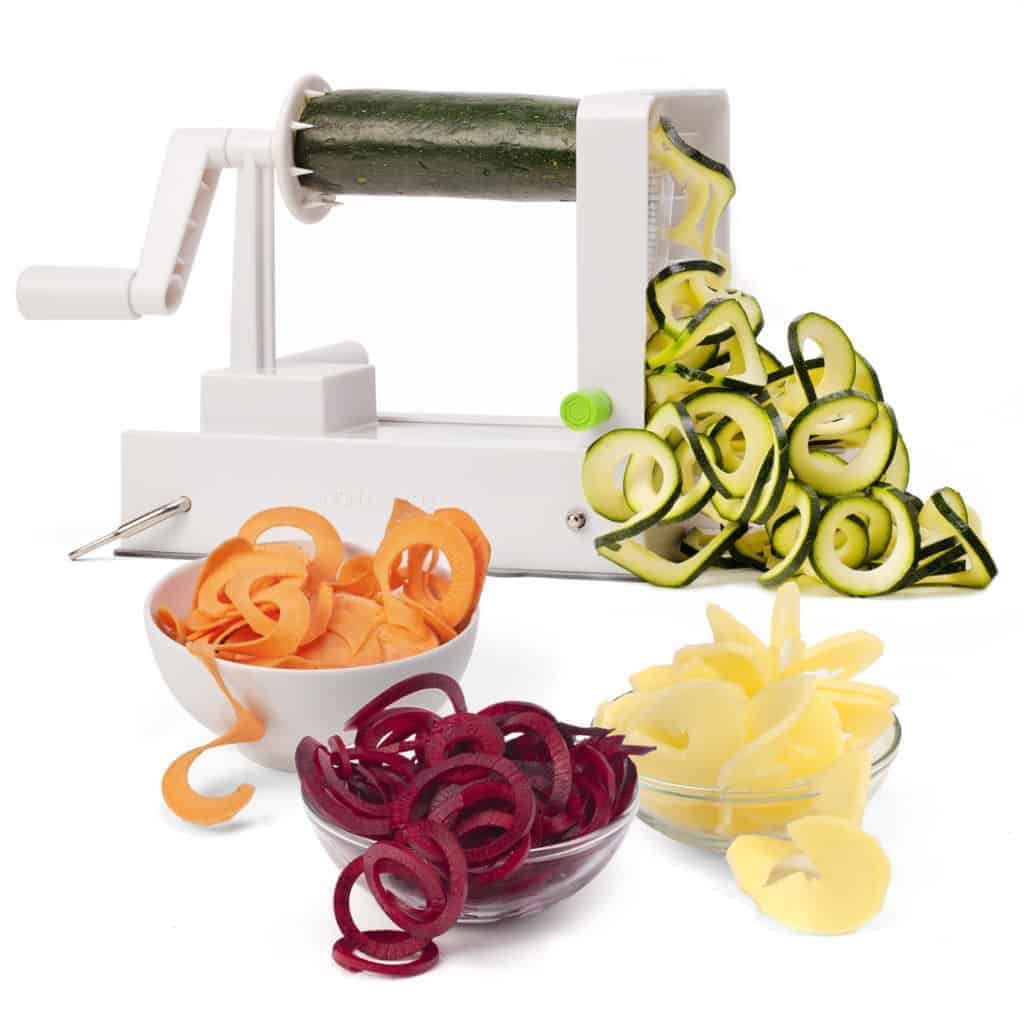 1. How to Make Zoodles/Zucchini Noodles With a Spiralizer 
Zucchini is the go-to vegetable for spiralizing - and for good reason. Zucchini started the whole spiralized veggie craze because it is soft, easy to spiralize, and has a mild, neutral flavor. It adapts well to all kinds of pasta dishes, even pad thai!
For added nutrition, you might want to leave the peel on. You can also use summer squash as an alternative to zucchini in most recipes - the flavor will be more or less the same.
2. Spiralized Bell Peppers
You can also spiralize just about any kind of bell pepper. Some of the best spiralized bell pepper recipes are Mexican-inspired, and bell peppers have a way of spicing up even the blandest taco or fajita recipe. 
Just make sure you always use a straight blade, as this will help you slice a bell pepper with a bit more ease. Make sure you remove the seeds and white pith when you are done, too. 
Bell peppers can be a bit trickier to spiralize. However, if you can cut up the top of the pepper and put the open end on the edge of the flat blade, you'll be able to attach the bottom to the handle and spiralize away. 
3. Making Spiralized Apples
The spiralizer isn't just a godsend for vegetables! You can also use it for fruits. Apples work great in a spiralizer because they have just enough texture and structure to work well in a spiralizer. You can use spiralized apples in salads, like veggie noodles, or chips. You can even use them in desserts! 
Apples can be a bit tricky to spiralize because they have such a dense core. However, if you cut off the top and the bottom and stick the center of the core onto the spiralizer, you'll be able to get rid of the core and spiralize away. You can use either peeled apples or unpeeled apples, depending on your preferences.
4. How to Make Spiralized Sweet Potatoes
Another easy recipe you can make with your spiralizer is spiralized sweet potatoes. All you need to do is peel your sweet potato and start spiralizing. You can leave the peel on if you'd like, too, but you may end up with some spirals that are more peel than anything else. White potatoes can also be spiralized, but there's something extra special about those bright orange curlicues! 
Use the largest spiral slicing blade you can find when making curly sweet potato fries.
5. Making Spiralized Parsnips
All kinds of root vegetables can be used in your spiralizer, including parsnips. Parsnips tend to be a bit more bland, so they're a great choice if you want a noodle that will taste just like real pasta. Use a fine or medium spiral slicing blade and know that you can spiralize similar vegetables like turnips, celeriac, and rutabaga, too.
6. Spiralized Cucumbers 
Cucumber is another great choice when it comes to spiralizing vegetables. Like zucchinis, cucumbers have mild flavors with just enough crunch to add some serious flavor to your favorite dishes. You can use spiralized cucumbers in salads, stir fries, and other recipes. 
Like zucchini, cucumbers have a lot of water. Therefore, after spiralizing your cucumbers, you may want to let them sit for a while to drain out the excess liquid. 
7. Spiralized Carrots
Carrots, like parsnips, are also remarkably easy to spiralize. In fact, using your spiralize may become your preferred alternative to slicing or shredding your carrots for your favorite stir-fry. Use a fine or medium spiral slicing blade and pick thick, hefty carrots for the spiralizer.
8. How to Make Spiralized Cabbage
Both green and red cabbage can be spiralized in a flash. It will help you have a huge batch of cabbage ready to go for braised cabbage or coleslaw dishes. If the cabbage is super large, you might have to cut it in half, but in most cases, you can get by just putting it on the straight blade and giving it a twirl. 
9. Making Spiralized Red Onions
Using a spiralizer on red onions is a smart choice for several reasons. Not only does spiralizing red onions eliminate the need for you to chop them by hand (no more tears!) but it also allows you to slice an entire onion in a jiffy. 
You can use spiralized onions in any kind of salad, or you can use them in pickled onions for caramelized onion recipes. 
10. How to Make Spiralized Beets
Beets can be spiralized, too. You can spiralize both golden and red beets to add a glorious pop of color to any dish or pasta recipe - but you may want to wear gloves as you work so you don't' stain your hands.
General Tips for Using a Spiralizer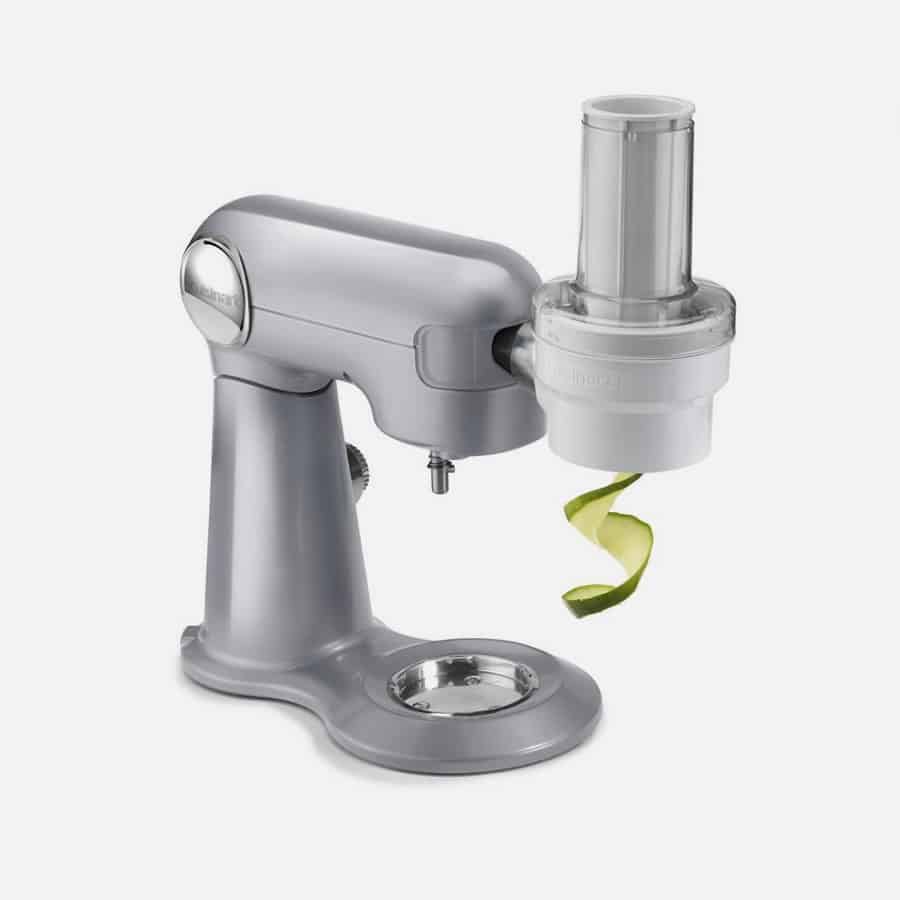 Using a spiralizer is incredibly easy, and once you've done it once or twice you probably won't need any further guidance - it will be more or less second nature.
However, there are some general tips you can follow for maximum success.
For starters, you may want to play around with different blades, depending on whether you like your slices thinner or thicker. 
Use vegetables and fruits that are brightly colored if you want to add a pop of nutrients - these often get their color from nutritional powerhouses like anthocyanin and beta carotene - but know that these colors can stain your spiralizer. This won't necessarily make your future spiralized goodies unsafe to eat, but it may make them less than palatable due to the discoloration. 
You might not be able to prevent this, but washing your spiralizer thoroughly after use can help. Wash it immediately, too, so that the natural dyes don't have any time to set in.
Another tip - if you are spiralizing smaller vegetables like carrots and parsnips, you may want to look for larger pieces. Skinny or narrow vegetables can sometimes be tough to spiralize. 
Cleaning and Maintaining a Spiralizer
Most spiralizers for vegetables are dishwasher safe, particularly those that are handheld or hand crank models. However, they can still be tough to get clean in the dishwasher because they have so many nooks and crannies.
To get ahead, you may want to rinse the blades immediately after you have finished using the spiralizer. You can also soak the spiralizer in some soapy water. Consider keeping a special brush or even an old toothbrush to clean the blades, which will help you get into all the cracks and crevices of your spiralizer without hurting your fingers.
You may also want to regularly check for hairline cracks in the plastic, in the blades, and in the safety guards of the spiralizer. If you notice damage, you might want to contact the customer service department of your spiralizer manufacturer to see what they recommend that you do - you don't want to hurt yourself by mistake! 
Of course, once you've cleaned your spiralizer, you will want to let everything dry completely before you pack it away. Don't stash your spiralizer too far back into the kitchen cabinet - you'll probably want to use it again and again as you try new recipes for vegetable noodles. 
When all else fails, don't feel like you need to stick to a tried and true recipe - there are plenty of ways you can incorporate spiralized vegetable noodles into your cooking that didn't make this list. Be creative! You can always make a bunch of spiralized vegetable noodles ahead of time and use them for your weekly meal prep. They'll store well for about one week in the refrigerator.