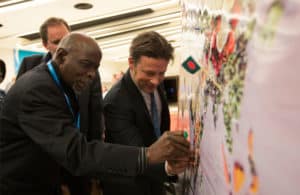 Following the success of an amazing Food Revolution Day last Friday (read about it here), Jamie was yesterday at the World Health Assembly (WHA) meeting in Geneva talking about global nutrition and asking health ministers from around the world what they are doing in their countries to improve child health through food.
Speaking on a special panel discussion, Jamie was joined by the head of the World Health Organisation Margaret Chan; Finnish minister of family affairs and social services Juha Rehula; Former President of Namibia Nahas Angula; health ministers from Bangladesh, Canada, Kenya, Netherlands, UK, and USA; and government representatives from Australia, Brazil, Mexico, and Zambia, and chair of the Global Nutrition Report Corinna Hawkes.
Amazingly, the event saw countries including Canada, Finland, Kenya, Namibia, the USA and the UK all made SMART commitments to tackle the global crisis of child malnutrition, placing their flags on the Food Revolution map. Chilean Senator Guido Girardi announced bold commitments that will restrict marketing junk food to children and improve labelling and the Former Prime Minister of Namibia used the meeting to sound the alarm bell on the intensifying El Nino-driven food crisis in sub-saharan Africa.
Food Revolution Day may be over, but the revolution has just begun! As Margaret Chan put it yesterday "We all need to be revolutionaries." Check out Jamie's Facebook Live about the event here, and watch this space for more updates on how health ministers answered YOUR questions, what countries committed to and how we'll be holding them to account!