Written by Julie of Willow Bird Baking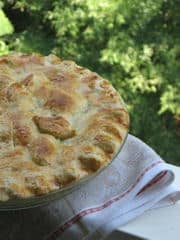 Autumn certainly took its sweet, chilly time reaching the Southern United States this year, but today felt like we jumped straight into winter! The cutting wind threatened to turn the misty rain into sleet with every gust, and my students drew silly faces on our steamed up classroom window after I cranked up the heat. I usually feel grumpy when the cold weather rolls in, but this year I'm at peace. I recently accomplished a baking goal I set out for myself in August: to conquer the crust.
At the beginning of my journey, I had never tackled a pie or tart crust before and was feeling very intimidated. Horror stories abounded: dough stuck to rolling pins, overworked and tough dough, and plenty of flour-covered kitchens, children, and dogs. I felt like I'd been preparing for the feat, though. I'd certainly eaten some delicious crusts: light, flaky pie crusts that melded with sweet fruit filling; dense, sweet, cookie-like tart crusts embracing delicious cheeses and creams; savory, crisp crusts filled with cheesy quiches. And I'd certainly researched crust-making. It sounded simple: while there are plenty of variations, most crusts are just a ratio of fat and flour with just enough ice water to bind the dough. And I'd certainly drooled over many a delicious crust recipe on the food blogs I avidly read.
In fact, pie and tart crusts were essential to many of the fantastic fall recipes I had lovingly bookmarked on my computer. But you know what? It turns out that, as with other baking challenges (puff pastry and Dobos torte, I'm lookin' at you!), reading and eating and thinking about a recipe just isn't enough. It isn't until you get in the kitchen, tie back your hair, and get out your butter that you're really going to tackle a dish. It's with that mentality (and a bit of trepidation) that I finally set out to make two versions of pie crust and a sweet tart dough (pâte sucrée).
Pie crust was first on my list. Pie crusts can be made with various fats including butter, shortening, or lard. All-butter crusts tend to be rich in flavor but can lack flakiness, while all-shortening crusts are just the opposite (and some folks feel they leave a waxy mouthfeel). Many choose to use to combine these two fats to obtain a balance of flavor and flakiness. I was planning to go in this direction myself until my mother shoved a tub of lard into my hands. I know, who owns lard?! My mom, that's who! While lard is an ingredient that many of us have relegated to the 1950s pantries of our grandmothers, my mother assured me it was the path to pie crust perfection. She's never led me astray, so I decided to try a half-butter and half-lard crust. The fats are added to flour and salt, pulsed to crumbly, and then bound with just enough ice water to form a dough. Sounds so simple, right?
As it turns out, my first try at tackling crusts was a fumble. Like, a major fumble. Like, the backup quarterback was called in and I was traded to the Lions. And demoted to cleat polisher. In fact, I think it would make a great National Lampoon movie: National Lampoon's Pie Crust Caper. It started with an ingenious (or so I thought) idea to make pocket pies with my first ever batch of pie crust. Little hand-held, individual pockets of perfection. They appealed to me for several reasons. Apart from being miniature (and we all know miniature equals adorable), they offer tremendous opportunity for variety. Instead of making one or two pies, you can literally make dozens – all with different sweet and savory fillings! I was all set to make four versions of my first crust endeavor: Cheesesteak Pie Pockets; Pesto, Tomato, and Mozzarella Pie Pockets; Peach Crisp Pie Pockets; and Red Berry Pie Pockets. That turned out to be a little (okay, a lot) ambitious, considering my first try at pie crust looked more like – how shall I put this? – pie dust.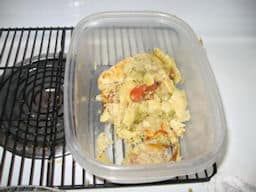 Ladies and gentlecooks, this is what happens when you don't add enough ice water to your pie crust: failpies. No wonder it was harder than usual to roll out (and that's saying something, considering the rocky relationship I have with my rolling pin)! Determined to keep my kitchen cool and a sense of humor, I tucked all of my grand plans for pocket pies away. I had clearly jumped in way over my head. I resolved that I was going to make one successful pie, with one successful pie crust instead. Back to the food processor I went, this time adding two more tablespoons of ice water and making sure the dough formed into a ball. Perfection! I rolled the dough out between two sheets of parchment paper (a lovely trick in that it eliminates the flour mess and ensures you don't add too much flour to your dough, resulting in a tough crust) and assembled my first pie: a gorgeous Peach Crisp Pie. I was about as proud as a peacock as I pulled it from the oven (having apparently completely forgotten the pocket pie mess – let's just pretend that didn't happen, shall we?). It was absolutely delicious – a perfectly tender and flaky crust with a gooey peach filling.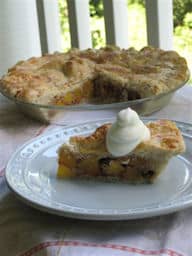 Peach Crisp Pie
________________________________________
Recipe by: Willow Bird Baking (crust adapted from Crisco)
Yields: One 9-inch, two crust pie
Crust Ingredients:
4 cups flour
2 teaspoons salt
3/4 cup cold lard (non-hydrogenated if available)*
3/4 cup cold butter, chopped
6-8 tablespoons cold water
*you can substitute vegetable shortening here if you wish, but I highly recommend the lard!
Filling Ingredients:
5-6 peaches, peeled and quartered
1/2-3/4 cup packed brown sugar
1-2 tablespoons granulated sugar (to taste)
1 teaspoon ground cinnamon
3/4 cup oats
pinch salt
Egg Wash Ingredients:
1 egg yolk
1 tablespoon heavy cream
Whipped Cream Ingredients:
2 cups heavy whipping cream
1/4 cup powdered sugar
1/2 teaspoon vanilla (or flavoring of your choice)
Directions:
Pulse flour and salt together to combine. Add scoops of lard and pulse into the mixture has the texture of coarse sand, about 10 seconds. Add in chunks of butter and pulse until butter pieces are no larger than small peas, about 10 pulses. Add minimum amount of water and pulse on low. If dough remains crumbly and doesn't come together, add another 2 tablespoons of water. Add as little as is required to enable the dough to be rolled into a ball. Form the dough into 2 disks, wrap in plastic, and refrigerate for 20-30 minutes while preparing your filling.
For filling, mix all ingredients together in a medium bowl.
Preheat oven to 450 degrees F.
Roll one disk of dough out to around 2 inches larger than your pie plate and transfer it, situating it in the plate. Trim the excess flush with the edge of the pie plate. Fill the pastry covered plate with filling. Roll the other disk out to about 1 inch larger than your pie plate. Situate it over the filling, tucking the edges of the top dough behind the edge of the bottom dough and crimping the edges. Use excess dough to add dough cutouts to top of pie if desired (I made some fall leaves).
In a small bowl, beat cream and egg yolk together for egg wash. Using a pastry brush, brush the surface of the top pie crust (can sprinkle lightly with sugar if you desire). Cut vents in the top crust. Shield crimped edges of pie with foil. Bake in preheated oven for 10 minutes before turning the heat down to 350 degrees F and baking 30-35 minutes longer. For the last 15 minutes, remove foil shielding. Allow pie to cool completely. Serve with vanilla ice cream or homemade whipped cream. To make homemade whipped cream, mix all ingredients together until soft peaks are obtained.
Now, lest my experiences make you think pocket pies are simply impossible, go take a look at these gorgeous creations from some fellow Daring Bakers: savory (and inexpensive!) Curry Pocket Pies from John, over at eat4fun, and sweet dairy-free Sour Cherry Pocket Pies from Maggie, over at Dog Hill Kitchen. I can't wait to give pocket pies another try!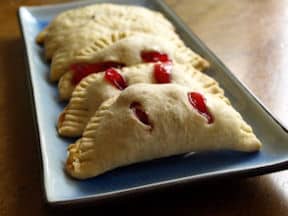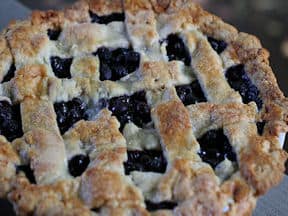 Photo Credit: Dog Hill Kitchen. Used with permission.
Photo Credit: Playing House. Used with permission.
Once I had made one successful pie crust, I was ready to experiment! In keeping with my love of all things miniature, I whipped up a batch of tiny pies (pumpkin, sour cream apple, and more peach crisp). I changed up my crust recipe to evaluate my newfound love of lard; was it really the pie crust miracle I thought it was? For this crust recipe, I used half butter-flavored shortening and half-butter. While the flavor was great, I definitely preferred the texture of the lard crust – and will be picking up more lard from a local pig farm soon! I'm sold on it being the perfect pie crust fat.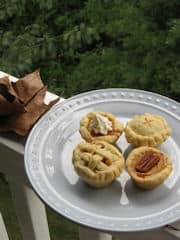 Curious to learn other tricks for a flaky pie crust? One that I'm anxious to try is adding vodka to the dough. I promise I'm no lush (in fact, I'm a tee-totaler), but I'm intrigued. Apparently the ethanol (which evaporates during baking) helps to lessen the gluten in the dough, producing a flakier crust. Amy over at Playing House tried this trick to produce a beautiful Blueberry Lattice Pie.
I had finally conquered the pie, so I suppose I should have been satisfied, but there was still one nagging objective I needed to complete. Lovely pictures were cropping up on food blogs and in cookbooks of an ever-so-enticing treat: the tart. Beautifully arranged fruits, creams, or vegetables fill dense, golden brown tart shells. I chose two tarts for my first venture into tart dough: a Raspberry Cream Cheese Tart and a Chocolate Tart.
There are two basic tart dough recipes: pâte brisée (short dough) and pâte sucrée (sweet dough). The short dough is often used for savory tarts, while the sweet dough (as its name implies) includes sugar and is sometimes used for sweet tarts. I made the latter. One of the lovely things about this dough is that you don't have to roll it out – in fact, it can be quite difficult to roll out pâte sucrée. Instead, Martha Stewart recommends freezing it and then grating it into your tart pan (pressing it into place). I found this rather dangerous, since the dough gets soft and you end up grating fingers (ouch). I used this method for a bit, and then simply tore the rest of the dough into bits and pressed it into the pan. Either technique seemed to work fine. The pâte sucrée tart shell produced was like a flaky, sweet sugar cookie, but with a more delicate taste. These tarts quickly became two of my favorite desserts.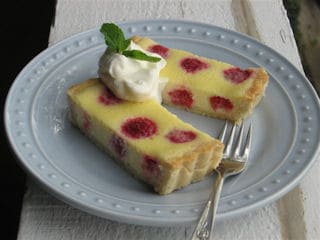 If you're one of those bakers who has been dreading the day when you have to drag out the rolling pin and figure out pie crusts, I hope you'll be inspired by all of these delicious treats to give it a try. The truth is, while making your first crust can be a rocky experience (or a dusty one…), there's a comforting message in that old cliché, "it's as easy as pie." Once you find and master your favorite crust recipe, making a pie or tart becomes quick, simple, and impressive. Do something flaky, crusty, and daring in your kitchen today!
In honor of crusts, here are some lovely Daring Bakers' recipes you might enjoy: