Hi everyone! Hope you are doing fine! I am Milkica from Mimi's Kingdom. I've decided to challenge my dear fellow Daring Kitchen members to prepare traditional Serbian Katmer pie. Katmer pie originates from southern parts of Serbia. To be more precise, it is kind of pie made with katmer dough, very old and traditional type of puff pastry. This type of dough is made with lard instead of butter and is much simpler than puff pastry.
This kind of pie can be prepared in several different ways (spiral, rolled, flat) but I've presented to you the easiest type. Dough is always prepared in same way, but there are variations in filling: cheese, meat, leeks, combination of cheese and spinach or Swiss chard, apples, pumpkin.
So, I really hope that you will join me in this challenge and that you will like the final result!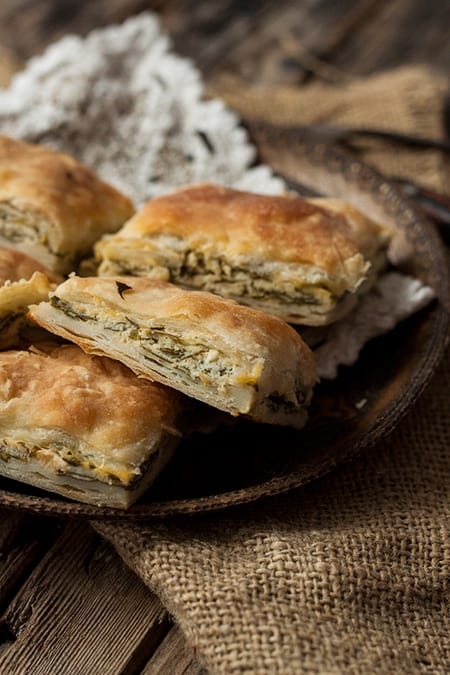 Recipe Source:
Dough and Swiss chard and cheese filling: http://kuhinjica-mignone.blogspot.rs/2013/05/katmer-pita-po-bakinom-rece… (recipe in Serbian)
Pumpkin filling: my own, based on filling for other types of Serbian pumpkin pies
Notes:
Instead of lard you can use butter or oil of your choice (in Serbia sunflower oil is often used). You can prepare different filling of your choice (cheese, meat and onion, leeks, mushrooms).
You can find the challenge PDF here
Preparation time:
Dough: 30 minutes
Filling 1: 5 minutes
Filling 2: 15 minutes plus cooling time
Shaping and baking: 40 minutes
Equipment required:
Plastic, metal or glass bowls
Measuring bowl
Silicone spatula
Silicone brush
Digital scale
Wooden spoon
Rolling pin
Spoons
Knife
Baking tin (approximately 16 x 16" / 40 x 40cm)
Deeper and wider pan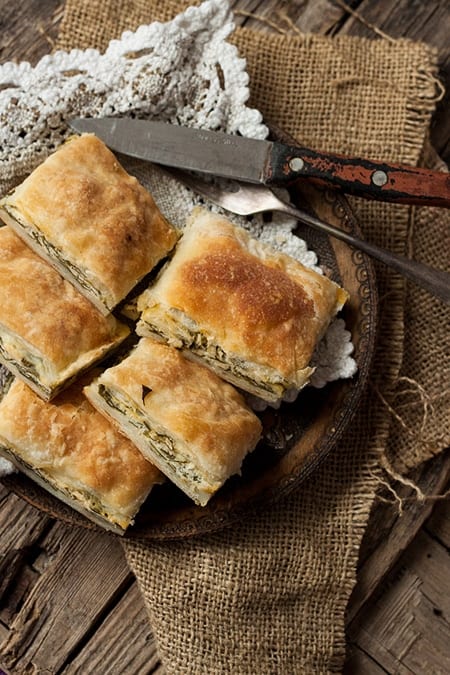 Recipe 1: DOUGH
Servings:
One large pie baked in a dish approximately 16 x 16" / 40 x 40cm (enough for family of six)
Ingredients
4 cups spooned & scraped / 500g all-purpose (plain) flour
1 teaspoon salt
1 1/4 – 1 1/2 cups / 300 – 350ml warm water
More all-purpose (plain) flour for dusting
2 – 3 tablespoons / 30 – 45g soft lard
Directions: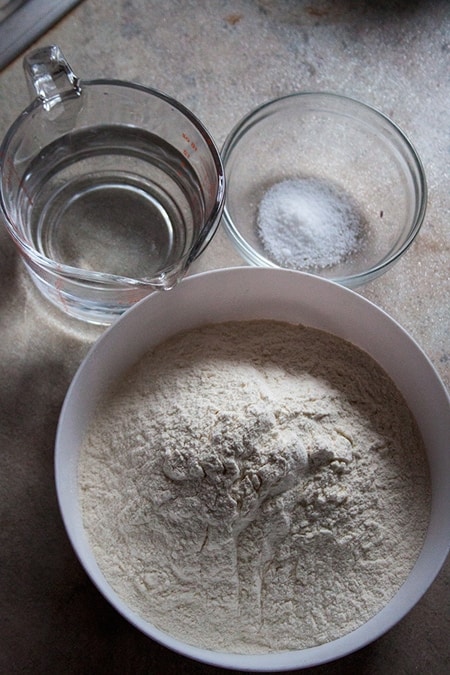 1.Measure all purpose flour, warm water and salt. Put lard in a small bowl and leave on a warm place.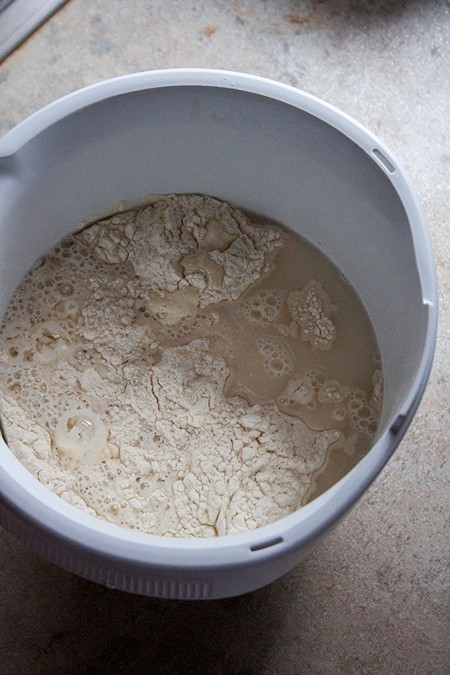 2.Mix all ingredients except lard in glass or plastic bowl. You will have relatively soft dough.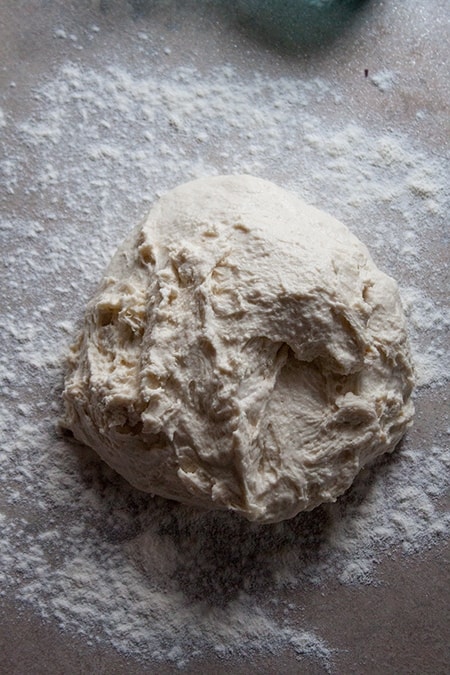 3.Transfer dough on a floured surface and knead it a little until you achieve elastic, but soft dough.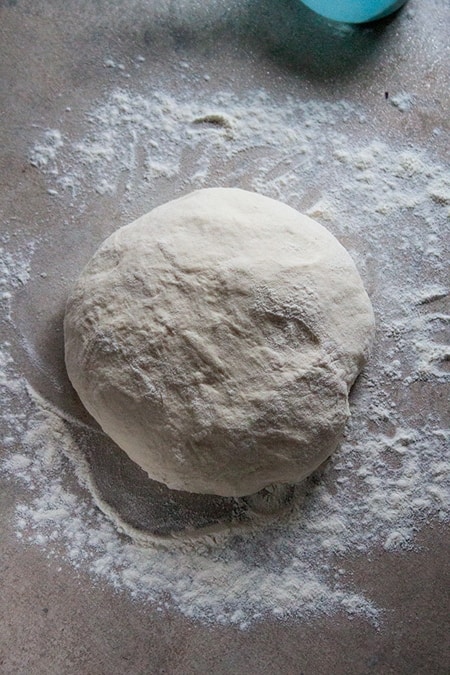 4.Dough should look as on this picture. Maybe you'll need additional 6 tablespoons / 50g of flour.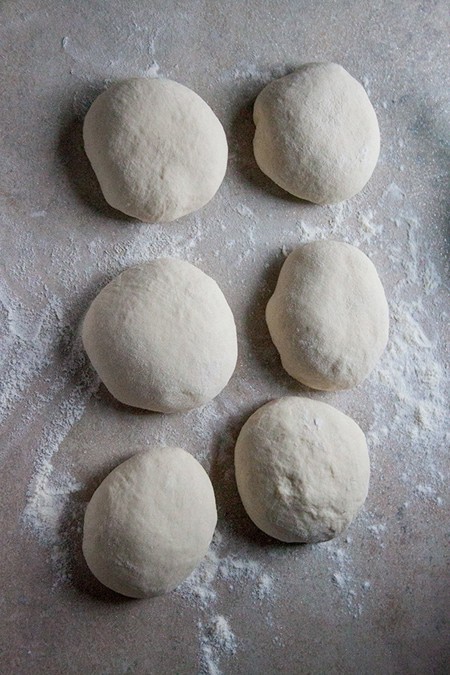 5.Divide dough in six equal pieces and shape every piece in round form. Leave them to rest 10 minutes.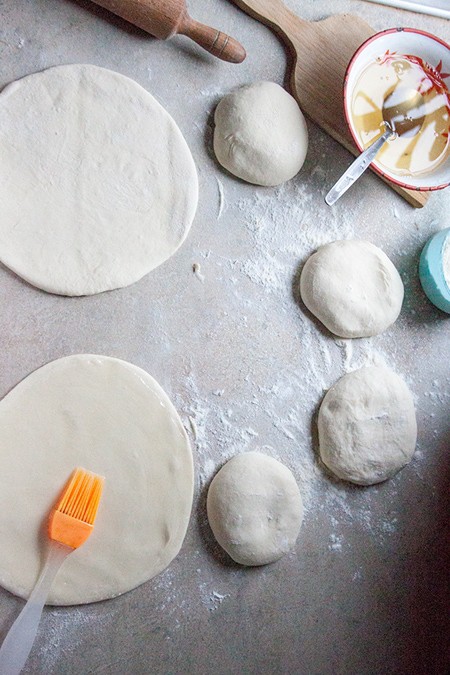 6.Using rolling pin roll every piece of dough into flat, round shape, approximately 1/8" / 3 – 4mm thick. Divide pieces in two groups of three. Brush first piece of dough with melted lard and cover with another piece of dough. Brush second piece of dough with lard and cover with third piece. Do not brush this third piece of dough with lard! Repeat the same with another three pieces of dough.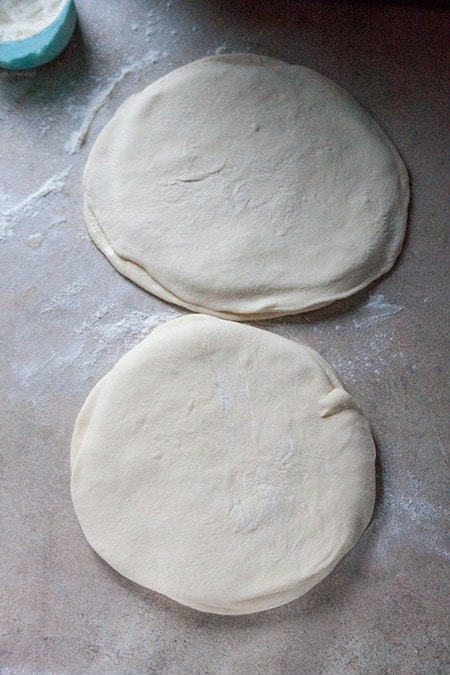 7.You will have two piles of dough pieces. Leave them again to rest for 10 minutes.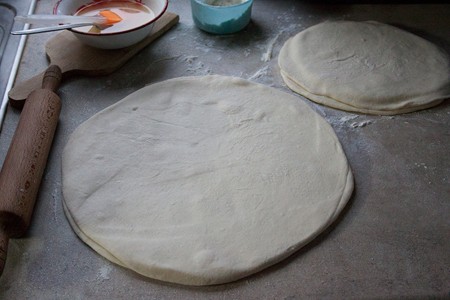 8.Roll every pile using rolling pin into round shape, approximately 1/4 – 1/3" / 5 – 8mm thick.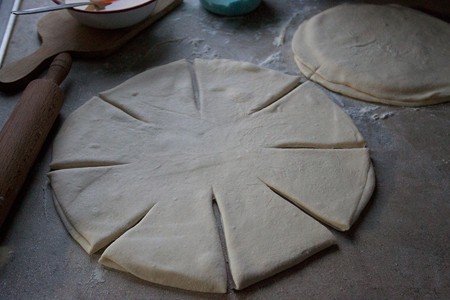 9.Using sharp knife make eight cuts around the formed circle (see picture).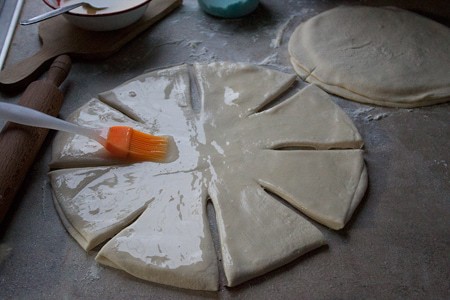 10.Brush surface with melted lard.
11.Fold brushed, cut petals into middle part of dough (see picture).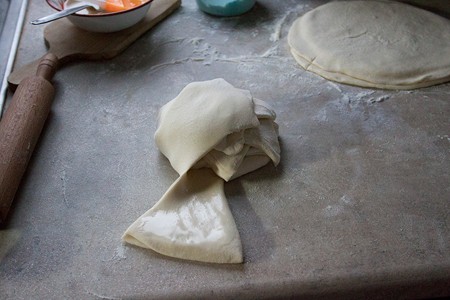 12.Continue until you fold all eight of them.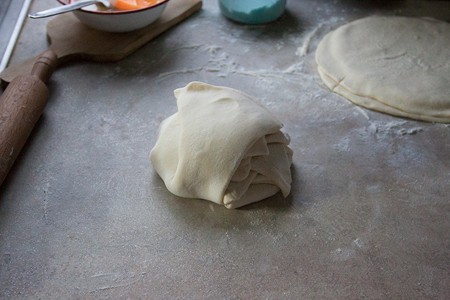 13.Turn the dough so the folded parts are underneath. Do the same with another pile of dough. Leave both pieces of dough to rest until you prepare the filling.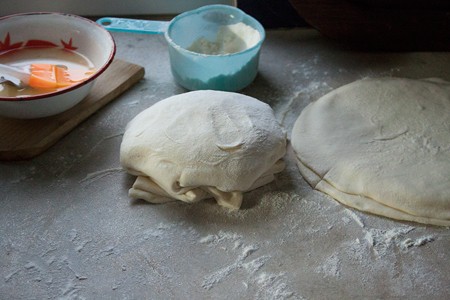 Recipe 2: FILLING 1: CHEESE AND SWISS CHARD
Servings:
Given recipe yields enough for one Katmer pie.
Ingredients
2 cups / 500g soft cottage cheese (or ricotta)
1 pound / 500g Swiss chard
4 large eggs
1/2 teaspoon salt (amount depends on cheese you use, you should try prepared filling and add more salt if necessary)
Directions: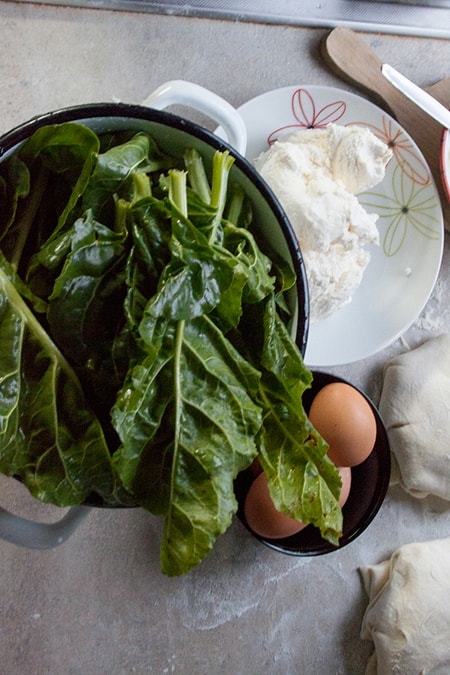 1.Prepare all ingredients.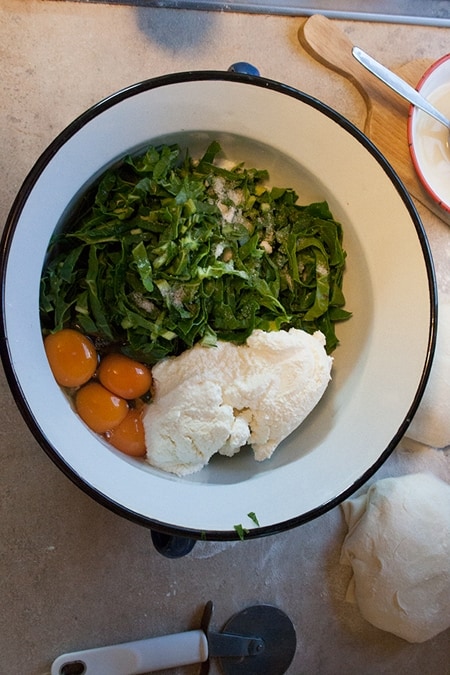 2.Cut Swiss chard into strips and place it in big glass, plastic or metal bowl. Add eggs, salt and cheese.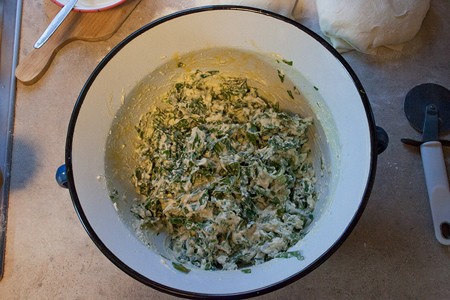 3.Mix all ingredients using spoon or your hands. Filling one is ready.
Recipe 3:FILLING 2: PUMPKIN
Servings:
Enough for one Katmer pie using given recipe for dough.
Ingredients
42oz / 1200g pumpkin of your choice
1 3/4 cups / 400g caster sugar
4/5 cup / 200ml water
1 teaspoon ground cinnamon
Directions: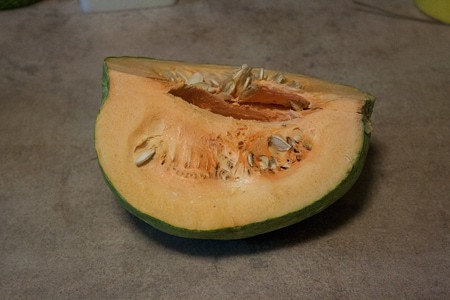 1.Prepare pumpkin.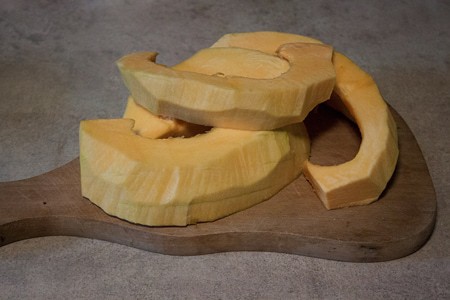 2.Clean and cut it with sharp knife.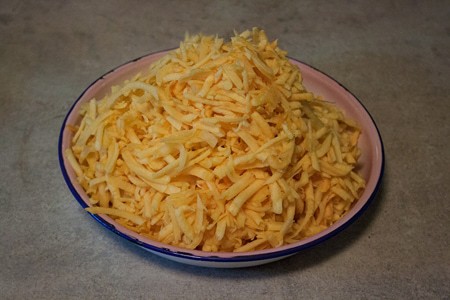 3.Grate it using your preferred method.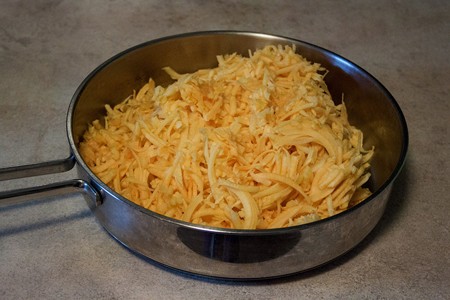 4.Transfer it to large, wide and shallow pan.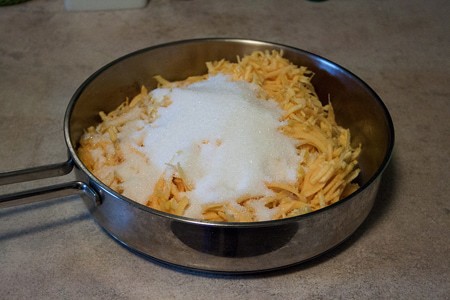 5.Add sugar,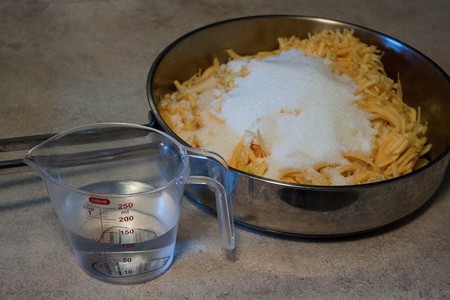 6.…water,…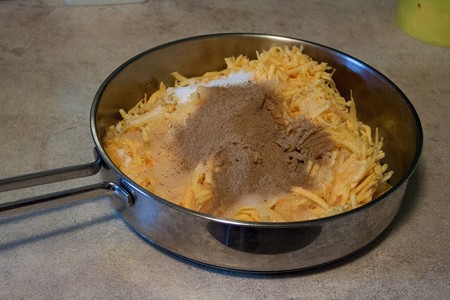 7.…and cinnamon.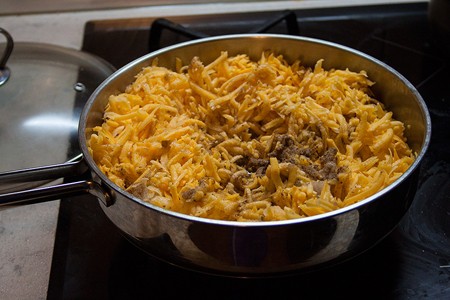 8.Mix everything with wooden spoon and put on moderate heat.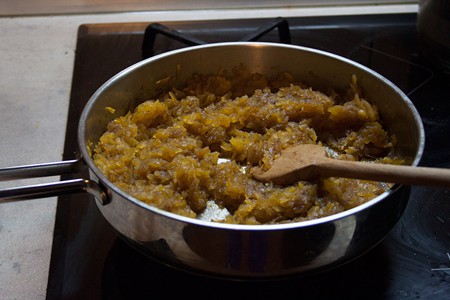 9.Cook uncovered until water is evaporated, around 15 minutes. Leave to cool completely.
Recipe 4:KATMER PIE
Ingredients
One recipe for dough
One recipe for one of given fillings
Directions: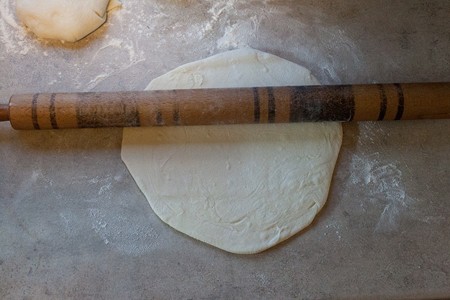 1.Turn on your oven on 350°F / 180C / Gas Mark 4. Roll one of the pieces of dough on lightly floured surface into large, square or rectangular shape to fit your baking tin.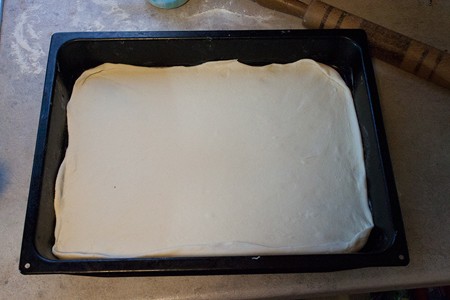 2.Transfer layer of dough on baking tin brushed with melted lard.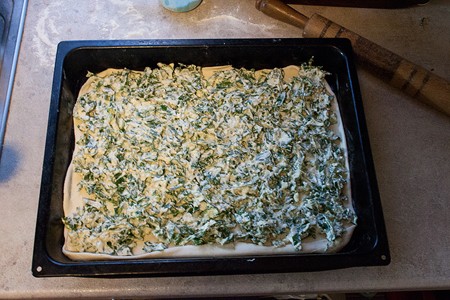 3.Arrange your filling all over the first layer of dough.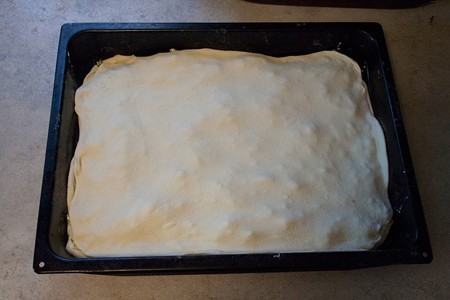 4.Roll out the other piece of dough and transfer it to baking tin, covering filling completely. Press edges with your fingers to stick together.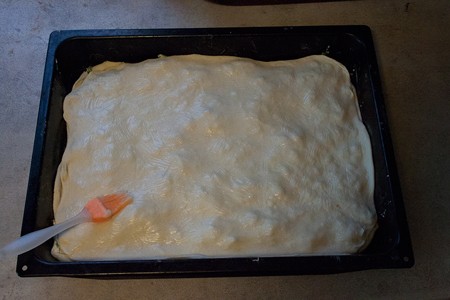 5.Brush surface of pie with melted lard.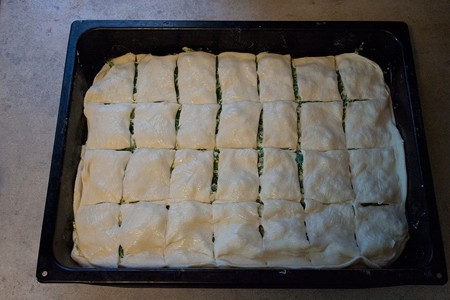 6.Cut whole pie into small square pieces. If you are using sweet type of filling (pumpkin or apples), you can sprinkle pie with 2 tablespoons of caster sugar. Bake pie in preheated oven around 30 minutes until deep golden in color.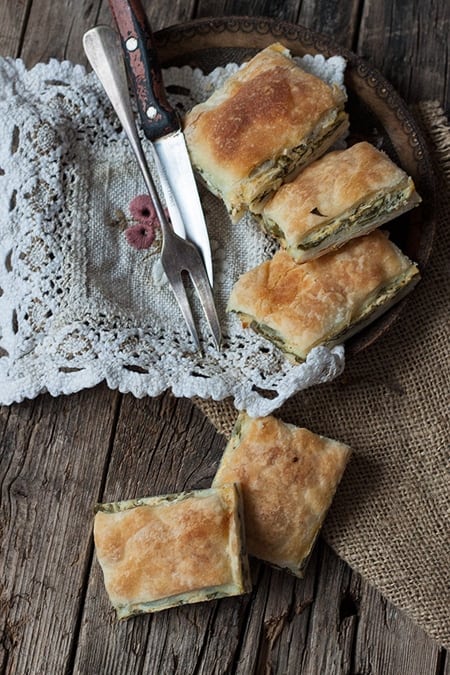 7.Finished pie
Storage & Freezing Instructions/Tips:
Whole, prebaked pie can be frozen for two months. Baked pie is best warm, fresh from the oven.
Additional Information:
This pie easily can be made vegan, which depends on type of filling used.