As marinara and tomato sauce are each a type of tomato based sauce, it makes sense that these two products experience some overlap. At times, the names may even be used interchangeably on product packaging and restaurant menus--only adding to the confusion regarding their distinction!
Nevertheless, there are some key differences between how these two sauces are made and used, and each features specific taste characteristics of its own. Let's find out everything there is to know about the similarities and differences between these two pillars of Italian cuisine!
Marinara Sauce: The Basics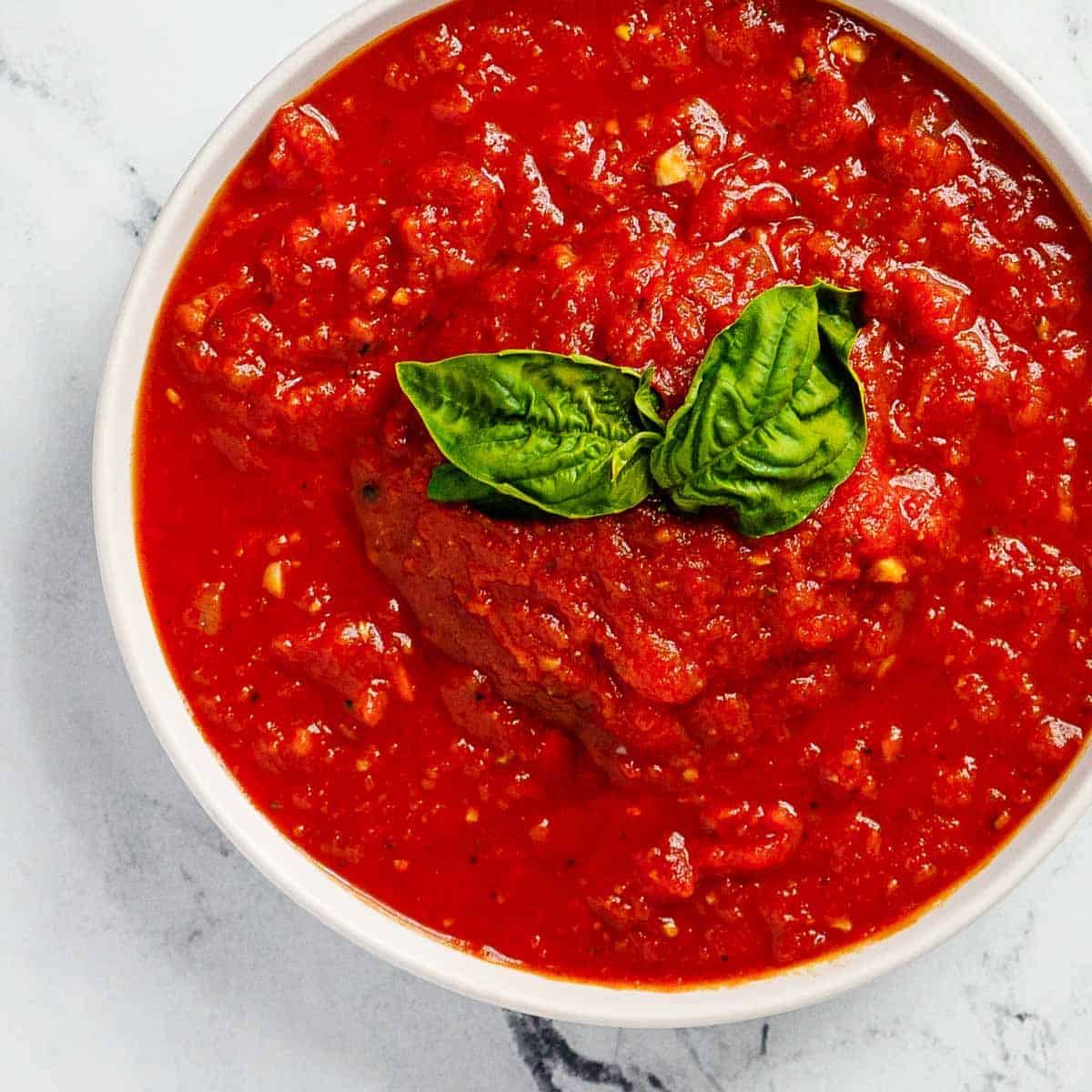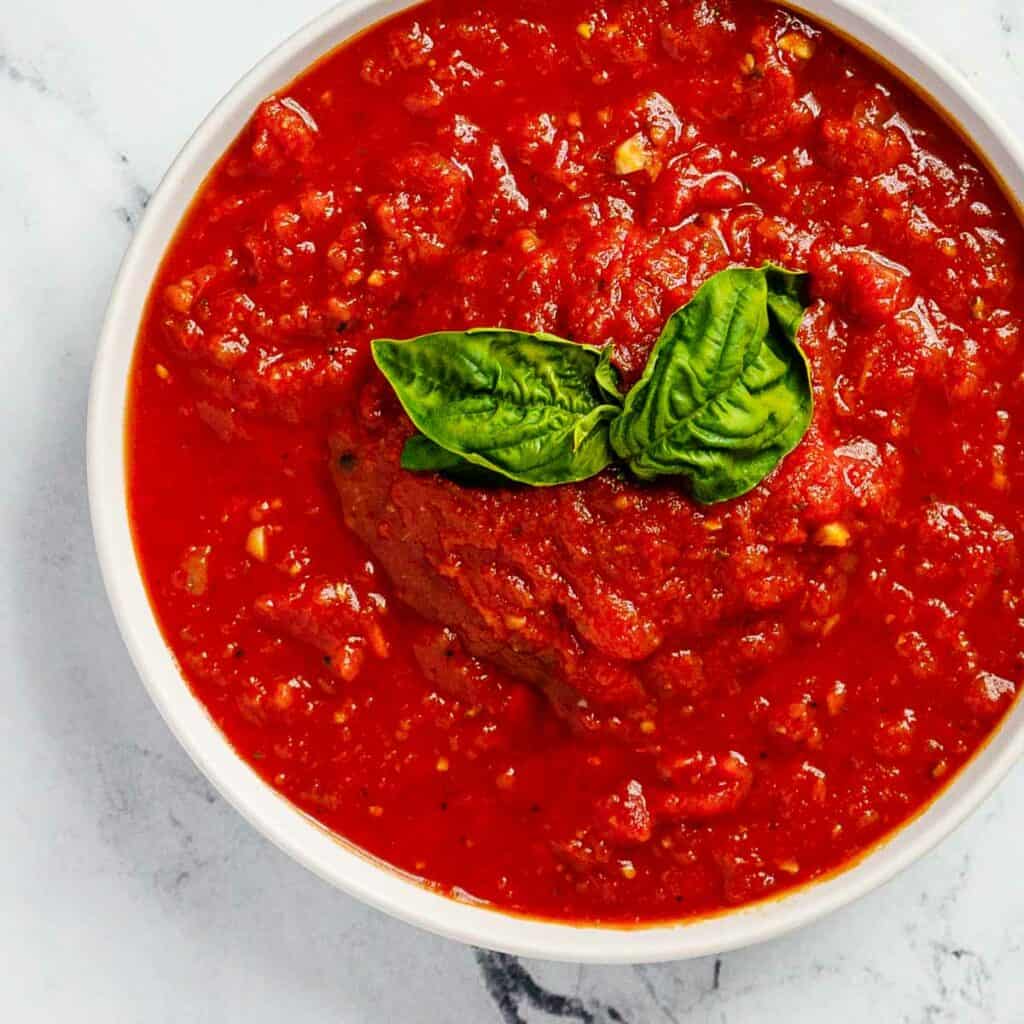 Marinara is technically a type of tomato sauce, yes, but it is a quite specific one at that. The key features of any marinara sauce are that it is quickly made and simply seasoned, generally featuring a short ingredients list. This leads marinara to play very specific roles in terms of recipes, as the punchy and bright flavor of this simple sauce is not quite right with just any dish.
Tomato Sauce: The Basics
Tomato sauce on the other hand, is a labor of love with far more room for variation than marinara sauce. While tomato sauce is indeed a vital component to many Italian dishes, it is actually also one of the five mother sauces of French cuisine which provide the foundation of worldwide culinary arts. Therefore, you can bet that this sauce plays an important role in many cuisines throughout the globe.
Tomato sauce goes by many other names including Sunday gravy, Sunday sauce, spaghetti sauce, ragu, and bolognese to name just a few. The differences between these lie in the specific ingredients used as well as how each particular variation of tomato sauce is prepared.
Comparing Marinara and Tomato Sauce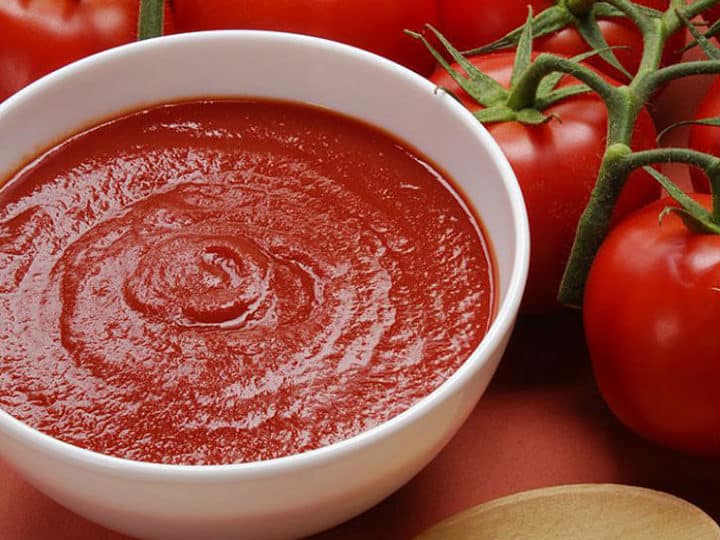 Now that we understand the basics of each of these two types of red sauce, let's get into the full breakdown between the two! We'll see how marinara and tomato sauce compare to one another in terms of key ingredients, how they're made, how they're used, and overall flavor and textural profile of each.
Marinara vs. Tomato Sauce: Key Ingredients
Though both of these sauces are clearly tomato-based, the number and variety of other ingredients used is one major difference between marinara and tomato sauce. Marinara sauce is extremely simple, oftentimes consisting only of canned or fresh tomatoes, olive oil, and simple aromatics such as chopped onions, garlic cloves, perhaps with a sprinkle of fresh herbs.
Tomato sauce--or spaghetti sauce/pasta sauce--on the other hand, often contains a much longer list of flavorful ingredients, including but not limited to: bell peppers, fire-roasted tomatoes, fresh herbs such as basil or oregano, tomato paste, crushed red pepper flakes, cracked black pepper, and bay leaves, as well as olive oil, garlic, and onions. In addition, unlike marinara which is almost always vegetarian, tomato sauce often contains meat and/or animal products like ground beef, Italian sausage or salt pork and it may be made using chicken stock, veal stock, animal fat, or parmesan cheese.
Marinara vs. Tomato Sauce: How They're Made
As mentioned above, the process for cooking marinara sauce is all about speed and minimalism. Fresh tomatoes or canned tomatoes are crushed before being quickly cooked in olive oil along with those few other ingredients listed. This quick sauce then simmers briefly, for just about an hour, before being seasoned simply with salt and sometimes fresh herbs.
While the overall process for making tomato sauce is about the same as that of marinara, the specifics are a bit different. Many pasta sauces and spaghetti sauces call for canned tomatoes like San Marzano tomatoes rather than fresh. In tomato sauces that include meat, the meat is often cooked first, then the tomatoes and aromatic ingredients are added to the drippings. Many tomato sauces are blended and sieved to remove the skins and seeds from the sauce, resulting in a rich velvety texture. Still other folks opt to add fresh tomatoes back to their long simmered sauce to get the best of both worlds--rich, slow simmered tomato flavor plus the pleasing texture of fresh tomato chunks mixed in. Traditional Italian tomato sauce is often thickened with cream or a roux, but American-style tomato sauces are usually not thickened in this manner.
Marinara vs. Tomato Sauce: Flavor, Texture, & Appearance
In terms of taste and texture, marinara is quite predictable. It has a thinner yet chunkier texture than tomato sauce, much like that of canned crushed tomatoes in fact. The taste of marinara sauce may vary slightly depending on optional herbs and aromatics, but generally speaking, the flavor will be very tomato-forward, fresh tasting, bright, and acidic.
Tomato sauce on the other hand has a thick and smooth texture, almost like that of a gravy--thereby making perfect sense of the term Sunday gravy! The specific flavor profile of any given tomato sauce will of course vary depending on ingredients used, but overall, tomato sauces have far more developed and complex flavors as compared to marinara sauces. In addition, there is a large window for variation between styles of tomato sauce, as it doesn't take a culinary professional to recognize the difference between homemade tomato sauce and some of the canned or jarred stuff lining supermarket shelves!
Marinara vs. Tomato Sauce: How They're Used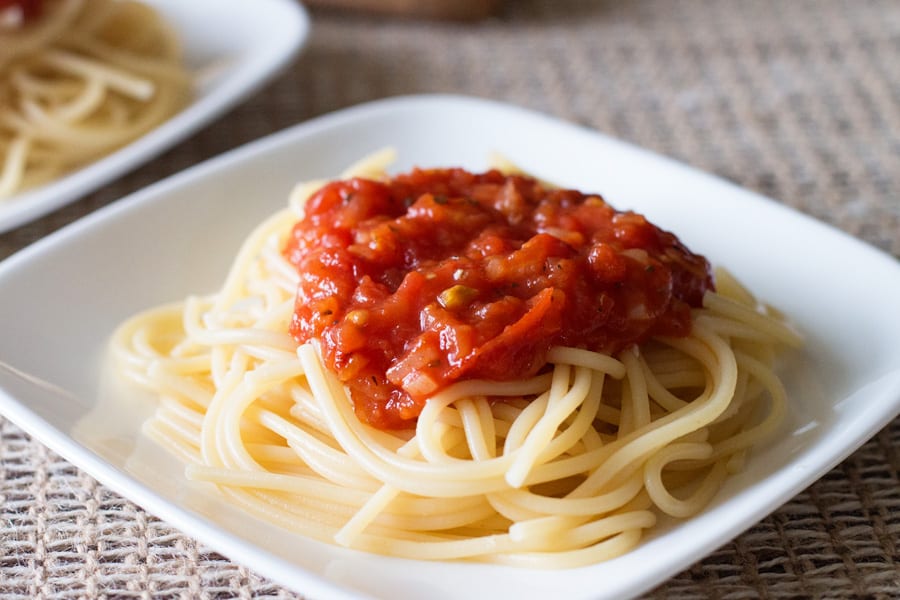 The light and fresh flavor of marinara sauce is perfect for dishes where you want to accentuate another ingredient or the dish as a whole. Marina provides a complementary bright flavor to various pasta dishes (especially those in which you want the homemade pasta to be the star of the show), truly shines as a dipping sauce for fried seafood or garlicky breadsticks, and makes a wonderful pizza sauce that still leaves room for the flavor of toppings or the fresh pizza dough itself.
In the other corner, we have tomato sauce! Tomato sauce's rich flavor renders it ideal to smother meat dishes while its thick texture is perfect for baking casserole-style meals such as lasagna (Lasagna Soup, anyone?) or eggplant parmesan. The complex flavor of tomato sauce is best for heavier dishes where it will not compete with the other ingredients
Marinara vs. Tomato Sauce: Other Questions Answered!
Can You Substitute Marinara for Tomato Sauce?
Seeing as both tomato sauce and marinara have several of the same key ingredients and basic flavor profile, you can most definitely use marinara sauce in place of tomato sauce in most recipes and vice versa!
If using marinara in place of tomato sauce, you may opt to cook a few aromatics in olive oil and stir them into the marinara sauce, or simmer it for some additional time in order to thicken it up and deepen the flavor. If your recipe calls for marinara sauce but you are looking to use tomato sauce instead, you may want to add a bit of water to the tomato sauce to thin it out and achieve a consistency more similar to marinara.
Which is Healthier, Marinara or Tomato Sauce?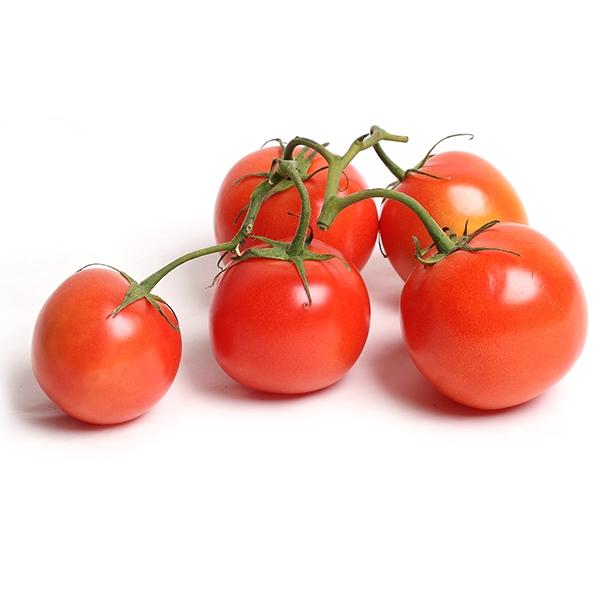 In terms of which sauce is healthier, it's all in the preparation. Since marinara sauce is traditionally vegetarian, it is often lower in calories and fat as compared to tomato sauce. However, this also means that it does not provide the same protein boost that many tomato sauces offer.
Both sauces deliver many of the health benefits of the tomatoes themselves, but you want to take care when selecting store bought marinara and tomato sauce. Many of these products contain high levels of sodium and added sugar or even synthetic ingredients such as artificial sweeteners. As with most things, homemade is usually healthiest, but if you opt for store-bought, look for a nutrition label with a low sugar content and an ingredients list you can recognize!
Why Are San Marzano Tomatoes Special?
You may have heard us mention San Marzano tomatoes above, and it's likely that you've heard this name tossed around prior. What exactly are these famed tomatoes and what makes them so special?
To start, San Marzano is a region in Italy which--you guessed it--is known as the location of origin for these tomatoes. They are a specific variety of plum tomato which is widely considered to have an exceptionally strong tomato flavor, pungent acidity, and wonderfully elongated shape as compared to other plum tomatoes.
Over time, San Marzano tomatoes came to be grown in other regions of the world as well, yet may still be referred to by name as they are still grown from the very same seeds (and often, similar growing conditions) of the original Italian variety.
Now, if you happen to see a can of tomatoes labeled "DOP San Marzano", you're likely holding an imported product--a can of tomatoes grown and packaged in the original San Marzano region! These will surely be more expensive than other tomatoes, as the product must be evaluated and meet certain standards in order to bear and maintain the DOP--"protected designation of origin"--status.
Marinara vs. Tomato Sauce: Summary of Differences
In spite of their similar appearances and basic ingredients, there are actually quite a number of important differences between marinara and tomato sauce! Let's wrap things up with a quick review.
The ingredient list for most marinara sauces is extremely simple, consisting mainly of tomatoes, olive oil, and basic aromatics such as garlic and onions. Tomato sauce can include a wide array of other ingredients from meats and cheeses to bell peppers, roasted tomatoes, fresh herbs, and spicy red pepper flakes.
Marinara sauce is cooked quickly, typically simmering for only an hour or less. Classic tomato sauce simmers for many hours, to fully coax all of the rich tomato flavor from the ingredients.
Marinara sauce has a bright, acidic flavor which tastes strongly of pure tomatoes. Tomato sauce is far more concentrated, therefore is sweeter and deeper--a complex product of all of the various ingredients simmering together for a long period of time.
Both sauces can be used interchangeably with relative success, but each one does have its own corner in which it shines. The straightforward taste of marinara sauce is best for highlighting the tastes of other items in the dish such as fresh pasta, pizza dough, or seafood. Robust tomato sauce would easily overpower any such subtleties, therefore is best used on heavier dishes which feature meat, in casseroles, or as the star of the show in a pasta dish.