Sometimes, having a regular refrigerator just isn't an option. Take a college dorm room, for example. It's too small to fit a regular fridge, but you'll still need to keep food and drinks cold. A great alternative is to get the best mini fridge for your needs. Alongside other appliances (like an electric kettle, a rice cooker, and a water filter), they're a must-have for any small living and working space.
These small house appliances give you all the perks of having a bulky fridge without taking up much room. Some come with a freezer compartment, while others even let you warm up your food inside. Crazy, right?
Today, we're looking at the top six mini fridges on the market. We're also helping you make the best purchase by giving you a buying guide to follow. There are plenty of units to choose from, but you'll be less overwhelmed after reading it.
1) Best Overall Pick: Danby Designer 4.4 Cubic Feet Unit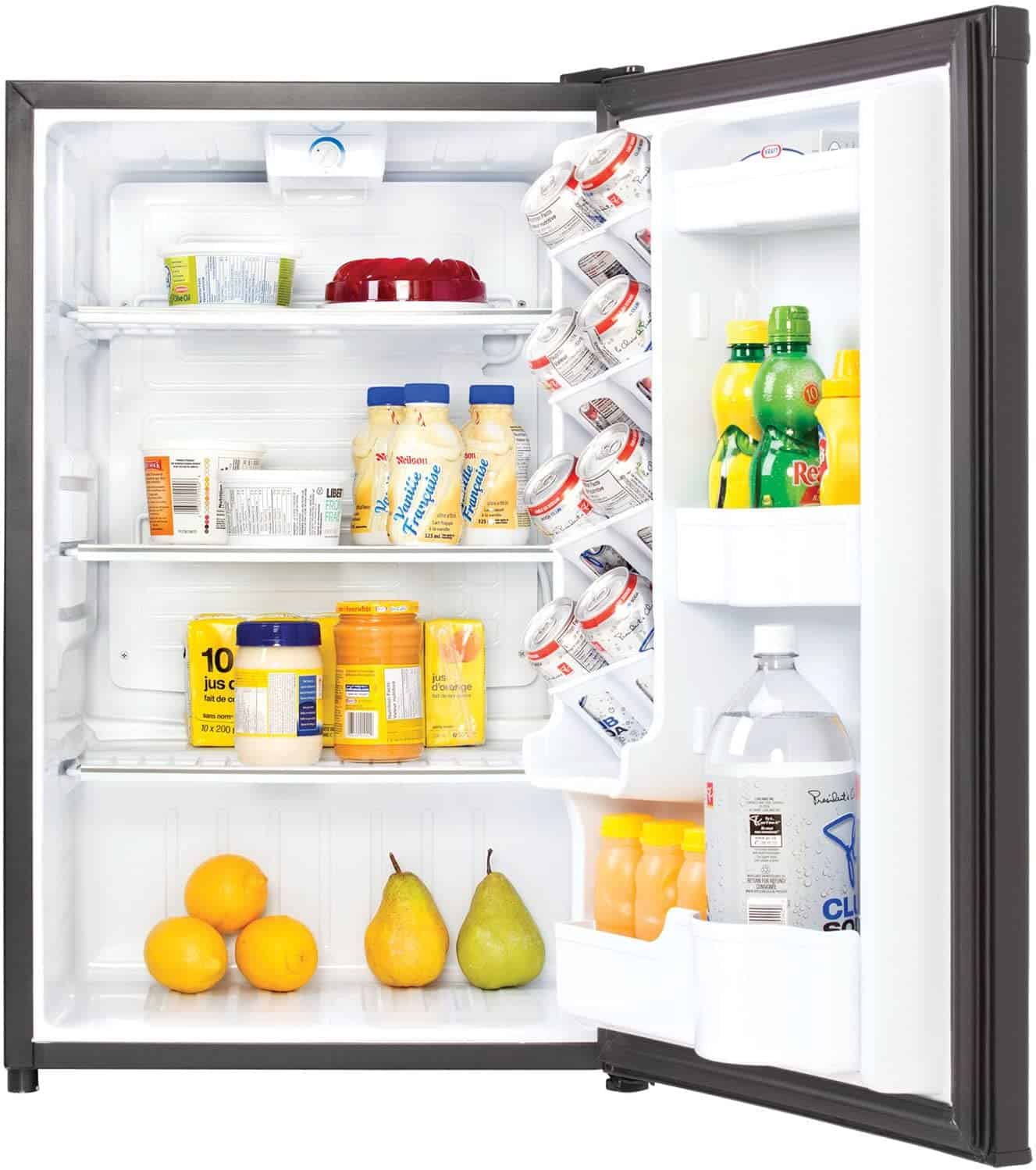 If you don't know where to start, this Danby Designer compact refrigerator is perfect for you. It plenty spacious, reliable, quiet, and very energy star efficient. It checks off all the boxes!
This might be one of the largest mini fridge units on our list. Thanks to its volume of 4.4 cubic feet, you can fit an entire week of groceries inside.
The adjustable wire racks can be moved up or down to fit your needs. If you have tall bottles and containers, you can remove them altogether to make room. Additionally, the door beverage supports are enough to fit more than eight 12-ounce cans or bottles easily.
The energy star use is also something to highlight. According to estimates done by the manufacturer, the unit only uses up 268 kWh per year. That's pretty impressive.
You can even adjust the temperature inside the compact fridge using the thermostat. While it has no numbers on it, you can guide yourself off of the colors on each end of the knob.
To make cleanup easier, turn on the "auto-defrost" setting. It will kick in and get rid of any ice that might have built up over the months. The interior light will also make it easier for you to see what you're cleaning.
2) Best Budget Mini Fridge: AstroAI 4-Liter Portable Thermoelectric Unit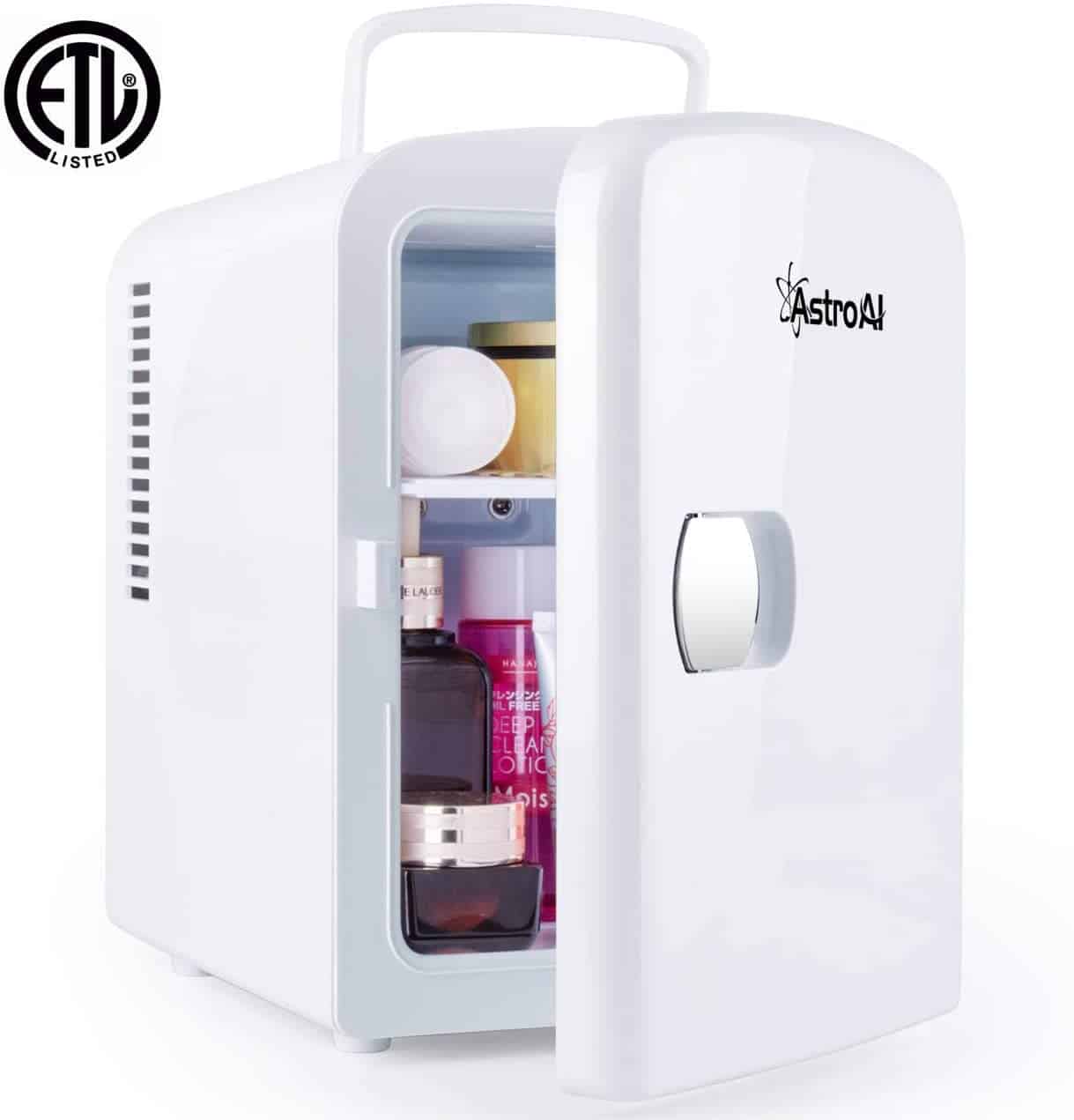 If you're on a tight budget, you can still get a reliable mini fridge. It may be smaller and have fewer features, but it still runs great! It's one of the best budget-friendly mini fridges out there.
The AstroAI has a small capacity of four liters (or 0.14 cubic feet). It's just enough to fit several 12-ounce cans of your favorite beverage and a few snacks. And if you remove the glass shelf, you can easily fit larger bottles. Once you take a look inside, you notice it isn't all that small.
It only measures 10 x 6.9 x 10 inches. Its compact design makes it a pretty nice fit for basically anywhere in your home or office. The built-in handle at the top even lets you transport it around easily.
Surprisingly enough, this is a pretty quiet unit. It is also energy-saving, making this an eco-friendly option.
On top of being an electric cooler, the AstroAI doubles as an electric warmer. You can warm things up 150ºF. The keep-warm feature will even retain the heat for a few hours.
3) Best Mini Fridge for Dorm Room: Midea WHD-113FSS1 in Stainless Steel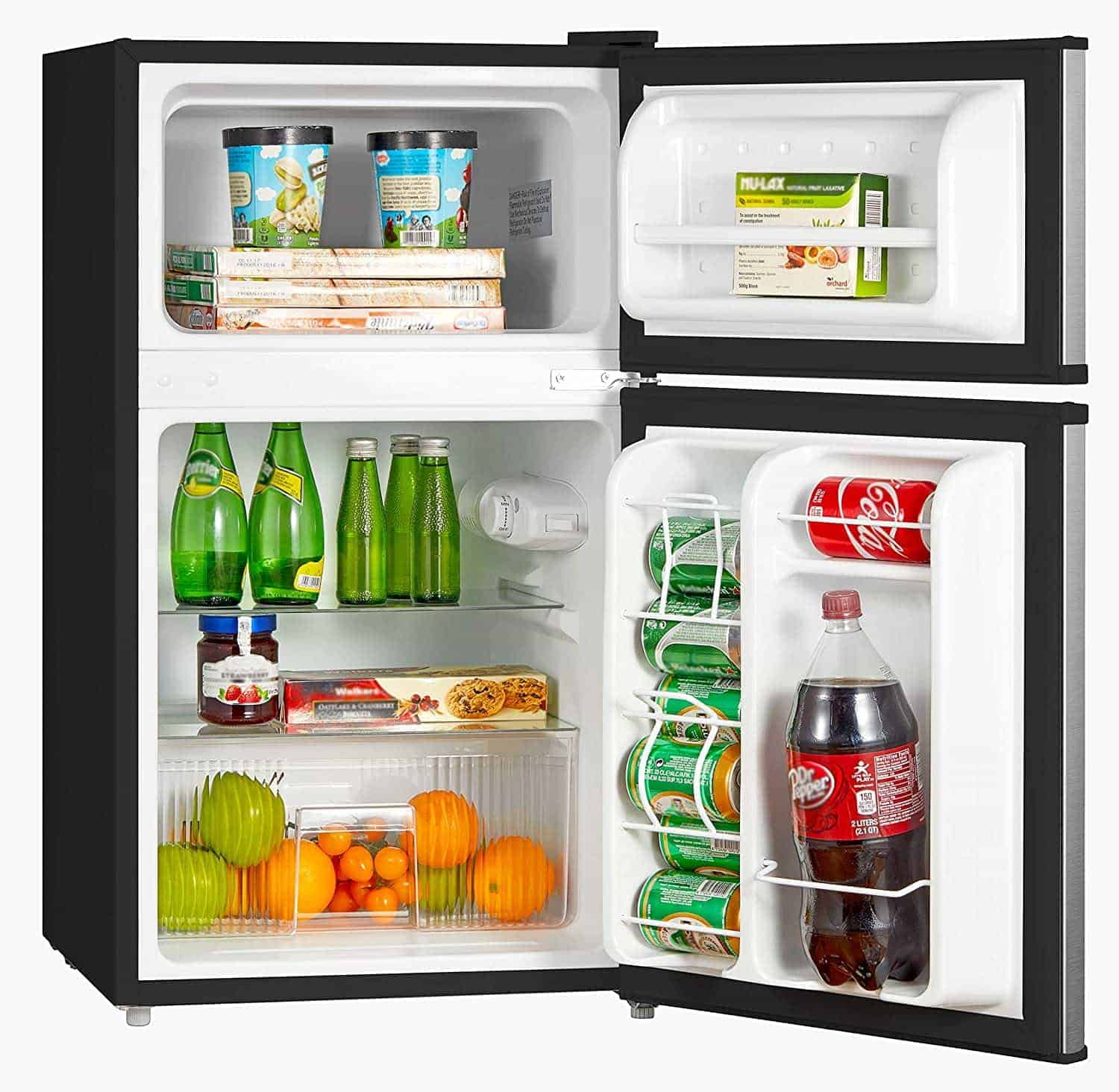 Going off to college? Don't leave without adding the Midea mini-fridge to your supplies list. This trustworthy unit will fit perfectly into your dorm room—and make your life a lot easier during the school year.
You'll find that this unit is more spacious than traditional mini fridges. It boasts 3.1 cubic feet of storage inside. It's enough space for ready-made meals, veggies, fruit, beverages, and more.
The door storage compartments are especially handy. You can store at least ten cans and a large liter bottle there. The two glass adjustable shelves and vegetable drawer also are great additions. They let you make the most of the room you have.
This Midea compact fridge comes with a freezer compartment. You can fit quite a few frozen meals there and still have the cool air circulate. It's perfect for when you can't be bothered to cook. Additionally, you could also make ice cubes to chill your drinks.
We also really like the reversible door design and adjustable legs. It's an ingenious way to make sure your appliance will fit even in the tightest of spaces.
Lastly, the built-in temperature control gives you full control of your compact fridge. The auto-defrost option will even help you clean the unit
4) Best Miniature Fridge with Freezer: COSTWAY Compact Cooler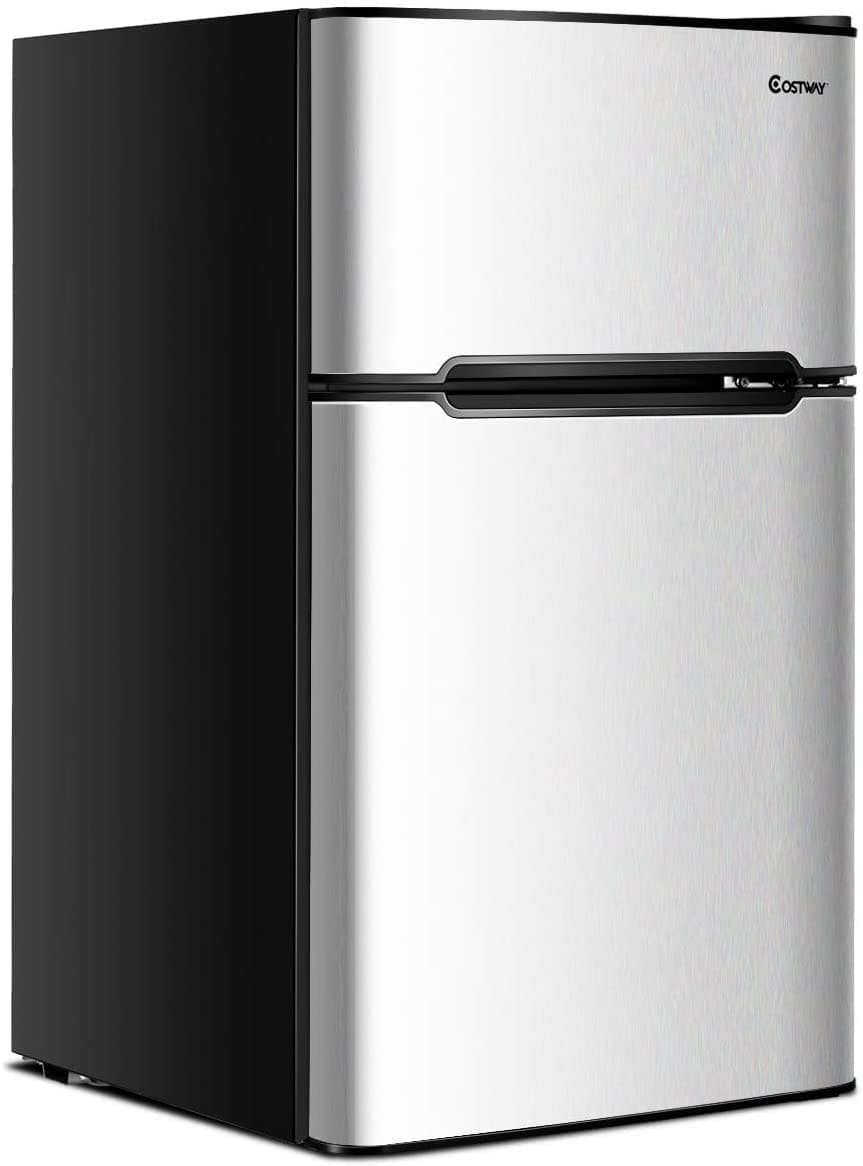 This COSTWAY compact refrigerator and freezer is a great investment. The stainless steel exterior beautifully designed and super sturdy. On top of that, the inside is super spacious, versatile, and very reliable. It beats a lot of other popular mini fridges easily.
This 3.2-cubic feet fridge and freezer is perfect for most every-day uses. You can fit an entire week of shopping inside, without stopping the cool airflow or damaging the racks.
The glass shelves are adjustable. This means you can position them however you want, to better fit your needs. Additionally, you can store up to twelve cans on the fridge door. This lets you fully maximize the capacity of the unit.
The biggest upside of this COSTWAY model is its spacious freezer. It has a capacity of 27 liters, meaning it's big enough to fit lots of frozen meals! On top of that, you can also whip up ice cubes to put in your drinks. As if that weren't enough to convince you, even the door has storage compartments for even more beverages!
The cherry on top of the cake is the space-saving added features. You can extend or retract the unit's legs. Plus, you can even open the compact fridge door from both the right and the left, thanks to its reversible door design.
5) Best Unit for Tight Spaces: BLACK+DECKER BCRK17B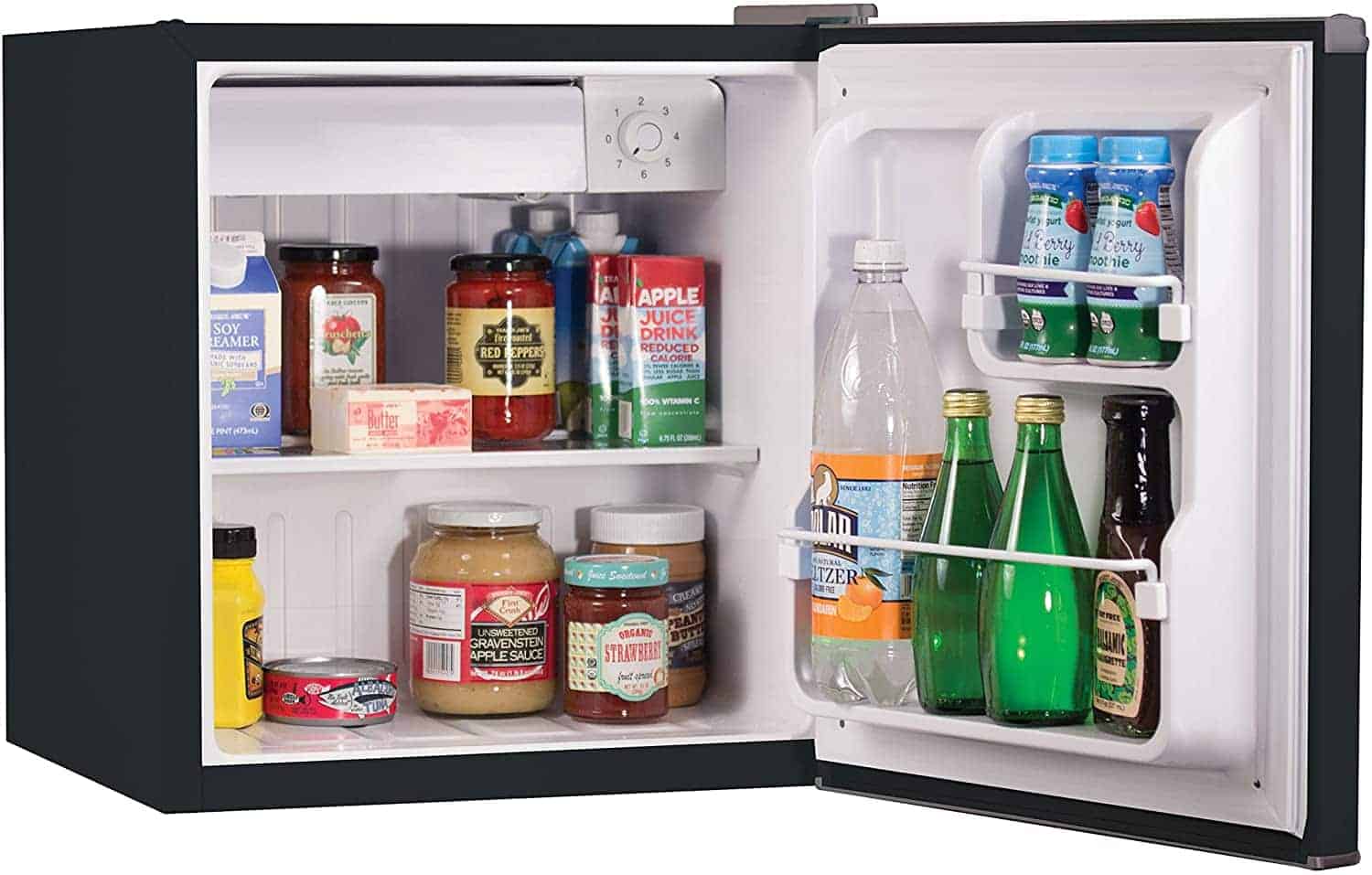 Say that you want the smallest model out there but don't want to sacrifice on quality and effective storage space. Well, we'll point you to this BLACK+DECKER unit!
The fridge itself only measures 17.5 x 18.5 x 19.7 inches. That's really not a lot. It's small enough to fit it under the counter or under an office desk. Despite its compact size, it has enough space for plenty of items. More precisely, it boasts a capacity of 27 liters (or 0.95 cubic feet).
It's not hard to use the space wisely. The door has built-in beverage-holding supports. You can fit a tall one-liter bottle and several smaller bottles and cans on the door alone. Then, the glass shelf can be adjusted or even completely removed, to make way for all your things.
The adjustable thermostat is also a big plus. Change how cool your main compartment gets depending on what you're storing there. This could also help you save on electricity.
The leveling legs and reversible door also give it a boost. These two space-saving design features will make it easier for you to reach inside the compartment, even in tight rooms.
6) Best Cooler and Warmer: Cooluli Concord 20-Liter Dual Unit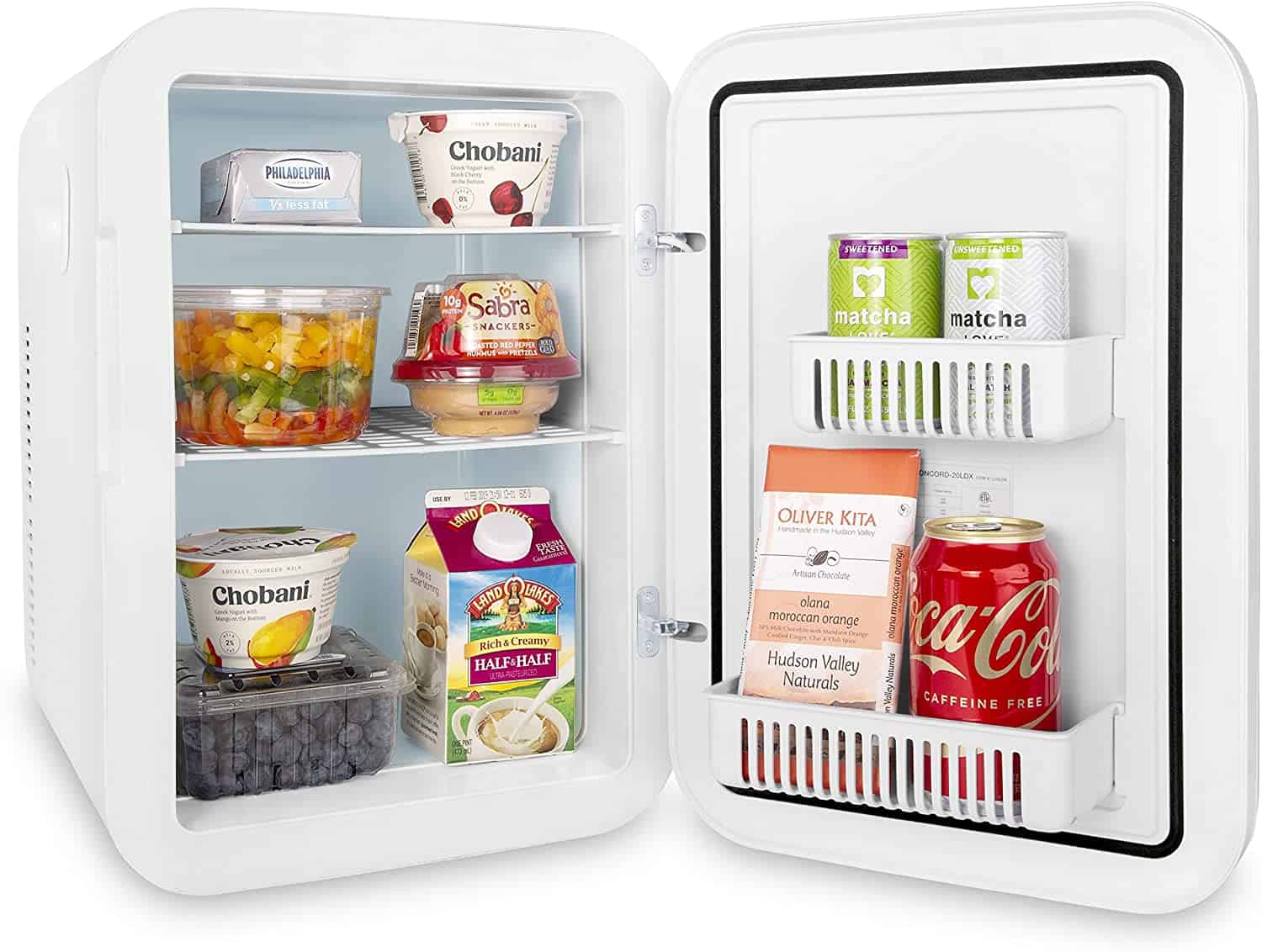 The last item on our list is a bit of surprise: it's a cooler and warmer; a two-in-one. The Cooluli does a great job at warming things up and cooling them down, making it a must-have for small rooms and offices where you can't also fit a microwave. How many mini fridges boast this many pluses?
The unit itself is pretty compact. It measures 11.25 x 13.75 x 16.25 inches, meaning it is small enough for tight living spaces. Yet, it can also fit quite a few items, thanks to its 20-liter capacity.
This Cooluli warmer and cooler comes with two removable and adjustable racks. You can move them up or down according to your storage needs. Plus, you can even keep things on the door. The two built-in beverage holders let you store up to four cans.
You can change the temperature inside the unit using the LCD thermostat. Press the arrows to raise or lower the temperature. To refrigerate your food safely, lower the temperature to 40ºF below ambient temperature. To warm up your snacks, raise it to 149ºF. It's easy to do and very versatile!
How to Buy the Best Mini Fridge?: Buying Guide
Nowadays, you can find thousands of mini fridges available online. As you might have guessed, they're not all great. How do you choose the best compact refrigerator for you?
Simple: you follow this buying guide. Look for these features in every product you look at. It'll narrow down the options and make choosing one a less daunting task.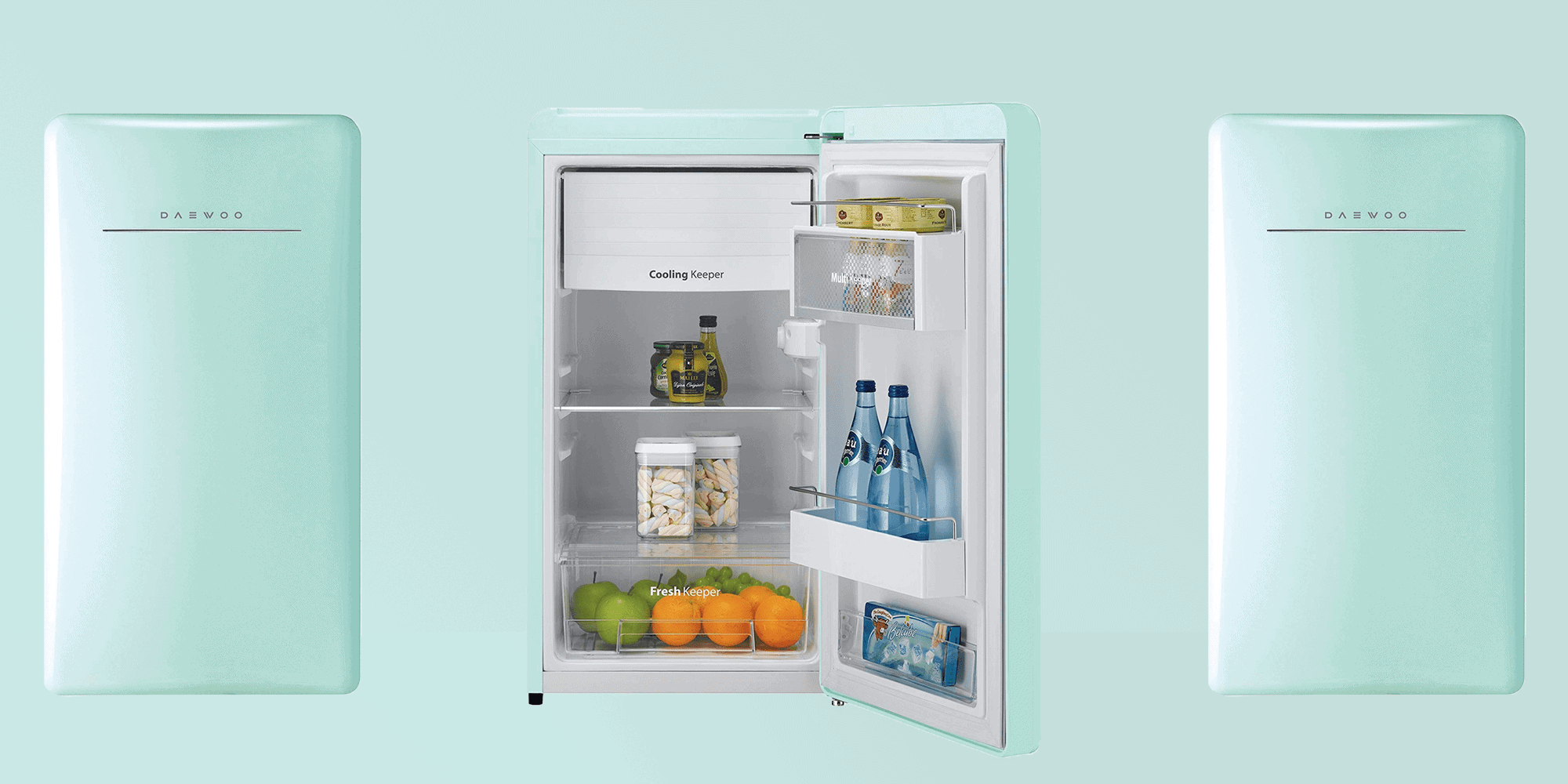 Storage Capacity
First, you need to figure out how much stuff you'll want to store inside the main compartment.
If you live in a dorm room and need room to store your weekly groceries, opt for a larger-capacity unit. It will be more expensive, but it will store everything you need nicely. This also means less grocery runs every week.
On the other hand, if you only need your fridge to store medication or a few beverages while you're at the office, a smaller unit will do just great. And the upside? It'll save you money, since small-capacity units are much cheaper.
Unit Size
Of course, you'll also have to think of how much room you're working with. Where would you like your mini fridge to go? How will it fit with all your other furniture? Make sure to get the measurements of your room right. Otherwise, the mini fridge you bought might not fit.
If you don't have much room to begin with, you'll have to pick a more compact model. This also means smaller capacity, so you might want to do some layout changes to your dorm room before committing to any model.
Freezer Compartment?
Not all units come with freezer compartments, but some do. The ones who do come with one are typically more expensive, but they might be worth the investment.
If you live in a college dorm room, for instance, having frozen meals at hand is very convenient—and cheaper than buying takeout all the time. It's all a matter of prioritizing your budget and choosing what best works for you.
Versatility
Surprisingly enough, the most versatile models out there double as warmers. This means that in addition to storing your food cold, they can also warm up your food to serving temperature. This is especially great if you live in a small dorm room and can't also have a microwave.
Of course, we have to point out that you can use any of these mini fridges to store things that are not food and drinks. A lot of people use it to keep their medication cool. Others use it to keep makeup chilled.
Best Mini Fridge Design
Some design choices make an appliance more beautiful, while others make it more convenient and practical. While you may want to focus on the former, you should also pay attention to the latter.
Reversible doors are super handy if you don't have much room to work with. They let you open the fridge by swinging open the doors in any direction you want. Thus, the doors don't get blocked by other pieces of furniture in the room. Some units even have removable doors, to make accessing the main compartment even easier.
Glass doors are also a good feature because they let you see what you have inside the fridge, without needing to open the doors and letting the cold out.
Glass shelves are more sturdy than wire shelves, so you might want to opt for those. Additionally, units that have adjustable shelves are even better because you can move them up or down (or even remove them) to store taller bottles inside.
You'll also find that some mini fridges come with a vegetable drawer and door storage space. You don't need us explaining who those are great additions for every-day use.
Temperature Control
A fridge is no good if it can't keep foods at a safe temperature. The main compartment of your mini fridge should be at or below 40ºF at all times. The freezer compartment must always be below 0ºF.
Needless to say, cheap units from untrustworthy manufacturers won't cut it. They can't lower the temperature reliably, especially if you live somewhere warm. You'll have to go the extra mile and commit to a product other people vouch by.
The top mini fridges come with an adjustable thermostat. More importantly, you should also have a thermometer to check if your fridge is cool enough inside. Some units have it built-in, which is handy.
Energy Efficiency
Investing in an energy-efficient mini fridge will save you money in the long run. Since they use up less electricity, you'll get a lighter bill in the mail.
Easy to Defrost
You'll need to defrost your mini fridge once in a while. Thankfully, we've created a guide on how to do it in just a few simple steps. Nevertheless, you may want to invest in a model that has automatic defrost options to speed things up.