A great man once said, "You have never really visited a country until you have tasted its food". In a country as large and diversified as India it is more like "You have never really visited an Indian city unit you have tasted its food". Every city has its own unique street food and flavor.
When you first land in Mumbai, it won't take long for you to notice the delicious aromas coming from street food vendor roadside stalls. Beware, you will be left salivating and craving a bite. Take the time to try some (or all, if you're ambitious!) of these tasty Mumbai street food treats—you won't regret it.
1. Vada Pav
The one street food in Mumbai that's literally everywhere, in every street corner of the city, is Vada Pav (also called Vada Pao). You must try it. It is a deep-fried potato patty (Batata Vada) sandwiched inside a white bread bun called pav. In a way, it is kind of an Indian burger, albeit very different from the ones you are probably used to.
Different vendors serve different kinds of chutneys with it. The most common ones are sweet imli (tamarind) chutney and spicy green chutney made with mint and coriander. Pickled green chilies are also served with Vada Pav along with dry garlic chutney.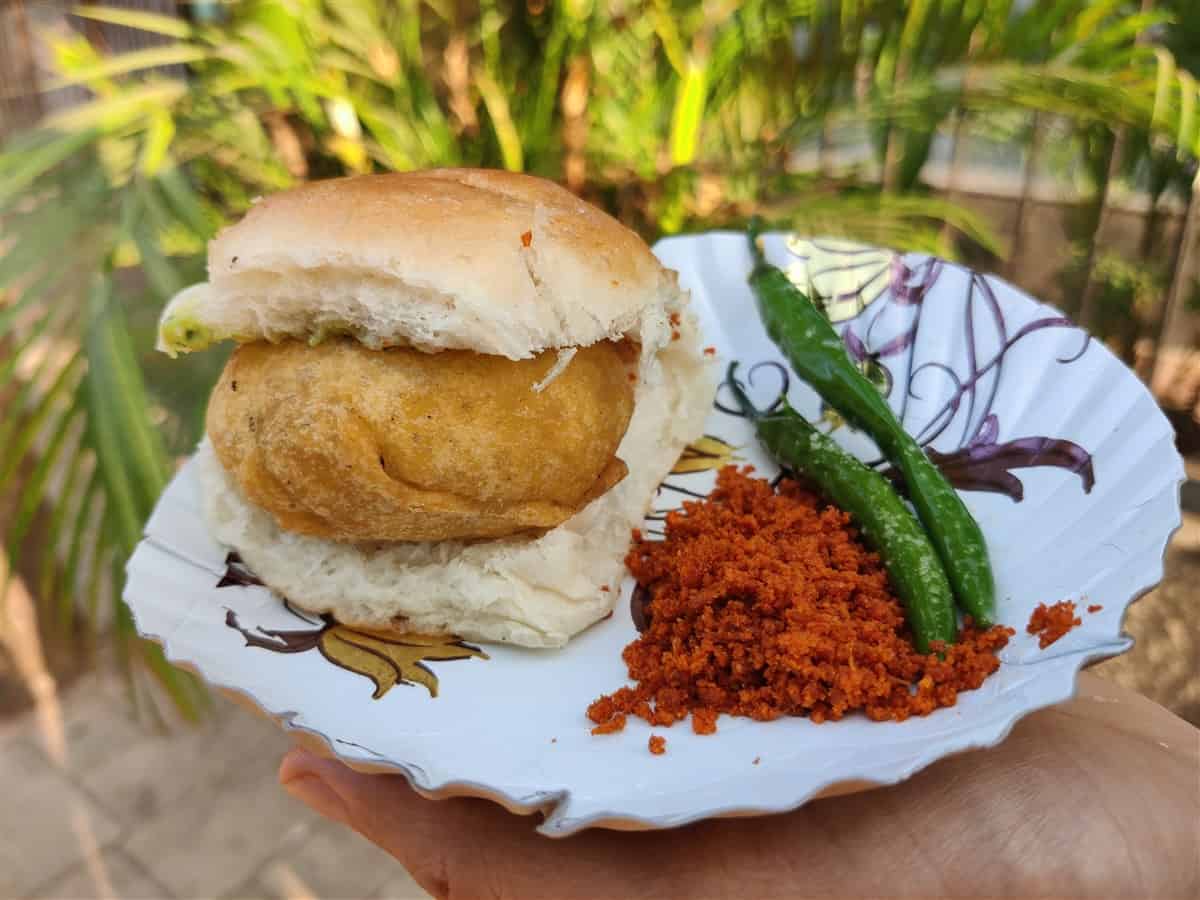 2. Sev Puri
Sev Puri is one of those popular "chaat food" (street food snacks) you'll find every stall of street food in Mumbai. It consists of crispy papdis (wheat crackers) topped with boiled potatoes, chopped onions, tomatoes, and an assortment of sweet, tangy, and spicy chutneys. To add the final touches, vendors add sev (thin, fried gram flour vermicelli), roasted chana dal, peanuts, and coriander. It's a "fast food" staple, but better. One bite and you'll understand its hype.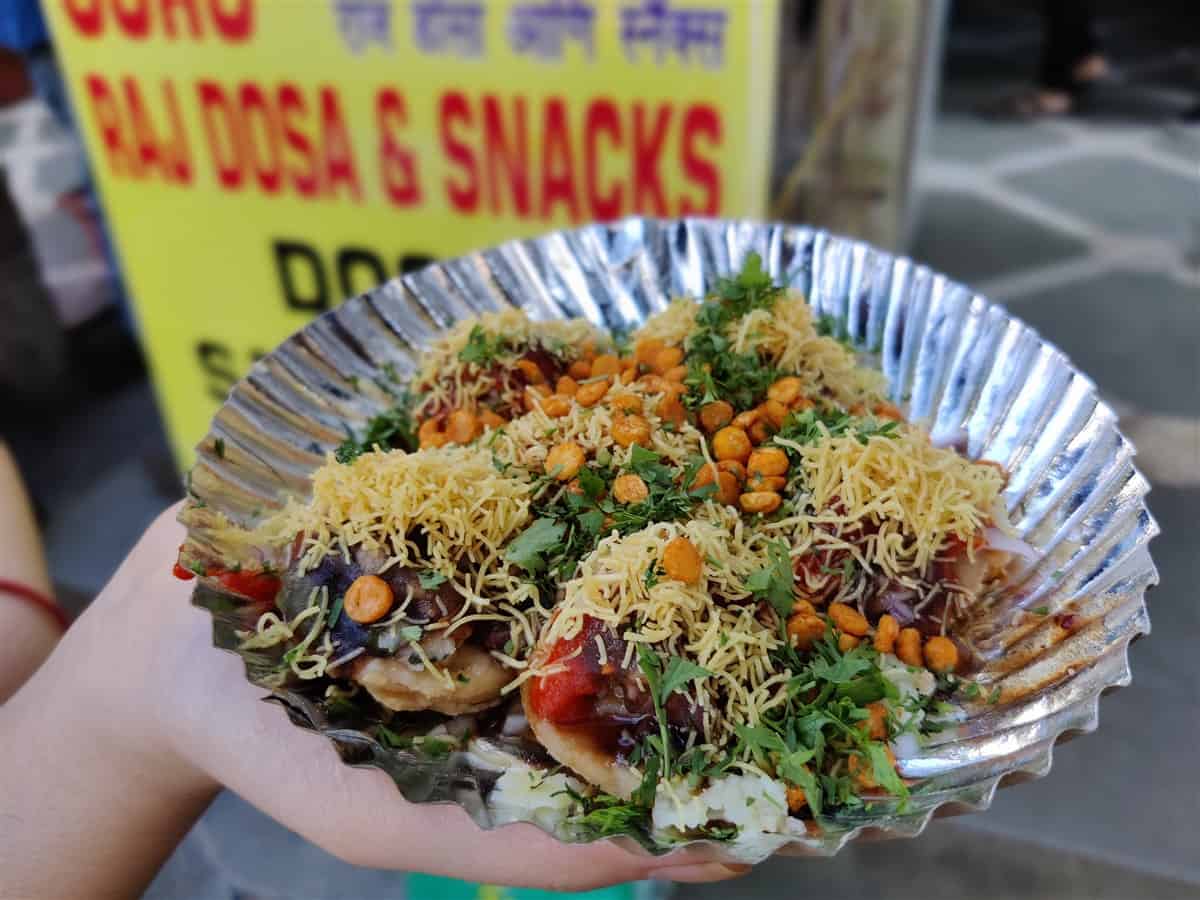 3. Bhel Puri
When hunger hits you, head to one of the many street food stalls and get one of the best street foods in the city: bhel puri. This popular chaat is made with puffed rice, chopped tomatoes, onions, potatoes, sev, peanuts, and at least 2 or 3 kinds of sweet, spicy, and tangy chutneys. Everything is mixed together in front of you and served fresh!
4. Pav Bhaji
Thick vegetable curry with oodles of butter on top, served with buttered pav. Chopped onions, pickled chilies, and a piece of lemon are served on the side. The bhaji (curry) is a street food made with mashed potatoes, onions, peas, bell peppers, capsicum, tomatoes, and carrots. A variety of Indian spices are added to the bhaji to bring out its true flavor.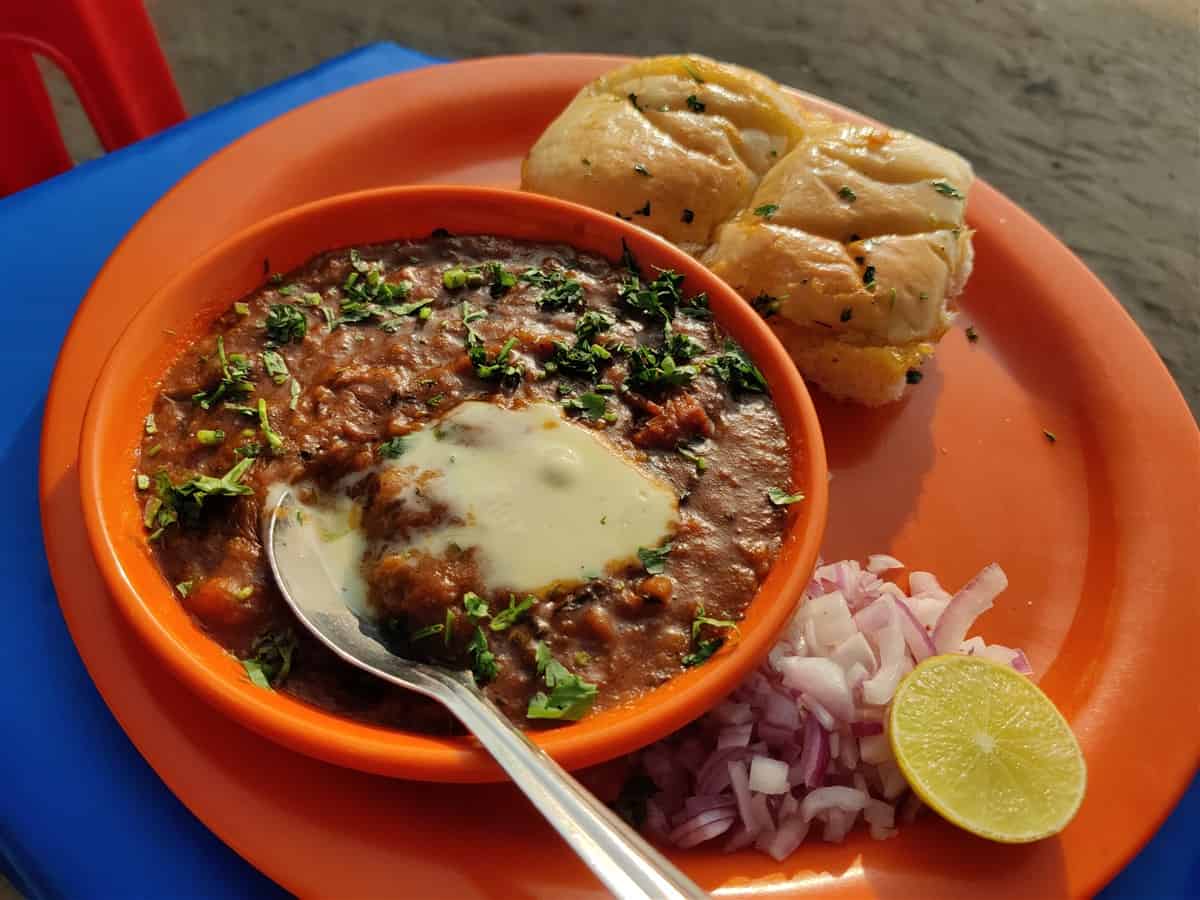 5. Ragda Patties
These shallow fried potato patties served with dried peas curry, topped with chopped onions, sev, and coriander make one of the most delicious street food staples, bursting with unforgettable flavor. Use the patties to mop up the sauce, much like how you use naan (bread) at your favorite Indian restaurant back home. It's a treat.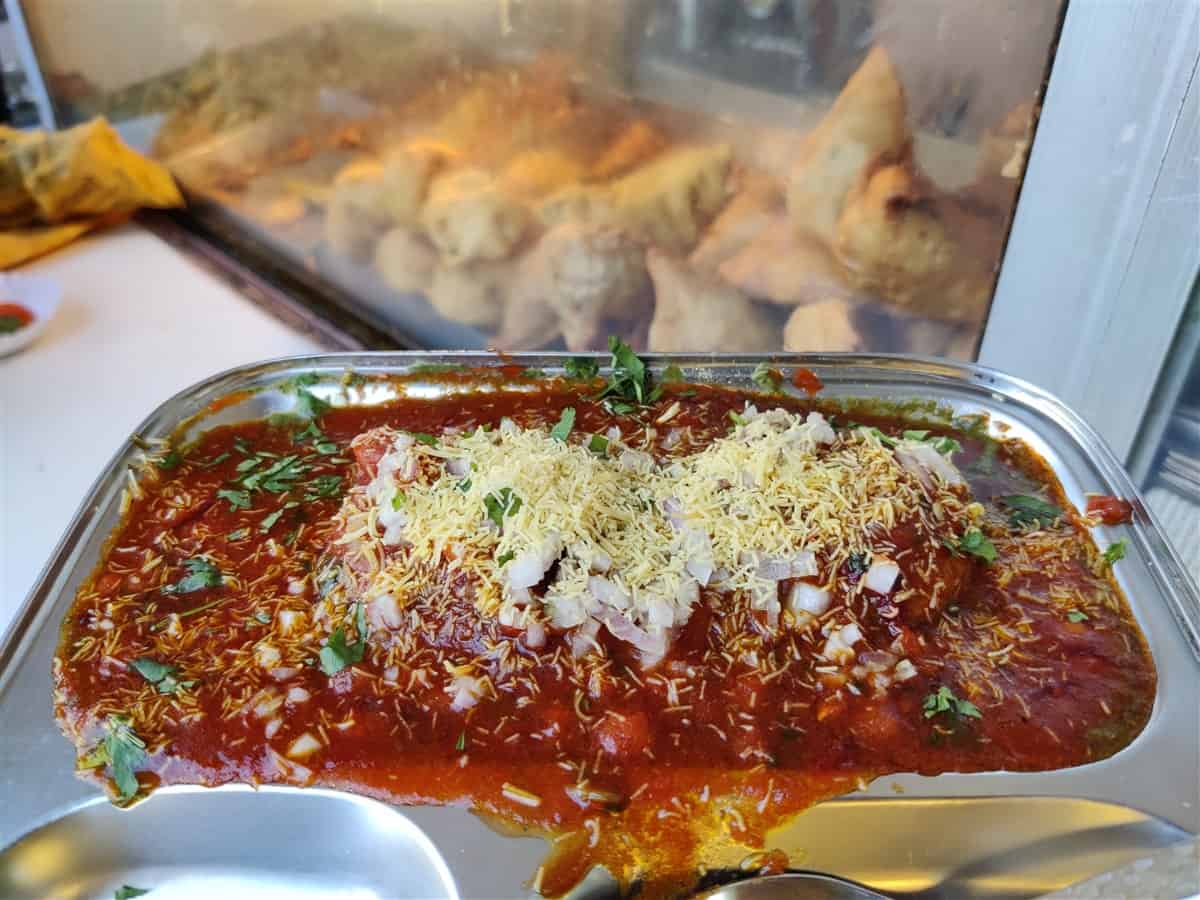 6. Bhajiya (or Pakode)
Also known as Pakode, Bhajiya are vegetable fritters, commonly made by deep-frying potato slices, spiced onions, paneer pieces, spinach leaves, or long green chilies covered with a batter made from besan (chickpea flour), spices, and chilies. This is a perfect street food snack to serve with chai!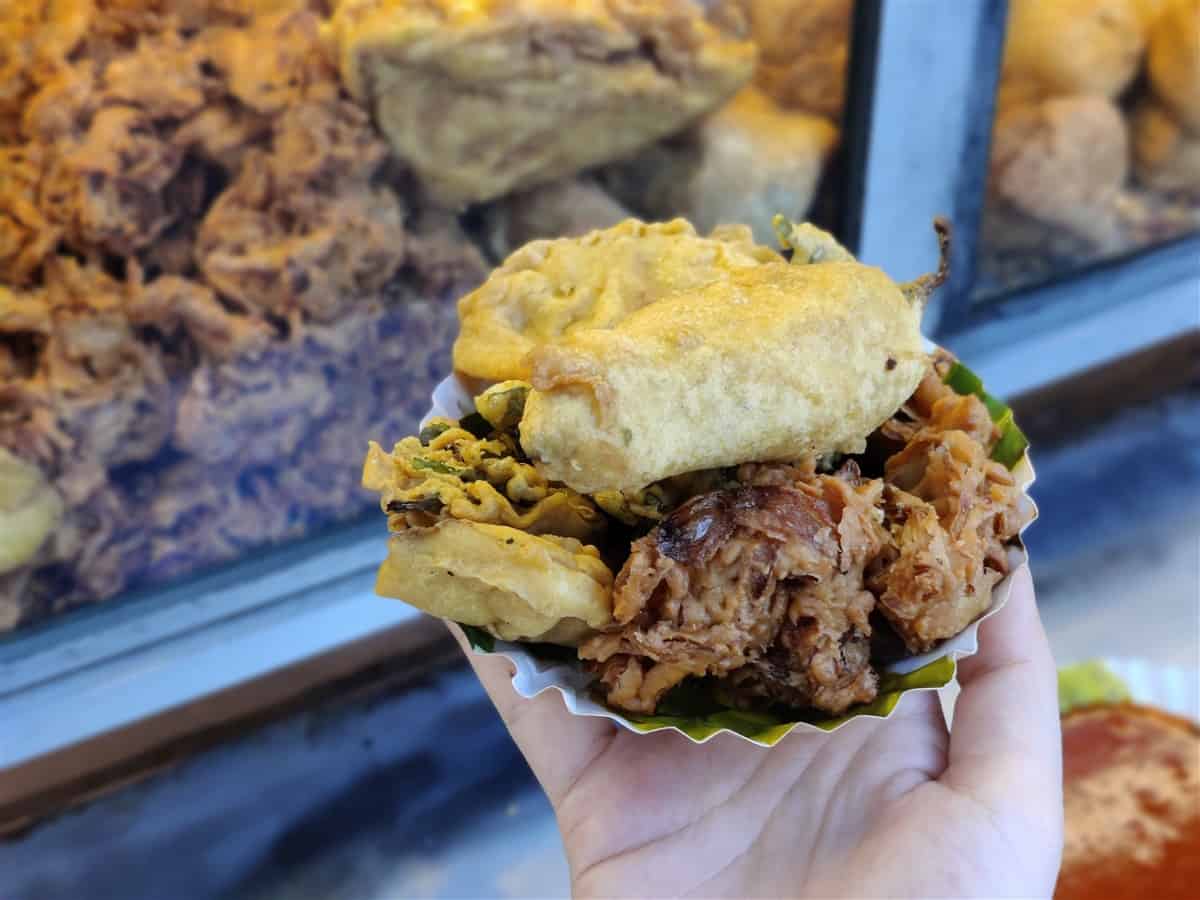 7. Vegetable Cheese Toast Sandwich
This Mumbai street food has an easier-to-remember name and is equally delicious. It consists of buttered bread toast with lots of vegetables inside. Mostly sliced potatoes, tomatoes, cucumbers, bell peppers, and beetroot are used. Most street food vendors add green chutney as well along with spices like salt, amchur, and chaat masala. To finish off, the sandwich is served with 2 to 3 types of chutneys and lots of grated cheese on top.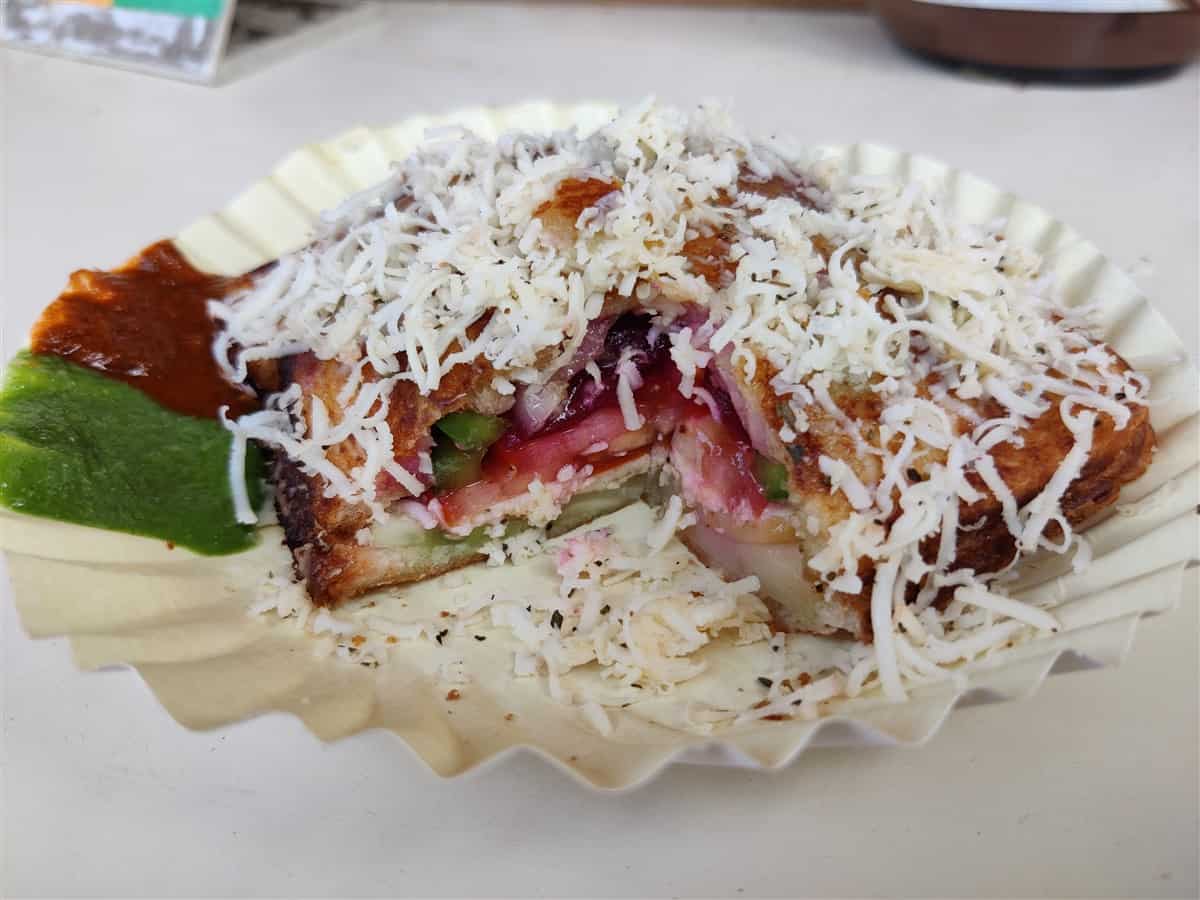 8. Jini Dosa
Instead of the usual mashed potato stuffing, Jini Dosa is made with chopped onions, capsicum, green onions, Schezwan sauce, and lots of butter and grated cheese. The Dosa (crepe) is made with the usual fermented batter of rice flour and lentils. Most Jini dosa street food dishes are served with white coconut chutney and tomato chutney for a boost of soothing flavor.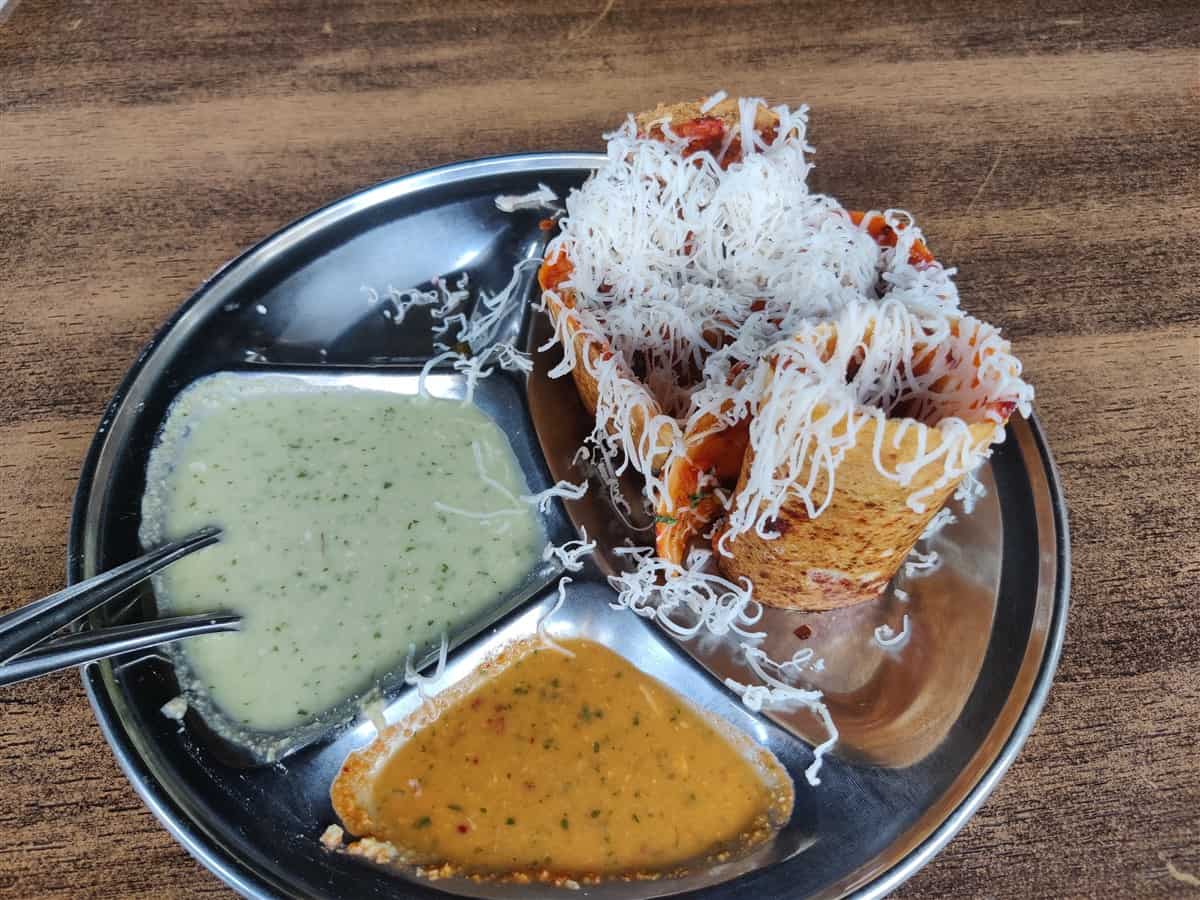 9. Poha
Originally a Gujarati dish, poha has taken Mumbai by storm and become one of the most popular breakfast street foods in the city. It is made with flattened rice flakes cooked with onions, peas, peanuts, and spices. Once you try it, you will see why it's a street food so hyped up by locals.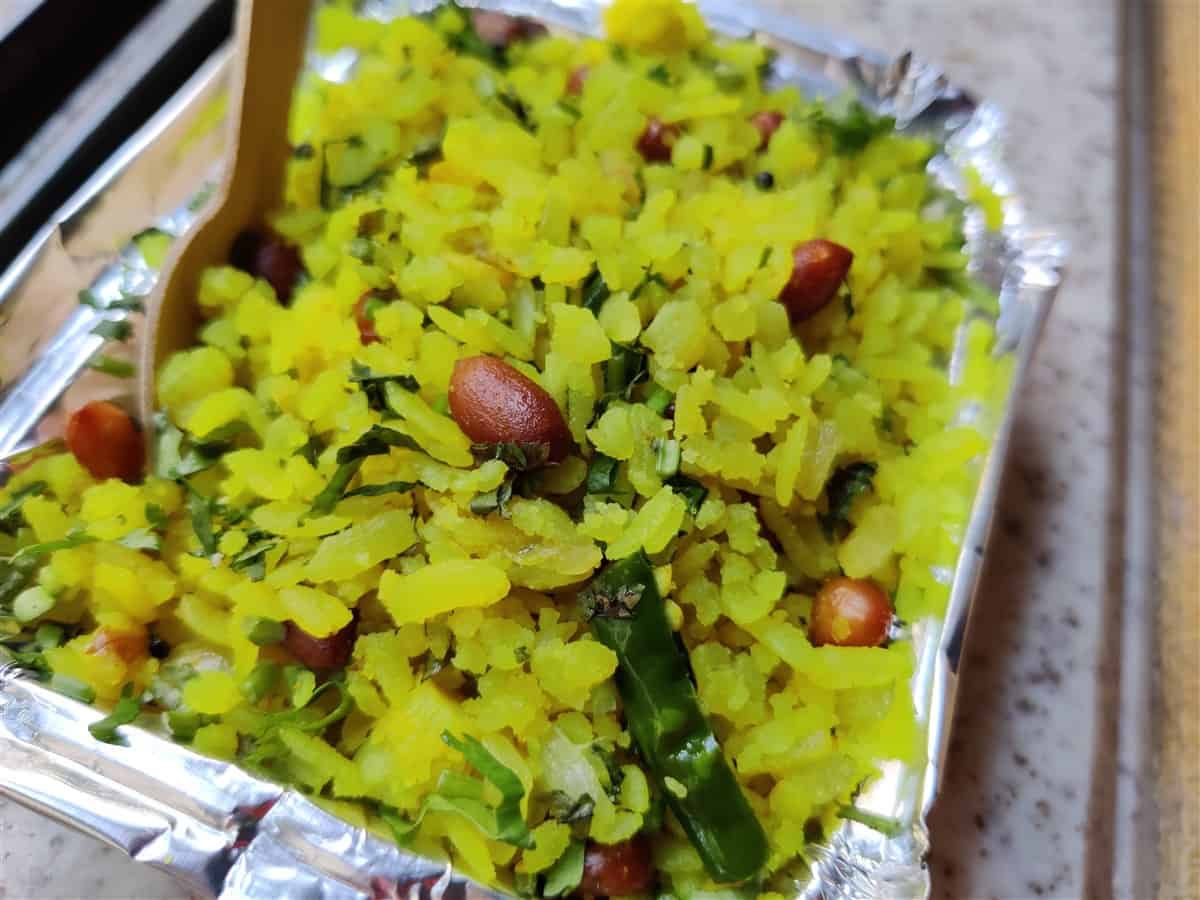 10. Dabeli
The tenth Indian street food in Mumbai that you have to try when you take a trip to Mumbai is dabeli. It is a sweet-and-spicy snack from Gujarati but it can be easily found in the streets of Mumbai. Street vendors cut pav bread down the middle and fill it with potato stuffing mixed with sweet-and-spicy chutneys and lots of spiced roasted peanuts. The dabeli bun is usually tossed in butter to make it hot and crispy (and all the more thrilling to your taste buds).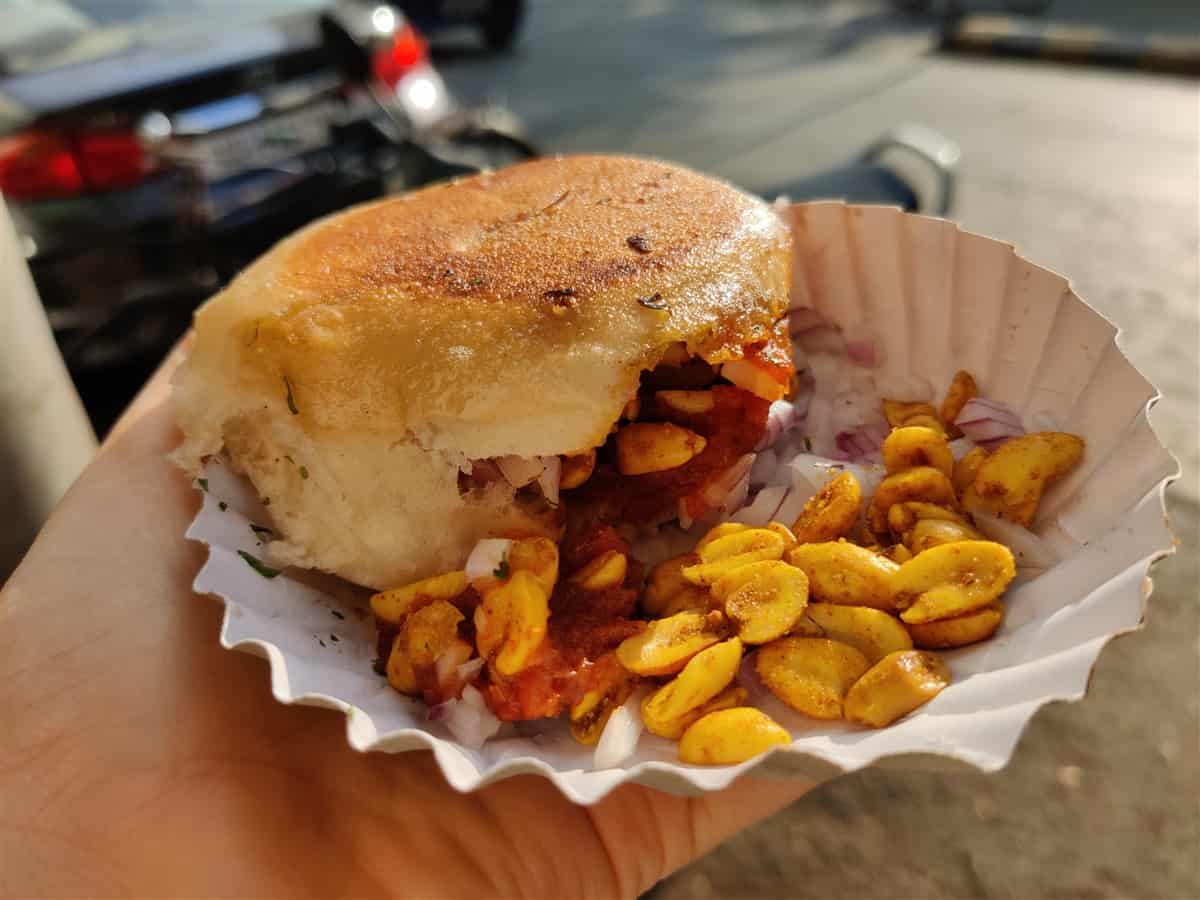 11. Keema Pav
This Mumbai street food curry dish is made with minced chicken or mutton (goat meat) cooked with tomatoes, onions, ginger, garlic, and khada masalas (whole spices). It is served with one or two pavs. Obviously, this a non-vegetarian dish, so keep that in mind.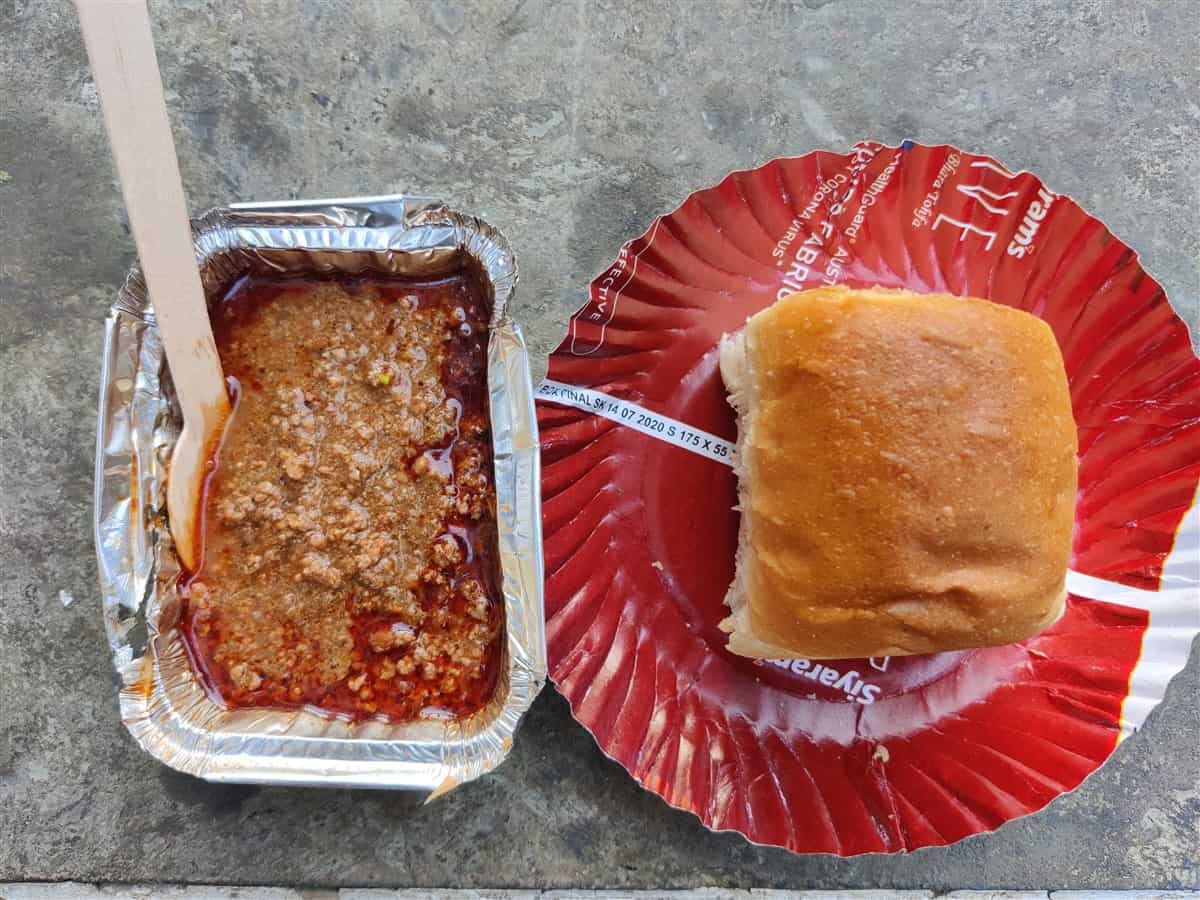 12. Akuri on Toast
You've heard of beans of toast, now make way for akuri on toast. It consists of scrambled eggs cooked in mouth-watering Indian spices, chopped chilies, cilantro, and fried onions served atop buttered toast. The resulting consistency is just right—not too thin, not too thick. Akuri is a famous Parsi delicacy that has come to stay.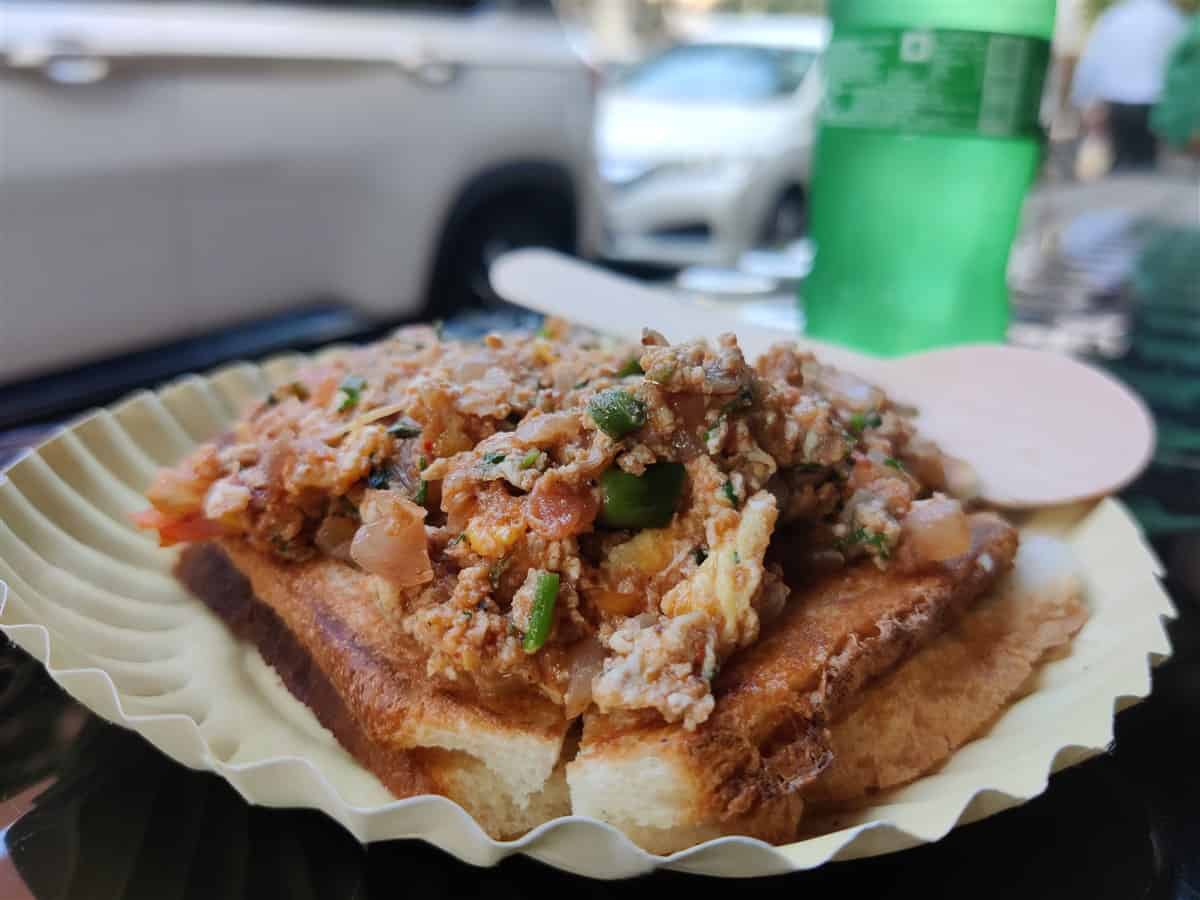 13. Kulhad Wali Chai with Bun Maska
Chai is an Indian tea beverage made by boiling black tea leaves with milk and water. Sugar and Indian spices like dalchini (cinnamon), elaichi (cardamom), and dry ginger powder are also added to the mix.
It is served in handleless clay cups called 'Kulhad' with buttered bread buns (bun maska). If you want, you can also ask the street food vendor to add jam to the bun along with butter.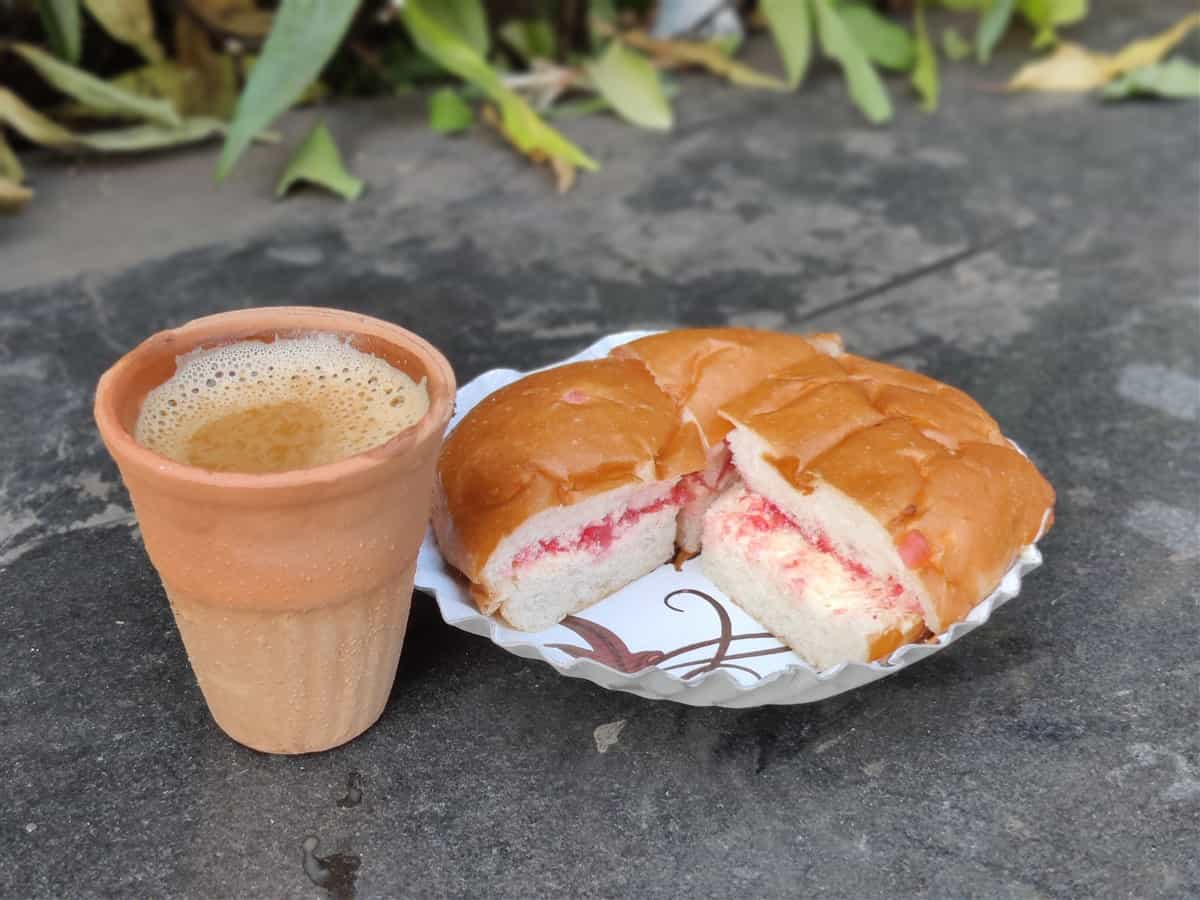 14. Misal Pav
The Misal curry is made with matki sprouts (moth beans—trust me, they taste better than their English name makes them out to be) and potatoes, tomatoes, onions, and spices. It is served with a couple of pavs. The curry is usually topped with sev, chopped onions, coriander, and besan gathiya (roasted chickpea flour chunks).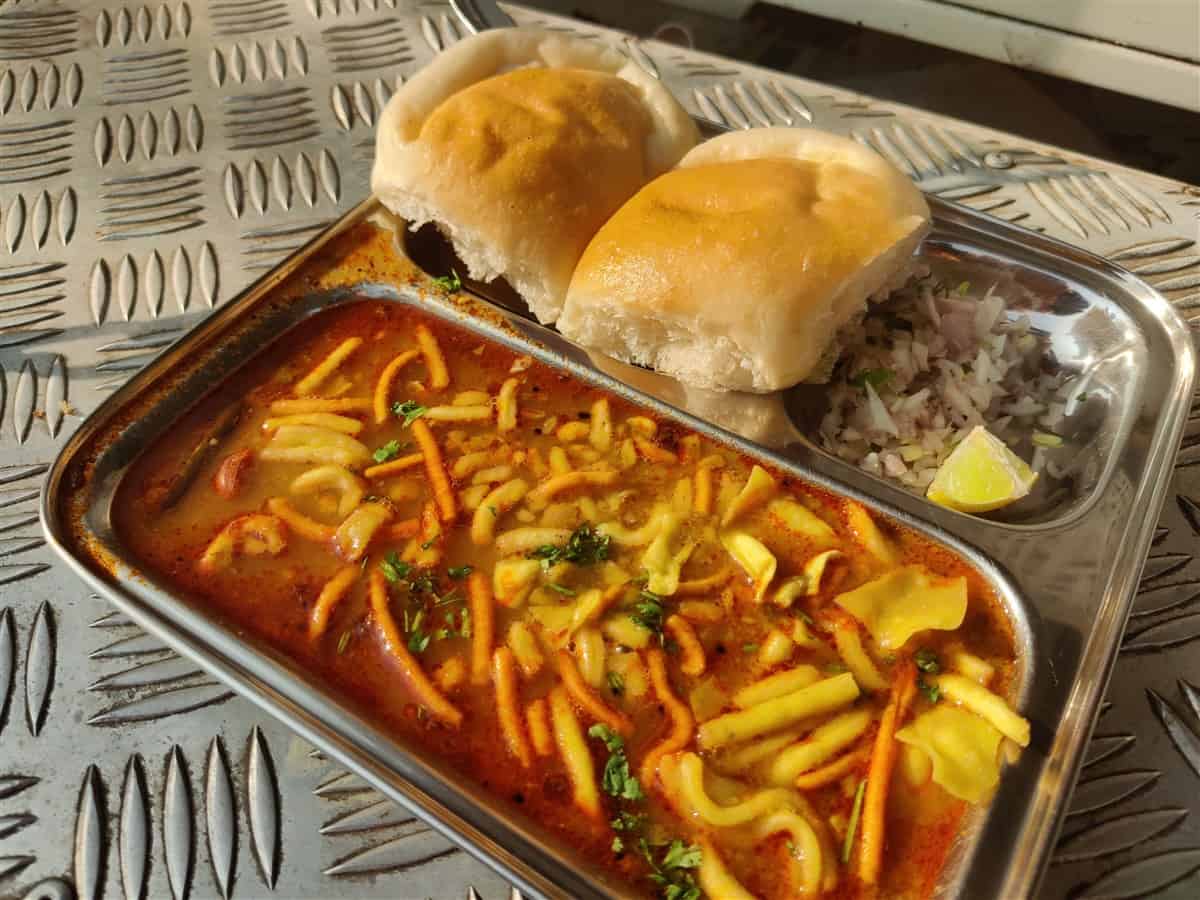 15. Chicken Shawarma
If you have ever traveled to the Middle East, you will recognize this lip-smacking staple. It has made its way to the melting pot that is India and become a favorite street food in Mumbai. It is made with spiced grilled chicken strips sliced off the rotating shawarma skewer. The wrap used is usually made of fermented all-purpose flour, whole-wheat flour, or a mixture of both.
Besides the chicken, the stuffing also includes tangy tomato chutney, mayonnaise, cabbage, and pickled beetroot for a surprising burst of flavor. Chicken shawarma can also be served with diced onions, capsicum, and green chutney.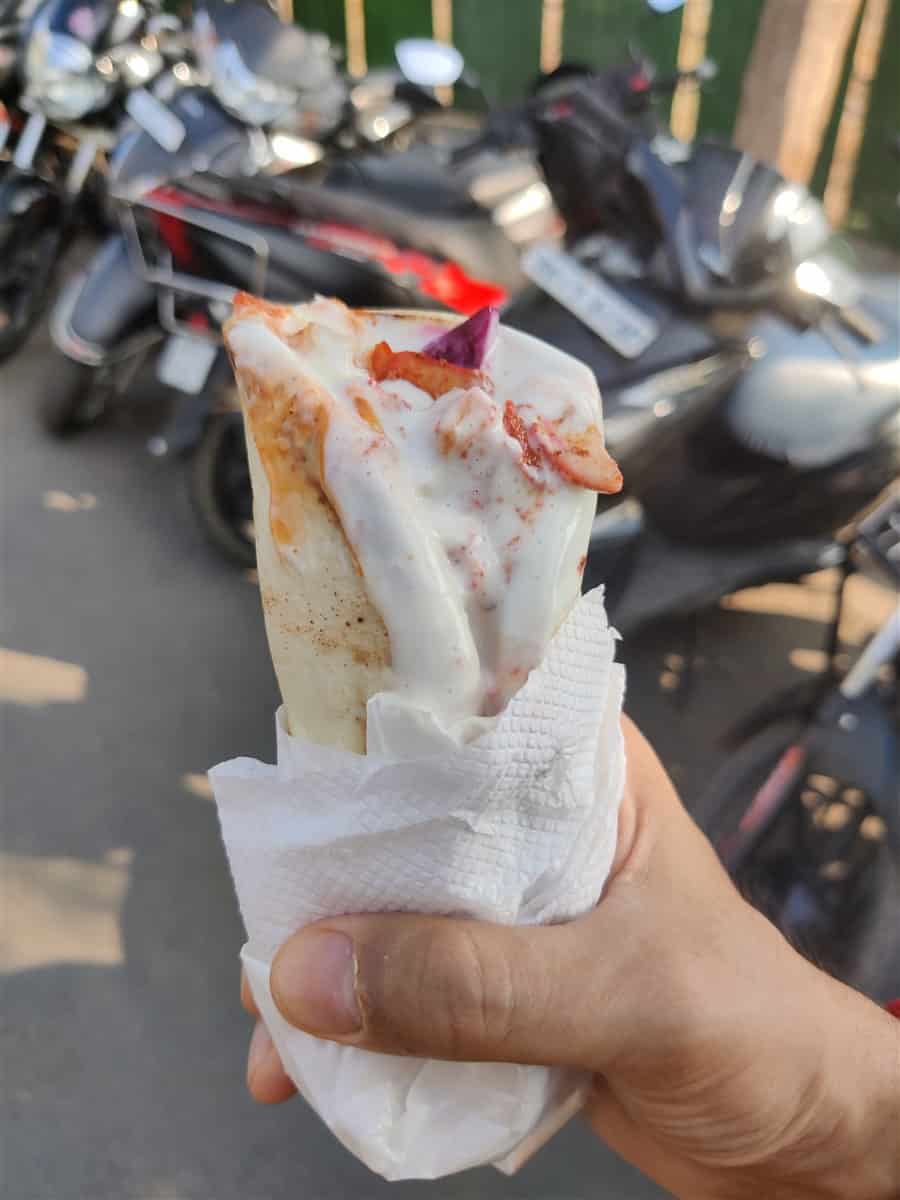 16. Bhutta
Also known as Chhalli, bhutta is corn on the cob roasted on flames over a charcoal stove. This is what gives such a simple vegetable its unmistakable flavor and smokey aroma. It is then coated with lemon and spices before serving, cob and all.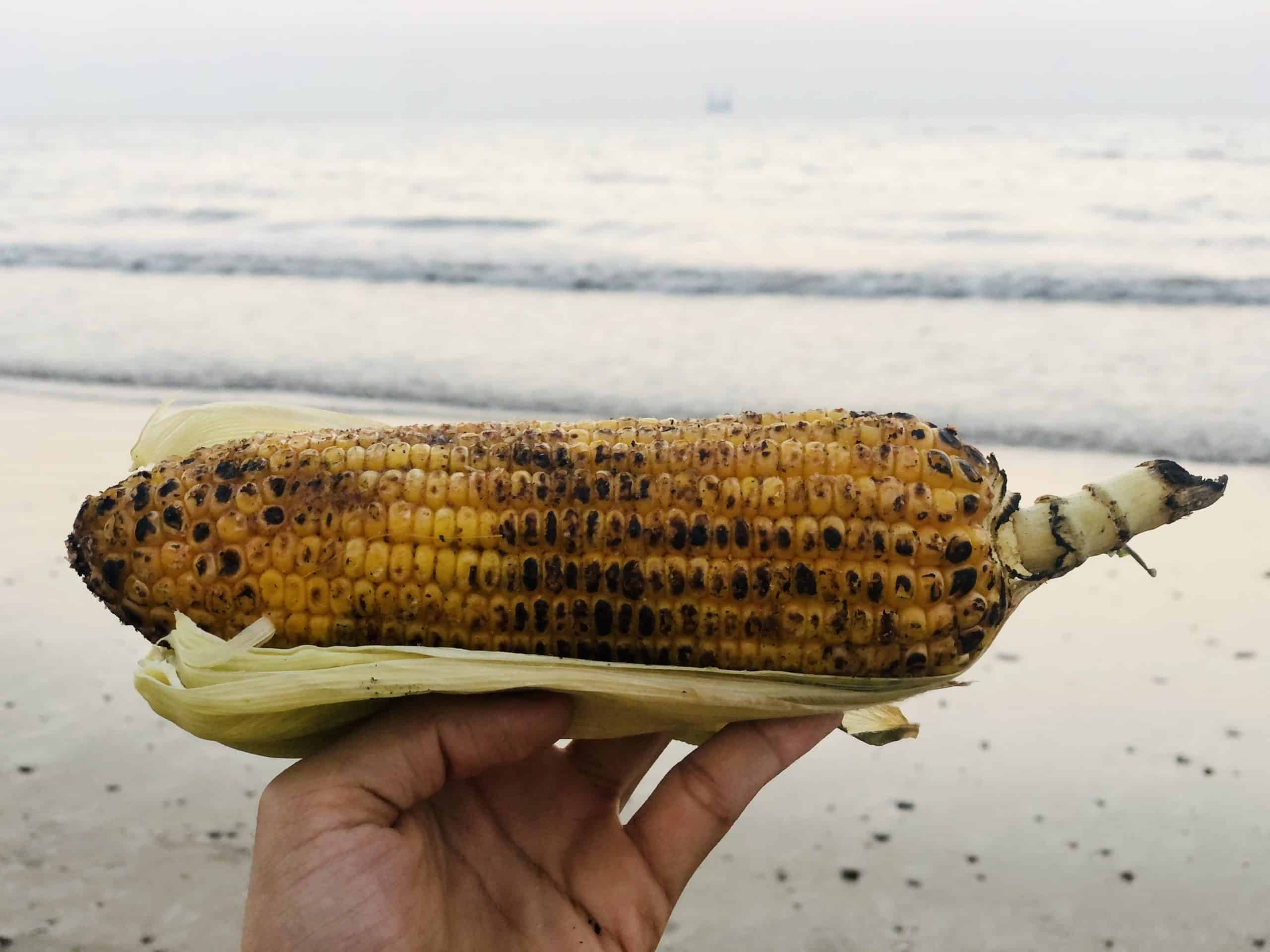 17. Kulfi
Kulfi is a traditional Indian street food ice cream made with flavored sweet simmered milk that you must try. It's much beloved for a number of reasons, including the wide range of flavors it comes in. In Mumbai, the most popular flavors are pistachio, malai (custard), mango, and badam (almond). Get yours to instantly feel refreshed, but eat it quickly before it melts.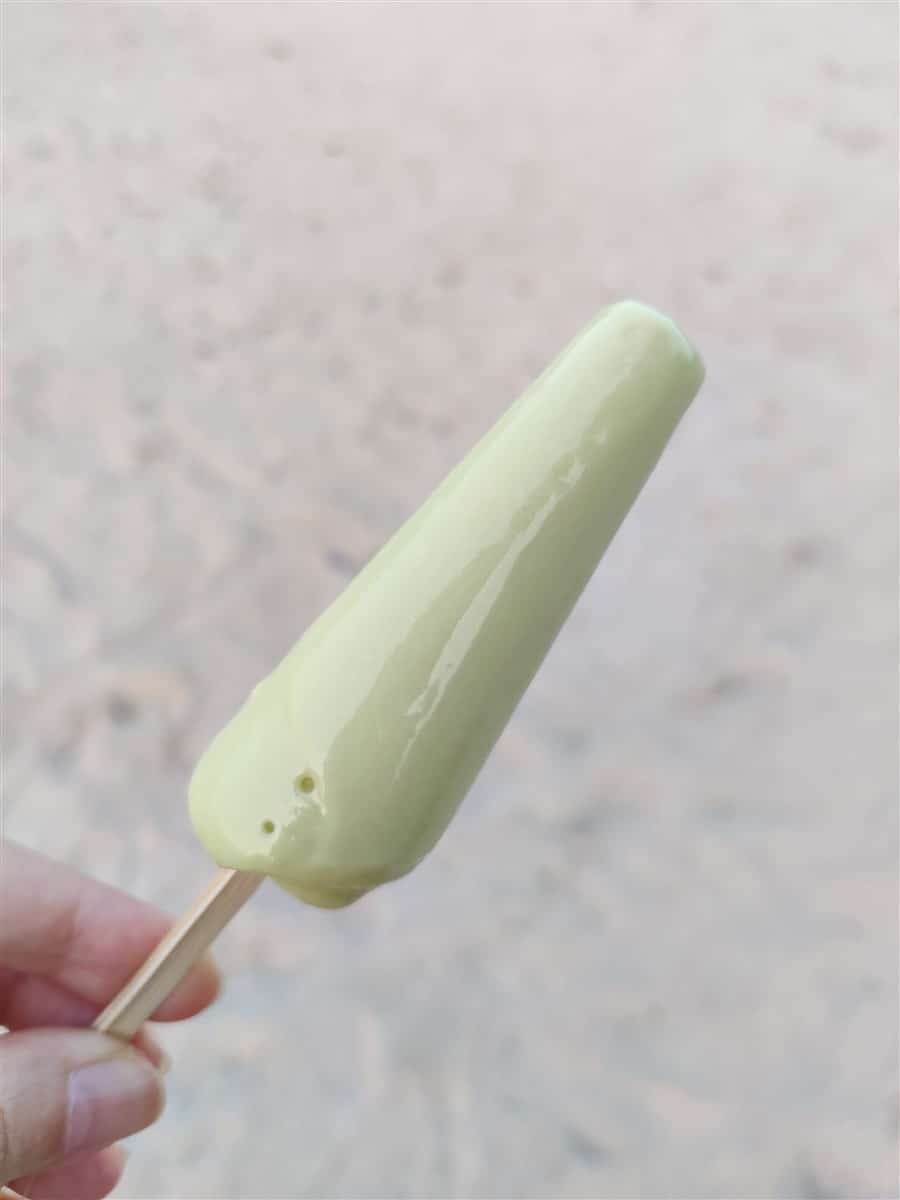 18. Meetha Paan
Paan is a refreshing snack (or, rather, stimulant) you will easily find on the streets of Mumbai. This variety, meetha paan (sweet paan), doesn't need to be spitted out like other paans because it doesn't have tobacco in it.
Meetha pan is made with a betel leaf as a base. The stuffing includes dates, gulkand (a flavored rose petals mixture), supari (areca nut), fennel seeds, grated coconut, dried fruits, raisins, tutti frutti, and cherry.
19. Falooda
Falooda is a popular dessert in Mumbai. It is made with sweetened flavored milk, condensed milk, ice cream or kulfi, falooda sev (boiled vermicelli), sabja seeds (sweet basil seeds), and dry fruits. You can find it at virtually every street food cart, so it must not be missed.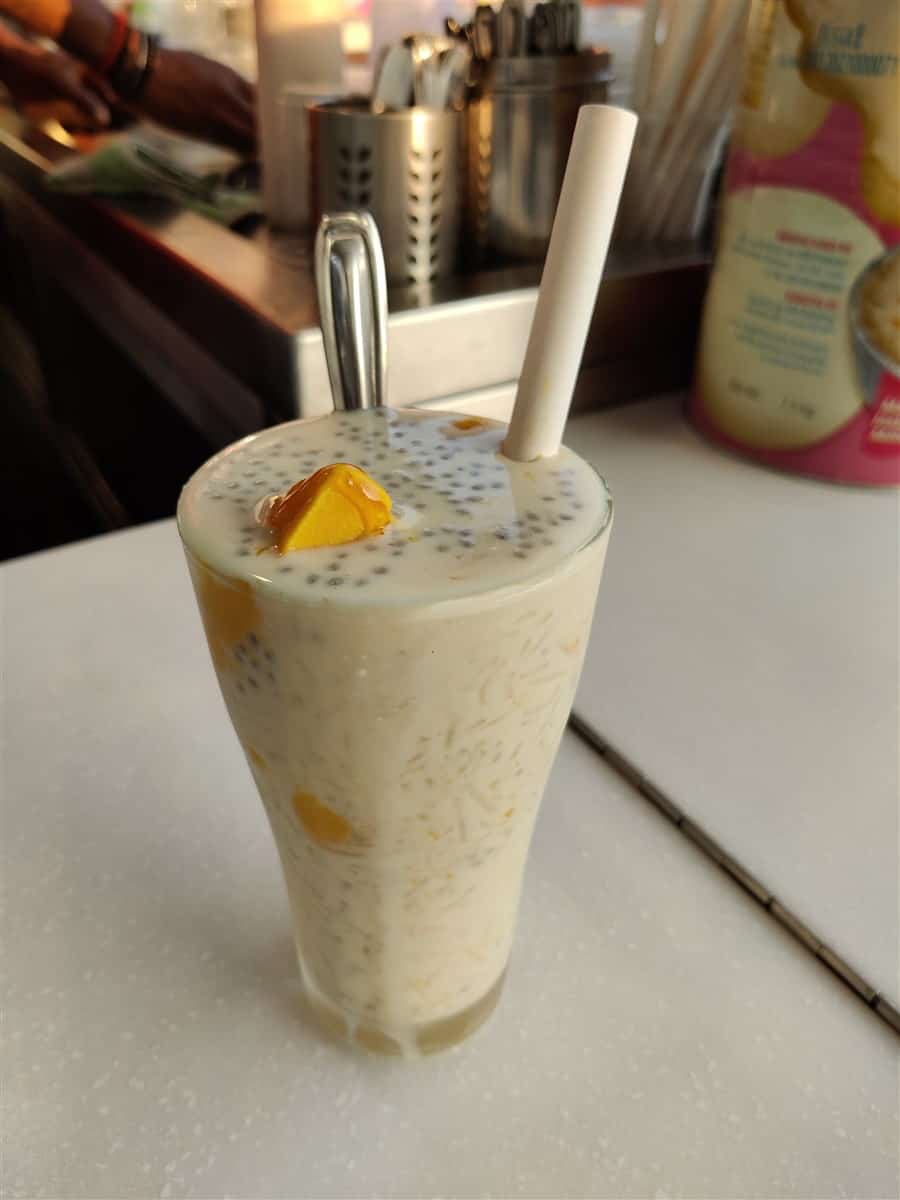 20. Chana Jor Garam
This simple deep fried flattened black gram (Kala chana) recipe is a quick munchy snack that people of Mumbai love to gorge on. It is made by mixing chana with diced tomatoes, onions, coriander, and spices like chaat masala, amchur, and black salt.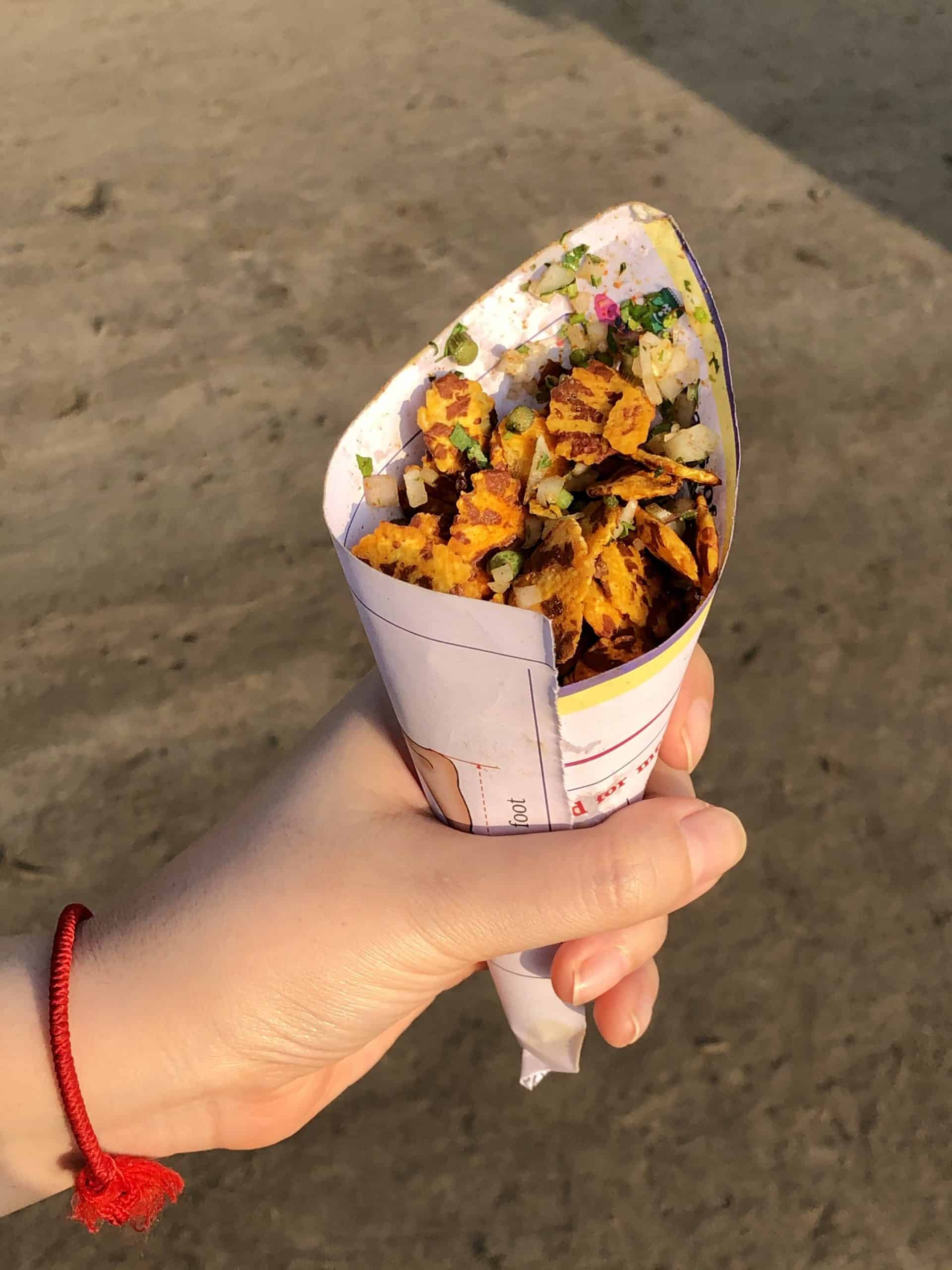 21. Ice Gola
No, this Indian street food in Mumbai has nothing to do with the fizzy drink of a similar-sounding name. Rather, ice gola is an incredibly simple dessert that will leave you completely refreshed. It's made of crushed ice topped with your favorite sharbats (or flavored syrups). You can get yours to taste like mango, pineapple, roses, or whatever you desire. There is also a malai gola, which is topped with sweetened condensed milk for extra indulgence.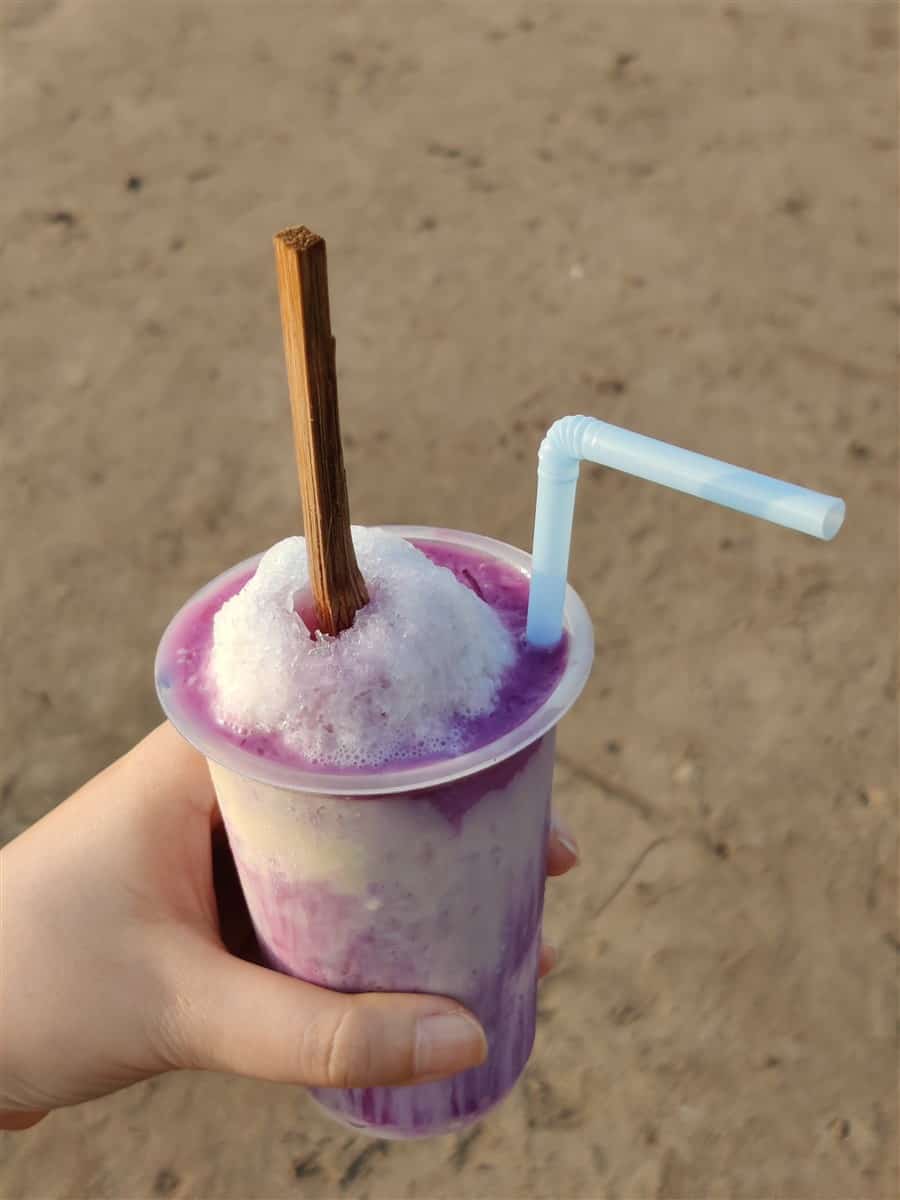 Which street food items are at the top of your "must try" list?