Hello. My name is Andy and I've been a member of the Daring Kitchen for the last 18 months. I blog at Today's The Day and have a second blog just for recipes at Today's the Day I cook. I live with an amazing cook, who comes from a long line of amazing cooks, so I have never been the main cook in our home. When I came across the Daring Kitchen via someone's blog last year, I was intrigued and decided to join. Since then I have gained some confidence in the kitchen and an amazing repertoire of recipes and techniques that I have conquered.
For this month's challenge, I wanted to introduce everyone to a French Canadian classic recipe that I grew up eating. Here in Canada, Paté Chinois is a quick and easy ground (minced) beef dish that is a staple for many families.
Download the printable .pdf file HERE
It is also known by many other names and variations around the world, including Shepherd's pie, cottage pie, fish pie, St Stephen's Day pie or even Shepherdless Pie.
Paté Chinois translates from French as Chinese Pie. It's an odd name for a French Canadian dish that doesn't have any connection to Chinese food. The history of the name has been traced back to the Chinese cooks who worked at the camps for the railway builders in the late 19th century. Ground beef and potatoes were cheap and a dish could be spread out to feed many people.
While I still like the original Paté Chinois, my tastes have grown and expanded over the years to appreciate more complex flavours and my enjoyment of ground beef has diminished. So I present to you this month three other recipes that venture away from the traditional: a vegetarian version, a fish version and my personal favorite, a lamb version. I hope everyone finds a version that they love and add to their family's repertoire as well.
Recipe Source:
Paté Chinois – My family's recipe
Slow Cooker Irish Shepherd's Pie – Originally found in Homemakers Magazine (Nov. 2007) and now found online at FreshJuice.ca
Vegetarian Shepherd's Pie – bon appétit magazing (Oct. 2012), page 58
Fisherman's Pie – My family's recipe
Blog-checking lines:
Our Daring Cooks' December 2012 Hostess is Andy of Today's the Day and Today's the Day I Cook! Andy is sharing with us a traditional French Canadian classic the Paté Chinois, also known as Shepherd's pie for many of us, and if one dish says comfort food.. this one is it!
Posting Date:
December 14, 2012
Notes:
●Often these recipes were made with leftover roast and vegetables from a Sunday dinner. Using leftovers can greatly enhance the flavour of the dish.
●The vegetarian shepherd's pie recipe called for pearl onions, but they are not available where I live, so I substituted shallots instead. It also called for sprigs of rosemary that I couldn't get, so I used tarragon.
Mandatory Items:
Prepare and enjoy a layered dish that is topped with mashed potatoes.
Variations allowed:
I look forward to the variations that you may come up with… vegetarian, seafood, any variety of meats for the base. Use your imagination to come up with new and delicious combinations.
Preparation time:
Paté Chionois – approx. 1 hour – includes boiling potatoes and frying ground beef (which can both be done at the same time), assembly and baking.
Slow Cooker Irish Shepherd's Pie –
Prep time – 30 minutes
Slow cooker time – 10 hours on low, 5 hours on high
Baking time – 15-20 minutes
Vegetarian Shepherd's Pie – The various steps for this recipe can be done concurrently – roast the potatoes while you make the sauce etc.. but here are the times for each individual step:
Topping – 1 hour (5 minutes prep, 45 minutes roasting time, 10 minutes mashing)
Sauce – 1 1/2 hours – (10 minutes prep, 1 hr 20 minutes simmering)
Base – 25 minutes (5 minutes prep, 20 minutes simmering)
Vegetable layer – 45 minutes (20 minutes prep, 25 minutes roasting)
Assembly – 40 minutes (10 minutes prep, 30 minutes baking)
Fisherman's Pie – Approx 1½ hours – includes boiling and mashing potatoes, prepping all veggies, sautéing, assembly and baking
Equipment required:
Frying pan
Oven proof casserole dish
Potato masher/ricer
Slow cooker for the Irish Shepherd's pie recipe
Various pots and pans
Paté Chinois:
Servings: 6-8

Ingredients
2 ½ lbs (1 kg) lean ground (minced) beef
2 onions diced
1 clove garlic minced
1¾ cups (115 gm) (4 oz) mushrooms diced
½ teaspoon (2 gm) dry mustard powder
2 teaspoons (8 gm) prepared horseradish
½ cup (120 ml) red wine (optional)
salt and pepper
19 oz (550 gm) can of cream corn
2 ½ lbs (1 kg) potatoes
½ cup (120 ml) milk
¼ cup (55 gm) (2 oz) butter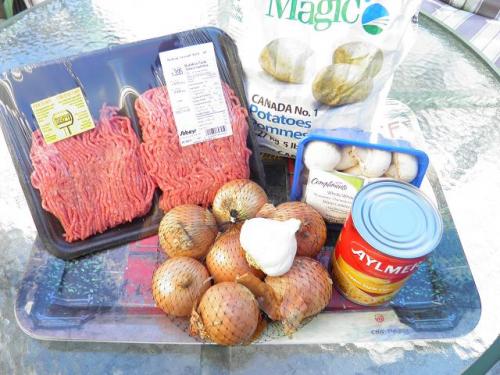 Directions:
Pre-heat oven to moderate 350°F/180°C/gas mark 4.
Wash potatoes and cut into quarters
Boil potatoes until tender. Drain.
Mash potatoes with butter and milk. Set aside.

In frying pan, brown ground beef with onions, garlic and mushrooms. Season with horse radish, mustard powder and optional red wine. Add salt and pepper to taste.
Cook until well done and no pink remains.

Evenly spread ground beef on the bottom of an oven proof casserole dish.
Top with cream corn.
Spread mashed potatoes on top. Use a fork to make drag marks through the potatoes for decoration.

Bake in oven for 15 minutes until heated through.
Place under broiler (grill) for 2-3 minutes to brown up potatoes.
Serve and enjoy
Storage & Freezing Instructions/Tips:
Store in airtight container in fridge up to 3 days.
Does not freeze well once it's all put together, but if you make extra ground beef mixture you can freeze that on its own so that you can put together a meal quickly.Slow Cooker Irish Shepherd's PieServings: 6-8

Ingredients

2 ½ lbs (1 kg) russet baking potatoes
3 lbs (1 ¼ kg) boneless lamb shoulder or leg, cut in 1 ½ -inch (4 cm) cubes
3 carrots, chopped
1 parsnip, chopped
1 large onion, finely chopped
2½ cups (225 gm) (8 oz) mushroom, sliced
½ cup (30 gm) (1 oz) chopped parsley
1/2 cup (70 gm) (2 ½ oz) all-purpose (plain) flour
1 bay leaf
1½ teaspoon(9 gm) salt
1 teaspoon (2 gm) fresh thyme leaves, or ½ teaspoon dried thyme
¼ teaspoon (1 gm) ground pepper
2 cups (480 ml) stout or dark ale (if you don't cook with alcohol, you can substite with beef stock)
1 cup (110 gm) (4 oz) frozen peas, thawed
2 tablespoons (30 ml) (30 gm) (1 oz) butter
¼ cup (60 ml) milk
¼ teaspoon (1 gm) nutmeg
Directions:
Peel potatoes, cut in half and place on the bottom of the slow cooker.
Mix lamb and vegetables together in a bowl.
In a large bowl, mix flour with parsley, salt, pepper, thyme. Add lamb and vegetables, and toss to everything is evenly coated.
Add this mixture to the slow cooker.

Pour in stout. Cover and set slow cooker.
Cook for approx 10 hours on low or 5 hours on high.

Remove potatoes with a slotted spoon to a bowl. Don't worry about the bits of lamb or vegetables that go with it, they enhance the flavour.
Stir in frozen peas

Transfer meat, vegetables and sauce to a oven proof casserole dish. I left mine in the slow cooker, as the insert comes out and is oven proof.
Preheat oven to very hot 475°F/240°C/gas mark 9.
Add milk, butter and nutmeg to the potatoes and mash them together.
Spread mashed potatoes over the stew.

Bake in oven for approx 15 minutes, until potatoes are browned and stew is bubbly.
Storage & Freezing Instructions/Tips:
Store in an airtight container in the fridge for up to three days.
You can make the meat and vegetable mixture in advance and freeze it. Once thawed and reheated, add in the peas, top with potatoes and bake.Vegetarian Shepherd's PieServings: 10

Ingredients

Topping:

5 lbs (2 ¼ kg) potatoes, unpeeled
½ cup (1 stick) (115 gm) (4 oz) butter
1 ½ – 2 cups (360-480 ml) milk
Salt to taste


Sauce:

1 cup (30 gm) (1 oz) dried porcini mushrooms
3 tablespoons (45 ml) olive oil
3 cups (425 gm) (15 oz) onions, chopped
2 tablespoons (30 gm) (1 oz) chopped garlic
2 tablespoons(30 gm) (1 oz) tomato paste
2 bay leaves
2 cups (480 ml) dry white wine (if you don't cook with alcohol you can omit this, simply increase your vegetable broth to 8 cups)
6 cups (1.5 litres) vegetable broth
2 tablespoons (15 gm) (½ oz) cornstarch
2 tablespoons (30 ml) water
2 tablespoons (30 ml) miso
Salt and pepper to taste


Base:

¾ cups (150 gm) ( 5 ½ oz) dried green lentils
1 garlic clove
1 teaspoon (6 gm) salt
4 cups (1 litre) of water


Vegetable Layer:

12 cups (1¾ kg) (3¾ lbs) mixed "fall" vegetables – squash, turnip, carrot, parsnip etc. cut in ½ in (1-1/4 cm) pieces
1 cup (3 oz) (85 gm) pearl onions
5 cloves of garlic
2 (10-cm) (4-inch) rosemary sprigs
2 cups (480 ml) (170 gm) (6 oz) mixed fresh mushrooms, cut into bite sized pieces
½ cup (30 gm) (1 oz) chopped mixed fresh herbs – parsley, chives, sage etc.
2 tablespoons (30 ml) olive oilDirections:


Topping:

Preheat oven to hot 450°F/230°C/gas mark 8.
Bake unpeeled potatoes until tender, about 45 minutes.

Let cool, then peel potatoes.
Mash potatoes, either using a potato ricer or hand masher.
Add butter and milk, mashing until it's all mixed in and potatoes are creamy and lump free.

Season to taste with salt.Can be made up to 1 day ahead. Keep mashed potatoes covered with plastic wrap and refrigerate.


Sauce:

Soak dried mushrooms in 3 cups of hot water for 10 minutes.

Heat 3 tablespoons oil in saucepan and add onions.
Cook until tender over med-high heat, 10-12 minutes.
Add chopped garlic and cook for 1 minute.
Add tomato paste, stirring constantly until caramelized, 2-3 minutes. Watch carefully as the tomato paste can burn quickly.
Add bay leaves and wine, stirring and scraping up any brown bits from the pan.
Slowly add the dried mushrooms and the water they soaked in, making sure not to add any sediment from the bottom.
Bring to a simmer and continue to cook until liquid is reduced by half, about 10 minutes.
Add broth and continue to simmer, stirring occasionally, until reduced by half again, about 45 minutes.

Strain sauce into another sauce pan, discarding all solids.
Bring to a boil.
Dissolve cornstarch in 2 tablespoons water in separate bowl.
Add cornstarch to boiling sauce, whisking constantly to avoid lumps.
Continue to simmer till sauce is thickened.

Stir in Miso and season with salt and pepper.Can be made up to 1 day ahead. Cover and refrigerate.


Base:

Add lentils, salt and garlic to heavy saucepan.
Cover with 4 cups (1 litre) of water.

Bring to a boil then reduce heat to low and simmer for approx 15-20 minutes
Stir occasionally
When tender but not mushy, drain.
Discard garlic
Can be made up to 1 day ahead. Cover and refrigerate.

Vegetable Layer:

Preheat oven to hot 450°F/230°C/gas mark 8.
Toss cut up "fall" vegetables and pearl onions in 2 tablespoons olive oil.

Add 5 cloves of garlic and rosemary sprigs
Season with salt and pepper
Layout on baking tray, making sure it's only 1 layer deep.
Roast in oven till tender, stirring once, approx. 20-25 minutes.
Remove garlic cloves to a separate bowl and mash them well with a fork. Add them to the finished sauce.
Discard rosemary sprigs.
Can be made up to 1 day ahead. Cover and refrigerate.

Assembly:

Pre-heat oven to moderate 350°F/180°C/gas mark 4.
Arrange lentils in a single layer in a 3-quart (3 litre) baking dish.
Add fresh mushrooms and fresh herbs to roasted vegetables and mix well.
Layer mixed vegetables on top of lentils.
Pour sauce over vegetables.

Top with potatoes, spread evenly over entire surface.

Place on foil lined cookie sheet as mixture may bubble over.
Bake until browned and bubbly, approximately 30 minutes.
Let stand before serving


Storage & Freezing Instructions/Tips:

Store in airtight container in fridge up to 3 days.
Does not freeze well once it's all put together. You can make extra sauce and freeze that for future use.
Fisherman's PieServings: 6-8

Ingredients

Mashed potatoes

3 lbs (1-1/3 kg) potatoes
½ cup (120 ml) milk
2 tablespoons (30 gm) (1 oz) butter
salt and pepper to taste


Filling

2 tablespoons (30 gm) (1 oz) butter
2 onions, diced
1 clove garlic, crushed
1 carrot, diced
2 celery stalks, diced
3 leeks, well washed and cut into rings
1 large bell pepper (capsicum), diced
1 cup (110 gm) (4 oz) frozen peas
1 small can (150 gm) (5 oz) corn, not drained (the liquid adds a sweetness to the stew)
2 teaspoons (10 ml) (6 gm) flour
(1¾ lb) (800 gm) mixed firm white fish ( I used ½ haddock and ½ cod)
1½ cups (360 ml) half and half cream (10% fat)
½ teaspoon (½ gm) dry sweet basil
¾ lb (340 gm) mixed raw shrimp (prawn) and bay scallops
salt and pepper to taste
paprika
Directions:Pre-heat oven to moderate 350°F/180°C/gas mark 4.
Boil potatoes till tender
Drain, add butter, milk, salt and pepper
Mash till smooth and not lumpy
Set potatoes aside
Melt butter in large saucepan
Sauté onions and garlic until tender, but not brown, approx 5 minutes
Add carrots and sauté for 3 minutes
Add remaining vegetables, one vegetable after the other, sautéing 1 minute after each addition
Sprinkle flour over vegetables and stir well to combine
Add white fish and continue to sauté, until just cooked, approx. 5 minutes
Add cream and seasonings, stirring till heated through.
Add shrimp (prawn) and scallops, cooking until shrimp just start to turn pink
Layer mixture into oven proof 9×13 inch (23×33 cm) pan

Top with mashed potatoes
Sprinkle with paprika and fresh ground pepper
Bake in oven for 20-30 minutes, till heated through
Broil (grill) on high for last 2-3 minutes to brown potatoes.
Storage & Freezing Instructions/Tips:
Store in airtight container in fridge up to 3 days.
I do not recommend freezing this recipe. Cream based mixtures tend to separate when you freeze them, and the delicate fish would fall apart when thawed.Additional Information:
History of Paté Chinois: http://en.wikipedia.org/wiki/Pate_chinois
History of Shepherd's Pie: http://en.wikipedia.org/wiki/Cottage_pie


Additional recipes (please note I have not tried any of these)