Nothing spells relaxation quite like Friday evening pizza nights. Whether you choose to have your pizza to celebrate the end of the workweek, as an occasional lunchtime treat, or really whenever the mood strikes you, pizza is one of the world's favorite dishes.
There are so many ways you can enjoy this savory meal, too. From Hawaiian pizza to supreme deep dishes, frozen pizzas to homemade, wood-fired pies, there are so many variations to this Italian classic that it would be impossible to try them all. 
Regardless of what your pizza preferences may look like, one thing is for sure - you need the right equipment if you plan on enjoying your own pizza at home. In addition to a good pizza cutter, it's essential that you invest in one of the best pizza peels. 
What is a pizza peel, you might ask? This simple piece of equipment is a paddle-like device that is used to move the pizza from the prep counter to the oven and then back again. This tool is indispensable if you plan on making your own homemade pizza.

However, not all pizza peels are made alike. Here's what you should look for as you start your shopping. 
6 Best Pizza Peels
1.
Chef Pomodoro Metal Peel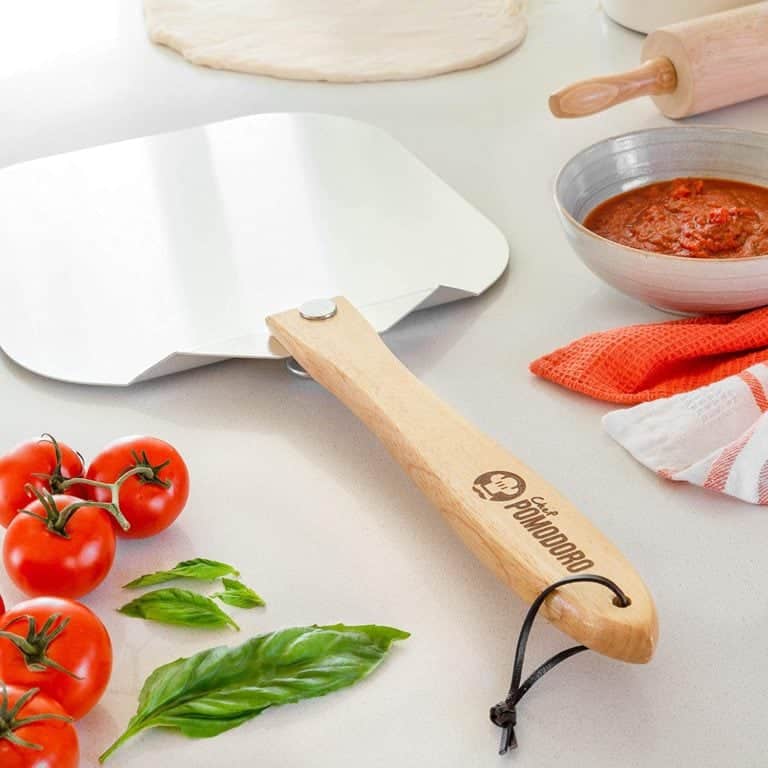 If a metal pizza peel is what you have in mind, you won't find any better option than this one by Chef Pomodoro. It offers a high-quality aesthetic along with a dynamic feel with its pine wood handle and durable aluminum surface.
Not only is it lightweight, but it's also sophisticated in its design. Since aluminum requires much less maintenance than wood, you won't have trouble handling or cleaning this pizza peel in even the most low-maintenance kitchen. The handle joins to the paddle with a wooden knob, which can be folded back onto the paddle for easy storage. 
You can even hang this pizza paddle on your wall! Although the pizza peel is not dishwasher safe, all it takes is a light rinse of water to get this paddle clean. It stays cool to the touch even in intense heat, allowing you to enjoy the process of baking a pizza instead of constantly burning your hands. 
What We Liked:
Made out of aluminum for durability, ease of use, and longevity 

Gorgeous pine wood appearance

Handle can be folded down for easy storage
What We Didn't Like:
2.
Heritage Wood Peel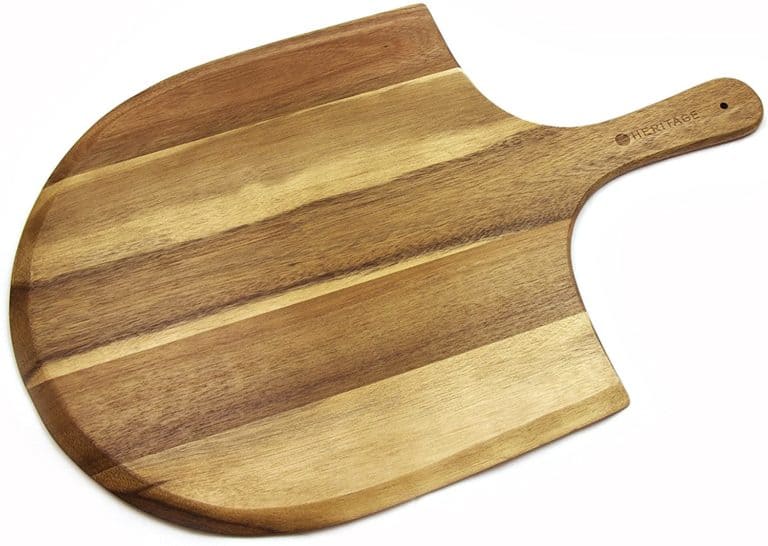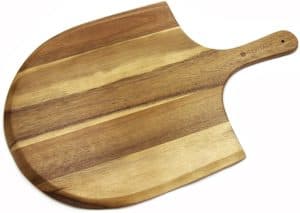 If you're looking for a pizza peel that is just as gorgeous as it is functional, you should look no further than this acacia wood pizza peel by Heritage. It can be used both as a pizza peel as well as a charcuterie board, making it ideal for a small kitchen where space and versatility are placed at a premium.
It has a ⅛" thick beveled edge, just flat enough to slip between your pizza for easy removal but wide enough to provide stability (and prevent flip-flopping) when you're moving your pie. 
It's easy to clean, too. All you have to do is wash it by hand with warm water - then, allow it to air dry. 
Made out of high-quality materials, this gorgeous pizza peel can handle pizzas as large as 14" wide. It has a long handle, too, so you don't need to stand right next to your oven to get your pizza out. It's so beautiful, you may even find yourself hanging it on the wall to be displayed to your guests!
What We Liked:
Beautiful design

Ergonomic handle makes it easy to remove pizzas

Simple to clean 
What We Didn't Like:
Does not offer the best durability 
3.
The Ultimate Aluminum Pizza Peel by Love This Kitchen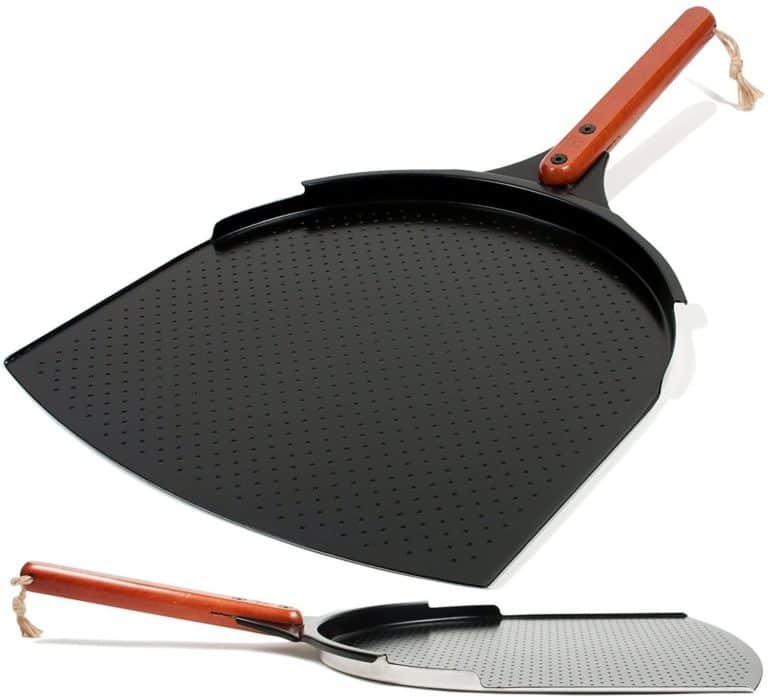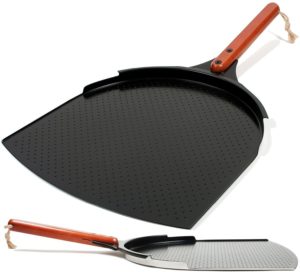 Made out of high-end aluminum, this metal pizza peel has a ton of features you're sure to love. It's coated with a ceramic surface that adds to its overall appearance - plus, the nonstick coating makes it super easy to release your pizza (and to clean up after dinner, too).
Although the paddle part of this pizza is made out of aluminum, the rest is constructed with a beautiful wood finish. Not only does it look beautiful when put on display in your kitchen, but the wood handle also stays cool so you can handle the pizza peel without having to wear gloves. It's polished to complement the finish of the peel, too. 
The back of the pizza peel is raised to prevent your pizza from sliding around. It's ribbed, too, for added grip. 
Another feature worth mentioning has to do, again, with the cookware coating. Some companies use coatings that can be dangerous to human health, especially when they're heated to very high temperatures. That's not the case with this pizza peel. The coating is FDA-approved and tested, containing no PBAs or Teflon that can make you sick. 
This pizza peel is backed by a 60-day manufacturer's warranty, too, so you don't have to worry about losing money if anything goes wrong with your new purchase.

What We Liked:
Beautiful design and overall finish

Food-safe and free of PBA and Teflon

Comes with a bonus free recipe eBook
What We Didn't Like: 
4.
MiToo Aluminum Metal Pizza Peel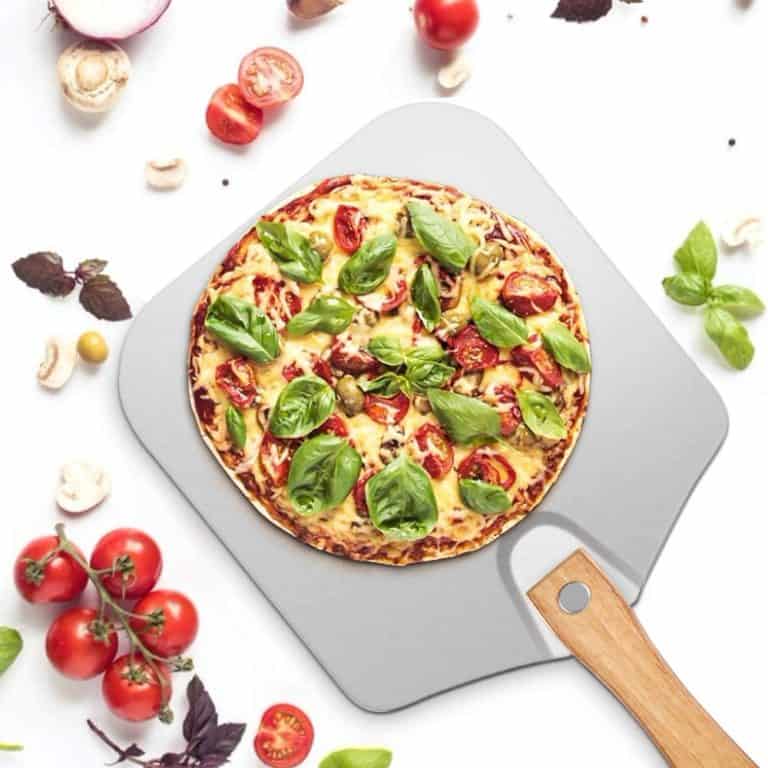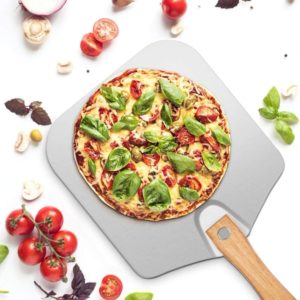 Another metal pizza peel for you to consider is this option by MiToo. It comes with a helpful plastic cover that protects the surface from damage. 
Besides that, this pizza paddle is made out of aluminum - the handle is built from wood. It's a well-made pizza peel that will help you make the most of your time in the kitchen. The handle attaches securely to the metal to give you a sure, comfortable grip.
It comes in two separate sizes and has smooth edges for easy pizza removal and transfer, too. 
What We Liked:
Has a wooden handle that remains cool to the touch

Comes in two separate sizes

Made out of durable aluminum 
What We Didn't Like: 
Doesn't have a hole for hanging 
5.
Pizza Royale Bamboo Peel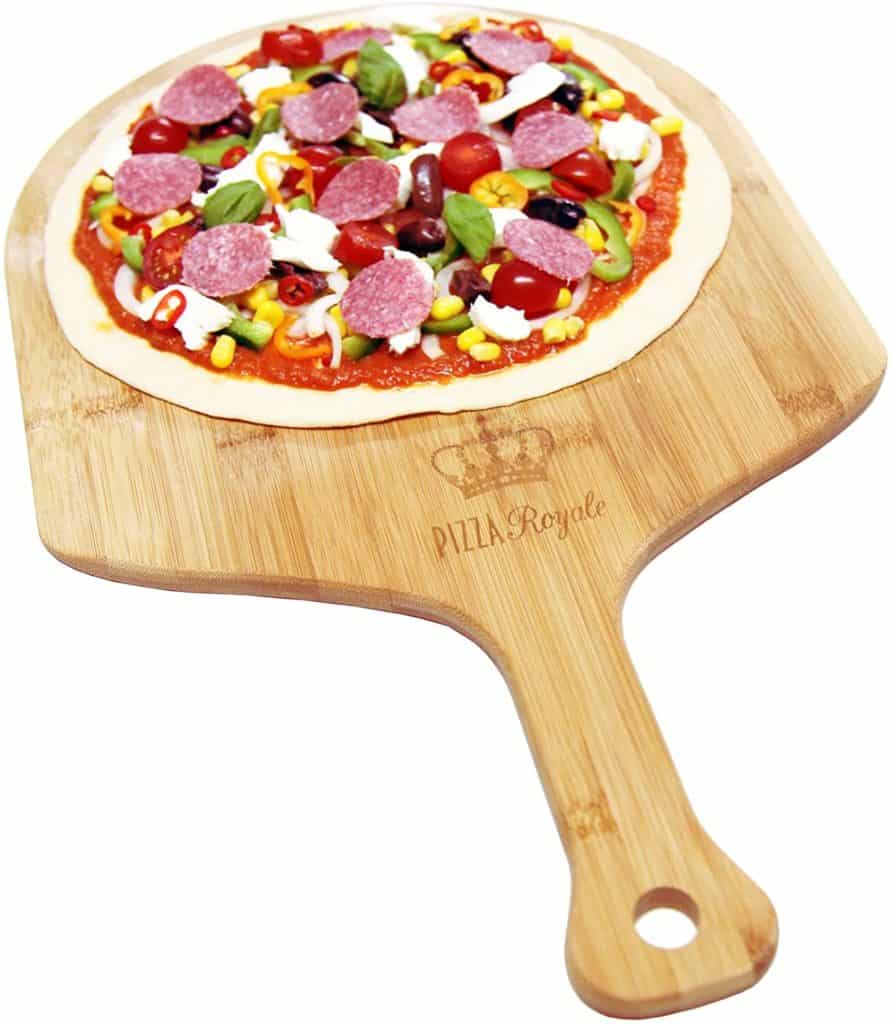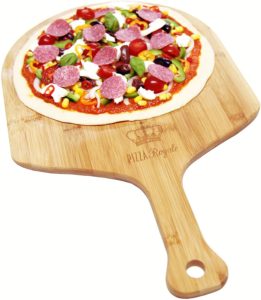 Although there's probably no pizza peel out there that can take away the diet-related guilt associated with eating a calorie-laden slice of pizza, there is one that can take away your environmental concerns.
The Pizza Royale Natural bamboo Pizza Peel is made out of eco-friendly, antimicrobial bamboo. No more will you have to worry about the degradation of the world's forests when you are trying to enjoy a slice of pizza. This one is made with the greatest attention to the environment, and it's not too shabby when it comes to its versatility in the kitchen, either.
A smaller pizza peel, this option is both lightweight and durable. It is antimicrobial so you don't have to worry about germs settling in on your peel, either. It feels comfortable in your hands and is remarkably easy to clean. 
Plus, it has a unique tapered edge that helps it to slip easily beneath your pizza. It's beveled edges give you the right amount of grip to tackle any kind of dough, and you won't have to worry about pizza sticking to the surface of this peel, either.
What more could you possibly want?
What We Liked:
Eco-friendly pizza peel

Has antimicrobial features and is easy to clean

Beveled edges work well with any size or shape of crust
What We Didn't Like:
Does need some special maintenance to last long term 
6.
Ironwood 28744 Lucca Mini Pizza Peel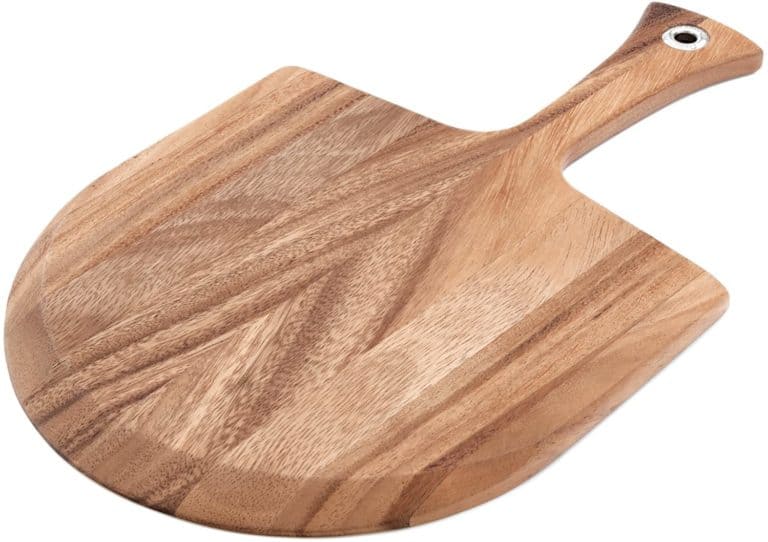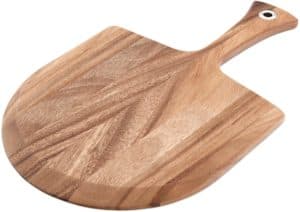 For an efficient pizza peel that can fit in just about any kitchen, no matter how small, you've got to consider this compact model by Ironwood. It is a bit pricey than some of the other options you might find, but since it's made out of wood, it offers more versatility, too. 
It's designed with acacia wood, giving it a unique and luxurious appearance. You can use it as a charcuterie tray or cheeseboard in addition to a pizza peel! 
It has gorgeous contrasting patterns and a handle with a wide, sturdy base. It prevents slips and drops by giving you a more reliable place to rest your hand. It even comes with a hole so you can hang it on your wall and show it off to all of your guests! What's not to love?
What We Liked:
The sturdy wooden handle makes slips unlikely

Comes with a hole for hanging

The beautiful wooden finish adds style and versatility 
What We Didn't Like:
Not a perfectly smooth surface, so pizza dough can stick to it
Not Sure What to Look For? Consider This Pizza Peel Buying Guide
Material
When you're shopping for a pizza peel, you'll quickly discover that they can be made out of several types of materials 
One of the most common pizza peel materials is wood. Wood is ideal, since it prevents the dough from sticking and also allows you to use the peel as a cutting board. The only downside to wood is that it can absorb smells and stains over time. 
You might also consider metal. Metal is a good option, too, since it's easy to clean, durable, and quite thin. However, if you've ever used a metal pizza peel before, you'll find that the pizza dough, especially when it's still gummy, has a tendency to stick more to metal than it does to wood.
A final choice is composite. Composite pizza peels are low-maintenance but are a bit thicker than metal - this can make maneuvering the pizza off the stone a bit of a challenge. Composite pizza peels tend to have shorter handles, too, which can make it harder for you to get your pizza to the right location inside your oven.
Design
You'll also want to consider the design of your pizza peel. The shape is important, since this feature will impact how easily you can scoop up a pizza - as well as how easily you can move it to the oven. You can find pizza peels in both rectangular and round shapes. You can determine the best option for you depending on the configurations of your oven.
If you decide to purchase a wooden pizza peel, make sure the edges are beveled or tapered in some way. This will make it easier for you to handle your pizza pie. 
Size
Most pizza peels are at least 14" wide and 15" long, but this can vary. Make sure you check the specifications before you buy. It's essential that you consider your pizza making needs as you decide on the ideal size for your pizza peel, too. You may be able to get by with a smaller pizza peel, but for many families, a larger one is better.
Don't forget about the handle, either. Look for a pizza peel that has a super-long handle so you can get to the back of the oven easily without burning yourself. The ideal specifications for the length of the handle will vary depending on how deep your pizza oven is. In most cases, though, you'll want to look for one with a handle that's at least 19 to 38 inches long. Just remember - the longer the handle, the more difficult it's going to be for you to store your pizza peel. 
Bonus Features
Last but not least, let's consider the bonus features. As you probably realize, bonus features aren't essential - but they're nice to have! When you're shopping for a pizza peel, you'll find all kinds of special features that can really help to sweeten the deal. 
For example, some pizza peels have features that make it easy for you to slice your pizza directly on them. There's no need to buy a separate cutting board or pizza stone. You can also find pizza peels that are dishwasher safe, which can save on labor in the kitchen, too. 
There are even pizza peels that come with extra options like manufacturer's warranties and pizza recipe books! If these features matter to you, make sure you invest in a pizza peel that has everything you want. 
Start Slinging Pies with the Best Pizza Peels
There are hundreds of reasons why you should consider using a pizza peel. Not only is homemade pizza a lot healthier than the pizza you would buy from the store, but making your own pizza is a ton of fun, too. 
Turning your pizza while it's cooking is a great way to make sure all sides of it are evenly baked. To do this, you'll need to remove it from the oven, which is nearly impossible to do without a peel. If you've ever made your own pizza, you'll realize that you need something to slide your pizza in and out of the oven.
By investing in a pizza peel, you'll reduce the likelihood of burning yourself and also reduce the amount of time in which your pizza has to be out of the oven, which can result in unnecessary heat loss.
Plus, as you can tell by looking at the products we've reviewed above, pizza peels are also quite gorgeous! When you shop for the best pizza peel, you'll not only be investing in a new kitchen appliance - but you will also be able to choose a priceless new piece of your kitchen decor, too. 
So what are you waiting for? There's pizza to make and guests to entertain, so start looking for the right pizza peel today.