Howdy! I'm Todd from A Cooking Dad. I've been a member of The Daring Kitchen since July 2010 – my how time flies. This month I chose to challenge you to make potato gnocchi. It turns out gnocchi was The Daring Cooks absolutely first ever challenge, but the original challenge was for a ricotta gnocchi. Most of us have probably not been around long enough to remember that challenge anyway.
So what exactly is gnocchi? Turns out it can be a lot of things. It is a name used for a thick, soft dumpling made with any variety of ingredients. It turns out original Italian version was made from Semolina. The use of potato in gnocchi is a relatively new innovation.
Download the printable .pdf file HERE
For this challenge I will be challenging you to make potato gnocchi from scratch. The recipe is very simple but a lot of it is in the feel of the dough. Make some smaller batches to play around with them and try out some of the variations. I think you will be pleased with how easy they are and how much better they end than a store-bought gnocchi.
Recipe Source: All of the recipes came from The New York Times Magazine article – Gnocchi of a Different Color
Blog-checking lines: Todd, who is The Daring Kitchen's AWESOME webmaster and an amazing cook, is our September Daring Cooks' host! Todd challenged us to make light and fluffy potato Gnocchi and encouraged us to flavor the lil pillows of goodness and go wild with a sauce to top them with!
Posting Date: September 14, 2013
Note: I am no expert on Gnocchi. Everything says to use as little flour as possible but mine were falling apart in the water or in the sauce until I added a little more flour. They were still very tender and light after I added the extra flour.
Some sources say an egg will make the gnocchi heavier but it will also help to hold them together. I only tried with the egg and I did not find them heavy at all.
You want the potatoes to be as dry as possible. I even found sources that recommend using old potatoes so they would have less moisture. One way to make them dryer is to put them into a low heat oven for a short time after you split the potatoes open.
Mandatory Items: Make potato gnocchi and top it with any sauce you choose.
Variations allowed: You can use this recipe as a starting point but feel free to modify by adding other ingredients (A few ideas : spinach, sweet potato, beets, carrots, tomatoes, mushrooms). I have given a few ideas for topping your gnocchi but most pasta sauces should work here as well.
Preparation time: About 2 hours total.
Cooking Potatoes – 1 hour
Cooling and peeling potatoes – 30 minutes
Forming Gnocchi – 15 minutes
Cooking Gnocchi – 10 minutes
Equipment required:
•Mixing Bowls
•Measuring Spoons
•Pans (Saute pan and sauce pan / stock pot)
•Knives
•Food Mill or Potato Ricer preferred ( Could also use potato masher )
•Gnocchi Board (optional)
Potato Gnocchi:
Servings: 4
Ingredients
1½ pounds (700 grams) starchy potatoes (Russet or Idaho work well)
Salt and Pepper
½ to ¾ cup (120 to 180 ml) (70 to 100 grams) (2½ to 3 ½ oz) all-purpose (plain) flour, plus more as needed
1 large egg (optional)
Directions:
Heat the oven to moderately hot 400°F/200°C/gas mark 6 and bake potatoes until tender, about an hour. You can also boil the potatoes with their skins on. When potatoes are cooked split the potatoes open to allow steam to escape. When potatoes are cool enough to handle, scoop out their flesh.
Bring a large pot of salted water to a boil.
Pass the potatoes through a ricer or food mill. I used a medium setting on mine. If you do not have a ricer or mill you can use a masher but try not to "work" the potatoes too much as this will cause the gnocchi to be tougher.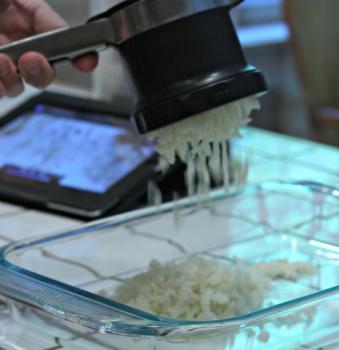 On a well-floured board place the potatoes and form a well in the potatoes. Put ¼ cup (60 ml) (35 gm) (1¼ oz) flour and the egg (if using) in the potatoes. Gently knead the potato, adding the additional flour if needed, just until the dough comes together.
Pinch off a small piece of the dough and try cooking it in the boiling water to see if it holds together. If it does not add a little more flour and try again.
Roll some of the dough into a ½ inch (5 mm) thick rope, then cut the rope into ½ inch (5 mm) pieces.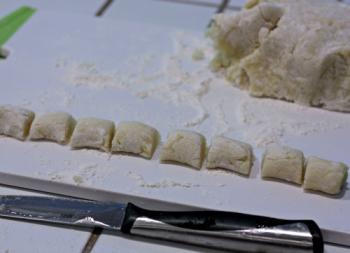 Score each piece with a fork or gnocchi board. You can also just push your finger into it to form a little bowl. This is not really that critical and done just to help the gnocchi hold onto the sauce a little better. Put the pieces onto a parchment lined baking sheet until ready to cook.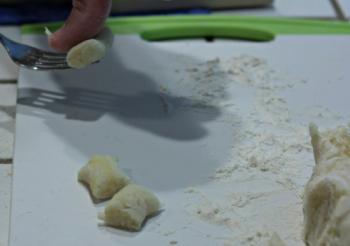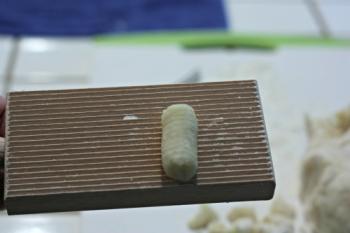 Add the gnocchi to the boiling water in small batches. After they rise to the surface let them cook another 60 seconds and remove them with a slotted spoon.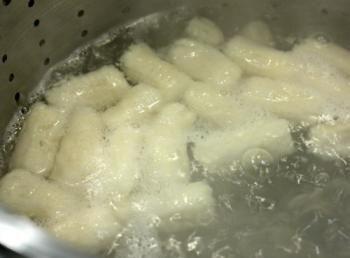 Finish with any sauce you like.
Spinach Gnocchi
(variation):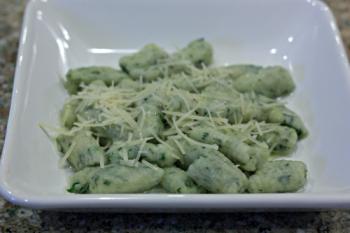 Servings: 4
Ingredients
1 recipe potato gnocchi
8 ounces (225 grams) spinach
2 tablespoons (30 ml) olive oil
Directions:
Roughly chop spinach.
Cook in 2 tablespoons (30 ml) olive oil over medium heat until soft and wilted, about 5 minutes.
Rinse under cold water and squeeze the liquid out of the spinach until dry.
Place in food processor or blender and process until smooth.
Stir into the potatoes in step 4 of the above recipe. You will probably need to add extra flour to account for the extra moisture.
Brown Butter, Sage, and Parmesan Sauce: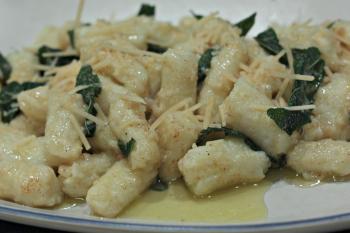 Servings: 4
Ingredients
1 recipe potato gnocchi
4 tablespoons (60 ml) (55 gm) (2 oz) butter87
Handful of fresh sage leaves
Grated Parmesan Cheese
Directions:
Place butter and sage into skillet over medium heat.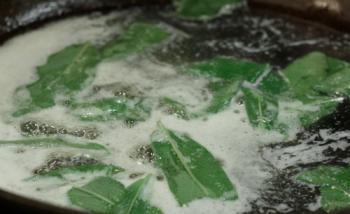 Cook until the butter starts to brown and the sage is sizzling.
Toss with gnocchi and plenty of Parmesan cheese.
Gnocchi with Squash (Pumpkin) :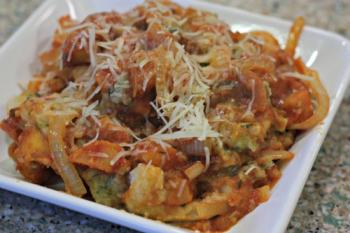 (Adapted from Mario Batali recipe)
Servings: 4
Ingredients
½ recipe potato gnocchi
3 tablespoons (45 ml) olive oil
1 ½ pounds (700 grams) squash (pumpkin) (butternut, acorn, Jap…) cut into ½ inch (15 mm) cubes
½ jalapeno (or other medium hot pepper) pepper, seeded and finely chopped
1 small onion sliced and separated
Parmesan cheese
Directions:
Place olive oil and squash (pumpkin) in single layer in a sauce pan over medium-high heat, cook until browned and crunchy but not too soft.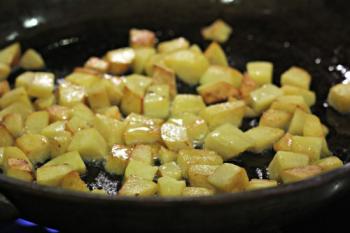 Add jalapeno, and onion and cook until onion is slightly softened.
Add tomato paste and cook until the paste turns a dark, brick red (about 1 minute).
Add about a quarter cup (60 ml) of the gnocchi cooking water and cook for about a minute more.
Add the gnocchi to the pan and toss gently with the sauce.
Serve with plenty of grated Parmesan cheese.
Storage & Freezing Instructions/Tips: You can keep the uncooked gnocchi on the counter for up to two hours. If you need to store your gnocchi longer they can be stored in the refrigerator for up to two days. Place them uncooked or cooked in a container in layers separated by parchment paper so they do not stick together. They can also be easily frozen. Place them on a cookie sheet to freeze. After they are frozen place them in a freezer safe container for up to six weeks. When cooking frozen gnocchi, cook in small batches. If the batch is too large the water temperature will go down and they will fall apart before they cook.
Additional Information: The article "Gnocchi of a Different Color" from the New York Times Magazine contains the recipes listed here and also contains several other variations and sauces. It also contains a video showing Mario Batali making the gnocchi with squash. – http://www.nytimes.com/interactive/2013/02/21/magazine/gnocchi-of-a-diff…