Red Copper cookware refers to a collection of nonstick cookware products made using a combination of copper, ceramic, and aluminum. The copper bit takes the forefront in marketing because they highly leverage certain copper qualities to enhance their performance.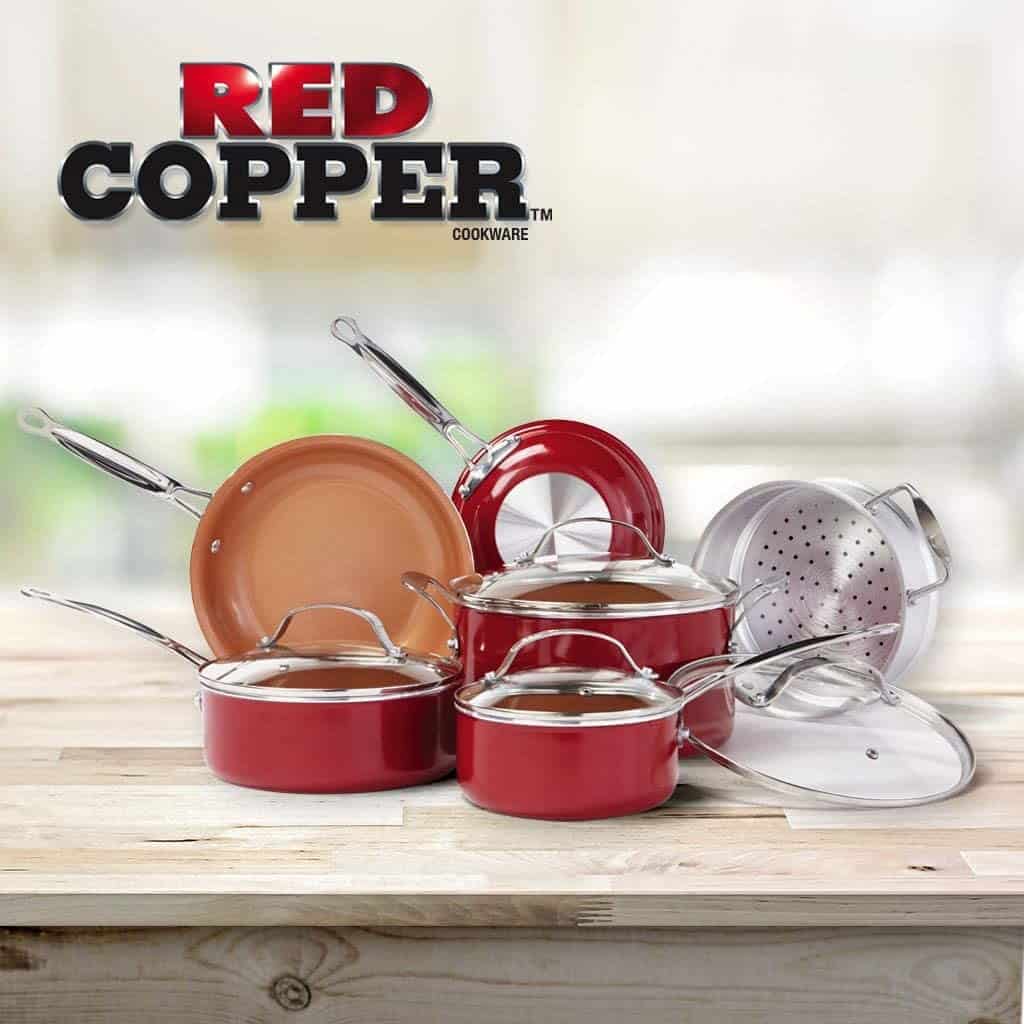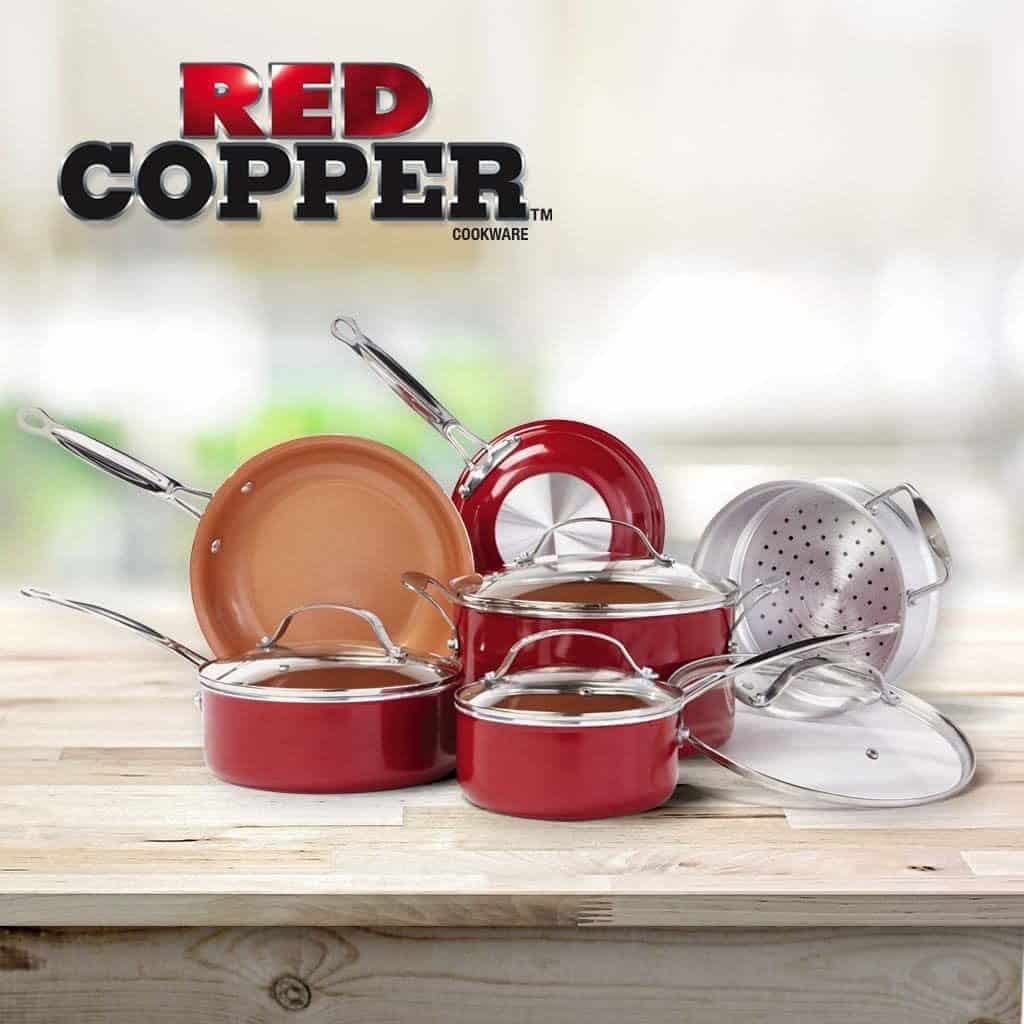 Types of Red Copper Pans
The chief producer of Red Copper cookware is BulbHead International. It is worth visiting their website for an extensive Red Copper collection catalog where you will find all manners of cookware.
We shall briefly analyze some sample products' outstanding features in no particular order to give a clearer perspective.
1. BulbHead Red Copper 9.5" Square Dance Pan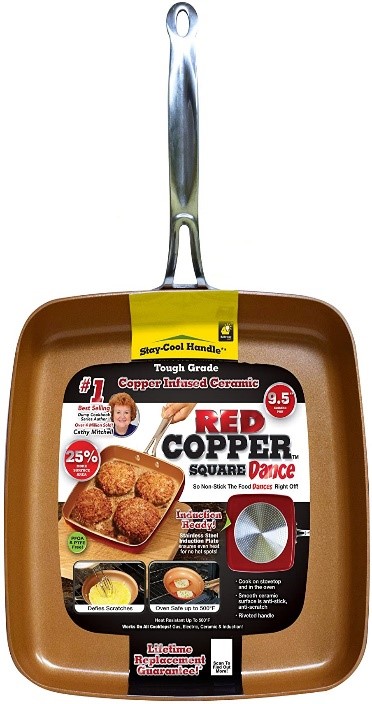 This one has a square design and high sides, which give it 25% more surface area, enabling you to cook more food at once. It is still lightweight at only 1.65 pounds and is oven safe. It comes ready for the induction cooker with a stainless steel induction plate that ensures even heat distribution.
They throw in a free recipe guide with this purchase, which is great for the novice chef. You already have an idea of the first meals you are going to prepare.
2. BulbHead Red Copper 12" Fry Pan Skillet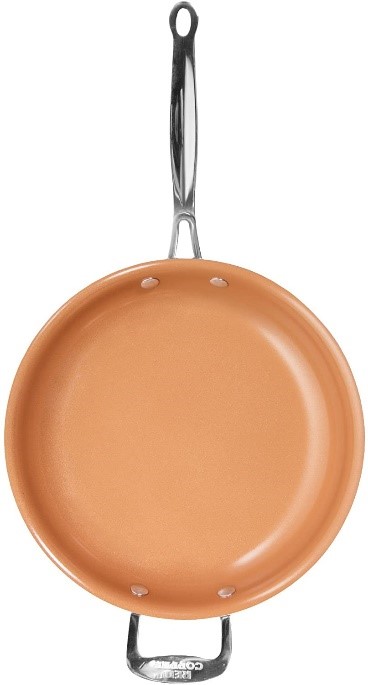 It is also available in 8" and 10" sizes. It comes with a helper handle on the opposite side of the main stay-cool handle to make transporting the loaded pan easier and minimize accidents.
Both handles have double rivets, which makes the pan stable and easy to handle. The extra handle is presumably because of its large size, although it is surprisingly light at 2.3 pounds.
It has Aluminum cooking rings at the bottom to ensure even distribution of heat; although you may experience some challenges, your cooker requires a flat base as it is curved. It is compatible with all stovetops apart from induction cookers and is oven friendly.
3. Bulb Head Red Copper 10PC Cookware Set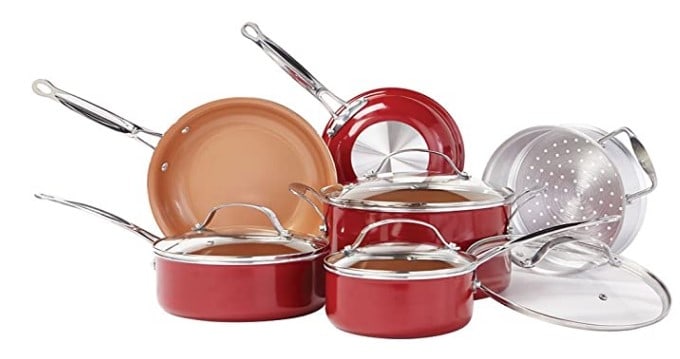 This is an assortment of 10 essential Red Copper cookware pieces meant to complete your cooking requirements. The set comprises a 6qt saucepot with a tempered glass lid, a 2.5qt sauce pot with a tempered glass lid and a fitting aluminum steamer insert, a 1.5qt sauce pot with a tempered glass lid, a 10" frying pan with a tempered glass lid, and an 8" frying pan.
In essence, these are 5 Red Copper pans, their lids, and a steamer insert, which have been split to give a louder bang for the buck spent. They possess all the standard qualities of Red Copper products highlighted above.
This set gives you a wide range of cooking options, which requires a little more investment but is more cost-effective per item.
The Benefits of Copper in Cookware
Copper is ranked among the best materials for pots and pans. It is valued over other elements mainly because of its conductivity. It is five times more conductive than iron and 20 times more than stainless steel, the other common metals used in cookware.
The superior conductivity means it takes a short time to heat, and the heat is distributed evenly throughout the food. This saves time and energy while ensuring your meals are cooked evenly at a consistent temperature.
The cooling process is similarly swift, which means there is minimal chance of overcooking once you switch off the heat source.
This is why copper pans are preferred for sauces, candies, chocolates, and other slow cooking meals. They can melt any type of candy consistently within a short time.
Copper is hygienic; the metal is highly reactive, and microorganisms can't survive on it. Germs and bacteria are therefore eliminated and are not transmitted to food. Because of this, you will find the pans occasionally used to even beat eggs and cake batter.
Features of The Red Copper Pan
Construction
It is made of aluminum bonded to a tough grade copper-infused ceramic layer, which forms the nonstick surface. Some have a stainless steel induction plate at the bottom, which makes them compatible with induction heat cookers and evenly distributes heat. They have a trademark glossy red finishing on the exterior.
Heat Management
Depending on the item, it will either have aluminum cooking rings or a stainless steel induction plate at the bottom. Both of these will ensure there are no hot spots and there is an even distribution of heat throughout the pan so that your food is cooked evenly.
They heat up faster than your average nonstick pan due to the inclusion of copper, and the ceramic bit maintains the heat distribution as you proceed.
Oven Safety
The pans can endure up to 500˚F in the oven without getting damaged. The aluminum and copper-infused ceramic have a high tolerance for heat. 500˚F is sufficient for almost all cooking needs. However, the Red Copper glass lids are not oven safe and have to be removed before the pan is put in the oven.
Enhanced Nonstick Capabilities
The copper on the ceramic layer is smooth and offers no chance for food particles to get lodged. You can cook healthier meals since they don't require oil, grease, or butter, and if they do, it is in small negligible quantities.
Durability
The tough grade copper-infused ceramic layer does not peel, chip, or flake easily. The aluminum base is also sturdy and will hold out against heat and other elements.
Dishwasher Safe
Red Copper pans can be washed safely in a dishwasher as they are strong enough not to be damaged by other utensils, and their composition can withstand dishwasher fluids without corrosion.
Easy to Clean
The smooth cooking surface that is also nonstick leaves little to clean after every use. It does not require scraping and scrubbing. A cloth is sufficient to wipe the surface but you can wash them with warm water and a mild detergent.
Versatility
Red Copper pans work well with all cooktops, whether gas, ceramic, or electric, and can also be placed in the oven. You can transition from the stovetop into the oven with the same pan, allowing you to sear your steak and bake it, for example, in a shorter period with minimal loss of energy. You don't have to wait for it to heat up all over again.
Ergonomics
Red Copper pans are easy to operate due to a combination of design factors; they are lightweight because of the blend of copper, ceramic, and aluminum, none of which is a heavy metal.
They come with a double riveted stovetop handle for stability, which is slow to heat. Some have a helper handle on the opposite side to transfer the loaded pan and mitigate accidents.
Lifetime Replacement Guarantee
The manufacturer allows you to return the pan if it arrives defective or you feel it is not what you ordered in exchange for another product. The peace of mind encourages one to make the purchase even if on a trial basis.
They Are Toxin Free
The nonstick layer has been created by an infusion of copper into ceramic, which means there is no need for Teflon, the most common compound in nonstick pans. By avoiding Teflon, the pans are guaranteed PFOA and PTFE free.
These chemicals are suspected carcinogens and have also been linked with congenital disabilities, hormonal disorders, and the immune system's destabilization.
Recent Buyer Reports
There have been complaints about the nonstick surface becoming sticky after a few uses, contrary to the billing. This translates to increased necessity for scraping and scrubbing, which was also not supposed to happen.
The handles that were supposed to stay cool throughout tend to become hot in the oven (which is expected). One can't avoid using oven mittens, contrary to how the pans are being marketed.
The heat management is above average, but not to the perfect standards the consumer has been led to expect.
This is probably because the percentage of copper used is too small, and the pan is not as sensitive as you would expect with proper copper. The Red Copper pans are an affordable compromise for true copper cookware, which will likely be more expensive.
The lifetime replacement guarantee has been questioned because when you read the fine print, you are supposed to report the issue within 60 days to get a replacement, and you will incur shipping and handling charges.
The charges incurred are almost the pan's price, and users find it easier to purchase something else. You are also not conversant enough with the pan in the first 60 days to tell where the problem is as it will be new.
The price was seen to be fair considering there is copper involved, albeit in smaller quantities.
How Copper Is Used In Cookware
Copper is a great conductor of heat, making it a desirable component in cookware, as we have seen. As much as they have great cooking qualities, they should not come in direct contact with food.
Copper also has great chemical properties, which make it highly reactive. The food, especially acidic food, may cause a chemical reaction that produces toxic substances.
For this reason, all copper pots have to be lined with other less reactive metals, tin, and stainless steel being the most common. In Red Copper pans, it is ceramic and aluminum.
These metals protect both the cookware and the consumer from adverse effects of the reaction. They are why Copper is still counted among the safest cookware materials available.
The thickness of the copper layer or the number of copper layers in the cookware will determine how conductive it is. If it is made of only one layer of copper, it must be thick to maintain the copper qualities.
However, the use of more copper adds to the expense, which leads to the end product being pricey. This explains why copper-based pans are expensive and why normal consumer products will restrict copper use.
Copper as a metal is expensive because it has very many uses to the extent that economic analysts use its prices to indicate the level of confidence in the global economy. It has a high demand in many industries due to its great physical properties.
Maintenance of Red Copper Pans
Having established that these pans are not very advanced, it is important to figure out ways to maximize the service they will give us and prolong their lifespan.
It is very important to separate what the advertisements say and the user recommendations from the manufacturer. Often the marketing pitch exaggerates the capabilities of the cookware, and this may result in neglect.
Most nonstick pans labeled metal utensil safe and dishwasher friendly is usually not strong enough to hold against abrasion from metallic utensils and some of the stronger dishwasher fluids. Exposure will lead to scratches and corrosion, hastening the wear and tear.
There are many options for non-metallic utensils that are ideal for nonstick pans, and the abrasion resistance should not be unnecessarily tested.
Using the dishwasher also exposes them to the same in addition to corrosive washer fluids. The user guide will recommend hand washing with a mild detergent, which is the ideal method. Copper is delicate and gets dented, scratched, and tarnished easily.
Occasionally there will be discoloration due to oxidation, and the mild detergent may not be sufficient. You can use a commercial cleaner and a damp cloth or sponge on those areas in such cases.
There is a host of other homemade ingredients and techniques that can be employed to remove those stubborn stains. You can check these out in this step by step copper cookware cleaning and maintenance guide.
Another reason copper-based pans should be isolated is that it's very reactive and will react with air, food, and other metals. They should be dried out urgently after washing to prevent further oxidation and stored in a dry place. Copper requires occasional polishing to keep the shine going.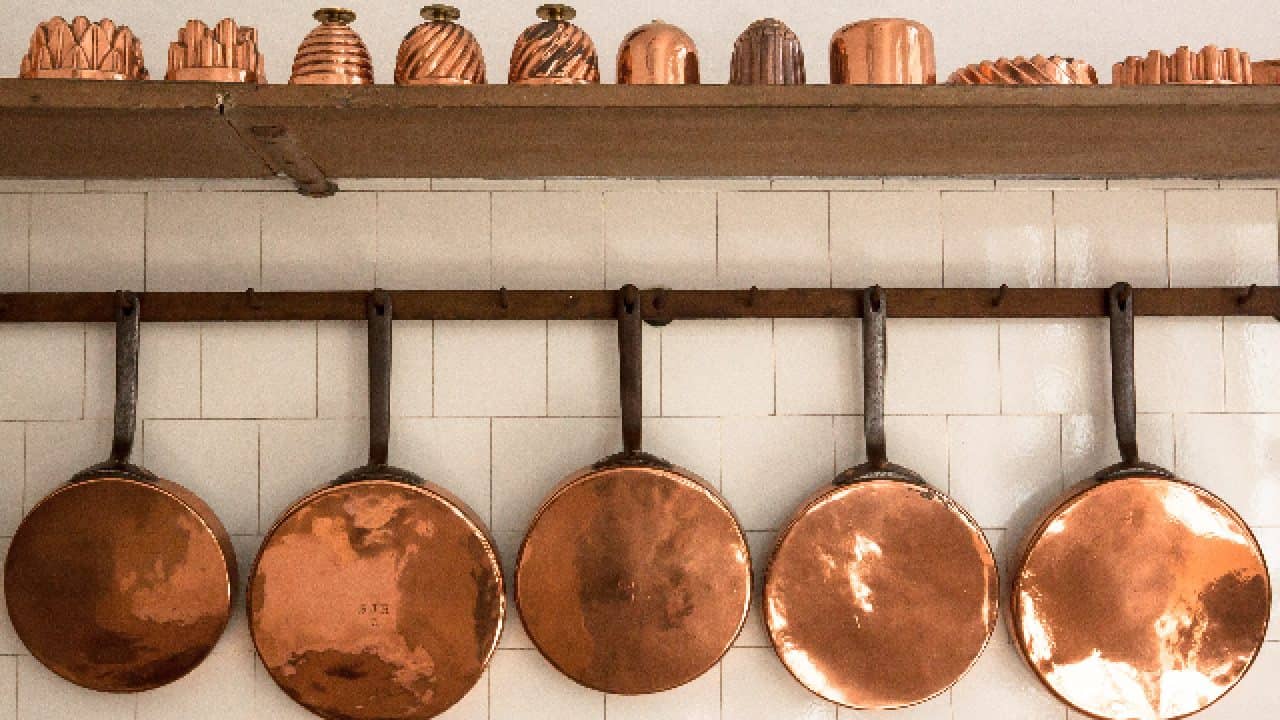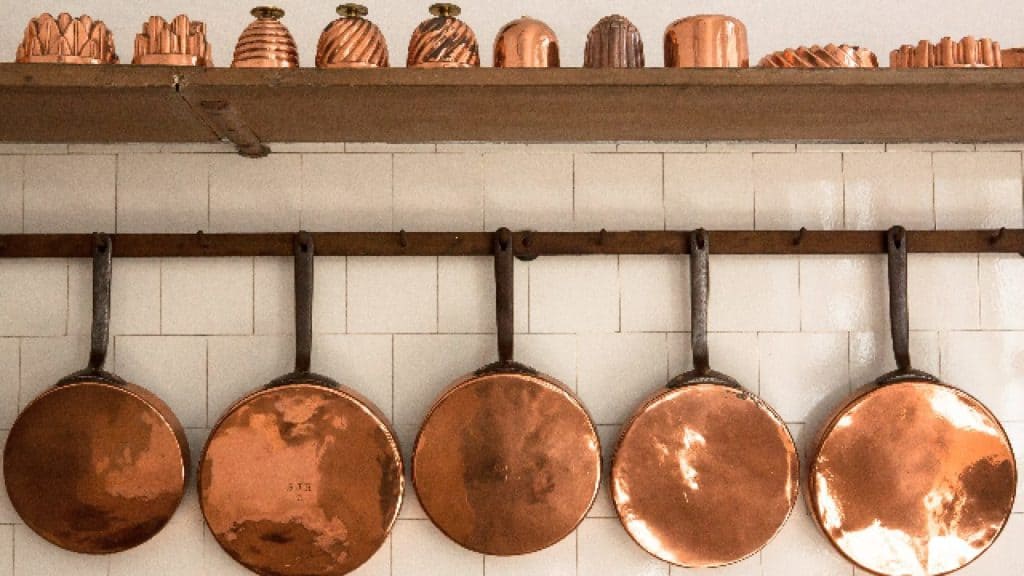 Our Verdict on Red Copper Pans
The Red Copper pans are decent non-toxic nonstick pans with various desirable qualities and above average heat management. The copper content impacts their efficiency, which falls shy of what their marketing statements say.
This may be attributed to having a greater ceramic to copper ratio, which restricts the reaction of copper. Copper is expensive, and having a higher concentration will mean the price of the pans will also go up.
The durability is also average for a nonstick pan; they wear out after continuous use and lose their nonstick qualities. The amount of time it takes will be determined by the intensity of use and the type of care given.