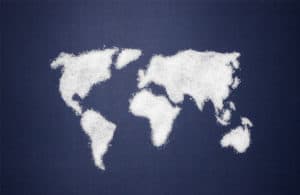 Throughout the world eating habits are changing. With increased availability and affordability of processed foods, people around the world are eating more energy dense foods that are high in saturated fats, sugar and salt. 
Current estimates suggest that the global mean intake of salt is about 10g per day, double the maximum amount the World Health Organization(WHO) recommends we should be eating. This increased consumption of salt in our diet is contributing to hypertension (raised blood pressure) which leads to an increased risk of strokes and cardiovascular diseases (heart disease), one of fourmajor non –communicable diseases (NCDs) which have now overtaken infectious diseases as the world's leading cause of death. 
Reducing population salt intake is a key dietary target for reducing non communicable diseases and has been identified as one of the most cost effective measures for improving population health. It is estimated that a decrease in salt to 5g/day would result in a reduction of 23% of stokes and 17% of cardiovascular disease which would prevent an estimated 4 million death worldwide. Not to mention the savings it would provide to healthcare costs. 
It is therefore not be surprising to learn that the WHO has asked countries to commit to an international target of a 30% reduction in mean population intake of salt with the aim of achieving a target of less than 5 grams per day (approximately 2g sodium) by 2025. One of nine voluntary global targets set to achieve a 25% reduction in premature mortality (early deaths) from NCDs by 2025.
But how easy is it to reduce salt intakes, and what is the most effective strategy to reduce salt consumption across the population?
In many countries, over 75% of salt is consumed from processed or packaged foods therefore one of the most effective measures is to reduce the salt content of processed foods through the reformulation of products. This allows countries to reduce population-wide intakes without leaving it up to individual behaviour change. But its success is dependent on monitoring, industry engagement and government leadership in establishing targets. 
The reformulation model was successfully adopted in the UK over 10 years ago and is now leading the world in salt reduction. The introduction of voluntary salt targets resulted in food manufacturers and retailers significantly reducing the salt levels in processed foods by up to 40%. This contributed to a decrease in average UK salt consumption by 11%, with intakes falling from 8.8g in 2005 to 8.0g in 2014. 
 Other countries including Argentina, Belgium, South Africa and Turkey have followed by adopting similar approaches with the introduction of either voluntary or mandatory salt targets. 
However, despite the progress in some countries, more work still needs to be done. Recent trend data suggests that many countries are at risk of not achieving the goal of 5g/day. To get the greatest impact we need more countries and companies pledging to reduce salt levels. The major challenge now is to roll out reformulation strategies worldwide, particularly in low and middle income countries where few have implemented polices to reduce population salt consumption.
World Action on Salt and Health (WASH), a global organisation is working to achieve salt reductions worldwide by working with and supporting national governments and encouraging action groups to advocate for salt reduction initiatives.  
Every country should reap the benefits of salt reduction. Even a modest reduction in salt intake across the whole population will result in major improvements in public health and have huge economic benefits in countries around the world.