Hi! I'm Korena from Korena in the Kitchen and I'm thrilled to be hosting a Daring Bakers' Challenge for the second time. My favorite challenges are the ones where I get to bake a cake and/or pretend to be a pastry chef, so for this month's challenge I chose a recipe for a classic European-style chocolate cake: the Austrian Sachertorte.
The Sachertorte is an elegant chocolate cake filled with tangy apricot jam, covered with a smooth, fudge-like chocolate glaze, and decorated with chocolate piping and the word "Sacher" written across the top. Each slice is served with a generous portion of schlag (unsweetened whipped cream), meant for dipping each bite of cake in to balance the sweetness and texture.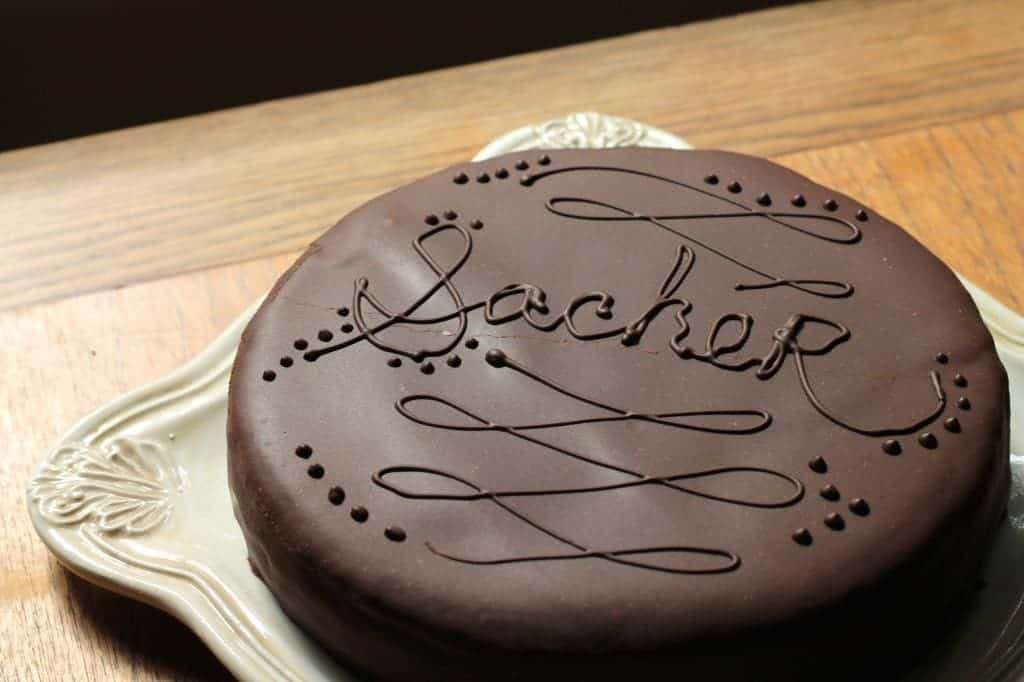 The Sachertorte was first created in Austria in 1832 when Prince Metternich requested a fancy dessert for his dinner guests. His pastry chef was ill that night, so the task fell to the apprentice, Franz Sacher, who came up with the now famous cake that bears his name. Franz built a career on that cake, and his son Eduard later opened the Sacher Hotel in Vienna where Franz's cake, made according to the hotel's original and closely-guarded secret recipe, is served to this day (and can also be ordered online and shipped worldwide). The cake is so popular in Vienna that it has become an integral part of the city's kaffeehaus tradition, with local bakeries and cafés serving up their own versions along with a dollop of schlag and a cup of steaming hot coffee.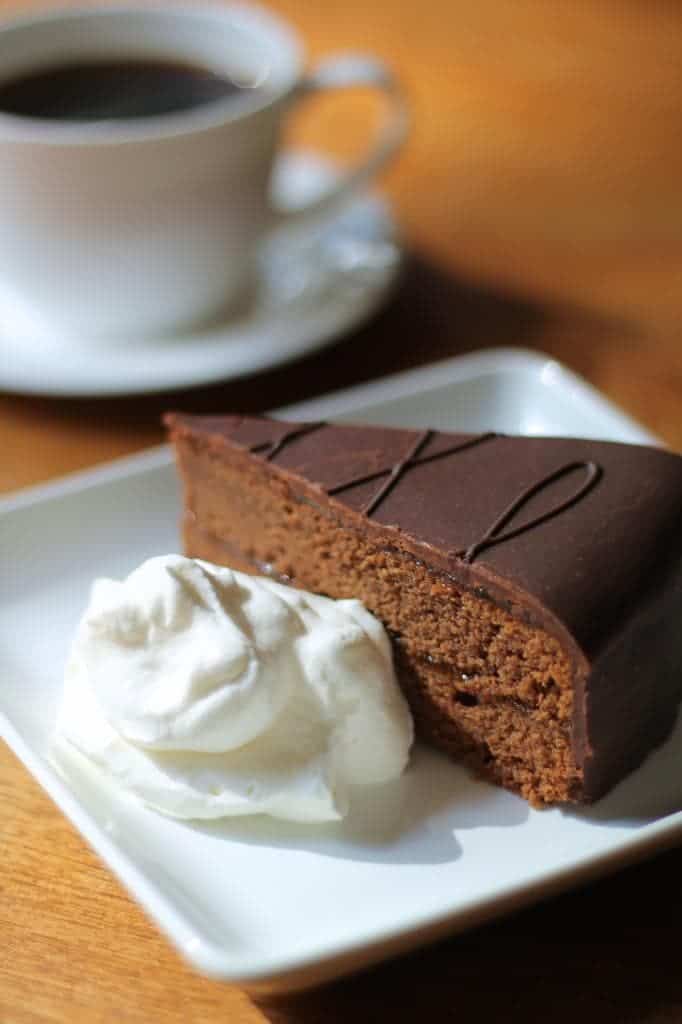 Franz's original Sachertorte recipe may be a secret, but according to this video showing the cake being made in the Sacher bakery, I think the recipe that I have chosen is fairly authentic. Unfortunately, I'm not planning a trip to Vienna any time soon, so it looks like the only way I might ever know for sure would be if I ordered an "Original Sachertorte" to compare.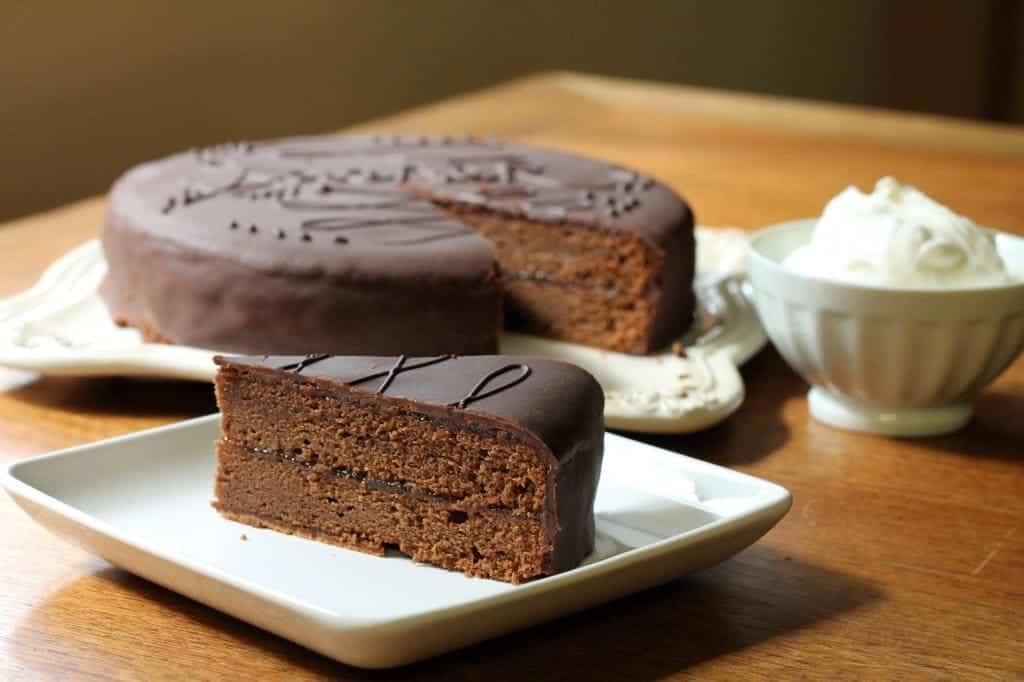 Recipe Source:
Kaffeehaus: The Best Desserts from the Classic Cafés of Vienna, Budapest, and Prague by Rick Rodgers, via Epicurious.
Writing chocolate from WickedGoodies.net
Blog-checking lines:
The October Daring Bakers' challenge was brought to us by Korena of Korena in the Kitchen. She took us to Austria and introduced us to the wonders of the Sachertorte.
Posting Date: October 27, 2014
DOWNLOAD THE PRINTABLE FILE HERE.
Notes:
As is typical with European-style cakes, this one is a little drier and sturdier than the American-style butter cakes that many of us may be familiar with. This is the reason that Sachertorte is served with whipped cream – for moisture! If you are concerned that your cake is going to be too dry, you can make a simple syrup (boil together equal parts by weight of water and sugar; let cool) to brush over the cake layers after you've split them. The apricot glaze also adds some moisture. That said, I personally didn't find the cake dry.
The cake relies on egg whites for volume rather than chemical leavening such as baking powder or baking soda. For your egg whites to whip properly, you need to make sure that they and every bowl, spoon, or whisk that touches them are 100% free of any fat (ie, egg yolks) or grease. I like to wipe down my bowl and whisk with a vinegar-moistened paper towel to make sure they are totally grease-free. Be very careful when separating your whites and yolks: even a speck of yolk in the whites can prevent them from whipping up properly.
Use high quality bittersweet chocolate in this recipe – the ingredients are fairly simple, so quality makes a big difference! (I used Callebaut bittersweet callets, which look like chocolate chips but are pure chocolate with none of the additives that chocolate chips usually contain.)
Definitely use a cardboard cake round to assemble the cake on – it will make it much, much easier to move the cake after glazing it (I wish I'd used one).
Mandatory Items:
You must make all components of the Sachertorte: chocolate cake, apricot glaze, chocolate glaze, chocolate decoration.
Variations allowed:
Because this is a classic cake, I'd like everyone to stick to the recipe given. If you have allergies or can't locate an ingredient locally, then please make substitutions as appropriate.
Preparation time:
This cake is best made in stages, as it needs time for the various components to set/chill before continuing:
Cake: 30-60 minutes prep, 35-45 minutes baking, several hours cooling
Apricot glaze: 10 minutes prep, 5 minutes assembly, 5-10 minutes to set
Chocolate glaze and decoration: 10 minutes prep, 5-10 minutes assembly/decoration, 1 hour to set/chill
Let the cake sit at room temperature for 1 hour before serving
Equipment required:
9-inch (23 cm) spring-form or other high-sided pan
parchment paper
small heavy-bottomed saucepan
small/medium heat-proof bowl
spatula
stand mixer with whisk and paddle attachments, or hand-held electric mixer
2 large bowls (stand mixer bowl + one other)
fine mesh sieve
heat-proof spoon
candy thermometer (optional but nice)
cooling rack
serrated knife
8½-inch (22 cm) cardboard cake round
whisk
large metal offset spatula
plate or baking sheet
waxed paper
Sachertorte
Servings: 12-16
Cake Ingredients
¾ cup (180 gm) (4½ oz) (125 gm) good quality bittersweet chocolate, chopped
9 tablespoons (135 ml) (4½ oz) (125 gm) unsalted butter, softened at room temperature
1 cup (240 ml) (4½ oz) (125 gm) confectioners' sugar (aka icing sugar or powdered sugar)
6 large eggs, separated, at room temperature (see note above about egg whites)
1 teaspoon (5 ml) vanilla extract
½ cup (120 ml) (7 oz) (100 gm) granulated sugar
1 cup (120 ml) (4½ oz) (125 gm) all-purpose (plain) flour (for volume measurement, spoon gently into measuring cup and level top)
pinch fine grain salt
Assembly
Apricot Glaze (see recipe below)
Chocolate Glaze (see recipe below)
Writing Chocolate (see recipe below)
1 cup (240 ml) heavy whipping cream, cold
Directions:
1.Preheat oven to moderately hot 375˚F/350°F fan/190˚C/gas mark 5 with a rack in the centre of the oven. Butter and flower the sides of a 9-inch (23 cm) springform pan, then line the bottom with a circle of parchment paper.
2.Place the bittersweet chocolate in a heat-proof bowl and heat over a small saucepan of barely simmering water (make sure that the bowl is not touching the simmering water) or in the microwave until just melted. Set aside to cool completely, stirring often.
3.Place the butter in a large mixing bowl and beat with the paddle attachment of a stand mixer or electric mixer on medium speed until very light and creamy. Add the confectioners' sugar on low speed, then increase to medium speed and beat again until light and creamy.
4.Beat in the egg yolks, one at a time, scraping down the sides of the bowl.
5.Add the cooled chocolate and vanilla and beat until well-mixed and very light and creamy, scraping down the sides of the bowl.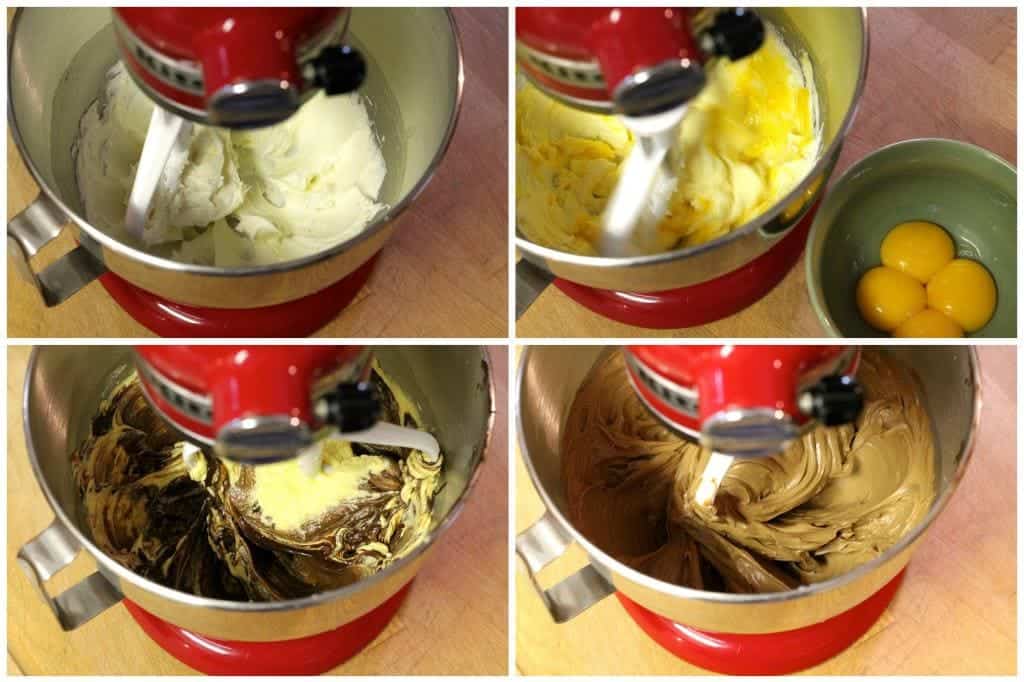 6.In a scrupulously clean bowl using the whisk attachment, beat the egg whites with about one tablespoon of the granulated sugar on high speed until foamy. Gradually add in the rest of the granulated sugar and continue beating the whites until they form soft, shiny peaks – they should hold their shape but flop over on themselves.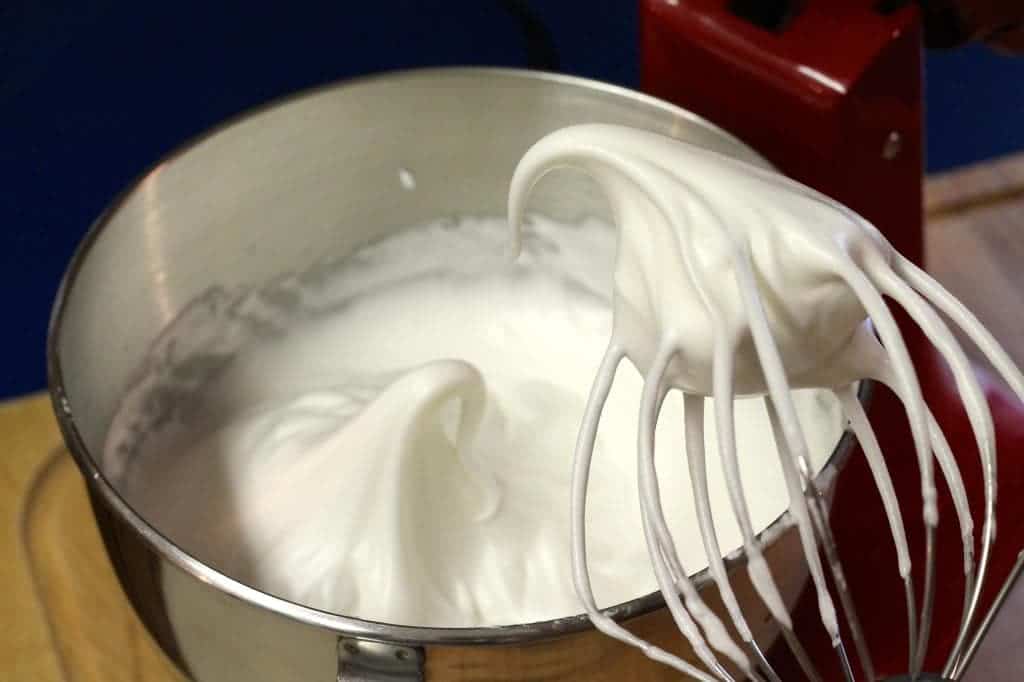 7.Vigorously stir about 1/3 of the whipped egg whites into the chocolate mixture to lighten it, then gently fold the remaining egg whites into the chocolate mixture with a spatula until just a few wisps of egg white remain. Do this carefully so as not to deflate the egg whites.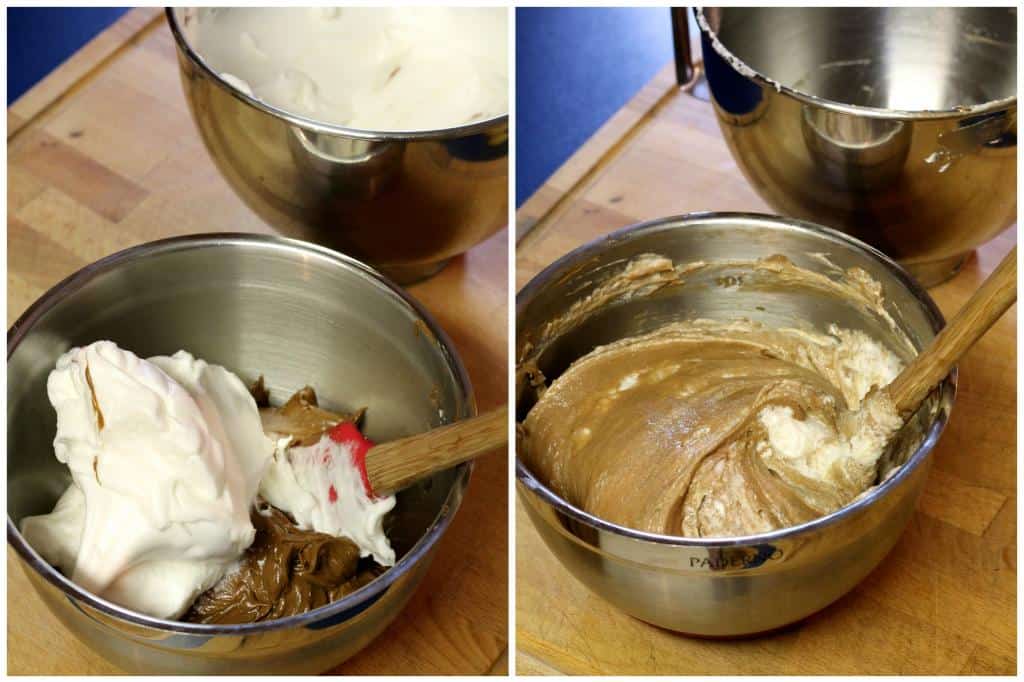 8.Stir together the flour and salt and sift half of it over the chocolate mixture. Fold in with a spatula until almost incorporated. Sift over the remaining flour and fold to combine completely.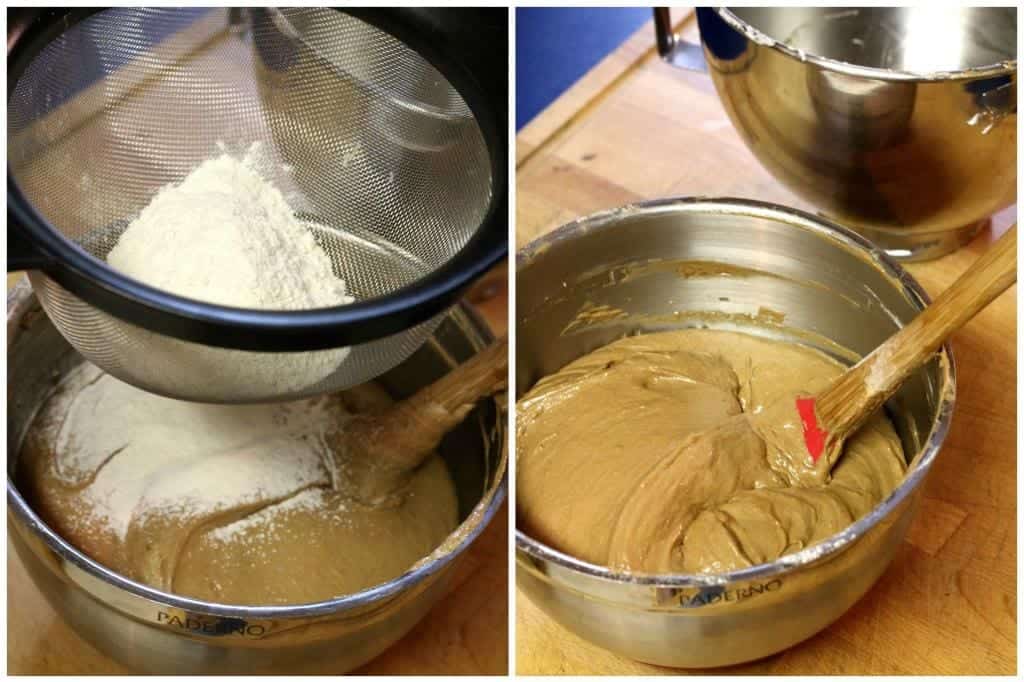 9.Spread the batter evenly in the prepared springform pan.
10.Bake in the preheated moderately hot 375˚F/350°F fan/190˚C/gas mark 5 oven for 35-45 minutes (mine took exactly 40 minutes) or until a toothpick inserted in the middle comes out clean. The cake will crack and dome in the middle as it bakes but will flatten out as it cools.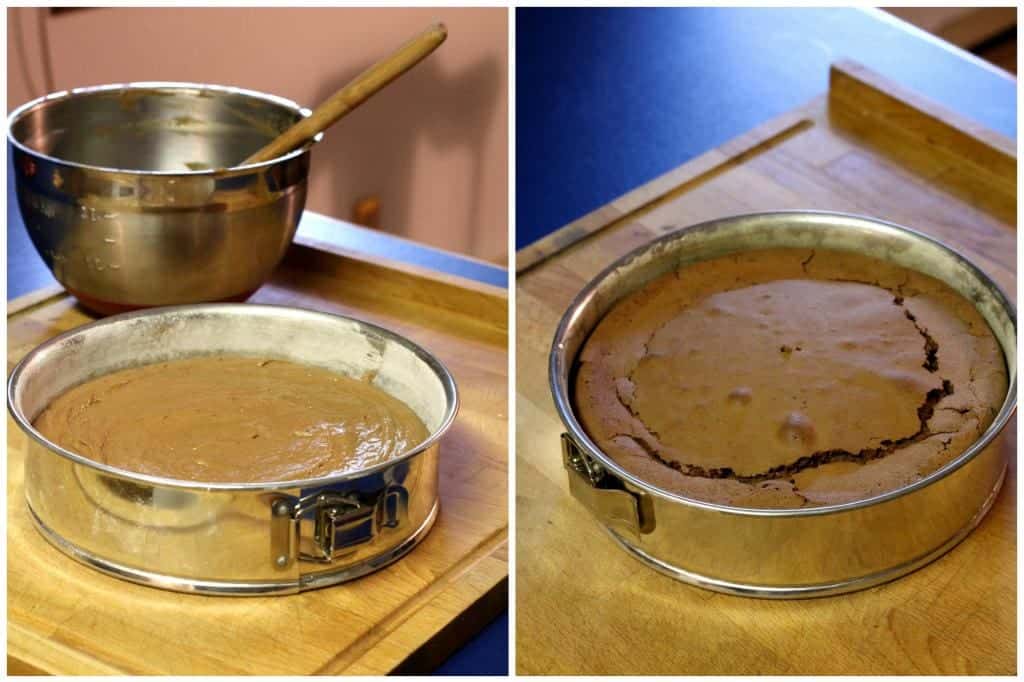 11.Cool in the pan for 10 minutes, then run a knife around the edge to loosen it from the pan and remove the sides. Carefully invert the cake onto a rack and remove the bottom of the pan and parchment paper, then turn the cake right-side up onto a rack and allow to cool completely.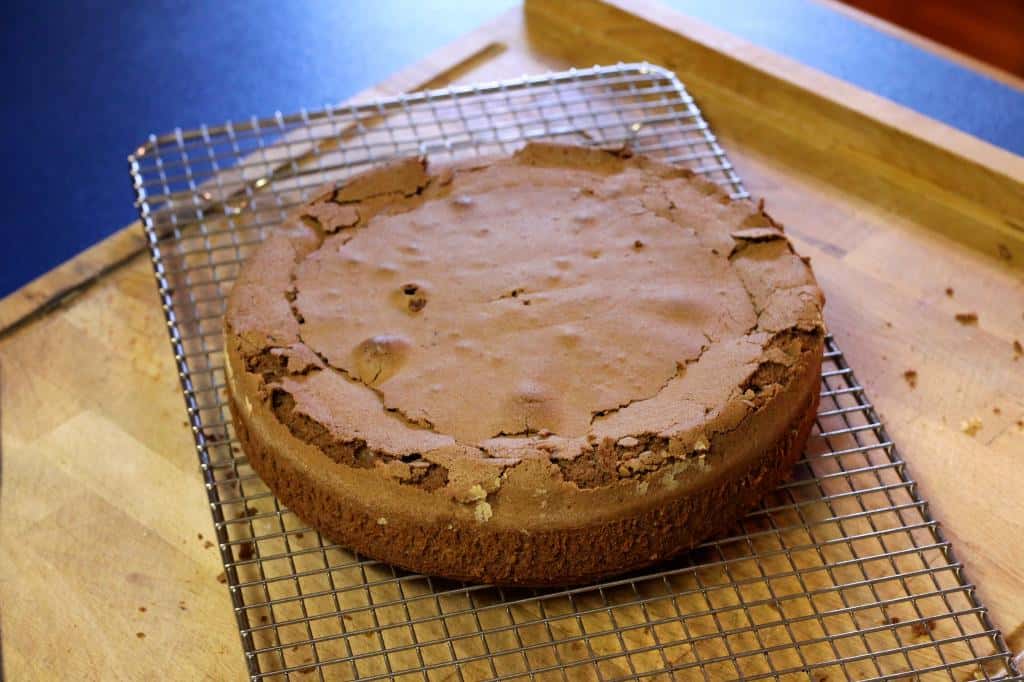 12.Assembly: Turn the cake upside-down so that the perfectly flat bottom of the cake is now the top. Cut the cake horizontally into 2 even layers.
13.Place 1 cake layer on the 8½-inch (22 cm) cardboard cake round and spread it generously with about half of the apricot glaze. Allow it to soak in.
14.Place the second cake layer on top and spread the top and sides with the remaining apricot glaze. Work quickly before the glaze has a chance to set and use a metal offset spatula to smooth the top. Place the cake on a rack set over a plate or baking sheet lined with waxed paper and allow the apricot glaze to set.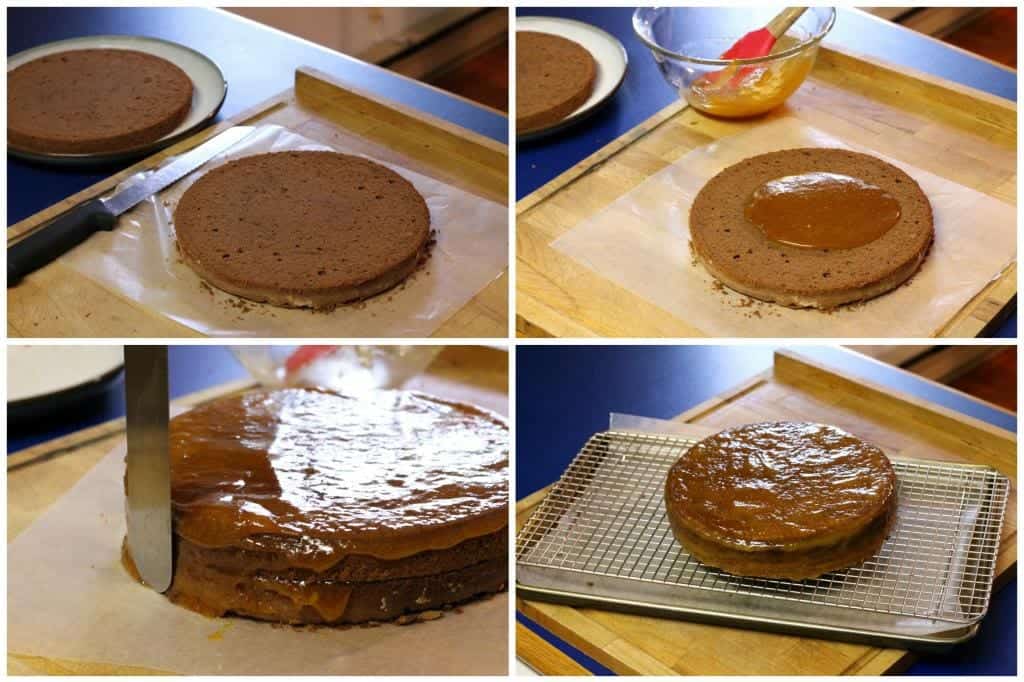 15.Make the chocolate glaze (it must be used immediately, while still hot) and pour it over the top of the cake, first around the edge and then in the middle. Spread the excess glaze over any bare spots using a metal offset spatula. Before the glaze has a chance to set, move the cake to a serving platter.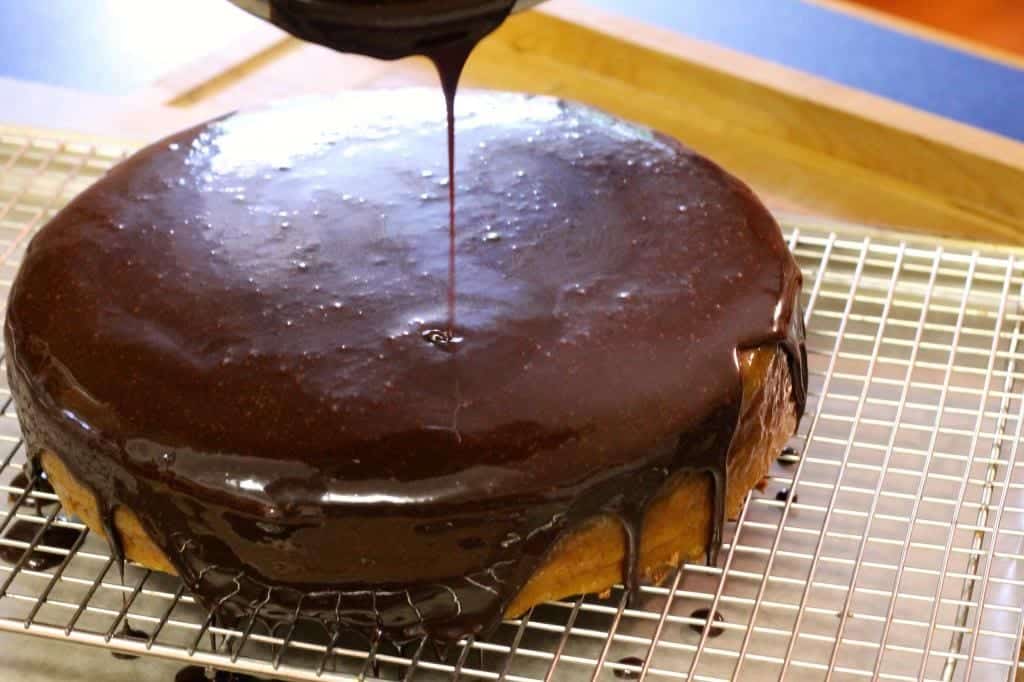 16.With the writing chocolate, pipe the word "Sacher" in the middle of the cake and add any decorative flourishes you wish. Chill the cake until the glaze is completely set, at least 1 hour.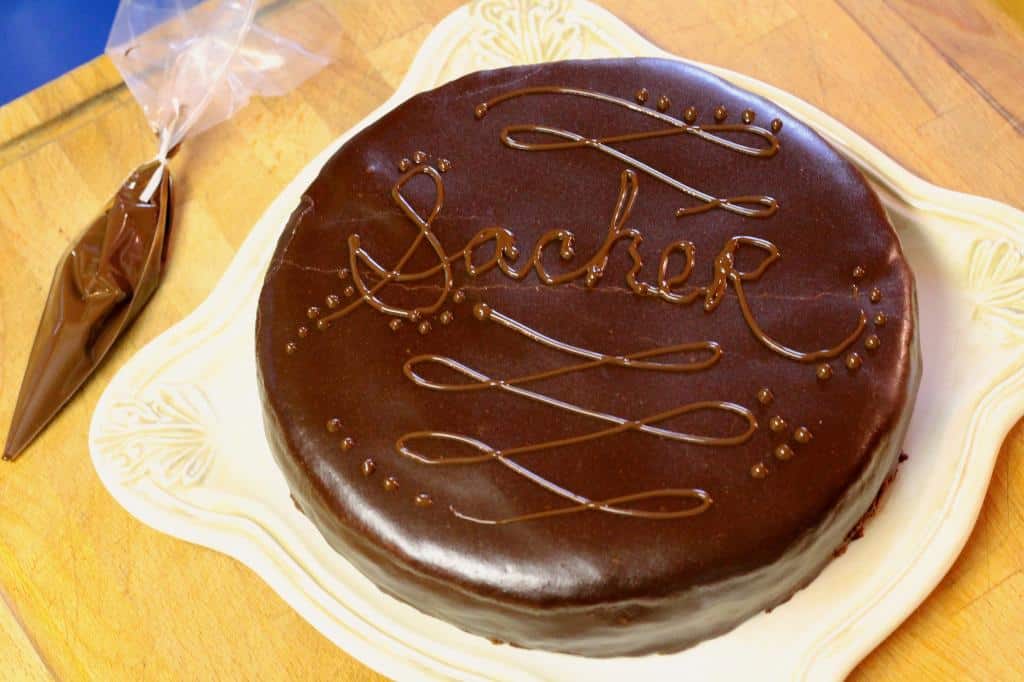 17.To serve: Let the cake come to room temperature for about 1 hour before serving. Whip the cream to soft peaks (this is best done in a cold bowl with cold beaters). If desired, sweeten it with icing sugar to taste.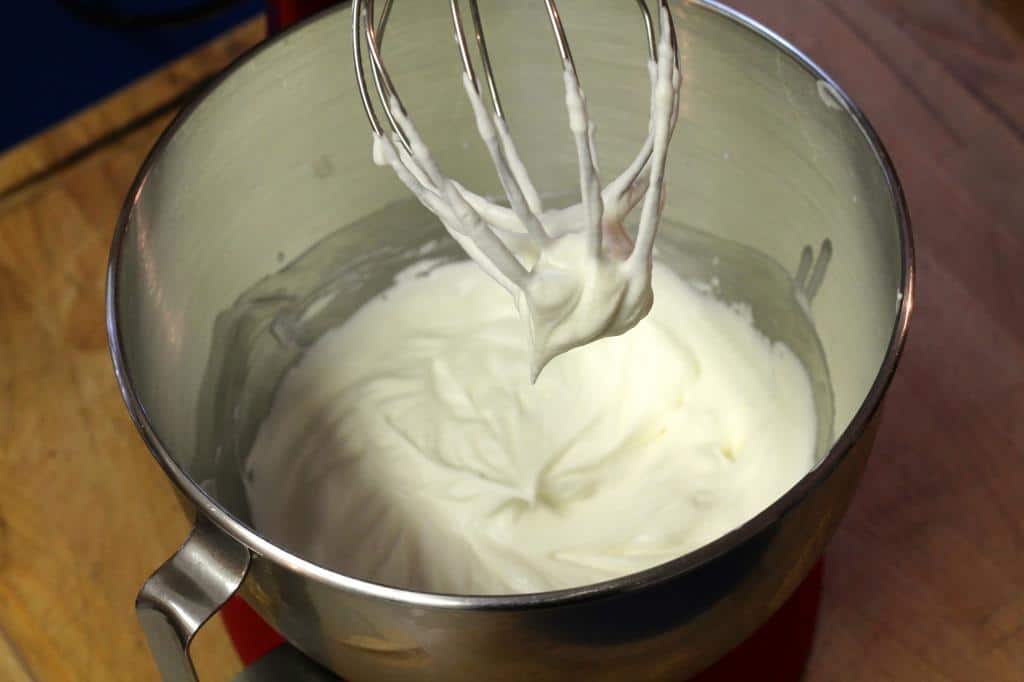 18.Cut the Sachertorte into wedges with a large sharp knife dipped in hot water and wipe off the blade between cuts. Serve each wedge of cake with a large dollop of whipped cream.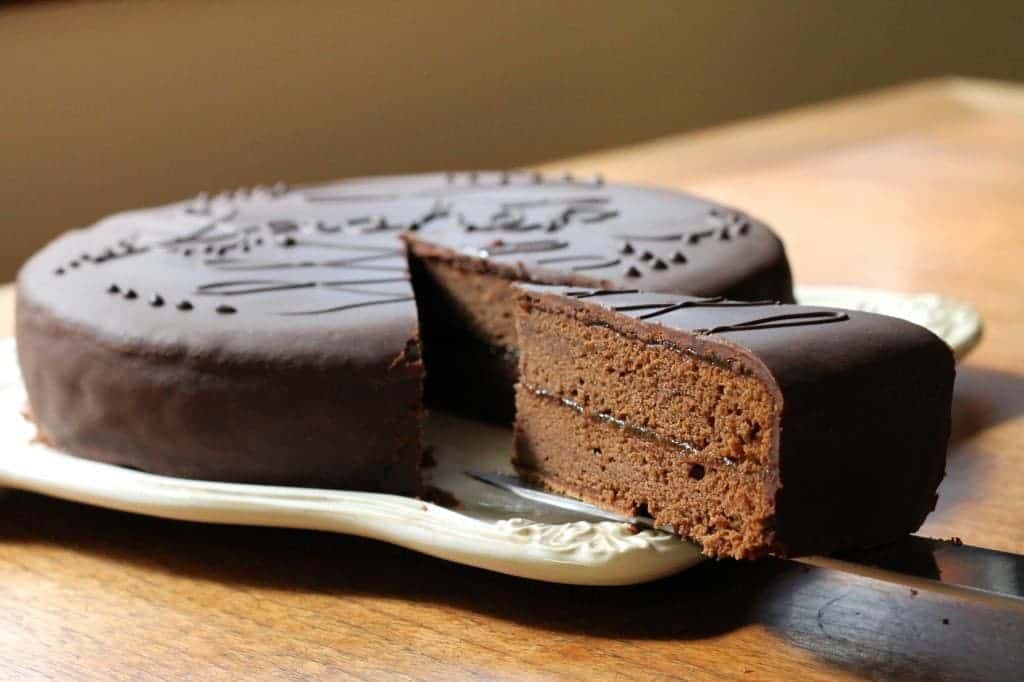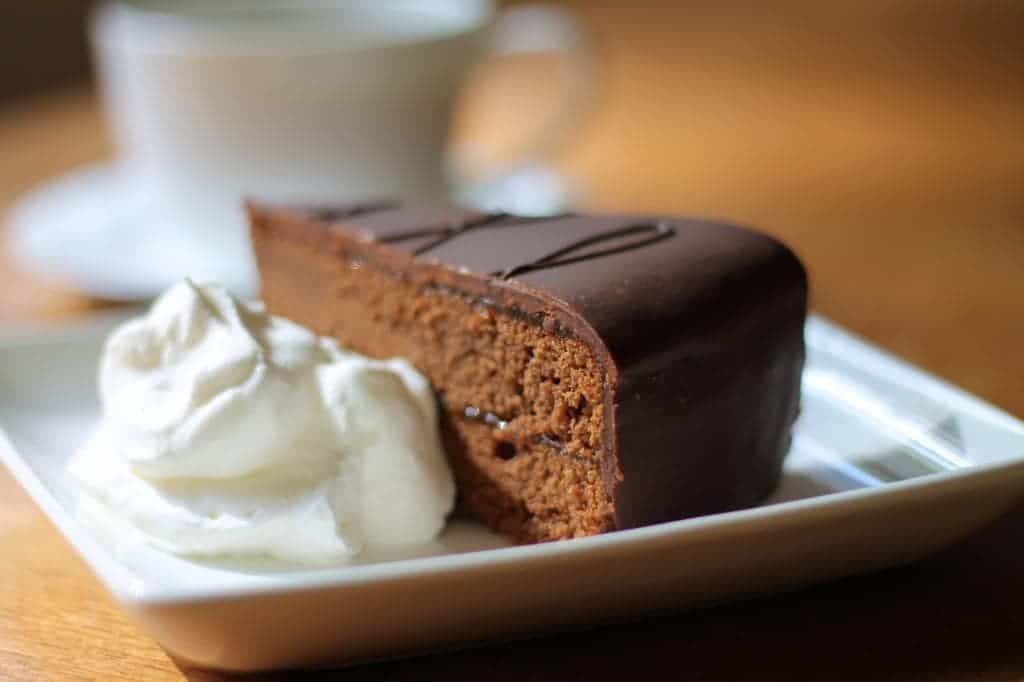 Apricot Glaze
Servings: 1 quantity (about 1 cup)
Ingredients
1¼ cup (300 ml) (14 oz) (400 gm) apricot jam or preserves
2 tablespoons (30 ml) rum (or other liquor) or water
Directions:
1.Boil the jam and rum/water in a small saucepan over medium heat.
2.Cook, stirring often, until the mixture thickens and drips slowly from the spoon, about 2-3 minutes.
3.Strain through a wire mesh sieve, pressing firmly on the solids. You should have about 1 cup of glaze. Use warm.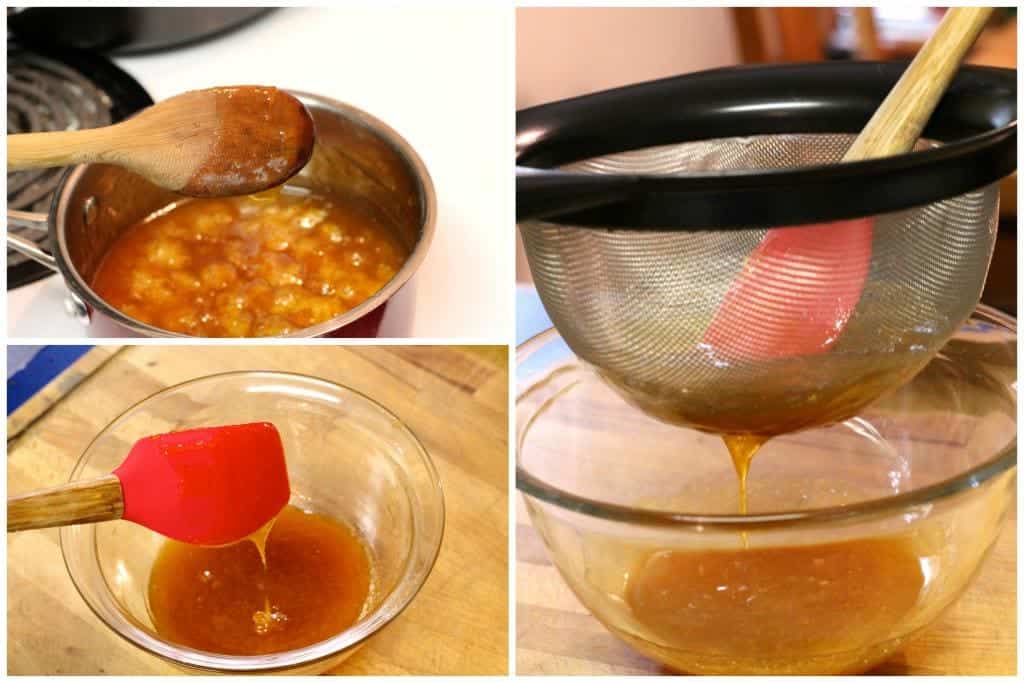 Chocolate Glaze
Servings: 1 quantity
Ingredients
1 cup (240 ml) (7 oz) (200 g) granulated sugar
½ cup (120 ml) water
(4 oz) (115 gm) good quality bittersweet chocolate, chopped
Directions:
1.Place the sugar and water in a small, heavy-bottomed saucepan over medium-high heat and bring to a boil, stirring occasionally.
2.Attach a candy thermometer and cook, stirring, until the mixture reaches 234˚F/112°C, about 5 minutes. If you don't have a candy thermometer, use the method explained in this video.
3.Remove the saucepan from the heat and whisk in the chocolate. It might thicken up quite a bit. If it does, return it to low heat and add a few drops of water if necessary to thin it out to a runny, pourable consistency. The glaze should be smooth and shiny.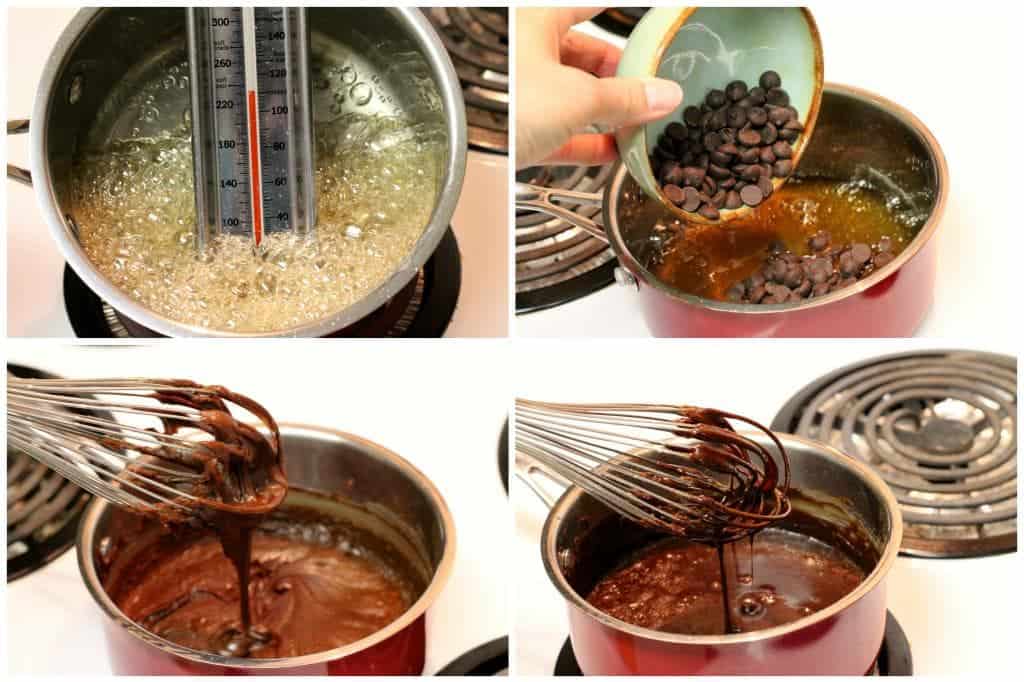 4.Off the heat, stir the glaze for 30-60 seconds to cool it slightly, then immediately use it to glaze the cake.
5.Any excess glaze can be stored in a container in the fridge and added to a mug of hot milk to make hot chocolate.
Writing Chocolate
Servings: 1 quantity
Ingredients
¼ cup (60 ml) (1.8 oz) (50 gm) chopped good quality chocolate
½ – 1 teaspoons vegetable oil
Directions:
1.Heat the chocolate until just melted, then stir in enough vegetable oil to get a pipeable consistency. If necessary, let the chocolate mixture cool slightly to thicken so that it is not too runny.
2.Place the chocolate in a disposable piping bag or small Ziplock bag and snip off the tip to make a small hole. I recommend a practice run on waxed paper before writing on the cake.
Storage & Freezing Instructions/Tips:
The cake can be stored up to 2 days in an airtight container at room temperature.
Additional Information: