Do you hate using a traditional mop and bucket for cleaning your floors? Mopping can be a time-consuming task, and you've probably never heard anyone say that they enjoy lugging around a mop and a bucket full of water throughout their home on cleaning day.
If you're ready to ditch the traditional method of cleaning your floors, you might be ready for a steam mop.
The best steam mops will remove grime and dirt from your floors while killing bacteria with the hot and powerful steam. They're typically portable and lightweight and can be used on a variety of floors.
Steam mops are convenient and wonderful cleaning tools but knowing how to use a steam mop will make a huge difference in the cleaning efficiency. The steam mop is an advanced floor mop that can help save you time, but it does require prep work if you want to have clean floors after using the steam mop.
If you're ready to take the plunge and get the best steam mop, here's a list of the most highly recommended steam mops for you to peruse.
1. Bissell 1940 PowerFresh 

Steam mops work by using the heat power of steam to clean up sticky messes and sanitize your floors. To use a steam mop, you typically only have to plug in the device and move it over your floors.
When choosing the best steam mop for your household, you can't go wrong with a well-known and trusted name like Bissell. This steam mop retails for an affordable price, making it one of the best overall options. It can be used on marble, granite, linoleum, ceramic, and sealed hardwood floors.
The Bissell PowerFresh steam mop features three steam levels and even comes with a fragrance disc to help keep your home smelling fresh. This steam mop can kill 99.9 percent of all germs that are living on your floors and features a flip-down scrubber that helps make quick work on dried-on messes.
The reviews on this steam mop say that it's incredibly lightweight and easy to steer. It's also effective at getting rid of tough messes and can clean the dirty, dark grout lines of your flooring. Some reviews state that one of the best features on this steam mop is the water tank – an easy to remove 16-ounce bottle that clicks onto the mop. It's said that the water tank is easy to refill and is much easier than any other steam mop.
Overall, the Bissell PowerFresh steam mop is an affordable and effective steam mop that is by far the best steam mop that you'll find on the market. Additionally, it's a great tool to have in your cleaning arsenal.
Pros: 
Very durable
Heats up and cools down quickly
The water tank is easy to fill and remove
Gets into the grooves of the floor
Cons: 
The cord length is a bit short
No noticeable difference in the three steam settings
2. Bissell 1544A PowerFresh Lift-Off Pet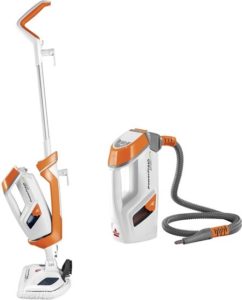 The power of steam isn't just effective for cleaning floors. It can be used to clean several other areas of your home, which is why this steam mop by Bissell is a worthwhile investment. The PowerFresh Lift-Off Pet comes with several attachments that you can use to clean several different surfaces around your home from grout to curtains.
This flexible tool has a "Lift-Off Pod" that allows you to remove part of the steam mop off from the handle – essentially giving you and handheld steamer. This steam mop comes with 13 attachments included with the machine, including an extension hose, flat scraper, grout tool, fabric steamer, window squeegee, and more.
It doesn't matter what surface you use this steam mop on, and it will still kill 99.9 percent of all germs without the use of harsh chemicals. Many reviewers love the machine's flexibility, saying that it makes cleaning easy, quick, and fun.
Pros: 
Well-built and durable
Comes with 13 attachments
Everything fits into the accessories bag that comes with this model
The lift-off unit comes apart and attaches easily
The map head is large
Cons: 
Heavier than other steam mops
Very powerful, so you must use caution when using this mop
The cord can be too long for some users
3. Shark Genius Hard Floor Cleaning System Pocket (S5003D)

Tile floors can become dirty quickly, especially if they're in high-traffic areas or the bathroom. But you can keep your tile floor and grout looking brand new with the best steam mop for tile floors: The Shark Genius Hard Floor Cleaning System.
This is a steam mop that features double-sided pads that let you clean further than with any other steam mop – they're also extremely absorbent. You'll even love the touch-free release that keeps you from having to touch the dirty, damp, used mop pads.
There are quite a few features that make this steam mop the best steam mop for tile floors. It has a "Steam Blaster" feature that can target tough, hard to clean messes and extremely dirt grout. You won't have to ever touch the dirty mop pads because of this steam op features' unique release system. All you need to do is drop them off from the mop and into the washing machine to clean.
Reviewers say that this steam cleaner is easy to use right out of the box. It cleans better and further than any other steam mop on the market thanks to the double-sided pads and the large water tank.
The one major complaint about this steam mop is that it does require a bit of effort to scrub stuck-on messes, which can be difficult for some users.
Pros: 
Lightweight
Easy to use
You can feel the cleanliness of your floors after using this steam mop
Durable
Easy to refill
Cons: 
The water reservoir doesn't come off
No on/off button
4. Shark Steam Pocket Mop

The best steam mop can be pricey, especially if you aren't sure that you want to use the steam mop technology. So, if you're going to try out a steam mop before you make a large investment, one of the best budget-friendly options available to you is the Shark Steam Pocket Mop.
This steam mop features all of the basic steam mop functions that pricier models offer, without costing you an arm and a leg. Some of these basic functions include that it can be used on any sealed flooring and can kill 99.9 percent of all bacteria and germs on your floors with the powerful steam.
This steam mop uses two-sided microfiber mop pads to lift the dirt off your floors. These mop pads can be washed, and the steam feature heats up in 30 seconds. Every time you push this steam mop across your floor, the mop will automatically release the steam to get rid of any dried-on spills, dust, and dirt.
The Shark Steam Pocket Mop comes with a 20-foot power cord, which lets you easily clean large areas without having to switch outlets. Additionally, it has a soft-grip handle that makes it easier for you to guide the mop around your house.
Reviewers say that this steam mop is lightweight, easy to use, and compact. They even state that it does a great job cleaning up stuck-on messes, especially considering the affordable price.
Pros: 
Easy and quick to use
Lightweight and easy to maneuver
Great price
Cons: 
Hard to tell when the mop is running low on water
It takes some time to heat up to clean the dirtiest parts of your floors
5. Light 'N' Easy 7338ANW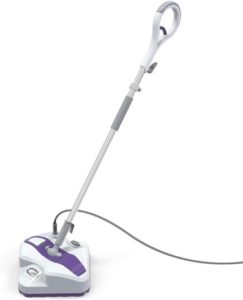 If you find that your hardwood floors are the pride of your house, you'll want to make sure that you're taking the best care of them. You can save your hardwood floors from harsh chemicals by investing in the best steam mop for hardwood floors: The Light 'N' Easy steam mop, which has a ton of features that you'll love.
The water tank on this steam mop is located on the base. The manufacturer claims to help deliver a better steam temperature and penetration. It also has a smart sensor that will automatically release steam if you push the mop faster. The handle even rotates 360 degrees for more versatility.
This is the best steam mop for your floors because it has pointed corners so you can easily get into those tight areas and corners that are hard to reach. It also uses thin microfiber cloth mop pads that let more steam get into your floors.
Reviewers rave about how effective this mop is, especially for hardwood flooring, and claim that it leaves a streak-free shine.
Pros: 
Very easy to assemble
Easy to use
The square head gets into all the hard to reach corners
Has great features
Cons: 
Doesn't do a great job deep cleaning your floors
6. Bissell Symphony Pet Steam Mop and Steam Vacuum Cleaner

We all love our pets, but there's no denying that they can make big messes in your home and on your floors. If you're on the hunt for a steam mop that will make quick work of pet messes (i.e., urine stains), the best steam mop for you is the Bissell Symphony Pet steam mop.
This cleaning tool vacuums and steams at the same time, saving you time because it will pick up the pet hair and dust while washing the floors – now you won't have to clean the floors before washing.
The Symphony's vacuum cleaner function is powerful. It easily picks up debris and pet hair, all while the steam function sanitizes and creates a beautiful shine on your floors. It has a hands-free emptying system, so now you won't have to touch the dirt and grime that you've just picked up with the machine. Additionally, you can use disposable pads when dealing with pet messes.
Reviewers say that this is a must-have tool for pet owners because it makes cleaning up those clumps of fur easier and quicker.
Pros: 
Lightweight considering it's a vacuum cleaner and steam mop
The steam isn't on automatically all the time
Easy to reach buttons
Stands up by itself
Cons: 
Can smear pet hair across your floors if you try to vacuum and steam at the same time
Advantages of Using a Steam Mop
The best steam mop works by heating water inside a reservoir located inside the mop to nearly 250 degrees F and then sending a jet of steam down into the mop pad covering the head of the mop.
The steam soaks into the pad and assists your cleaning by loosening grime and dirt off your floors. Unlike traditional mops, the mop head of a steam mop will absorb the dirt while the steam kills most of the dust mites and bacteria on your floors.
Not only is a steam mop a faster means of cleaning floors, but it's also a more sanitary option. Compared to a traditional mop and bucket system, the best steam mop makes it convenient to clean up floors quickly. However, since they're so fast and easy to use, you might be tempted to overlook the necessary guidelines.
Tips for Users
Steam mops come in various sizes, styles, and different ways to attach the mop head, different levels of steam generation, and the amount of power used. Some steam mops have better features than others.
But let's put features aside for a minute because, with any steam mop that you buy, you're going to have to follow certain practices to get the most out of the mop:
It's important to prep your floors. Even the best steam mop works best if all the loose grime and dirt have been removed from your floors. For better results, make sure that you vacuum or sweep before you use the steam mop.
A steam mop is best used for maintenance cleaning. If you find that your floors are extremely dirty, using a steam mop will only smear the dirt and grime across your floor. Before you can use a steam mop in this situation is after you have used traditional cleaning methods to get rid of the dirt.
Make sure to use several mop pads. For best practices, make sure to have several different clean mop pads on hand at a single time, and make sure that you're swapping out the pads as soon as they're dirty.
Use steam mops only on sealed floors. It would help if you made sure that the materials your floor is made from are suitable for steam cleaning. Some flooring materials can be damaged because of the steam from a steam mop.
How Often Should I Use My Steam Mop?
Steam mopping a floor should be done for routine maintenance cleaning. For the majority of people, this means using it about once a week. However, you can use it more often if you have an active family or during different seasons when the dirt is more likely to be on your floors.
You'll want to augment your steam cleaning with a deep floor scrubbing with traditional cleaning methods every month or so.