This amazing gift guide has been created by Michele of Veggie Num Nums. Michele spent months researching these items, contacting vendors for special Daring Kitchen members only discounts and putting it all together beautifully. Please show her some love in comments for an AWESOME job!

xoxo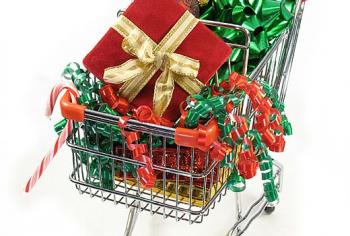 Does the thought of trudging through the noisy, chaotic mall in search of gift giving inspiration leave you feeling quite Scrooge-like? Well fear not! The Daring Kitchen has put together a guide of fantastic gift ideas that are all available with the click of your mouse. The holiday season should be spent with family and friends, sharing good times and making new memories, and not spent on nightmare shopping expeditions, right?
We waded through dozens of online merchants to bring you a gift list full of really special items. Everything is under $40, and many under $20. There are good things to eat and drink, gadgets to make cooking and baking a breeze, and fun things that are just neat to have around. You'll find our top 20 gift ideas below, but if none of those are exactly right for you, we're attaching a .pdf file that has 80 other great items that were all runners-up for our top 20 list.
Not only are we making holiday shopping simple and stress-free, but we are saving you money. Several of the merchants are offering Daring Kitchen members special holiday discounts, and you can find the details below. We are also opening a shopping and gift giving thread in the La Trattoria (public cooking forum) and we would love to hear your ideas and suggestions.
Happy holiday shopping! Enjoy!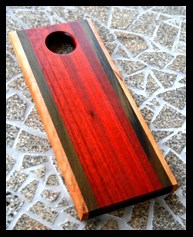 Handcrafted Wooden Bread Boards (Prices start at $24)
Who wouldn't love a stunning handcrafted bread board to serve those perfectly crusty baguettes? These boards are made by a master woodcrafter in Texas. There are several designs and each board is made to order. The people at KnottyKnotty are offering an exclusive discount to Daring Kitchen shoppers. When you place your order, mention that you are a Daring Kitchen member and you'll receive 15% of the item price (excluding shipping) credited back to your PayPal account.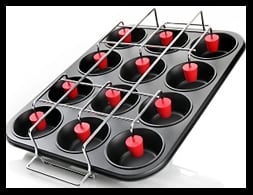 CupCakeGenius ($19)
The CupCakeGenius is so aptly named because it is truly a genius way to make filled cupcakes or muffins. The silicone tips create hollows in your cupcakes to make for very easy filling. This is a great gift for your favorite cupcake baker.
Penzey's Baker's Spice Set ($28.99)
This set of Baker's Spices is something your favorite baker will use over and over. It includes Penzey's Baking Spice, Cassia Cinnamon, Pure Vanilla Extract, and Cocoa Powder. It comes in a gift box, ready for wrapping.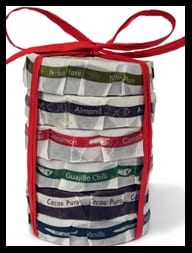 Chocolate Mexicano Six Stack ($27)
Taza is a small bean-to-bar chocolate maker, and the only producer in the US of 100% stone ground, organic chocolate. The Taza Chocolate Mexicano Six Stack unites all six of their Chocolate Mexicano varieties in one cute package. It includes Guajillo Chili, Cinnamon, Vanilla Bean, Yerba Mate, Cacao Pura, and Salted Almond.
Flavour Shaker ($29.95)
Jamie Oliver's Flavour Shaker is a very easy to use alternative to a mortar and pestle. It crushes herbs, spices, garlic and nuts, and can be used to make marinades, rubs and dressing. This is a great way to add lots of extra flavor to your cooking. And, it's darned adorable looking; just like its creator.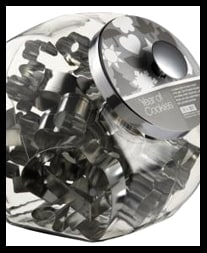 Year-long Cookie Cutter Set ($24.95)
Crate and Barrel's A Year of Cookie Cutters is a fantastic gift for cookie bakers and for people who like to limit the clutter in their kitchen. It is twelve cookie cutters, one for each month. You'll get a pumpkin, a watermelon, a snowflake, a leaf, and eight other cutters, all neatly contained inside a cute penny candy jar. This is a gift that will be used year-round.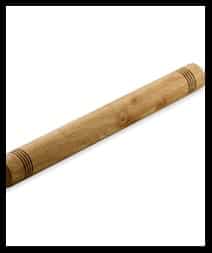 Rolling Pin ($14.99)
The Sophie Conran Rolling Pin is one good looking pastry tool. It's heavy enough to make rolling dough a cinch and it's designed to be comfortable to use. It's made of eco-friendly hevea wood and is a generous 20-inches in length.
Elephant Tea Pot ($19.99)
This is just the sweetest tea pot for the tea drinker on your life. It's made of white porcelain and is in the shape of an elephant–the elephant's trunk is the spout. Adorable! It's also so affordable that you may find yourself buying several to have on hand for last minute gifts.
Cupcake Tree ($14.99)
Here's another super deal from Target—a plucky red wire cupcake stand! It has vaguely French-styling and holds 15 cupcakes. This is a great gift for bakers and for entertainers, and the red coloring is perfect for holiday celebrations.
<Insulated Mug ($14.99)
No one likes to make a delicious mug of hot cocoa only to have it get cold before you're even halfway through drinking it. To keep your hot drinks hot for extended periods, here's an insulated mug that comes with its own lid. It holds a generous 18 ounces and is made of ceramic and stainless steel and is festooned with brightly colored olives. Cheers!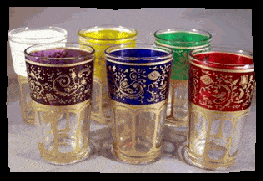 Moroccan Glasses ($32.95)
This set of festive hand painted Moroccan tea glasses is a perfect gift for your favorite host or hostess. The glasses are jewel colored and are just the right size for wine or tea. These glasses are the perfect excuse for a Moroccan themed dinner party.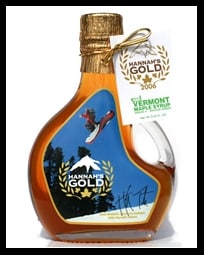 Maple Syrup (Prices start at $15)
Hannah's Gold Maple Syrup was developed by Hannah Teter, the Gold Medal winning Olympian snowboarder. The proceeds from the syrup support World Vision which helps feed African children that have been orphaned by AIDS. So not only will you be giving delicious Vermont maple syrup as a gift, you'll be helping feed those most in need.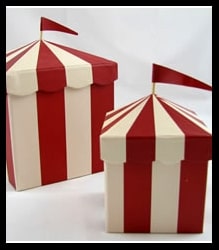 Circus Boxes ($17)
For those homemade baked gifts, package them in the cutest boxes ever—Fancy Flour's Striped Circus Boxes. Your Aunt Ida's special gingerbread cookies will taste even better served in these fun boxes. The boxes are made of pressed paper and you get a set of two.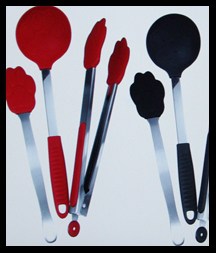 Paw Print Utensils ($22.95)
Cooking for a cause—the Paw Print Silicone Kitchen Utensil Set is something you'll use every time you cook. It's practical, but also colorful and fun. You get a paw-shaped ladle, a pair of tongs, and a spatula. Additionally, by purchasing this utensil set you'll be feeding homeless animals. The Animal Rescue Site will provide 28 bowls of food for shelter animals with each set sold.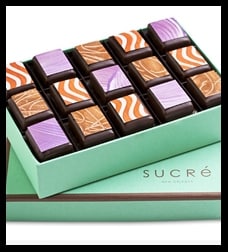 Tea Time Truffles (Prices start at $12)
Sucre, the "artisan" sweet shop in New Orleans, is known for their delicious and gorgeously decorated chocolate truffles. All of their sweets are fabulous, but their truffles are works of art. We especially like the Tea Time Collection with Earl Grey, Paris, and Chai flavors. Sucre has teamed up with the Louisiana SPCA to help re-establish the facility which was destroyed by Hurricane Katrina. A portion of every online sale will go directly to the SPCA. Additionally, Sucre is offering a shipping discount to Daring Kitchen members. Using the code "SPCA", shipping will be discounted $5.00.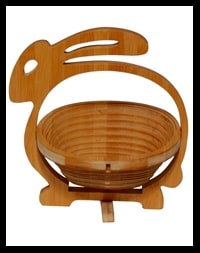 Wooden Fruit Baskets ($19.50)
You do not need to be a daring cook or daring baker to appreciate these whimsical wooden fruit baskets. They come in six shapes—monkey, fish, rabbit, apple, tiger, and frog, and are ingeniously designed so that they fold flat when not in use. Fill these bowls with winter fruit and have a very special gift, decoration, or centerpiece. We arranged for Daring Kitchen members to get a 10% discount off of the purchase price of these six baskets. Please use the code "daringkitchen" on the checkout page.
Fresh Herb Keeper ($20)
Fresh herbs can add so much flavor to your favorite dishes, but sadly they stay fresh for such a short period of time before wilting or drying up. The Fresh Herb Keeper extends the life of your precious herbs, and is compact enough to fit on your fridge door. Just fill the container with water and add your herbs to the slotted tray.
Sea Creature Cookie Cutters ($9.95 each)
These beautifully detailed copper cookie cutters are available in thirteen different shapes—from an alligator to a shark, and even a manatee. They make such fun cookies that both kids and adults will smile over. Buy one as a gift for a neighbor, or a whole set for someone really special. They would also make cute ornaments on your holiday trees.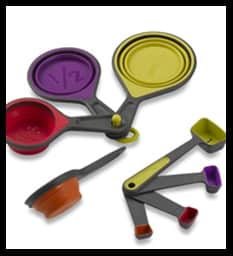 Collapsible Measuring Set ($14.99)
Here's a fun, colorful measuring set that sets itself apart from the rest by folding flat for storage. The set includes four measuring cups and four measuring spoons. They are heat resistant and dishwasher safe. What a great gift for someone with little storage space or for someone that could use a bit of help staying organized.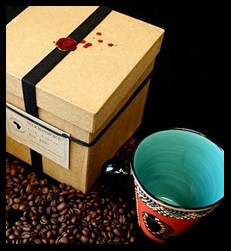 Ethiopian Coffee Gift Set ($42)
Can drinking coffee raise your social conscious? Yes, it can if what you're drinking is produced by Woodsmoke Coffee. Woodsmoke sells only fair trade African coffee, and they work directly with their farmers to improve farming practices and living conditions. 5% of all purchases is donated to help educate coffee farmers' children in Kenya and Ethiopia. The Ethiopian Gift Set features ½ lb of delicious coffee, as well as a mug crafted by a local artisan. Each mug is hand-signed by the artist. The set comes in a lovely gift box, ready for wrapping. Woodsmoke has made special arrangements for Daring Kitchen members to purchase this gift for $37, almost 15% off the regular price. Please use the code "daringkitchen" when checking out.
Not enough gift ideas yet? Download the extended version of the Daring Kitchen Holiday Shopping Guide, which includes these 20 items, PLUS 80 more bonus items!