Having the best toaster for your needs is an absolute must. What kitchen would be complete without this handy appliance? If we had to make a list of gadgets we can't let go of, you'd find it right up there next to items like a microwave and an electric kettle.
Toasters make getting out of bed for some deliciously golden brown slices of bread exciting. Add your favorite spread (maybe butter, jam, or cream cheese alternatives?) and kick-start your day. It seems that easy, doesn't it?
Because these appliances are so important, we've rounded up the best models on the market. Toasters have come a long way since they were invented! On our list, you'll find some unexpected cutting-edge features you probably didn't even know existed in toasters.
We have also put together a short but informative buying guide. With the help of it, finding the top toaster for your home will be much easier—no matter how many models you come across!
1. Best Overall Pick: Hamilton Beach Extra-Wide 2-Slice Toaster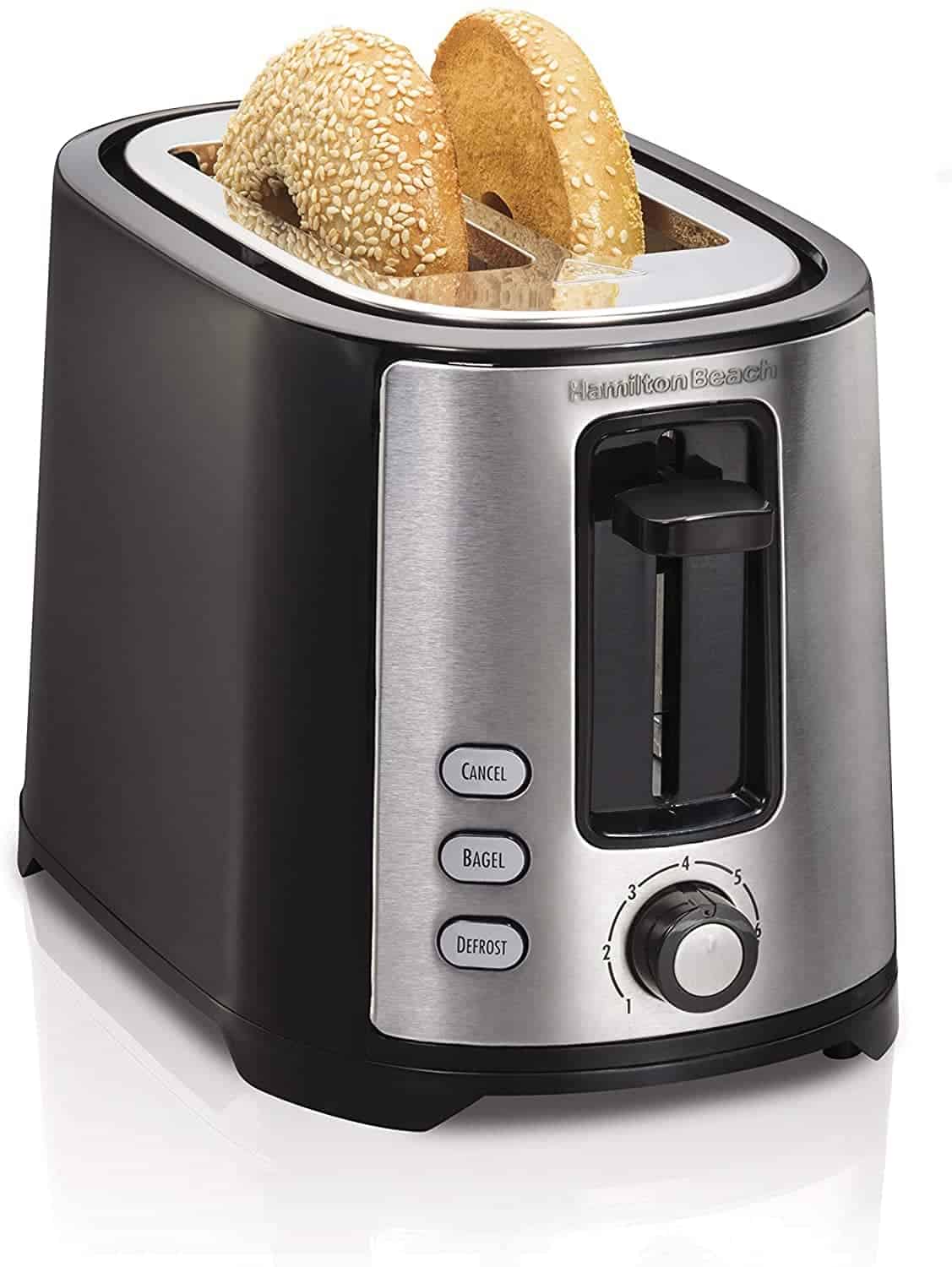 Hamilton Beach is well-known and trusted for making reliable kitchen appliances. Their toaster is no different. It has the most basic and handiest built-in features and performs great every time.
What we love most about this two-slice toaster are its wide slots. You can fit thick slices of bread and bagels in there easily, without needing to squish them.
On top of that, the defrost and bagel settings are also incredible. Frozen slices of all types of bread turn out warm and delicious. Bagels get toasted on their cut side and warmed up on the outside. There's no denying it: these two features mean you can have a more enjoyable breakfast.
We also appreciate the adjustable shade selector knob. If you like your toast lightly golden brown, choose the lowest settings. If you want yours more on the deep-brown side, crank it up!
Lastly, the built-in removable tray for crumbs makes clean-up worlds easier. Slide it out, empty it, and put it back in. Easy.
2. Best Budget-Friendly Toaster: AmazonBasics 2-Slice Toaster KT-3680 Model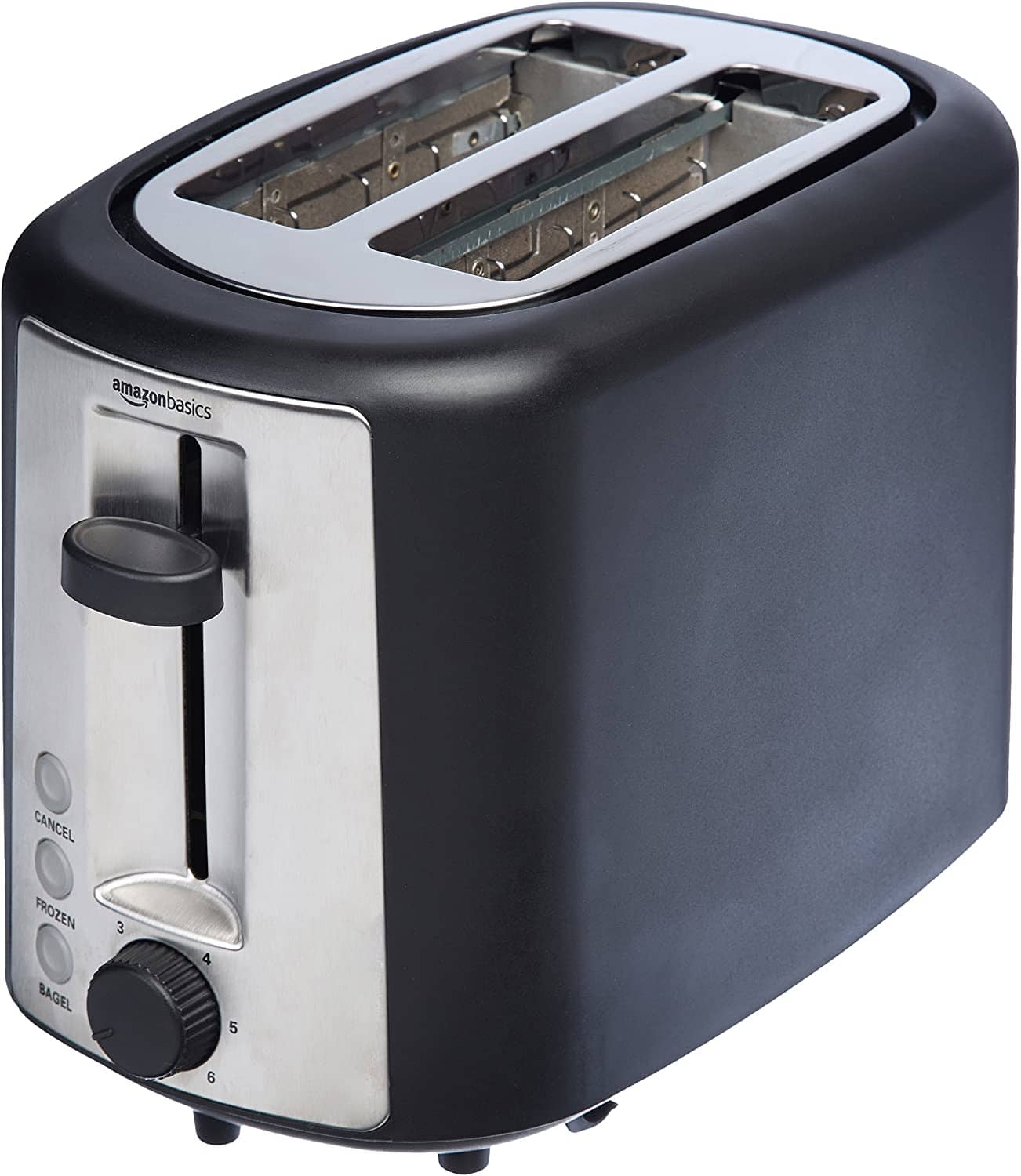 This AmazonBasics toaster is a more budget-friendly pick. It is more on the minimalistic side of things, but it turns out evenly browned bread slices consistently.
This is a pretty standard-looking toaster. The sides are black and the front is coated in stainless steel. Nonetheless, you won't have any trouble cleaning the outside with a damp cloth. Moreover, the removable tray for crumbs makes it a breeze to clean the inside of the appliance.
You can always select how "done" you want your toast to be. From lightly golden brown to deep-set brown, the adjustable shade selector gives you all the control you need.
This model has another awesome feature: its extra-lift lever. You can raise the lever past the resting position for your toast to come up higher. This way, you can grab it without burning your fingers on the metal top of the toaster.
Its wide slots let you toast bagels, thick slices of artisanal bread, English muffins, and even frozen waffles. There's no need to squish them—they won't get stuck.
As if all that weren't enough, the built-in programmed bagel and defrost settings sweeten the deal. No more burned delicious breakfast foods!
3. Best for Families: Breville Die-Cast 4-Slice Smart Toaster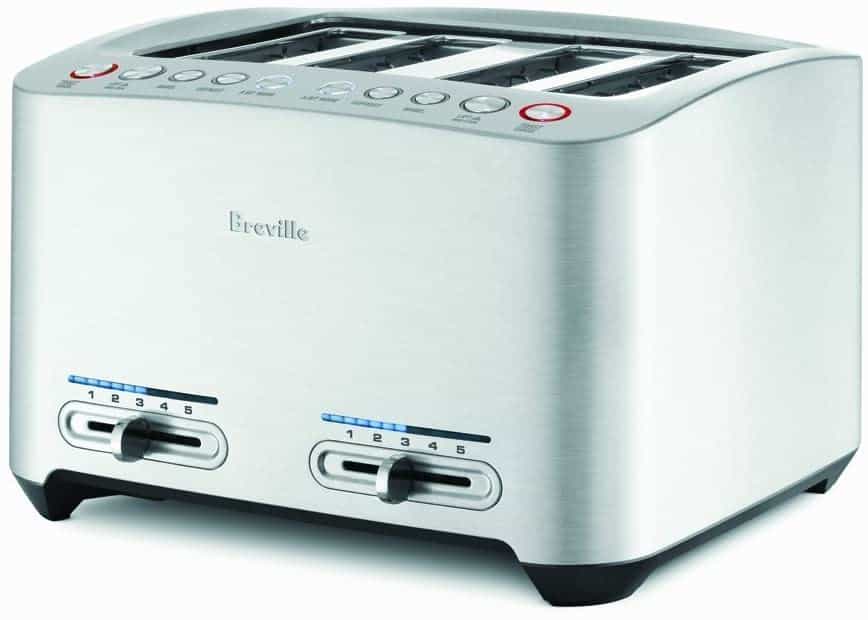 On the more expensive and sophisticated end, we have the Breville Die-Cast Smart Toaster. It has four slots, perfect for busy family mornings. Moreover, it boasts extra features you probably didn't even know existed in these appliances!
You'll notice there isn't a lever to push down your toast. That's because this model is completely mechanized. With the press of a button, your toast-to-be will be gently lowered into the slots and then brought back up when they're perfectly cooked.
The four slots are all wide enough to fit thick slices of artisanal bread, English muffins, and even bagels. You won't need to worry about them getting stuck.
Another awesome thing about this unit is how many handy features it has. There are five in total: a cancel, defrost, bagel, "lift and look," and "a bit more" button. The first three you'll find in most models, but the latter two are innovations. They let you track the "doneness" of your toast and adjust the cooking times accordingly!
On top of all that, there are two shade selector knobs. They allow you to choose how light or dark you want your toast to be. The blue LCD next to the knobs gives it an even more futuristic look (and feel).
What makes this toaster truly stand out as the go-to pick for families is its versatility. You can cook four slices of bread differently. Say, you want two lightly golden slices and two deep-brown slices. You can adjust each side of the toaster according to your family's preference!
4. Small Toaster for One: Black+Decker Wide 2-Slot Toaster, TR2200WSD Model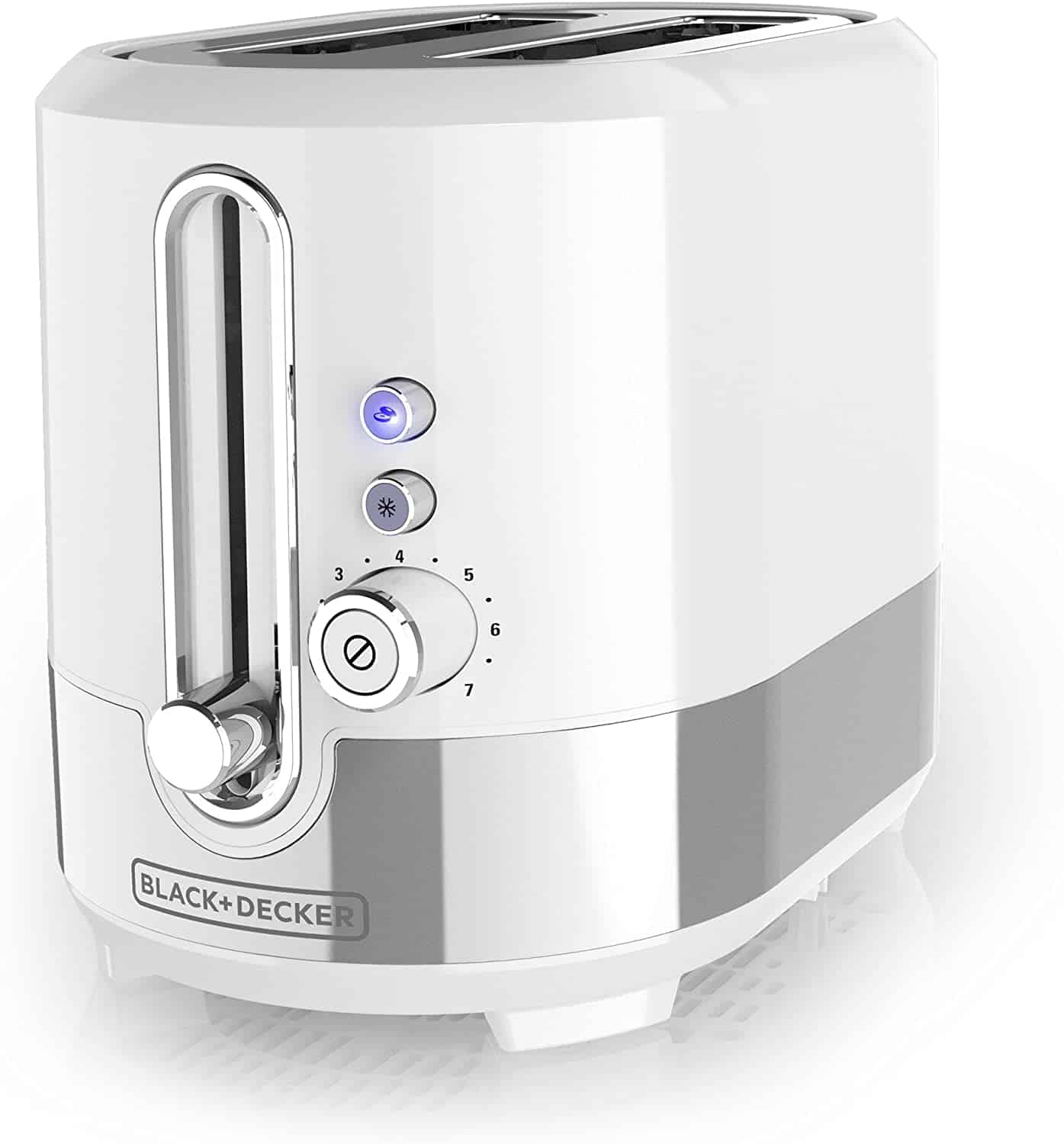 If you don't have much free counter space to start with, we recommend getting this Black+Decker compact toaster model. It's reliable, doesn't take up too much space, and comes in a beautiful minimalistic design.
Using this unit is pretty straightforward. Its simple design means you won't fumble around in the morning trying to get your toast to the ideal level of "doneness." Use the simple shade selector to ensure your toast comes out perfect.
If you're using frozen bread, that's not a problem. The defrost setting lights up when you press it and thaws out your bread just enough so it's warm but not too hard.
Additionally, if you want to have a bagel, you can too! The setting for bagels ensures your favorite morning food is crispy on the cut part and warm and fluffy on the outside.
The extra-lift level is a nice addition. When you raise it, your toast will come up so you can grab it without touching the metal parts of the toaster.
Lastly, we have to mention how sleek this model looks! It fits great into most kitchens, especially those with a modern design to them.
5. Best High-Tech Toaster: Cuisinart 4-Slice Stainless Steel Countdown Unit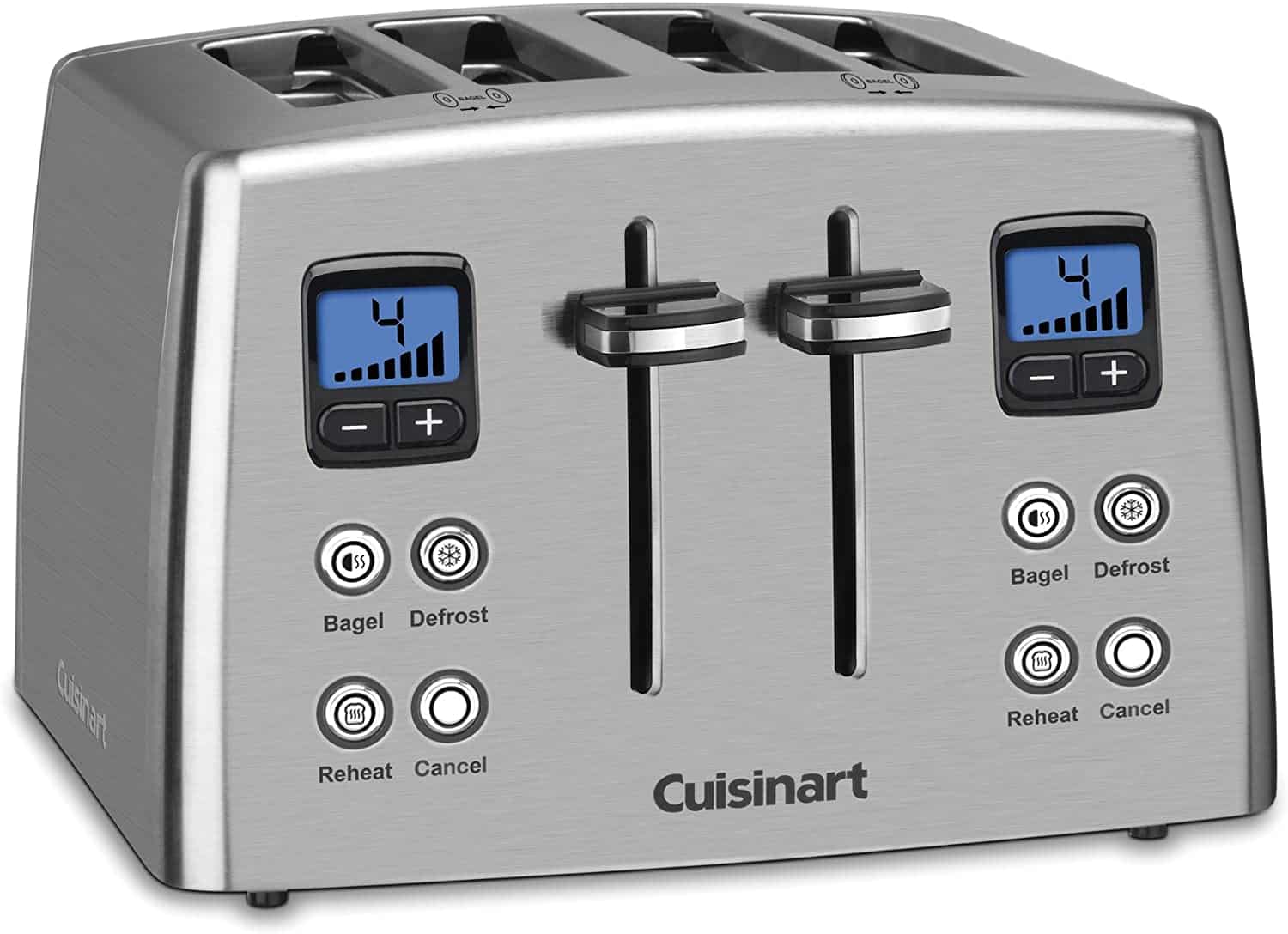 Last but not least we have the Cuisinart techy toaster. We find it's also perfect for families and for anyone looking to switch things up with a modern-looking appliance. Needless to say, it turns out evenly browned toast every single time.
What stands out the most is the blue LCDs on the front. These two control panels let you adjust how brown your toast should be. The setting ranges from one to seven, giving you plenty of control over your breakfast.
You can also toast each set of slices differently. Two slices could be lightly golden while the other two are much more well-done. This is perfect for families with different tastes!
There are four more buttons on the front of this unit that will let you have full rein. They are to cancel, toast a bagel, defrost frozen bread, and reheat already toasted slices. Each of these settings is incredibly handy and useful, especially on busy mornings when you can't keep track of your food. Is your bread burned? Has it thawed out yet? No guess-work involved here.
What's the Best Toaster on the Market?: Buying Guide
If none of these toasters seem perfect for you, there are always hundreds of more models waiting for you out there! The hard part will be narrowing down your choices to just one unit.
To make your job easier, we've compiled this list. These are the most important things to consider when looking at new toasters. Make a list of what matters the most to you and picking the perfect toaster will be much easier.
Size and Capacity
First things first: how many slices of bread do you want to toast in one go?
If you're fixing breakfast for your family, you'll probably want to go with a 4-slice toaster model. They're more expensive, but they're worth the investment since they will save you precious time in the morning.
On the other hand, if you're just making breakfast for one person, you can probably save money by getting a 2-slice toaster.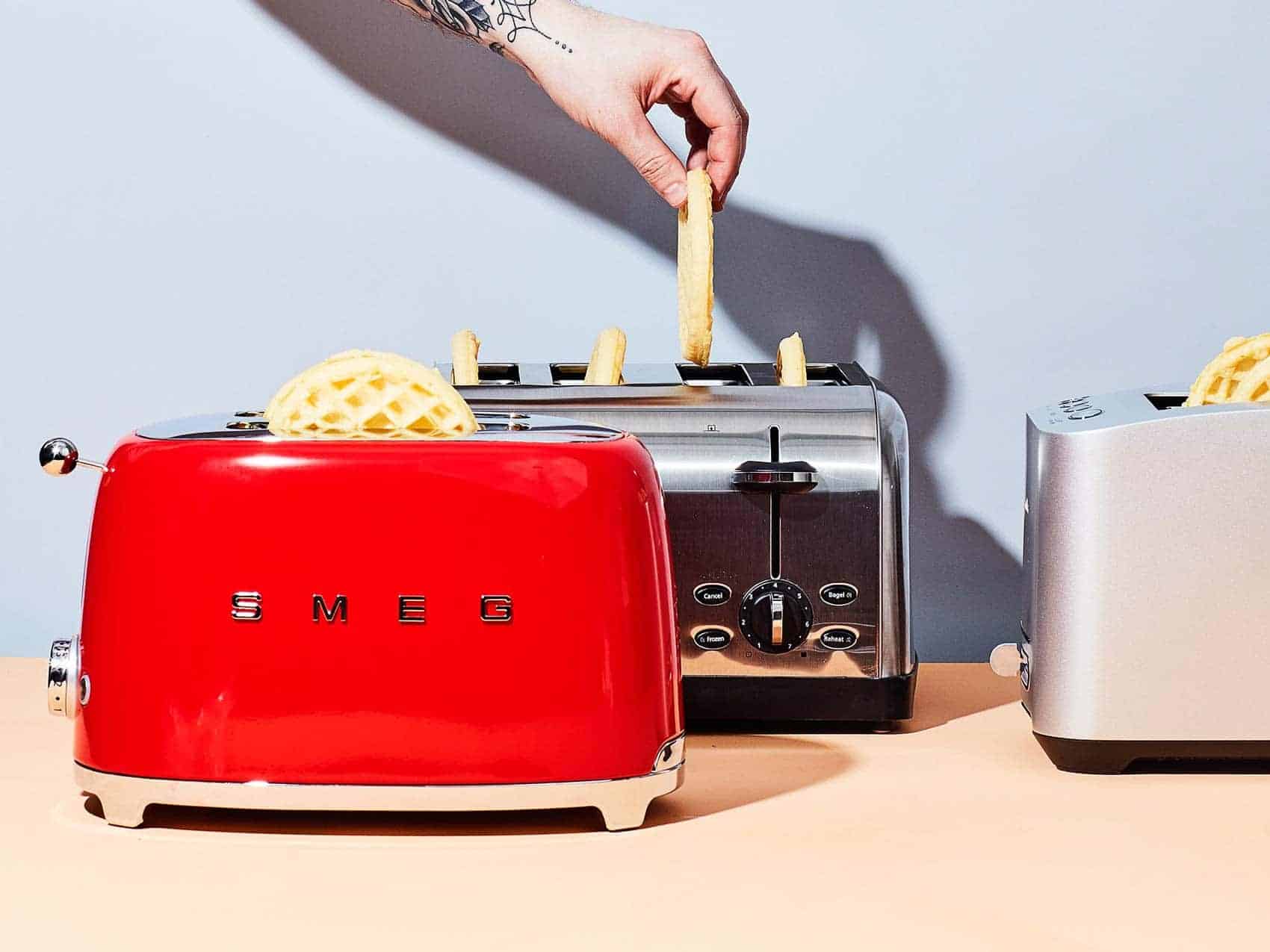 Best Toaster Design
Additionally, you should consider how much free counter space you have. Where will you place your brand-new toaster? Some models are designed in an ingeniously compact way, ideal for small kitchens.
While you're looking at the dimensions, you could also think of whether that toaster will fit the theme of your kitchen. Getting a beautiful toaster is by no means a requirement, but it might be important to you; especially since the toaster will sit on your counter for as long as you have it. Luckily, toasters come in all types of design, from stainless steel coatings to colorful exteriors that pop. Be as creative as you like!
Effectiveness
Before committing to a certain model, it's important to ensure it works properly. By this, we mean that you can rely on it to toast your bread evenly. The last thing you want is burned toast (which could be bad for you!) when you were expecting it to come out lightly browned. The best toasters won't fail you and will stay with you for many years to come.
The best way of ensuring you're getting a high-quality model is to check who the manufacturer is. Have you heard about them? Do they have a good reputation online? What are the customer reviews saying for that model?
If you check off all those boxes, you're bound to get a great toaster without squandering your money on a useless appliance.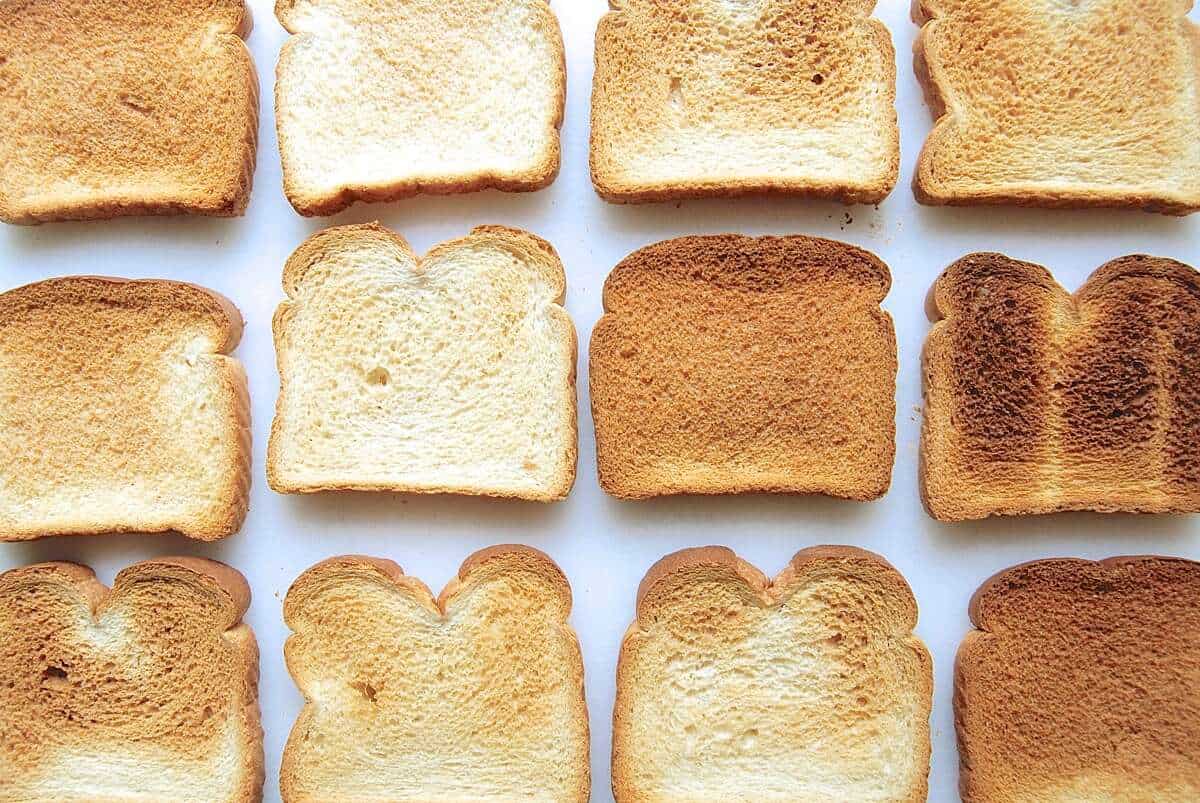 Must-Have Settings
Gone are the days when toasters had a lever and that was it. Now, most models are sophisticated enough to boast at least a few additional settings.
You'll probably find models with a removable crumb tray, a "lift and look" lever position, wide slots, a bagel setting, a defrost setting, an extra-lift lever, and a shade selector for you to choose how brown you want your toast to be. Pretty neat, right?
To ease your search, we recommend making a list of must-have settings. These would be the things you most definitely want from your new appliance.
Do keep in mind that the more settings a toaster has, the more expensive it will be. So, if you're in a budget, you'll still be able to find a few affordable units with these fancy settings—but be careful!
Budget
You don't need to go over your budget to find the perfect toaster for your kitchen. Luckily, the competition between brands is so fierce that you'll find reasonable, affordable prices easily. And you won't even need to sacrifice on quality!
Of course, you'll also find higher-range models that can sometimes cost upwards of $200. If you're willing to spend that much on a toaster, go for it! But don't feel discouraged if you're on a tighter budget.
Easy to Clean
Toasters don't need to be cleaned that often, but they do still need a little upkeep here and there. Looking for easy-to-clean features makes your job easier.
Having a built-in removable crumb tray will help you get rid of crumbs that get stuck inside the appliance. Otherwise, they'll keep getting burned every time you use your toaster, which gives off a not-so-pleasant smell after a while.
Stainless steel coatings are also helpful. You can wipe a damp cloth on the outside of your appliance to remove any grime and dust that could have built-up.
Easy to Store
When you're done using your appliance, you might want to put it away. Especially if you don't have much counter space to work with. If this is your case, look for appliances that aren't too bulky and have easy-to-stow electric cords. Maybe it can easily be wrapped around the appliance; maybe it's retractable.