It's a fact that tomatoes are one of the most commonly consumed fresh produce items. In fact, US residents ate an average of 18.8 pounds of tomatoes per person in 2021! With such rampant tomato consumption, it's extra good news that eating tomatoes is not just a delicious and enjoyable experience, but a healthful one as well.
Let's go over all of the tomato nutrition details and discuss the health benefits of these sweet yet tangy members of the nightshade family. We're also answering some of your most commonly asked questions and offering a few ideas for fresh ways to get more tomatoes into your diet!
Tomato Serving Size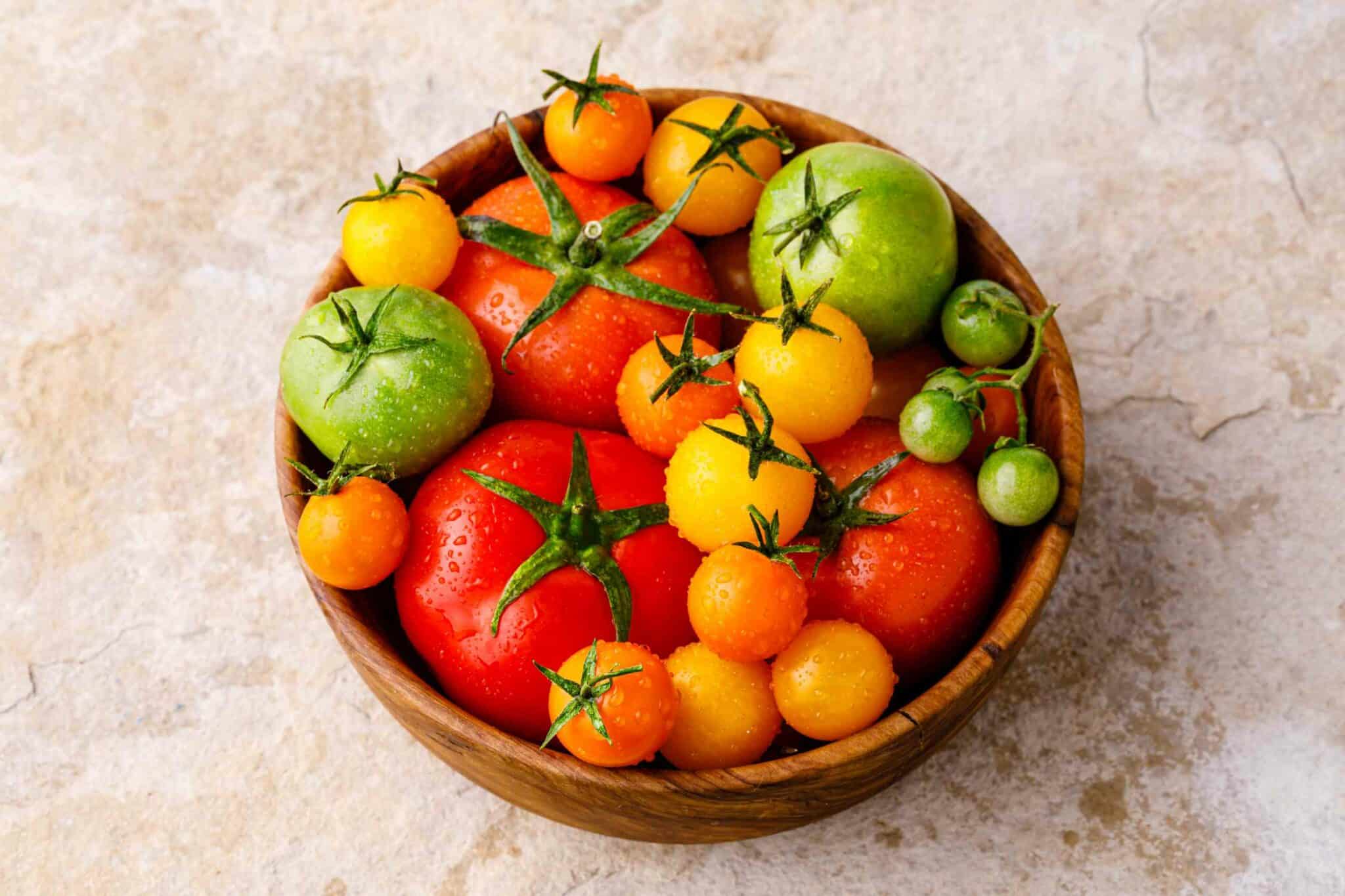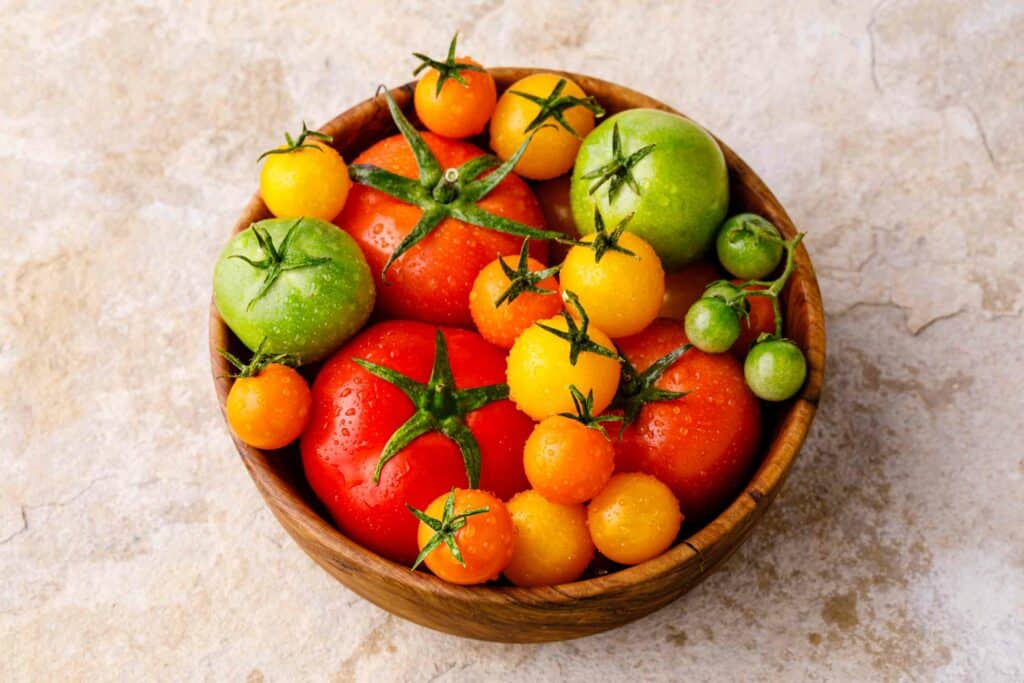 It only takes one trip to the farmer's market or vegetable produce stand during the summer to realize that there are a ton of different types of tomatoes. Red, yellow, orange, purple, and heirloom varieties mingle in all different shapes and sizes. Grape tomatoes are among the smallest you'll find, followed by cherry, plum, beefsteak, and even those king-sized, wonky-shaped tomatoes which somehow always seem to be impossibly delicious.
With all of this variation, it can be tough to nail down a standard serving size, as the commonly tossed around phrase "one medium tomato" can mean so many different things! Therefore we opted to measure tomatoes by volume and are sticking with a serving size of 1 cup of tomatoes (chopped, sliced, diced, etc.) or about 180 grams.
Tomato Nutrition Content
The following nutrition facts represent a "year round average" across all varieties of fresh tomatoes. The individual health benefits of tomatoes may vary depending on several factors such as variety and ripeness, so bear in mind that your particular tomato may have higher or lower numbers in each of the content categories.
How Many Calories in a Tomato?
About 32 calories per 1 cup serving.
When evaluating a food for nutritional value, calorie content is often the first metric that most folks are concerned with. We can happily report that fresh tomatoes are indeed a low calorie food, with just slightly more than 30 calories per cup serving!
This means that anyone who is following a weight loss plan or is otherwise watching calorie intake can happily eat tomatoes without much concern on counting their calorie content. Remember, this fact only applies to fresh tomatoes, as tomato products such as sun dried tomatoes or tomato paste are often altered and concentrated, making them much more calorie dense.
How Many Carbs in a Tomato?
About 7 grams per 1 cup serving.
Tomatoes are considered low-carb--and yes, keto friendly--as they only contain 7 grams of carbohydrate per 1 cup serving. 2 of those grams are indigestible fiber, meaning there are just 5 net carbs in that cup of tomatoes!
This also means that tomatoes are a low-glycemic index food, which is especially important for folks that suffer from or have risk factors for a metabolic syndrome such as diabetes.
How Much Fat in a Tomato?
Only .3 grams per 1 cup serving.
Tomatoes are extremely low in fat, containing just about ⅓ of a gram per 1 cup serving. That said, several vitamins and other nutrients found in tomatoes are fat soluble, meaning they require the presence of some fat to be absorbed by the body.
To maximize your nutrient absorption, drizzle your fresh tomato slices with olive oil or serve with other sources of healthy fat such as omega-3 rich salmon, avocado, or nuts.
Do Tomatoes Have Protein?
Yes! About 1.5 grams per 1 cup serving.
Tomatoes do contain protein, but not all that much of it! With just 1.5 grams per serving, you're still a ways away from the average recommended daily intake of 50 grams. Nevertheless, a little protein is better than no protein, so go ahead and get those tomatoes in!
Vitamins and Minerals in Tomatoes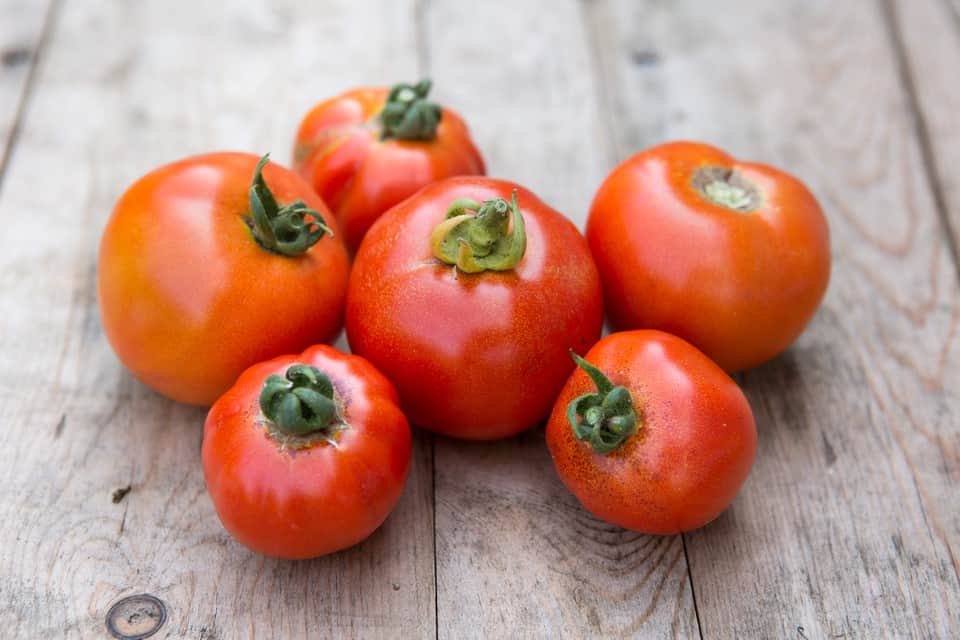 How Much Potassium in a Tomato?
About 427 grams per 1 cup serving.
Tomatoes are totally packed with potassium! This mineral is vital for heart health, dilation of blood vessels, and healthy blood flow. In this role, potassium helps to maintain healthy blood pressure and ward off cardiovascular disease.
The recommended daily intake of potassium is a whopping 4700 milligrams, meaning 1 cup of tomatoes gets you about 10% of the way there!
Vitamin C
About 24 milligrams per 1 cup serving.
With a recommended daily intake of 75-90 milligrams, the 24 milligrams of vitamin C provided by just one cup of tomatoes is a major contribution to your goal! In addition to supporting immune function and tissue repair, vitamin C is also important for skin health, collagen production, and combating damage caused by UV and/or environmental contaminants.
Vitamin A
About 1500 international units (IU) per 1 cup serving.
Vitamin A is one of several antioxidant vitamins, meaning in addition to maintaining and supporting various body functions, it also has free-radical fighting power! Depending on age and other factors, the recommended daily intake of this vitamin is 2300-3000 IU.
Vitamin A also happens to be one of those fat-soluble vitamins we mentioned earlier, so be sure to opt for some healthy fats to ensure full absorption of this immune system supporting nutrient.
Folate
About 27 micrograms per 1 cup serving.
Yet another mineral that supports healthy eyesight, tomatoes are also rich in folate! Consuming adequate amounts of folate is important for red blood cell development as well as is thought to contribute to the prevention of age related macular degeneration.
Folate is the naturally occurring version of this mineral and is found in fresh produce such as tomatoes, while folic acid is the synthetic form which is often sold as a supplement or used to make enriched bread and cereal
Other Tomato Health Benefits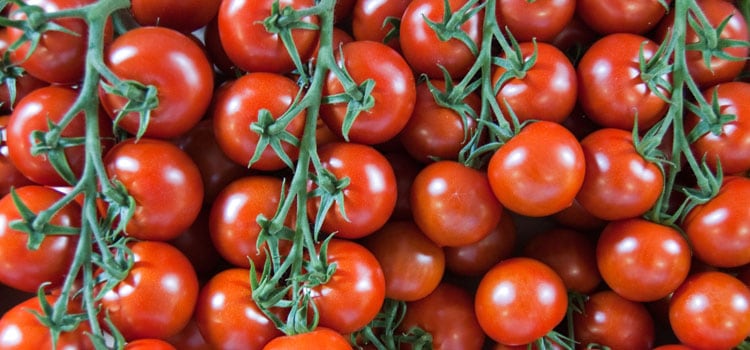 Disease-Preventing Antioxidants
Lycopene is the most plentiful antioxidant found in tomatoes, but others such as lutein, beta-carotene, and vitamin C are present as well. A healthy lycopene intake is associated with a reduced risk of several cancers including prostate cancer and certain stomach cancers especially.
These compounds enact their cancer prevention effects by way of fighting free radicals, which are wayward particles that damage healthy cells in the body.
Eyesight-Maintaining Carotenoids
Carotenoids are the specific pigmenting compounds found in tomatoes which are responsible for the red, yellow, and orange hues found in these and other fruits and vegetables. Lycopene, lutein, and beta-carotene are antioxidants as well as carotenoids, and are also especially important for maintaining healthy eyesight.
Digestive Health Boosting Fiber + Water Content
The specific combination of fiber and water found in tomatoes is a dynamic duo when it comes to keeping a healthy digestive system. In fact, tomatoes are 95% water, keeping you nice and hydrated while the fiber helps to support normal intestinal functioning.
Ideas for Getting More Tomatoes Into Your Diet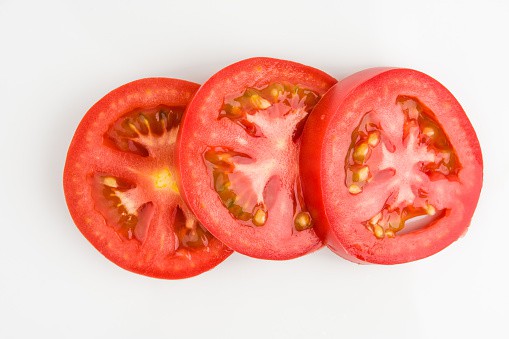 Sliced and on a sandwich or a wrap may be your go-to way to include tomatoes in your eating plan, but their versatility means there is a wide world of other ways to make use of them. Try out one of the following ideas or recipes:
For a shortcut semi-homemade pasta sauce, just toss a few chopped fresh tomatoes into a pot of your favorite store-bought tomato sauce, then simmer until the tomatoes are slightly broken down but still retain their texture.
Tomatoes and eggs go together wonderfully--try the flavor combo for yourself with our Quick N' Tasty Greek Omelette.
Make taco night just a bit healthier with these Vegetarian Tacos with Quinoa, which feature hearty quinoa cooked with fresh cherry tomatoes and red beans.
Try oven roasted tomatoes atop plain rice or any other grain, or as a side to any meat or plant-based protein. Don't forget the fresh basil!
Swap out your usual pasta and tomato sauce routine for one of our tomato pastas such as Baked Feta Pasta or Sun Dried Tomato Pasta.
Tomato soup is not just for kids! This comforting stuff is packed with the nutritional goodness of tomatoes and is plenty good for the soul as well. Jazz up your bowl with torn fresh basil, spicy chili oil, or freshly grated parmesan cheese.
Amp up your tomato sandwich game with two of our favorites: the Vegan BLT Sandwich or our Avocado Toast with Carrot Bacon and Microgreens.
Tomato Nutrition FAQs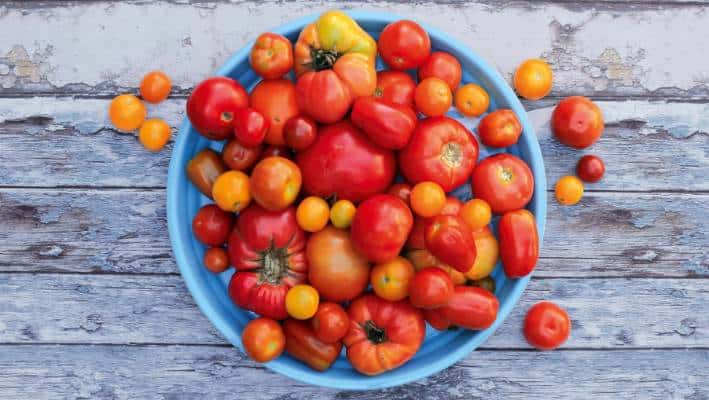 Do You Need to Wash Tomatoes?
Generally speaking, yes it is important to wash your tomatoes before eating them. Tomatoes are an extremely susceptible crop, meaning pesticides are often used. Tomatoes often rank on the "Dirty Dozen" list published each year by the Environmental Working Group, which includes fresh fruits and vegetables which are most likely to have pesticide residue.
The important note here is that if you happen to buy organic tomatoes, or grow your own, the need to wash them is greatly reduced as they are not exposed to the same dangerous chemicals that are used by commercial grocers. Bear in mind though, the tomatoes could still come into contact with other pathogens due to animal activity or human handling.
Cooked Tomatoes vs. Fresh Tomatoes: Which is Healthier?
When it comes to most fruits and vegetables, you might always think that fresh is best. However, cooking tomatoes actually has some extremely beneficial health effects as well! Studies show that cooked tomatoes actually have a greater quantity of dietary lycopene as compared to fresh tomatoes. On the other hand, the amount of vitamin C in raw tomatoes greatly decreases as they are exposed to heat.
Your best bet, therefore, is to be sure to include both fresh and cooked tomatoes in your diet so that you get the best of both worlds!
Do Other Tomato Products Provide Health Benefits?
While there are a ton of wonderful tomato products out there, we're sticking with good ol' fashioned fresh tomatoes for this article. The range of nutrition content between different varieties of tomato sauce, marinara sauce, tomato paste, tomato juice, is just too great.
While we can't say for certain exactly what is in your particular tomato product, in most cases, it will more than likely provide plenty of tomato-related health benefits in varying concentrations.
Are There Any Health Concerns Associated with Eating Tomatoes?
You'd think there would be no such thing as too much of a fresh fruit or vegetable, but in the case of tomatoes, there are a few things to consider when consuming tomatoes as part of your regular diet!
Potassium Overload
We know that potassium is essential for so many important functions around the body, but too much potassium can be a major health concern for those with impaired kidney function or people taking certain beta-blockers. Both of these conditions interfere with the way the potassium is absorbed and/or eliminated from the body, and could potentially lead to dangerous overload of potassium in the blood.
If any such conditions apply to you, be sure to get professional medical advice on how much potassium is the right amount for you in your diet!
Acid Sensitivity
Tomatoes and tomato products are fairly acidic, hovering around 4.0-4.5 on the pH scale. For many people this level of acidity is easily tolerated but for folks with acid reflux or other health conditions, the high acidity of tomatoes may cause some digestive upset.
Nightshade Sensitivity
Nightshades have a long history of being deemed dangerous or thought of as poisonous to the human body and this history, like most things, has a grain of truth to it!
Members of the nightshade family--tomatoes, potatoes, eggplant, and bell peppers to name a few--contain a particular plant compound called solanine. While you'd have to consume a nearly impossible amount of solanine to suffer actual illness, certain folks with inflammatory conditions may experience an increased sensitivity to its effects.
Nutrition and Health Benefits of Tomatoes: The Takeaway
When it comes to healthy eating, tomatoes should definitely be on your list! This low-fat, low-carb fruit is as full of rich savory flavor as it is vitamins and minerals. By making tomatoes a regular part of your eating plan, you will be doing wonders to help support your immune system, maintain your eye and skin health, fight cancer-causing free radical damage, and prevent diseases of the heart and cardiovascular system!
Try one of our top tips or recipes to make eating tomatoes just that much more enjoyable and if you need some guidance on how to store fresh tomatoes, be sure to check out our full How to Store Tomatoes guide!