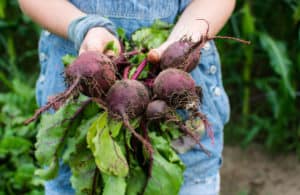 Why does the food that hits my table come from so far?
This was a question that often plagued me and I'm sure most of us. How can we cut down the time and distance our produce travels? I firmly believe that local growers are needed, that we can all learn how to do our share. Whether it is growing, harvesting and or simply supporting the local business that will continue to provide to the local economy fresh, high quality organic healthier produce and food choices. It is with this vision that The Spring Farm was born.
The Spring Farm began in 2013 as a small-scale backyard farming business. It has grown to become a major operation. The Spring Farm is a 10 acre farm located just five minutes from downtown Huntsville, specializing in growing top quality and highly in demand organic produce. A second greenhouse is being built this spring to accommodate the expansion and ever growing demand.  Currently, produce is sold to local families, restaurants and at local farmers' markets. The Spring Farm also hosts a new certified commercial kitchen where Microgreens and 'Salads to Go' are organically grown and available to restaurants and community members all year long. Collaboration with local businesses is vital, has been demonstrated and will be ongoing.
The Spring Farm offers educational workshops for community members throughout the year. Residents can start their seeds in the spring, learn how to farm, harvest and can fruits and vegetables. Given the opportunity many are eager to learn how they can provide not only to their families but to the community.
I am a Program Developer and Facilitator at St Lawrence College in Ontario. In 2015, I developed an innovative college-level organic gardening course that is targeted towards inmates at Beaver Creek, a medium security prison for men in Muskoka. For three weeks the men learn about organic gardening, types of soils and planning a garden. During the course the men learn to grow microgreens.  Tomato plants are started indoors and they transplant them so that they can start gardens in the summer. I incorporate art into the program and the men receive a credit for their work from the college. This program has had major success and was taught again in 2016. It will be offered in the Kingston area in 2016/2017. My works with the inmates at Beaver Creek is very satisfying and the men show great interest in continuing to learn more about growing food locally.
Education is a very important part of my job. I have worked very closely with the Muskoka Montessori School in Huntsville, Ontario. Jeff Mann, the grade 7/8 teacher, as part of a classroom economy, has developed a Farm Operation program. Jeff believes that the practical life farming teaches the students to care for the Earth, to care for others and to care for the community. The Farm Operation teaches many skills to the students including individual and group decision making, collaboration, research, botany, biology, hard work and learning from mistakes.
The students at the Muskoka Montessori School tend a garden on the school grounds. They grow and sell their produce to parents and community members. Each week they make soup that is sold at lunch. The grade 7 and 8 students ride their bicycles to the Spring Farm regularly and take part in many of the farm responsibilities. They won several ribbons for the vegetables that they entered into the Huntsville Fall Fair last autumn.
The Spring Farm has expanded its Community Supported Agriculture (CSA) program from 30 families to 100. The CSA program offers families to buy shares in the farm's production for the coming season and then receive a weekly box of produce through all or parts of the season.
I believe that organic farming is more than just a means of growing and providing food. It is an innovative model of what is possible here and replicable in other communities. I believe that by growing nutritious, organic food, educating the community members, supporting the local farmers' markets, hosting gardening seminars, offering workshops and making compost helps to promote a more sustainable way of living that improves the local economy.