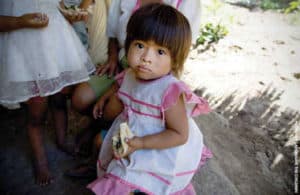 Today, Save the Children launch a new report as part of their Every Last Child campaign, exploring why some children are being excluded and left vulnerable to malnutrition.
Last year leaders from around the world committed to ending child malnutrition within a generation – by 2030 – as part of the Sustainable Development Goals. We welcome their ambition. But is the world anywhere close to meeting it? The mountainous Intibucá district in Honduras can help provide an answer.
At a global level, there has been real progress in tackling malnutrition in recent decades – child undernutrition rates have dropped by a third since 1990.
But in Intibucá, nearly half of all children under five are chronically malnourished – or stunted. 14% of babies are born with low birth weight. A staggering 72% of people live on less than US$1 a day – much higher than the national average.
Among Intibucá's indigenous communities, women have five children each on average. They have limited access to health services, education and family planning.
And in spite of the appalling rates of child malnutrition in Intibucá, children who become severely malnourished have to travel 200km to the capital city of Tegucigalpa to get treatment because the local health services cannot guarantee recovery and rehabilitation.
However, children from Intibucá are clearly missing out on wider progress in tackling malnutrition. The reason? They're being discriminated against because where they live and who they are.
And the children of Intibucá are not alone in missing out on progress on nutrition.
Our "Unequal Portions" report shows that the world is way off target in the goal to eliminate malnutrition. In 2030, on current trends, there will still be 129 million stunted children in the world.
And we're decades off schedule. Without a dramatic change in policy, 52 countries out of a sample of 135 will not eliminate stunting until next century – 70 years after the deadline. On current performance, Honduras will miss the deadline by about 60 years.
Children are being excluded from progress on malnutrition because of their gender, ethnicity, disability, they are a refugee, where they live in a country or the income of their parents. Discrimination is destroying lives and futures.
Our "Unequal Portions" report looks at policies that can reduce these deadly inequalities in nutrition outcomes – social protection, education, universal health coverage – to ensure no child is be left behind because of who they are or where they're from.
It emphasises the need to set targets and put in place plans and resources to reach all groups of society. As a start, it's vital we understand why children are malnourished in any given country – which children are missing out, where they live and what groups they belong to.
"Good nutrition is every child's human right. Alarmingly, this report shows that many kids are not getting the correct nutrition they need in order to grow and thrive, and certain groups of children are being left behind because of who and where they are. For me, this is unacceptable. Who you are, what sex you are, and where you are born should not impact on your right to good nutrition. As a campaigner for better food and nutrition, a chef and ultimately as a father, I want the world to be a place where all children have access to good, nutritious food and food education. I want children everywhere to be armed with the knowledge to ensure they can make the best choices from what's available to them. That's why I'm proud to support Save the Children's new nutrition report and their Every Last Child campaign. The change we need for a healthier and happier world is more urgent than ever, and that change must reach every child. The health of future generations is in our hands." – Jamie Oliver
Sign Save the Children's petition calling on Prime Minister David Cameron to do everything he can to reach every last child and join the conversation online with #unequalportions #EveryLastChild #FoodRevolution.