What could be better on a Sunday morning than a warm cup of freshly brewed coffee and the perfect waffle? Nothing, really. Fortunately, you can recreate your favorite Sunday waffle brunch scene by getting yourself the best waffle maker on the market.
Waffle makers are a kitchen staple for any pastry lover. They're affordable, easy to use, easy to clean up, and they'll save you hundreds of dollars once you stop paying $10 for a plate of waffles you can make at home for under $2.
Today, we're bringing you a list of the best waffle makers out there. We've included gadgets of all price ranges: no matter your budget, you'll find a waffle iron for you on here. Stick around for our buying guide where we give you tips on how to find the best iron for your home.
1) Presto 03510 Ceramic FlipSide Classic Round Belgian Waffle Maker: Best Waffle Maker Overall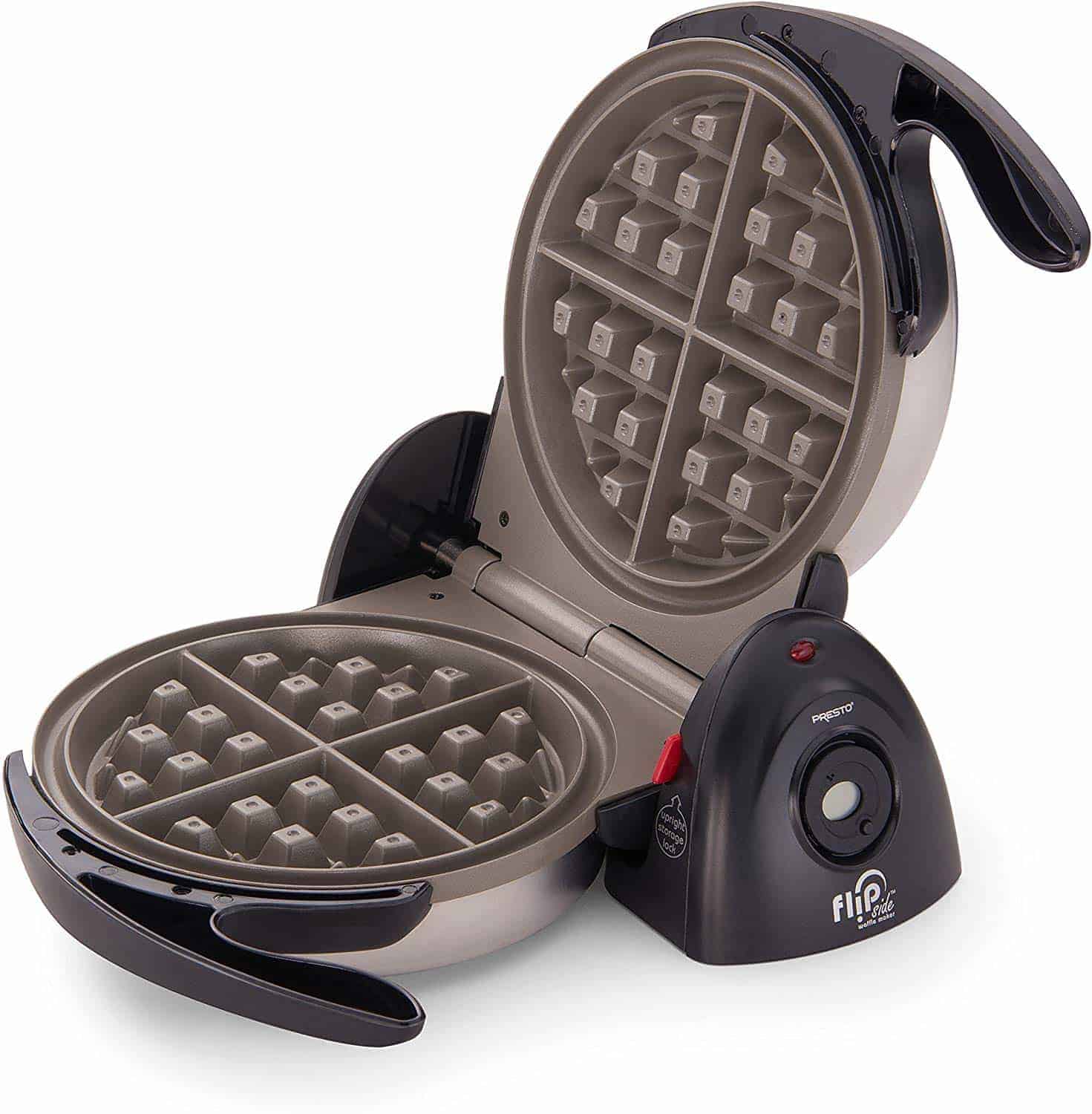 The Presto 03510 FlipSide Belgian Waffle Maker is perfect for anyone unsure of which gadget to get. You can't go wrong with it: it's affordable, makes delicious waffles every time and is super easy to use.
Thanks to the 180-degree rotating design, you can evenly spread the batter using this unit. Lock the bottom and top of the iron together using the clasp and move the batter around. This will ensure your waffles get crispy on the outside, evenly browned, and tender on the inside.
You don't need to worry about burnt waffle batter getting stuck to the iron. This unit has a ceramic non-stick coating and a drip tray to make clean-up a breeze.
Another handy feature is this iron's built-in countdown timer. You'll have to get used to figuring out how long your waffles will take to cook. But within a few tries, you'll have nailed that and making waffles will become much easier.
If you like the traditional Belgian-style waffle, you'll love this appliance. The way the plates are designed and arranged allows you to make 7-inch waffles with four easy-to-cut sections. Instagrammable!
When you're not using the unit, you can lock it in the verticle position. This will make storing it way easier, especially if you don't have much room in your cupboards or kitchen counter.
Key Features:
Easy to clean and easy to store

Comes with a built-in timer

Evenly spreads the batter 

Consistent browning
Main Drawbacks:
Waffles may take up to 7 minutes to evenly brown

Only makes one waffle at a time
2) Oster Titanium-Coated Classic Round Belgian Waffle Iron: Best Inexpensive Waffle Maker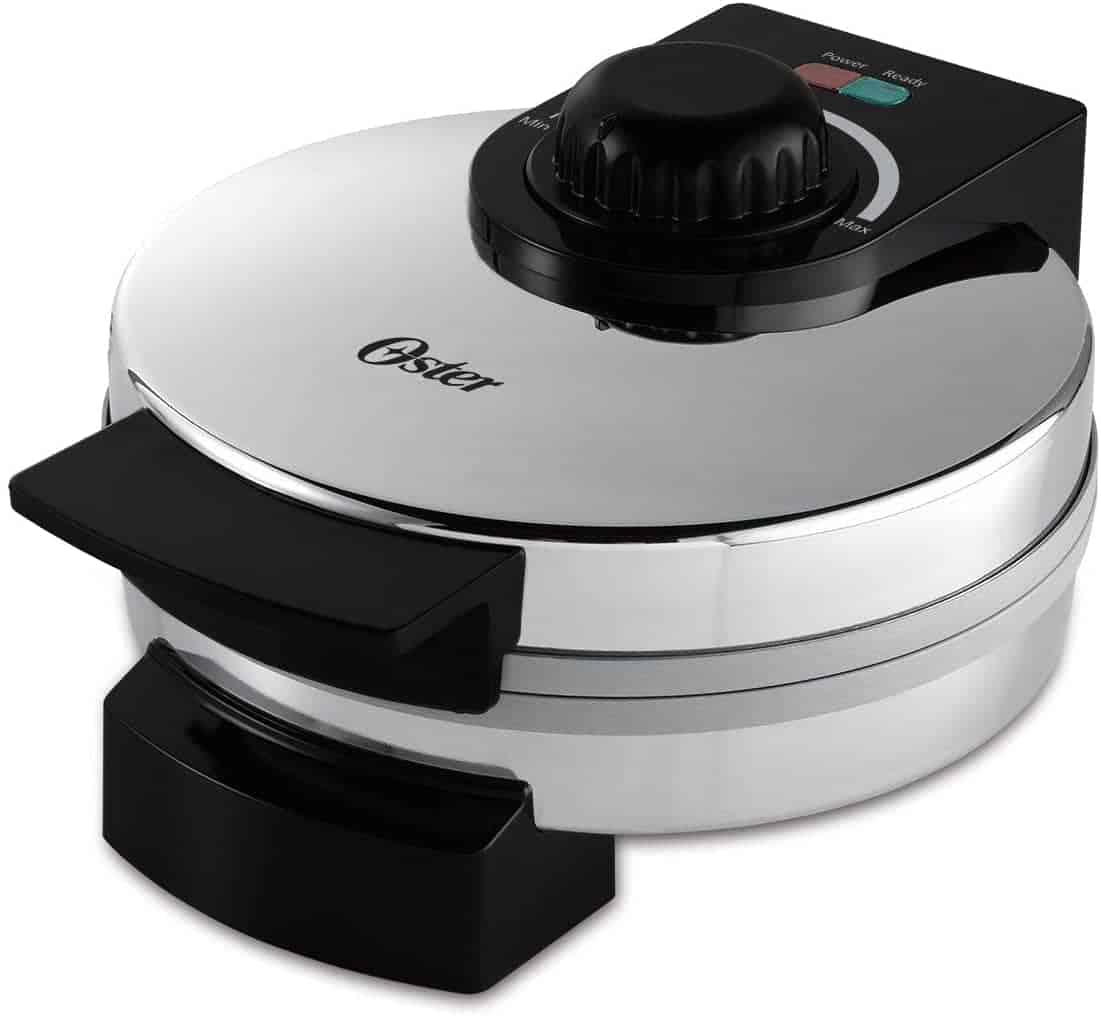 If the price tag on the Presto griddle is too much for your budget, the Oster Belgian Waffle Iron will make you happy. It's a straightforward no-frills model that is easy to use and, best of all, one of the most affordable waffle makers out there.
The 7-inch plates have been designed to have deep pockets, which means more syrup! They also come with the traditional four sections for easy cutting and plating.
If you hate doing the dishes, you'll be happy to know that this unit's clean-up is a breeze. The plates have a non-stick coating (made with a layer of titanium cookware-grade material) that prevents burning. No more scrubbing hard at the griddle plates trying to clean burnt batter.
Despite being so affordable, you can adjust the heat to choose how "done" you'd like your waffles. That's not a common feature in cheaper waffle makers! Luckily, this makes it a perfect appliance for a family—everyone can choose how their waffles turn out.
Lastly, you'll see two indicator lights on the iron. The red one lights up when the gadget is turned on and heating up. The green one lets you know when the plates are hot and ready to start cooking. No more guesswork, uh?
Key Features:
Easy to clean up thanks to the nonstick plates

Wide and deep pockets mean more surface area for syrup

Adjustable temperature controls

Indicator lights come in handy

Most affordable model on the market
Main Drawbacks:
Can only make one waffle at a time
3) Breville BWM604BSS Smart Waffle Iron: Best Premium Pick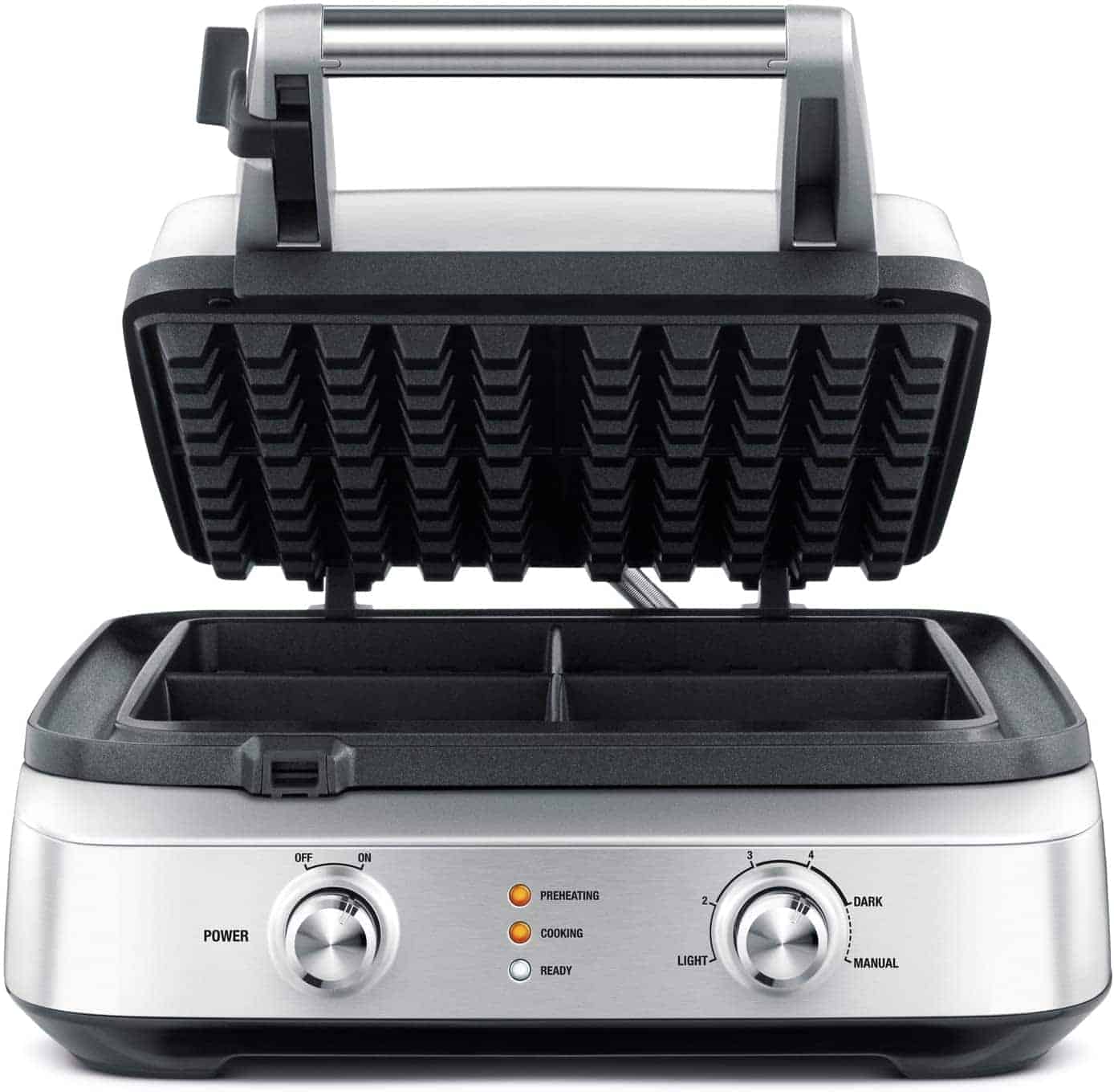 When you have a roomier budget, you can get state-of-the-art waffle makers. This Breville waffle maker is the best thing money can buy. You have so much freedom when using this unit. Not to mention the way it's been designed saves you a lot of time if you're cooking for a family or group of friends.
The first thing you'll notice about this unit is how large it is. It won't do well in a small kitchen with not a lot of storage space. But it will do great with families. You can cook up to four waffles at the same time using this griddle. We're sure that's a relief for all home chefs at home: no more eating cold waffles.
You can choose how "done" you want your waffles easily with this gadget. There is an adjustable "browning" knob that lets you choose one of four options, ranging from light to dark.
On top of that, if you want full control over your waffles, you could choose the "manual" setting and eyeball it.
Another awesome feature is the indicator lights. When you plug in the griddle, a light will turn on saying the gadget is powered. Then, once the plates have heated through, another light will flash on to tell you it's time to pour in the batter. 
Thanks to the high-quality plate material and coating, your waffles will get evenly browned. The center will be just as brown and crispy as the edges. Plus, the batter won't stick, meaning your fluffy breakfast will easily peel away from the plates.
Lastly, there is a built-in no-mess drip tray. It will collect any batter that overflows, keeping your counters clean.
Key Features:
Perfect for making waffles in batches quickly

Indicator lights tell you when it's time to start cooking

Adjustable browning setting gives you flexibility when cooking your waffles

The silver coating and robust design make it a long-lasting appliance

Evenly cooks the waffles through
Main Drawbacks:
Premium model with a $200 price tag
4) Cuisinart WAF-F20 Double Belgian Waffle Stainless Steel Iron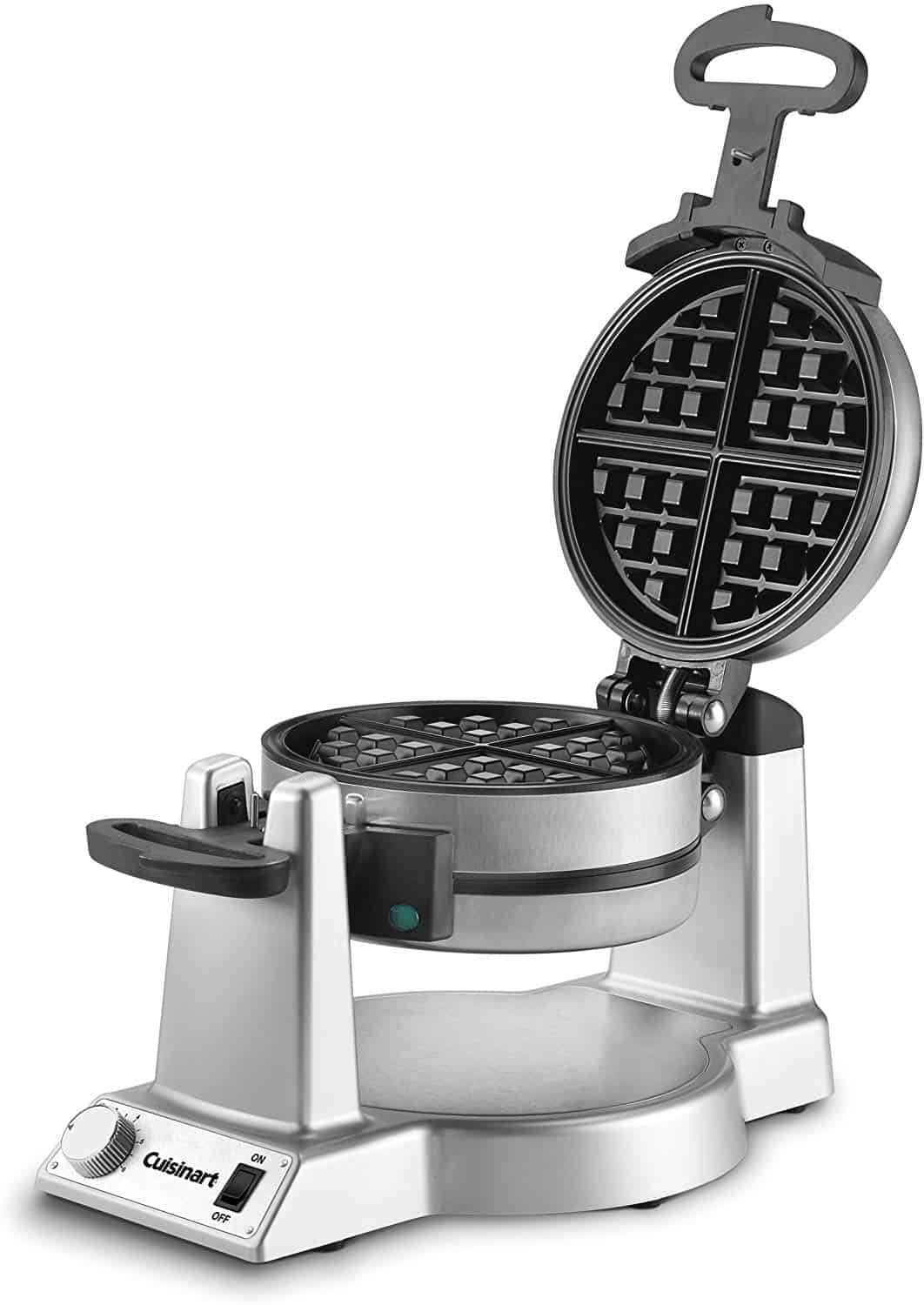 The Cuisinart brand has established itself as a trustworthy kitchen appliance manufacturer. Now, with their WAF-F20 unit, they've proven their reputation is justified even in the world of waffle makers.
This is a classic waffle maker with a twist (literally). It makes adorably small and fluffy waffles (6 inches wide) like any other unit. But it lets you rotate the plates so that the batter gets distributed evenly. This means that the waffles come out evenly cooked through with no raw, runny spots.
You can't remove the plates, which makes cleaning them up a bit trickier. However, because they have a nonstick coating, any burnt batter comes out easily. Wipe it with a damp cloth, apply some soft soap, and that should take care of it. Just remember to wait for it to cool off!
Another twist is the double plates. This unit allows you to cook up to two Belgian-style waffles at once. They're stacked on top of each other, so make sure you're being careful while flipping them.
You can control how your waffles turn out. The unit has a rotating knob that lets you choose how brown you want your batter to become. It goes from "1" (the lightest setting) to "6" (the darkest).
Once your waffles are perfectly cooked to your liking, the indicator lights will turn on to tell you they're done.
Key Features:
The nonstick coating makes clean-up easier

You can evenly spread the batter

Adjustable settings come with 6 browning options
Main Drawbacks:
It takes the plates up to 5 minutes just to preheat

The plates take a long time to cool down

The power cord is on the short side

Difficult to store
5) All-Clad WD700162 Stainless Steel Round Classic Waffle Making Iron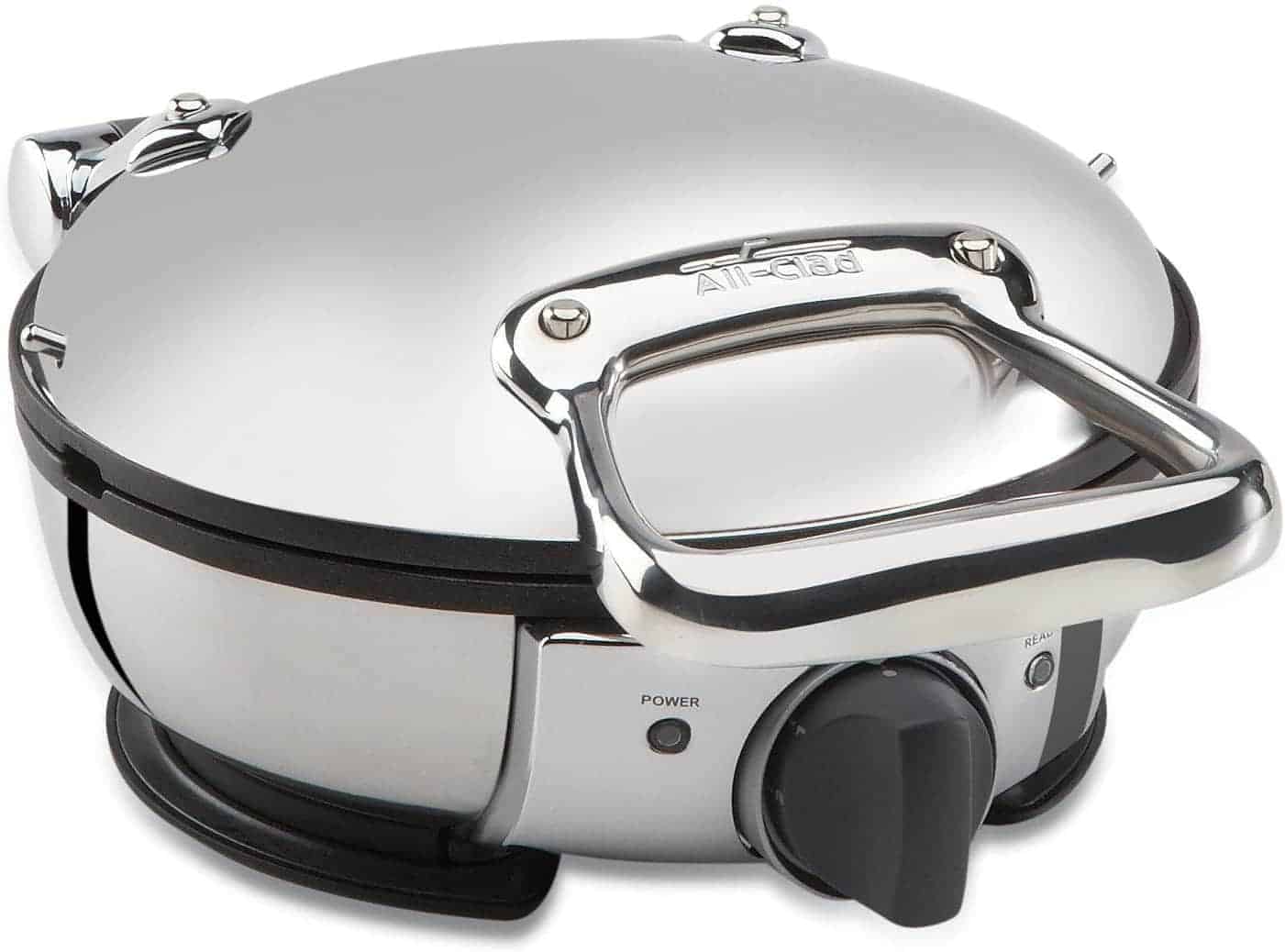 This All-Clad model has glowing recent customer reviews on Amazon, proving that if you're willing to stretch your budget, you can get a trusted and effective waffle griddle.
You'll get deliciously small round classic waffles using this iron. They'll be 6.5 inches in diameter, have deep pockets to holds lots of toppings and syrup, and four easy-to-separate sections.
This appliance has a built-in steam-release system that makes your waffles crispy on the outside and soft in the middle. Thus, you can get both consistencies in just one waffle. How great is that?
Thanks to the seven browning levels, you can have full control over how your breakfast turns out. If you like your waffles light, select "1" with the turning knob. If you like them a deep golden color, crank it up all the way to "7." It's an easy and handy system to use.
If you're a clumsy cook, you're safe with this iron. There is no way you can mess things up cooking with this model. When your food is done, an indicator light will turn on and a soft whistle will go off. Even if you're forgetful, those reminders will let you know when it's time to plate up.
Key Features:
The steam-release system cooks waffles until they're soft and crispy at the same time

Adjustable browning control settings with seven dial positions

Indicator light and whistle let you know when cooking is done
Main Drawbacks:
Only makes one waffle at a time

May be too expensive for most budgets
6) BLACK+DECKER 3-in-1 Nonstick Reversible Plates Stainless Steel Iron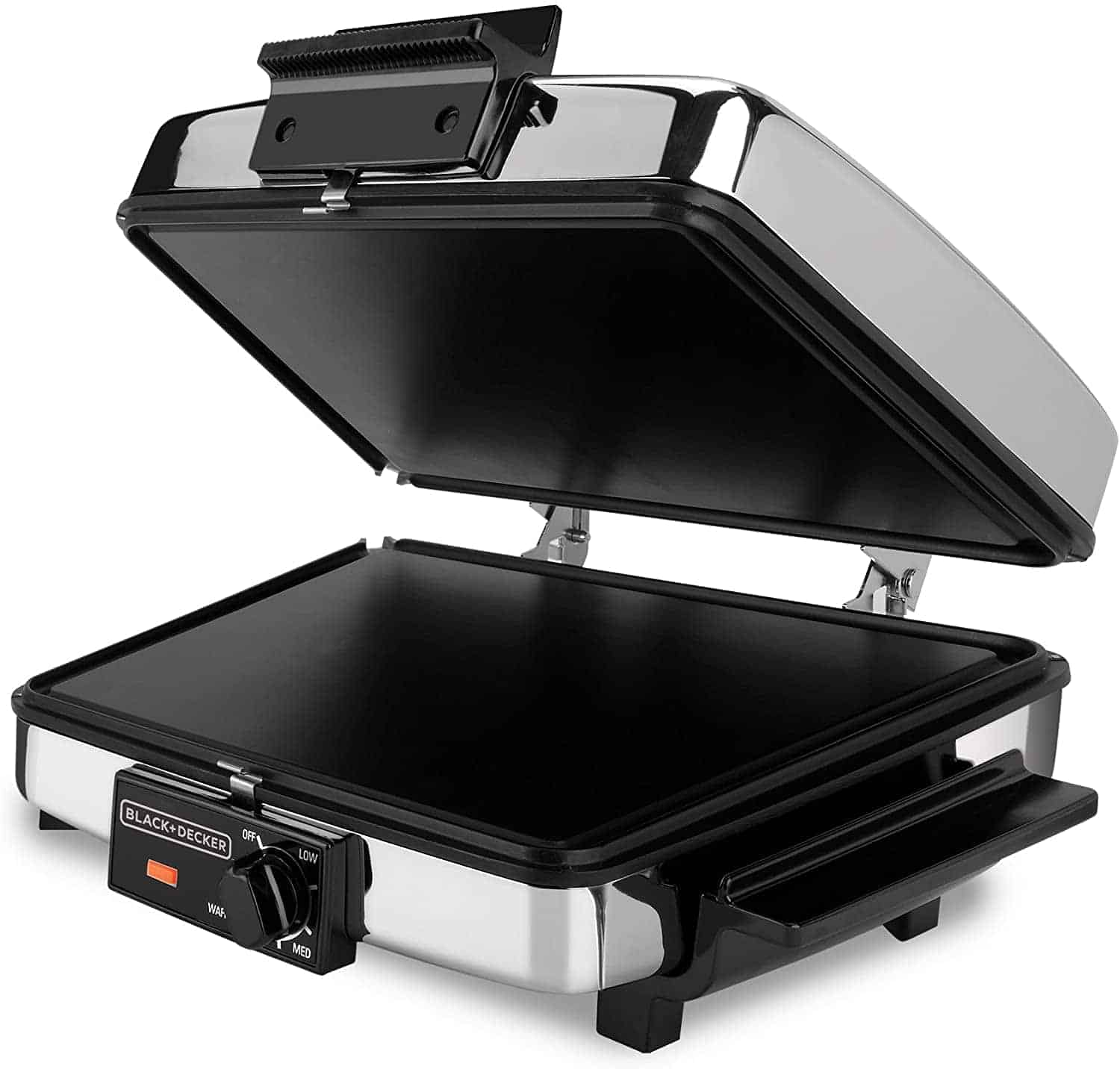 If you love paninis, bacon, sunny-side-up eggs, pancakes, and waffles equally and only have room for one appliance, you can't go wrong with this BLACK+DECKER model. It is incredibly versatile, very effective, and it comes with a reasonable price tag!
The first you'll notice about this unit is that you can remove its plates. If you want to make Belgian-style waffles, insert the waffle plates. If you only want to make a panini, take them out. This gives you a whole lot of flexibility when it comes to cooking your favorite meals.
Another upside to this is that cleaning up the plates becomes much easier. While you can't put them in the dishwasher, you can handwash them with a lot more ease than if they were attached to the griddle.
The sturdy metal hinges allow you to completely open the iron, on a 180-degree angle. This way, you can double the cooking area. On one plate, fry up some bacon. On the other, prepare two pancakes. Plus, they'll go great together!
Moreover, you can control how hot the plates get. The adjustable knob goes from "low" to "high" so that you can have both light or deep-golden cooked waffles if you want.
Key Features:
The removable plates let you prepare a variety of foods

Easy to clean and easy to put away

The browning knob lets you easily adjust the cooking time

Roomy enough to cook breakfast for four people
Main Drawbacks:
With time, the clasps holding the waffle plates in place can wear out
7) Rome Industries 1100 Old Fashioned Waffle Cast Iron Maker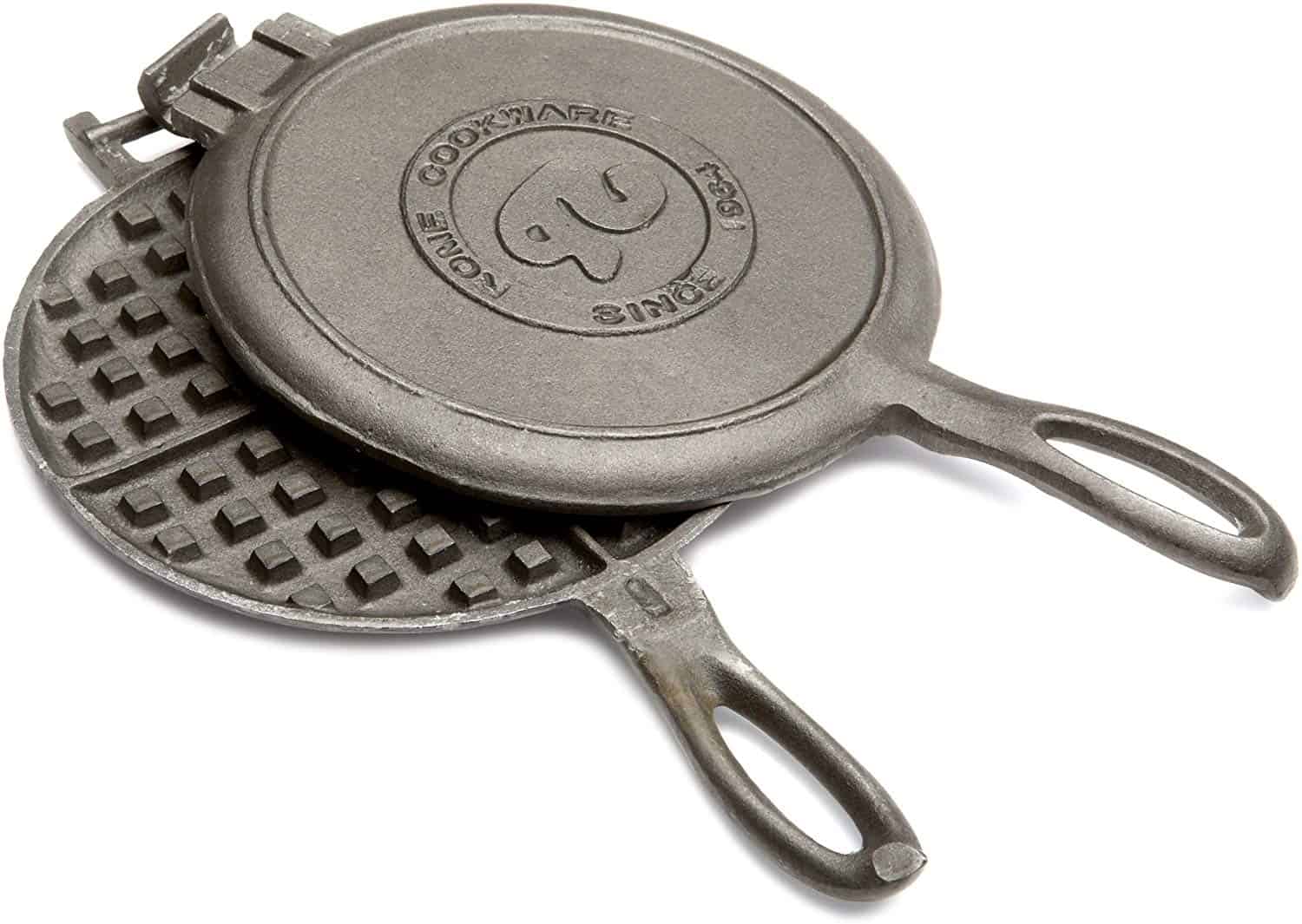 You can step back in time with this cast iron waffle skillet. It doesn't use any electricity, rather, you use it on your stovetop or over a fire. It takes a no-frills approach to prove that you don't need fancy waffle makers for top-notch food.
There are no add-ons to this skillet. What you see is what you get. Forget about indicator lights, browning control, nonstick coatings, and no-mess moats. This is the most off-the-grid approach we've seen when it comes to irons.
You pour the batter into the skillet, close it tightly, hold it over a large open flame (or an electric burner), and set a timer on your watch or phone for between 5 and 8 minutes until it's done.
The good thing about it being made from cast iron is that it distributes heat evenly throughout the griddle. This will make your American-style cooked waffles evenly golden and evenly cooked. The downside is that it will take a long time to preheat and to cool down.
Just be careful when touching the iron. The handle will heat up very quickly and could leave you with some nasty burns.
Key Features:
Straightforward set-up and very easy to use

Evenly cooks and browns waffles

Takes up next to no storage space

Turns out beautifully thin golden American-style waffles
Drawbacks:
Needs to be seasoned every once in a while

Handle becomes hot quickly

There is no timer or indicator light to guide you
What Is the Best Type of Waffle Maker?
Did you know that there are different types of waffles out there? They're not all the same. Because of that, there are also different types of waffle makers. Which one is the best totally depends on what you like best.
Belgian
Belgian waffles reign supreme. They're the ones you'll find at popular chains such as IHOP. A lot of times, they'll go along with fried chicken and maple syrup.
You can probably spot them by yourself with no help from us. They can be shaped like a rectangle or a circle, are tall, super fluffy, and have deep pockets that hold a lot of syrup and toppings.
A Belgian waffle-style grill will have taller saliences to make those characteristic deep pockets. This is the most common type of grill on the market.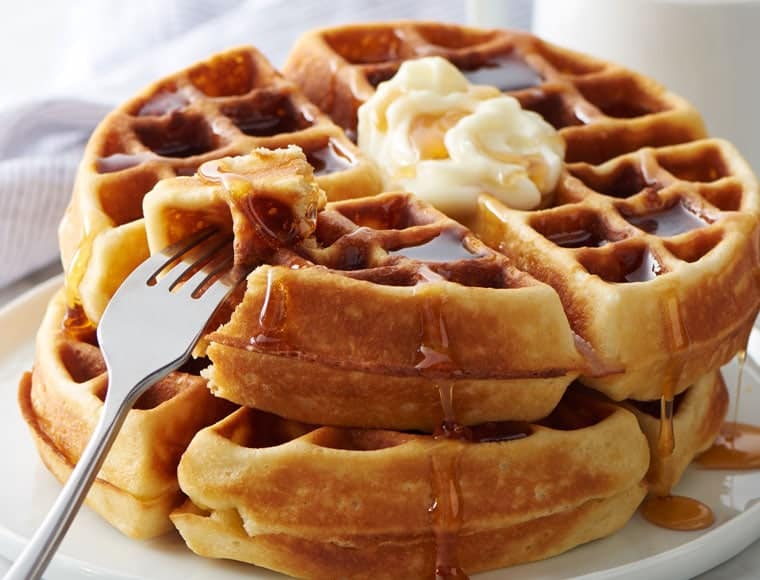 American
If the perfect waffle for you has shallow pockets and is more on the chewy and crunchy side, you'll want to pick an American waffle griddle. It will make skinny waffles that can be shaped like a circle, rectangle, or a mix between a butterfly and a hexagon.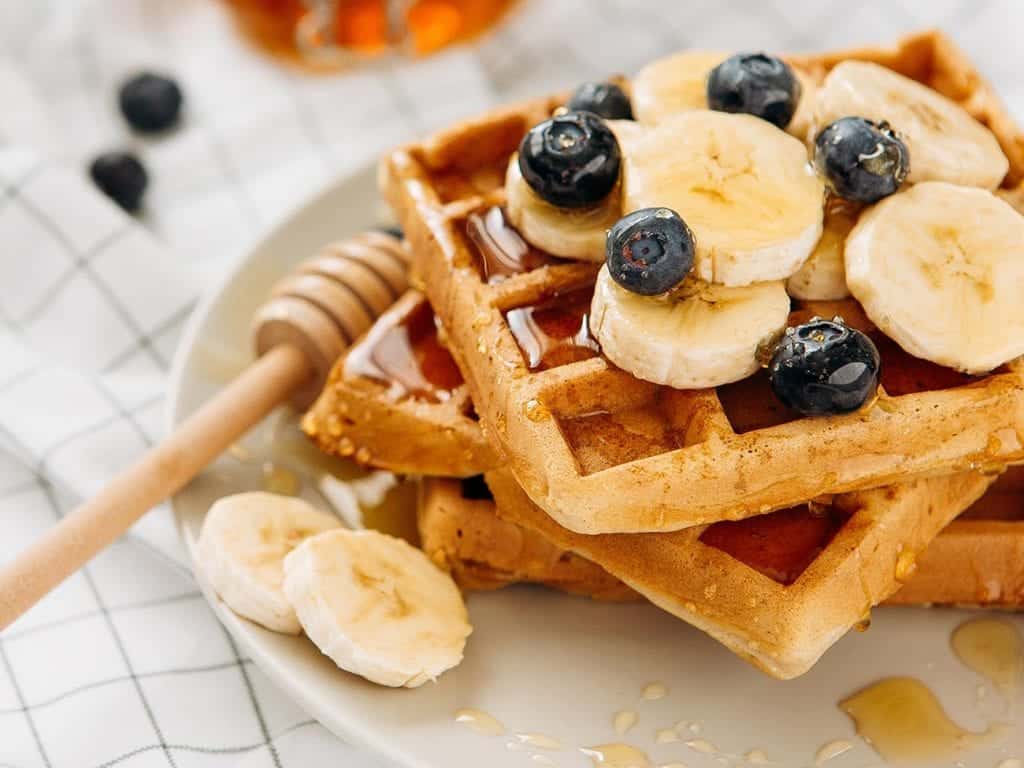 Fun-Shaped
There are other types of waffle makers for those looking to change things up a bit. They're a huge success with children because they bring a touch of fun and silliness to the breakfast table, as you can imagine. Mickey Mouse, dolphins, minions, dinosaurs—you name it: there probably is a griddle out there to make it.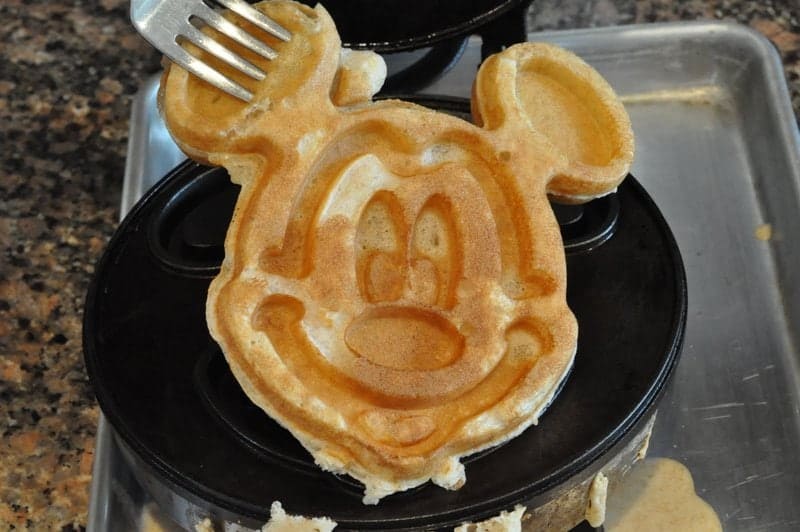 What Are Waffle Makers Made Of?
Not all waffle makers are the same. How much they cost depends a lot on what material they're made of. The most common materials are ceramic, cast iron, and Teflon nonstick.
There is a lot of debate over what is the safest cookware, but no definitive answer. Each has its pros and cons. It's up to you to choose which one suits your needs.
Ceramic
This is a natural option derived from a quartz sand surface. It doesn't contain scary-sounding chemicals that might leave you feeling concerned over the safety of your food. Ceramic cookware is very safe for you.
They are usually designed to be nonstick and great at distributing heat evenly. They are also great at withstanding very high temperatures (of up to 800 degrees), but that isn't too important for our purposes.
Keep in mind that not every griddle advertised as "ceramic" actually is made from ceramic, though. Sometimes, it is just a metal iron coated with a ceramic glaze.
Cast Iron
Cast iron is nowhere near as popular because it is so old-fashioned. The majority of cast iron waffle makers aren't powered by electricity, but by heat from an open flame or electric stove burner. This means it doesn't have any of the fancy features we usually look for.
However, if you like your cast iron cookware sets, by all means, pick a cast-iron griddle for waffles! It heats up slowly but retains heat, so cooking time is shortened. It also makes evenly browned waffles—any foodie Instagrammer's dream. On top of that, it's free from nasty chemicals that can contaminate your food.
Nonstick Teflon
This is the most popular appliance out there, but also the most controversial in some circles. The nonstick coating is created in a lab to prevent food from getting burned and stuck to the plate. It's great news for anyone dreading doing the dishes afterward. 
At the same time, some people feel skeptical about how safe this coating is. If you get your iron from a questionable source or for a deeply discounted price, beware. It may leech unhealthy chemicals into your food. But if you buy it from a trusted seller, such as the ones we've listed, you have nothing to worry about.
How to Choose the Best Waffle Maker?
Take these parameters into account when shopping for your waffle appliance. The more boxes it ticks, the better the investment.
Shape
What is your favorite type of waffle: crispy and chewy American-style or tall and fluffy Belgians? This should be the first decision you make before committing to a model.
Number of Waffles
If you're cooking for one, you can get a smaller waffle grill. But if you're feeding a family of four and don't want anyone's waffles to get cold while you're cooking, choosing a large model is the best idea. The largest models out there can make up to six waffles at once. They cost more, but you won't have to cook in batches.
Speed
Some models are very fast at cooking waffles: sometimes it takes them only 10 minutes from the moment you start preheating the plates to the time your food is done. Others take a long time preheating, which can lead to you getting impatient and giving up on perfectly browned waffles. Look for a model that works for you.
Material of Waffle Maker
We've gone over the three types of materials used in making these waffle makers. Now, it's time to choose the one you like best. For a tight budget, we recommend nonstick Teflon. If money isn't a problem, cast-iron can be perfect.
Browning Control
The best waffle makers let you choose how "done" you want your pancakes. Some people like their lightly golden, not very crunchy on the outside. Others like their deeply golden, with more of a crunch than a soft tear. Especially if you are cooking for your loved ones, this is a feature that comes in very handy.
Of course, you can just get a normal iron and manually take over the browning. In other words, you can pour the batter into any waffle griddle and set a timer for however long the browning process takes. If you like them lightly browned, five minutes could do the trick. If you like them darker, then eight minutes is probably ideal.
Easy to Clean
If you hate doing the dishes (like I do), getting a model with removable plates and a drip tray is a great idea. Brownie points if the plates are dishwasher safe.
For models with built-in plates, make sure they have a nonstick coating to make your life easier. If so, you won't need to scrub away until any burnt pieces come off. Wiping it down with some gentle soap and a damp cloth will do the trick in less than two minutes.
Easy to Store
The last thing to take into account is how easy the iron will be to store. Is it too large for your available counter- or cupboard space? If your kitchen is already cramped as it is, we recommend getting a small model, even if you have to then make waffles in batches to feed everyone.