Eating watermelon is perhaps one of the most enjoyable culinary experiences to be had. The soft, sweet, tender, and bright red flesh. The juice which runs between your fingers and down your wrists, occasionally making it all the way to your elbows you're not careful! The way the fruit gets extra crunchy and just a little tart towards the rind. And of course, the never-ending challenge of who can spit those watermelon seeds the furthest.
With a food that is this much of a sweet treat to eat, who would expect it to be plenty good for you as well? In a pleasant twist of fate, eating watermelon delivers many health benefits aside from the instant mood boost and irresistible smile trigger.
Join us as we work our way through all of these amazing nutrition characteristics of watermelon, from the macronutrient breakdown of this fruit to the bounty of antioxidants it contains and beyond!
How Much is a Serving of Watermelon?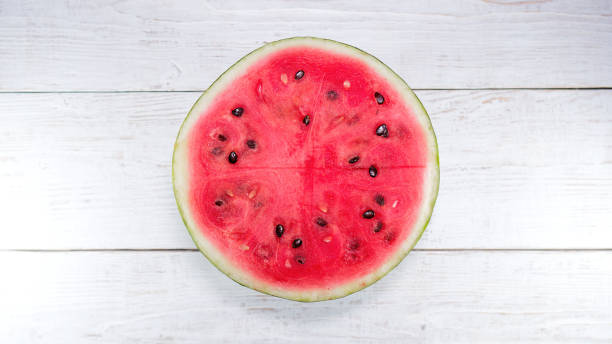 Seeing as it is typically cut into cubes or chunks, measuring out a serving size of fresh watermelon can be quite the bulky and difficult task. The serving size we are using for the purposes of our article--a standard which many watermelon producers go by as well, for that matter--is one cup of diced watermelon.
Now of course, the exact amount of diced watermelon which fits into a one cup measure will depend on the size of the dice you're working with. To make things easier, you can also weigh it out: one cup of diced watermelon should be about 150 grams, or about 5.3 ounces by weight.
We realize this all sounds a bit fussy, but don't let the bit of extra legwork in determining a proper portion size hinder you from reaping those watermelon benefits! Once you get it measured out a time or two, you'll have a keen eye for how much watermelon equates to a serving and can likely rely on that moving forward.
Watermelon Nutrition Facts
And now, for the fully comprehensive nutritional content of watermelon. All of the quantities included are based on a 1 cup serving of diced, fresh watermelon (about 150 grams worth of fruit).
Watermelon Calories
About 46 calories per 1 cup serving.
Let's start off with one of the first bits of information most folks look for upon gazing at a nutrition label: the calorie content. If you're looking to lose weight, you'll be thrilled to learn that watermelon is considered to be one of the absolute best foods for weight loss!
This is due to the fact that watermelon contains a ton of--you guessed it--water! As we all know, water is calorie-free, therefore any food that is composed mainly of this clear liquid is bound to help you consume fewer calories overall. Not only that, but this extra water helps you to feel full, therefore you're likely to eat less of it than you would another, less filling food choice. When you eat watermelon, you might as well be taking a looooong drink of water! Not such a bad thing to fill up on.
Number of Carbs in Watermelon
About 11.5 grams per 1 cup serving.
Like many other types of fresh fruit, watermelon naturally contains a decent amount of sugar. However, in stark contrast to many other fruits and plant foods, watermelon is actually quite low in fiber content due to the fact that it is mostly water--about 92% in fact! This means that despite the natural sugar content, consuming watermelon actually has a minimal effect on blood sugar levels.
For these reasons, watermelon is considered generally safe for individuals watching their sugar intake (such as those with diabetes or another metabolic syndrome) as well as is keto-friendly. As always though, be sure to check with your doctor, dietitian, or other wellness professionals to be sure of how any food will affect your particular condition.
Glycemic Index vs. Glycemic Load
It all boils down to the difference between glycemic index and glycemic load. While watermelon actually has a rather high glycemic index of 80, the glycemic load is quite low, at only 5, due to the high water percentage in this fruit. What does this mean? While the glycemic index indicates how rapidly your blood sugar may rise after consuming a food, the glycemic load is a more telling figure as it takes into account just how high the blood sugar rises to and how long it stays there for.
Is There Protein in Watermelon?
About .9 grams per 1 cup serving.
For all of its incredible characteristics, watermelon is sadly lacking in the protein department. As they say, you can't win 'em all! With 92% water content and 6% carb content, there isn't all that much room left for protein. Delivering just shy of 1 gram per serving, watermelon is unlikely to be helping you make new muscle gains any time soon. Thankfully though, this juicy fruit redeems itself in a multitude of other ways.
Is Watermelon Fat-Free?
Almost! It contains only .2 grams per 1 cup serving.
Not surprisingly, the specific makeup of fresh watermelon doesn't leave much room for fat content either! It's worth noting that fat isn't quite the enemy it used to be during the days of low-fat craze dieting, as it has come to be understood that there are many healthy types of fats and fatty acids--think those found in olive oil and avocados--which are a far cry from the saturated fats found in hydrogenated oils and animal products.
Fat is a moot point when it comes to our star of the show here though, as watermelon contains almost none of the stuff. At just .2 grams per serving, the fat content is negligible, and you can easily consider it to be not even there in the first place.
Vitamins and Minerals in Watermelon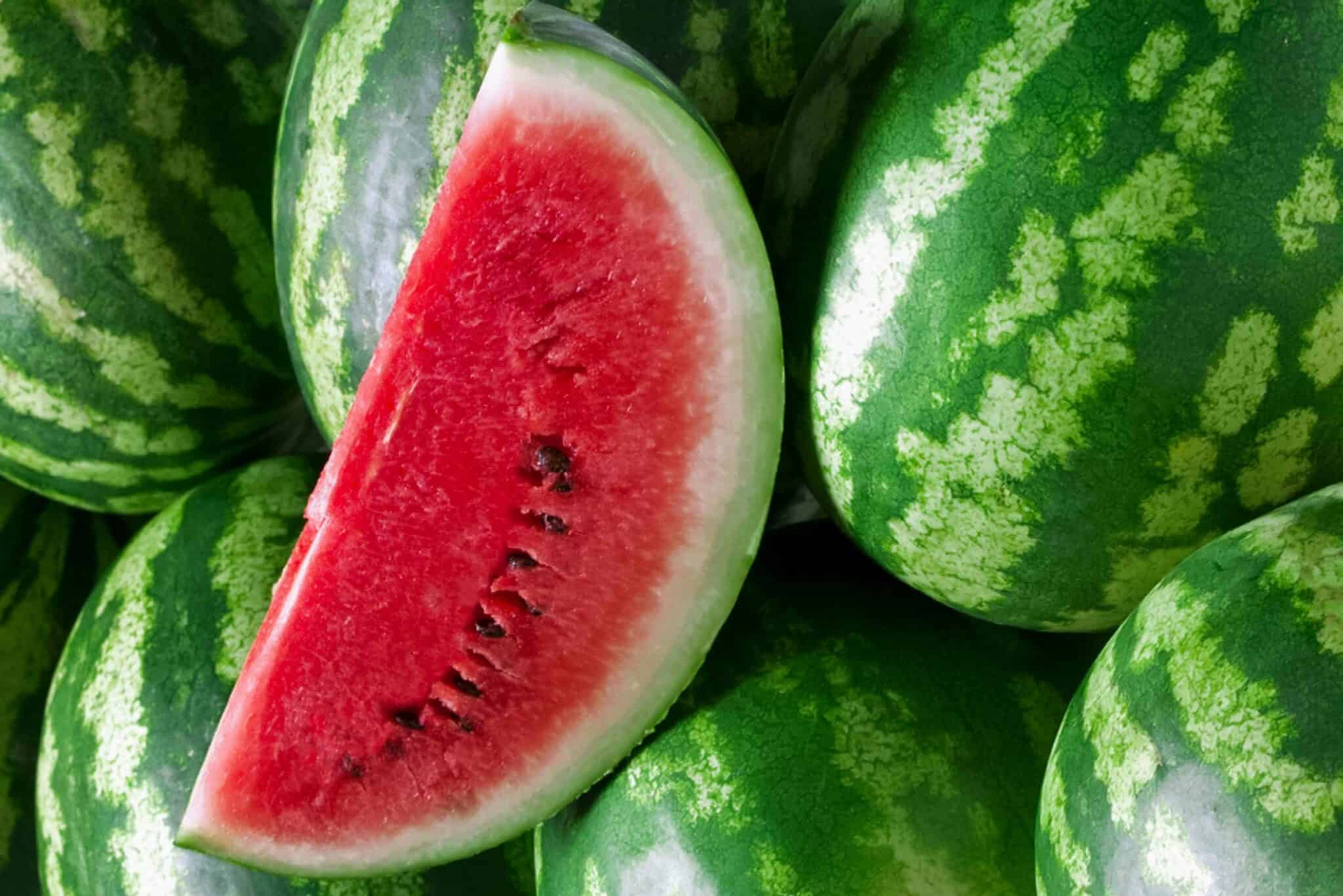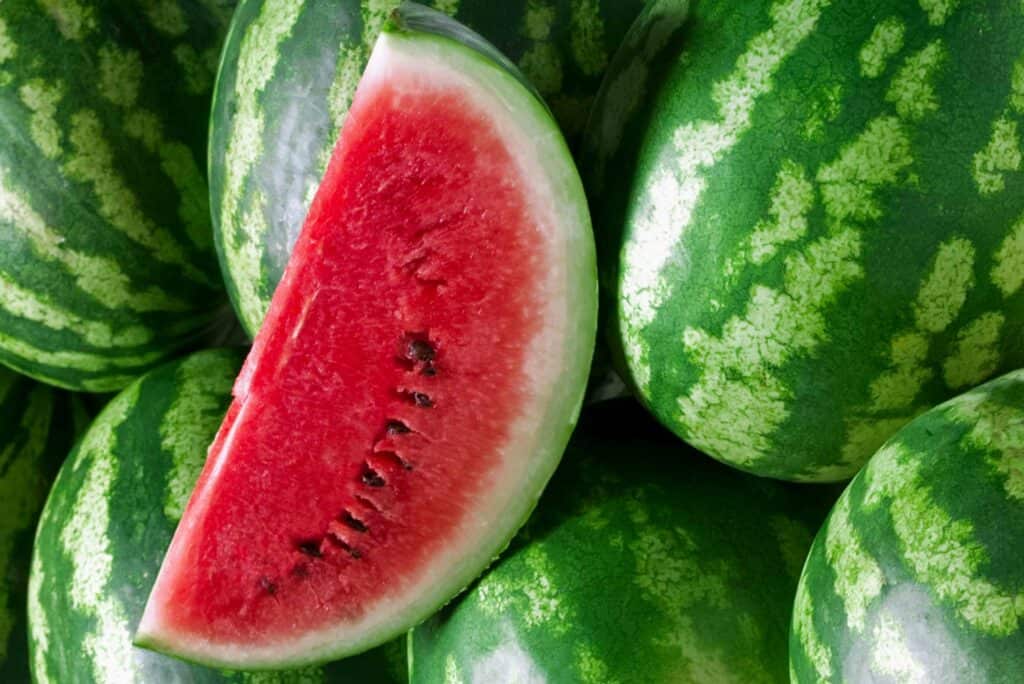 In addition to boasting an impressive macronutrient profile, watermelon is also packed with several important vitamins and minerals which serve a host of important functions throughout the body!
The percent daily values of these essential nutrients will depend on your individual makeup as well as any specific needs or restrictions you may have as a result of chronic conditions.
Vitamin C
About 12.5 milligrams per 1 cup serving.
A tall glass of OJ isn't the only way to get your vitamin C in! Plenty of other fresh foods contain this all important nutrient and watermelon is among them. In fact, the 12.5 milligram dose of the stuff which is provided by a serving of watermelon is nearly 14% the recommended daily value!
Most folks know that vitamin C is important for immune function, as it is often among the first supplements one takes when beginning to feel under the weather. In addition, vitamin C is also a vital component in the growth and repair of body tissues (as is required for wound healing), helps the body to absorb iron, and is necessary for overall healthy skin and bones.
Vitamin B5
About .3 milligrams per 1 cup serving.
Now we realize this might sound unimpressive--just a measly .3 milligrams of vitamin B5? But! The fact is, the body only needs about 5 milligrams of this stuff per day, therefore the .3 milligrams found in a cup serving of watermelon can definitely help you get there!
Also known as pantothenic acid, vitamin B5 is important to many bodily systems, playing a key role in energy conversion and production, building red blood cells, and maintaining balance in certain sectors of the endocrine system. And, pantothenic acid/vitamin B5 is also vital to keeping the digestive tract nice and healthy.
Potassium
About 170 milligrams per 1 cup serving.
In comparison to our other vitamin and mineral contents thus far, 170 milligrams might sound like quite a lot! However, the catch with potassium is that you actually need quite a lot of it: roughly 4,700 milligrams per day. Your average banana--perhaps the most famous potassium source of all--contains about 430 milligrams of potassium, while potatoes, seafood, and dairy products are other excellent sources of this mineral.
Potassium is used by the muscular system, as it is necessary for all muscles to contract properly, and it is also thought to help in lowering blood pressure as well as maintaining overall cardiovascular health.
Magnesium
About 15.2 milligrams per 1 cup serving.
With a recommended daily intake of nearly 400 milligrams, the 15.2 milligrams of magnesium provided by 1 serving of watermelon is a drop in the bucket--but a drop nonetheless!
This mineral is necessary for enzymatic reactions throughout the entire body, which are important components of muscle functioning, nerve impulse regulation, and protein synthesis to name a few.
Other Health Benefits of Eating Watermelon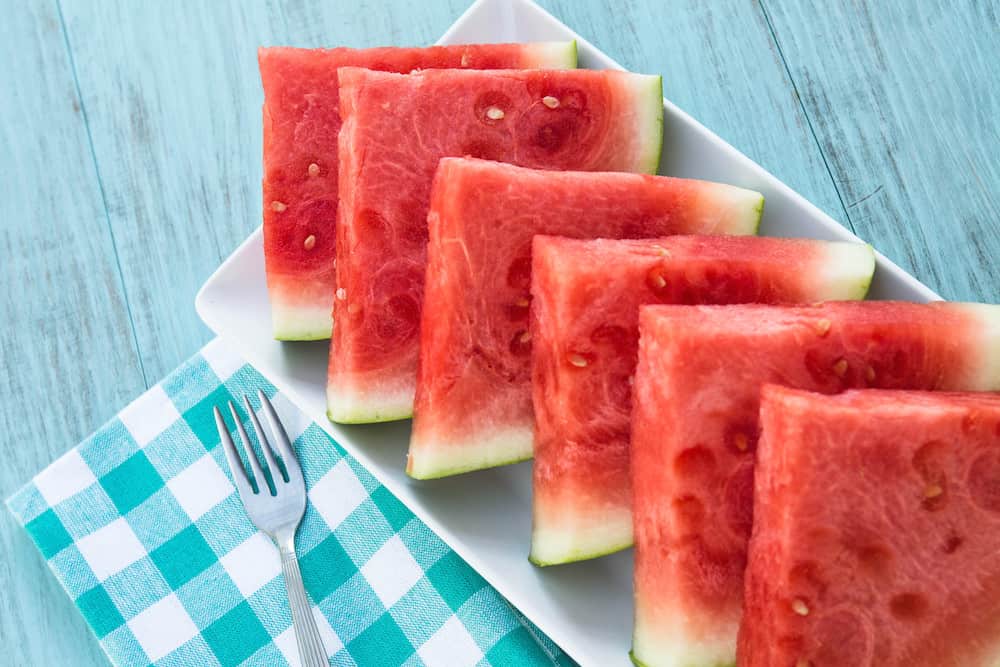 In addition to being low calorie and fat free, as well as containing a spectacular slew of vitamins and minerals, there are many other watermelon benefits to be had! From helping with hydration to lessening the risks and impacts of chronic diseases and health conditions, watermelon really does it all.
Hydration and Electrolytes
Once you learn about this fruit's amazing ability to help with overall fluid balance in the body, you may be tempted to add watermelon into your workout routine! Not only does watermelon contain a ton of water, but it also contains super important little things known as electrolytes. You may see this word and immediately think of sugary-sweet sports drinks, however, electrolytes in their natural form are simply minerals like potassium and magnesium which have the unique property of being able to become ionized when dissolved in water. These charged particles within the minerals are then available to readily bond with the water particles, holding the water in place and helping you to stay hydrated.
The benefit of consuming electrolyte rich sources of hydration before, during, and after working out (or during exposure to hot weather) is that it helps to replace the fluids and electrolytes which you lose during perspiration, helping to reduce muscle soreness as well as symptoms of dehydration.
Antioxidants
As if less muscle soreness wasn't a reason enough to get more watermelon into your diet, how about cancer prevention? Watermelon contains several important plant compounds which are known as antioxidants. Some of these are nutrients which we have already discussed, such as vitamin C, but there are others such as beta carotene and lycopene which are certainly worth knowing about.
Antioxidants are special in the way that they circulate about the body, removing free radicals as they do so. If left in the body, these free radicals slowly damage cells and tissues of all types, potentially leading to skin, colon, and prostate cancer to name a few. The unique anti-inflammatory properties of the compounds found in watermelon may help you to ward off these destructive diseases--all you have to do is eat it!
Amino Acids
Often thought of as occurring only in protein rich sources (which, as we learned, watermelon is not), it might come as a bit of a surprise that watermelon is an excellent source of the amino acid citrulline! In fact, the original discovery of this particular amino acid actually occurred in watermelon itself, explaining why the word "citrulline" links back to the Latin word for watermelon, Citrullus.
Not only does citrulline serve many important functions around the body on its own--from improving heart health and increasing the capacity of blood vessels--but some of this amino acid is converted to yet another amino acid known as arginine. This compound is important for helping the cardiovascular system to function properly as well.
Some folks, especially those suffering from or at risk of heart disease, opt to take citrulline supplements to improve their levels of the amino acid as well as its complement, arginine. But studies show that the body absorbs the nutrients much more readily from watermelon itself than it does from the supplements.
Other Watermelon Nutrition FAQs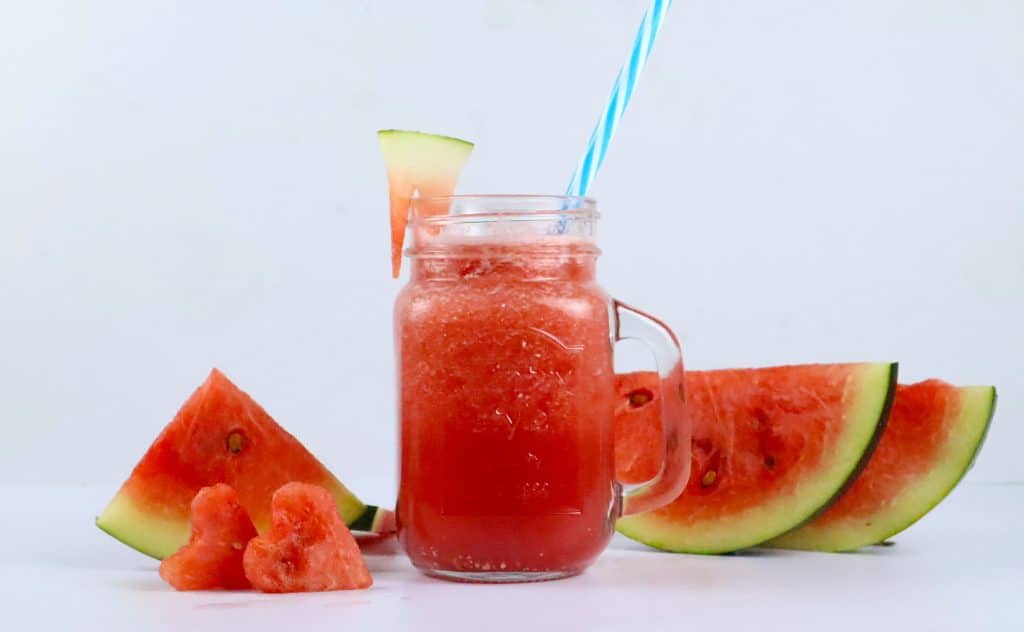 We've got just a few more bits of watermelon wisdom to impart to you, from fun facts about the amount of water inside this fruit to answering the question of how much is too much!
How Much Water is in a Whole Watermelon?
As was mentioned above, a whole watermelon contains about 92% water. So if you were to extract all of the fluid out of an entire uncut watermelon, how much would it be?
Well, if we use the average 20 pound traditional variety of watermelon (either seeded or seedless watermelon) as an example, you're looking at a full 2.2 gallons of water inside! Hello hydration!
Is Watermelon Juice Good For You?
Speaking of all of this liquid hidden behind the bright green rind of a watermelon, is straight up watermelon juice even good for you?
Pure watermelon juice--you know, the stuff that's rather expensive--is certainly nutritious. It contains just about all of the goodness of fresh watermelon (minus a bit of fiber) in a refreshing beverage. Just like fresh melon itself, watermelon juice contains all of those vitamins, antioxidants, and amino acids.
Take care not to go overboard though, as consuming excess juices of any type will end up adding a lot of sugars into your body. And, buyer beware that there are plenty of "watermelon drink" style beverages out there which may contain just a bit of watermelon juice or watermelon extract with a ton of added sugars. Not much health benefit to be found in these products!
Is it Possible to Eat Too Much Watermelon?
Chances are, you may have experienced an overdoing it on the watermelon at some point in your life. While moderate portions of watermelon do promote healthy digestion, too much of the stuff can easily trigger a slew of symptoms of intestinal distress, such as abdominal pain and bloating.
Also, while the glycemic profile of watermelon is overall good, eating too much of it can certainly increase blood sugar levels. For healthy folks, these periods of spike and recovery may not pose any issues, but people with diabetes must be extra mindful of their portion sizes of watermelon, and of all fruits for that matter.
Health Benefits of Watermelon: The Takeaway
In summary, watermelon makes for one super healthy way to satisfy that sweet tooth. Not only is it low in calories and fat, but it is high in hydration with an extraordinary micronutrient profile to boot!
One serving of watermelon will reward your body with some B and C vitamins, potassium, magnesium, antioxidants, and amino acids galore. All while hydrating you better than a plain ol' glass of water. Bottom line? Feel free to enjoy watermelon any time of year, no hot summer day required.
Interested in getting more watermelon into your diet but a simple slice or bowl of watermelon chunks doesn't quite pique your interest? Check out some of our amazing watermelon recipes to discover some new ways to enjoy this classic fruit!