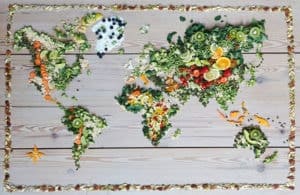 On Monday 23rd May, just 3 days after Food Revolution Day, Jamie will be heading to the World Health Assembly in Geneva.  This will be the first opportunity to see if we really can help make a revolution happen in the relationship that individuals, governments, and businesses have with food.
The Assembly is the annual meeting of all the world's Health Ministers.  People like Jane Philpott from Canada and JP Nadda from India.  These people are responsible for the health of all the world's children.  So next week we're asking them all to take a moment to think about what they can do to tackle the crisis of child obesity and child undernourishment around the world.
Jamie is asking everyone to send him their thoughts on what should be done to stop child obesity and undernourishment and to tell him what they think he should ask those Ministers.
The world already has a wonderful alphabet soup of global commitments on food and health: the SDGs, WHA targets, ICN2.  The acronyms get confusing.  What we need now is real action at the national level led by the women and men who are meeting in Geneva next week.
Those Ministers will say that it's hard to do the right thing when their finance minister says there is no money to spend on nutrition.   But they need to push back because tackling malnutrition will save money, even in the short term.
They may also say that it's tough for Health Ministers when big business say a sugary drinks tax or advertising controls on junk food or simple clear food labels are bad for their bottom line.  But they've got to fight back.  The corporations are wrong.  Good food is great business.
We've made a special map of the world (check out the photo above) and we're asking Ministers to put their country on the map when it comes to tackling child obesity and undernourishment. It's time for those Health Ministers to be heroes and help kick-start the Food Revolution.
Sometimes it feels like we are asking the impossible.  But remember that a year ago people would have laughed if you talked about the idea of the UK introducing a sugary drinks tax. But that's exactly what has happened. Mexico has done it too. And South Africa. And France. So let's do it everywhere. Let's make the impossible possible. Let's  start a revolution  in the way children access, consume and understand the food they are putting in their bodies.
Get involved with #foodrevolution, share your questions for the Health Ministers of the world and tell Jamie what you would change to stop child obesity and undernourishment.